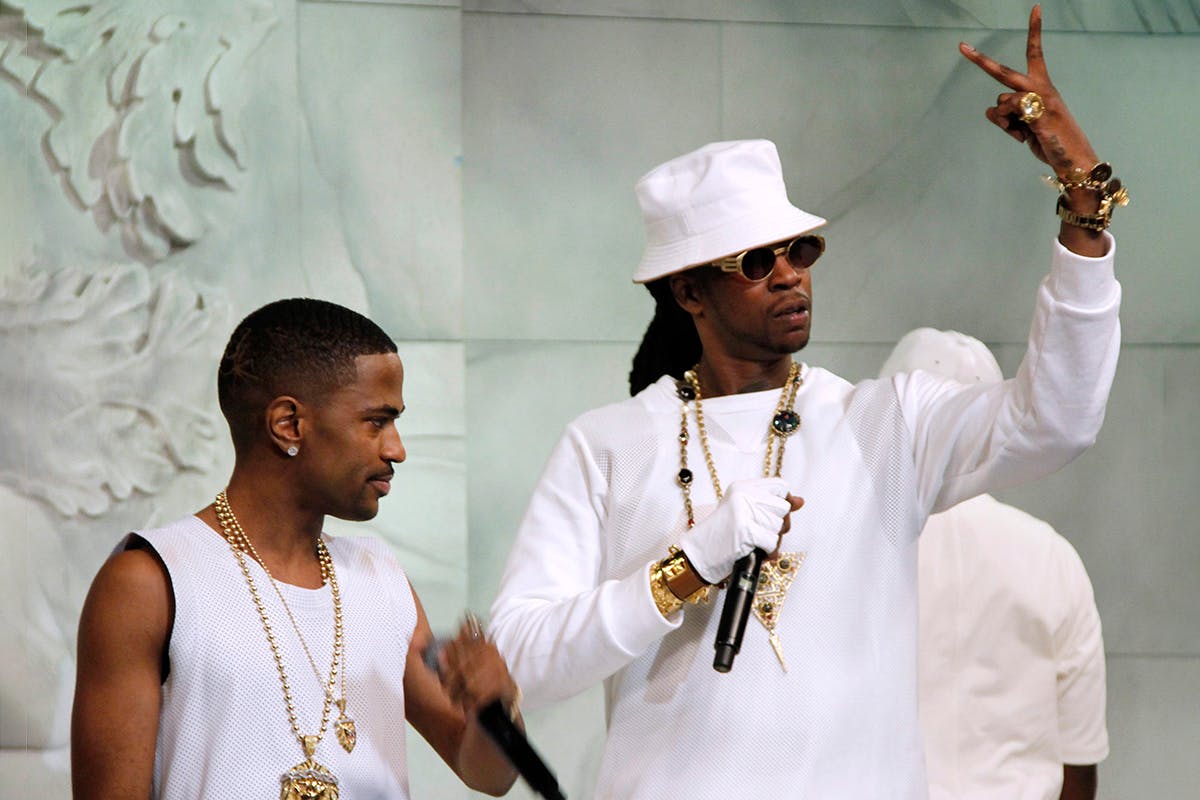 Last week, 2 Chainz claimed he "kilt" everybody on Kanye West's collaborative hit single "Mercy," declaring not only that he had out-rapped Kanye, but also Big Sean and Pusha-T who also featured on the song. However, Big Sean wasn't about to let that comment slide.
During his recent appearance on The Rap Pack podcast, Sean revealed that he didn't hesitate to confront 2 Chainz about the comment. "I immediately called him like, 'What the fuck you talkin' about bro?' [...] He was like, 'No, no, I wasn't talking about you, bro. I was talkin' about the whole game. Obviously everybody on there was going crazy.' I'm like, 'That's not how it seemed.'"
Sean said his verse was so well-received during the recording process, it set the bar for Kanye, Pusha, and, yes, 2 Chainz. "I told him, I was like, 'N***a, as far as 'Mercy' goes, I was the first one doing my verse on the song. Like, it was just the beat and I freestyled my verse. Like, I did it without trying and Kanye was the one who loved it so much.'"
Apparently, 2 Chainz "didn't have no objections to that." And Sean admitted, "that's my brother. We was just really kinda kidding around."
Last week, 2 Chainz felt reminiscent and took to social media to bring up the eight-year-old track. The rapper shared a meme featuring the cover art for Ye's hit single with the question: "Everybody BODIED this track but who had the best verse?" And 2 Chainz had a clear answer for inquiring minds, captioning the post, "No disrespect but I kilt all dem boys."
The 42-year-old rapper's "Mercy" verse is widely regarded as one of the best of his career. "Okay, now catch up to my campaign," he rapped. "Coupe the color of mayonnaise. I'm drunk and high at the same time drinkin' champagne on the airplane. Spit rounds like a gun range. Beat it up like Rampage. Hundred bands, cut your girl now your girl need a Band-Aid. Grade A, A1, chain the color of Akon," and so it goes.
"Mercy" served as the lead single from West's G.O.O.D. Music compilation album Cruel Summer. The song went four times platinum and peaked at number 13 on the US Billboard Hot 100, while reaching number one on the US Billboard Hot Rap Songs and Hot R&B/Hip-Hop Songs charts.
So, who do you feel had the best verse on "Mercy?" Let us know in the comments below.