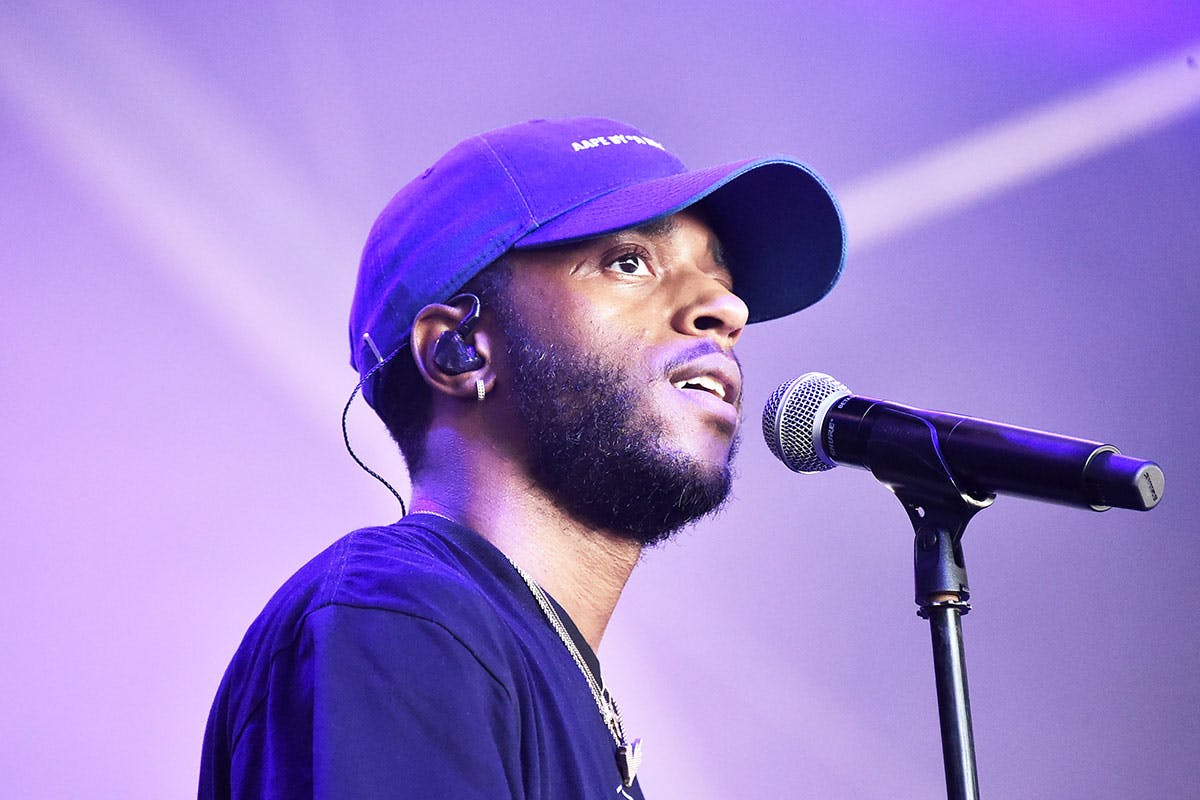 6LACK doesn't like to make eye contact. At first, it seems the 26-year-old, Atlanta-hailing rap star might be disinterested, staring intently at whatever is over our shoulder, wishing this interview would end. But as he opens up about what matters to him, you realize he's one of rap's rare ones: a shy artist whose awareness of his own talent doesn't get in the way of how humble he is.
You know 6LACK as the guy behind "Prblms" - the streaming hit that dropped at the tail-end of 2016: a moody track about the push-and-pull of relationships on which his half-rapped, half-sung vocals feel choked by scuzzy synths. Two years after his debut Free 6LACK cracked the Billboard album charts, he's back with more dense, contemplative R&B – the same man, but with so much more to say.
With the arrival of SoundCloud and Instagram, the hip-hop hustle has changed dramatically. 6LACK was one of the few that made it big during the limbo period. As battle-rap artists made way for a group of rambunctious teenagers who found fame on the internet, he took advantage of both platforms. After signing to Flo Rida's Strong Arm Records (a label he's now parted ways with), he slept rough, took every chance to hit a record studio that he could, and made his way to the top by working his ass off, releasing tracks on SoundCloud along the way. Viral hits are the norm nowadays; 6LACK's approach to hip-hop, more honest and explorative than run-of-the-mill artists are trying their hand at, feels pure in comparison.
Ahead of his set on the main stage at ØYA in Oslo, Highsnobiety sat down with 6LACK to talk how he uses rap as a vehicle for emotions, what to expect from his upcoming sophomore record, and how Beyoncé and JAY-Z gave him the proudest moment of his career so far.
Unlike a lot of rappers right now, your songs seem rooted in your life experiences, good and bad. Ever since you were a kid, has hip-hop always been an emotional outlet for you?
I navigated through life doing the bare minimum, as far as expressing myself went. Music was the one opportunity I got to say and feel exactly how what I wanted to feel without beating around the bush. It's always been my outlet. Over the years, I've just been learning how to be more honest with it so that other people can learn from it too.
It feels like you're making music with a purpose, rather than releasing mindless rap tracks for the sake of pleasing a load of people.
Definitely. When I was getting ready for the rollout of my first few tracks from 'Free 6LACK', that was my standpoint: I'm not here to market any gimmicks or draw generic traffic. Let's just be genuine and relatable. Let's reach those we're supposed to reach. And by doing that, my whole life changed.
You've just finished your next record. What can you tell us about it?
Free 6LACK was about everything I'd been through up to that point; the follow-up is an update on what's going on in my life right now. In two years, things have gone from one side of the spectrum to another. Anything I've had to go through, or learn, has been crammed into them: from being a dad, to [ending and starting] new relationships, to becoming famous and figuring out my responsibilities.
Do you feel like a new person, having been through all of that?
It's different. I feel like this record shows growth. Free 6LACK is the only record I've ever dropped, so people don't truly know who I am yet. I still have explaining to do. Being a dad and going through this all might've shifted the topic, but it hasn't changed my mission. Now, I have new things to teach. I've got fucked up situations I have to share because somebody out there is going through them too.
Do you enjoy working with other artists? Your work to date has always seemed so personal.
The last album was just me by myself – but this one's got a few features. I've never wanted the label to find collaborators for me. I just met people, we clicked, and made music together. If we didn't? I kept it moving. That's how it should be instead of these 'Can I get a verse?', 'Can I get a collab?' conversations. So recently, I really clicked with J. Cole – and yeah, he's on my new record.
It seems like you're constantly releasing new material. Do you ever want to slow down?
I like to make sure I'm sharpening my sword everyday. But in the industry, you have to do this or you get left behind. You can retreat all you want, but do it too early? You run the risk of never coming back. You have to figure out ways to stay relevant and happy. It's just about balance. I dropped FREE 6LACK in 2016, but in those two years I feel like I haven't done less.
Rap produces so many egos. How do you manage to stay so level-headed?
I learned that from my peers. You might experience success, but they'll come to check you and send you right back where you came from. I've got a good core around me: from my friends to my girlfriend. With that, it's the only other time to express or talk about the shit that bothers me. Or vent when I'm tired. First, you need yourself, but everybody needs somebody.
Tell me about the moment in your life you're most proud of.
Coachella – second weekend. The first weekend felt shit, and everything that could've gone wrong, in my eyes, went wrong. The crowd couldn't really tell, but I wasn't loving it. So the second weekend I came back and did it exactly how I wanted to. Then I came off stage and Beyoncé and JAY-Z were there to meet me.
That must feel insane. So what's the greatest gift that making music has given you?
Being able to see my effect on other people. When I meet them in the street, to be able to hear that something changed their life, or to know that what I'm doing is serving a bigger purpose? That's the greatest thing I could ever ask for.
6LACK's latest single "Switch" is out now - watch the video above. His sophomore record is set to drop later this year.
For more of our interviews, watch 88rising's Rich Brian, Joji, and AUGUST 08 interview each other about alien encounters and much more right here.