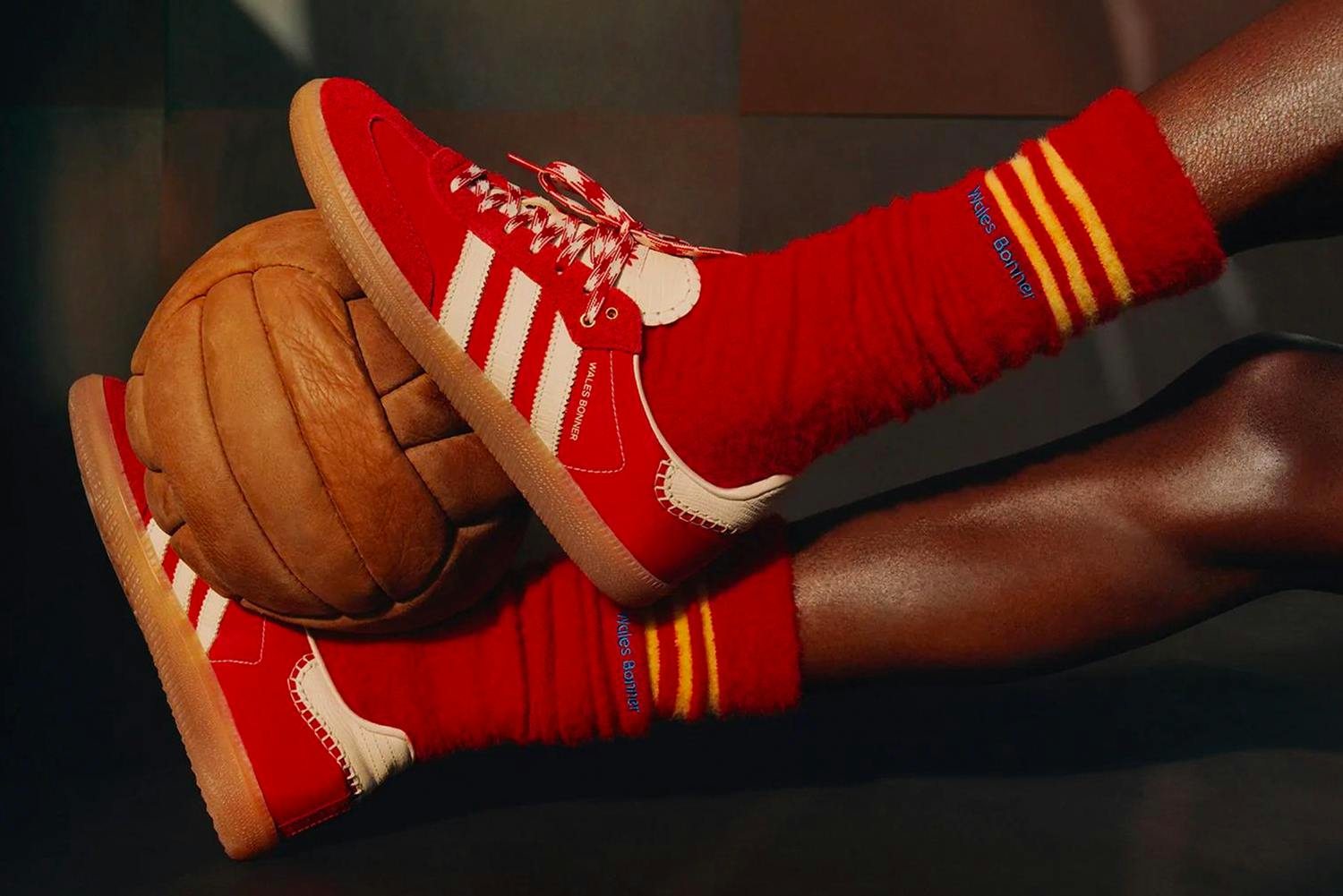 I got my first pair of adidas Sambas when I was in secondary school (high school) in around 2006.
Slim line, minimalist, and generally accepted by the older boys, the Samba was both functional and cool enough to not get me beaten up.
Of course when I say functional I don't mean GORE-TEX-covered with umpteen pockets, more that it's a sneaker streamlined enough for playground football, and one that still looked good beneath my drainpipe skinny trousers I had my mum take in specifically.
In short, the adidas Samba was my go-to sneaker as a teen. Which is why I ask this question almost 20 years on: why am I still wearing the damn things?
The Samba's popularity is no secret. Released over 74 years ago, it's second only to the Stan Smith is the list of adidas' best-selling sneakers of all-time.
But, in an industry congested with more sneakers and innovation than you can shake a Crep Protect Spray can at, how exactly is the humble adidas Samba surviving?
Collaborations, of course, have played a key role in its ongoing success.
Following a debut partnership with British designer Grace Wales Bonner back in 2020, the Samba's demand rose tenfold. Even adidas' mainline Sambas began gracing the feet of those who weren't fortunate enough to get their hands on a collaborative pair, and were even named as one of the hottest products of the year according to Lyst.
While Bonner's ongoing adidas partnership continues to help the Samba grow today, it's still the focus of other sought-after collabs, most recently with the likes of Palace and KITH, as well as a rumored partnership with Montreal-based creative studio JJJJound.
Naturally, a sneaker's capital in 2023 can also be measured by who it boasts as a celebrity wearer. Luckily for the Samba, it's gracing some of the hottest feet on the planet.
From Frank Ocean and Jonah Hill (who himself has his own Samba collab), to Bella Hadid and Kendall Jenner, the Samba seemingly knows no bounds, looking as at home on the streets of Los Angeles as it does scuffed-up in the playground of a British secondary school.
Social media's input shouldn't be overlooked either. While platforms like Instagram have showcased a myriad of celebrity 'fits including the Samba, TikTok has also introduced the silhouette to a wave of younger clientele, most notably those who are a part of the ongoing Y2K revolution.
In truth, the adidas Samba is a fairly basic shoe when you compare it to some of the wild concoctions we see in the market today, and cheaper too.
The sneaker's clean minimalism means not only sees it as one the most versatile shoes available right now, but also a natural alternative to Nike's Air Force 1, Reebok's Club C, and the Stan Smith.
For me it's the Samba's unrivaled simplicity which is where its beauty really lies. Sometimes three stripes and a gum sole is really all you need.