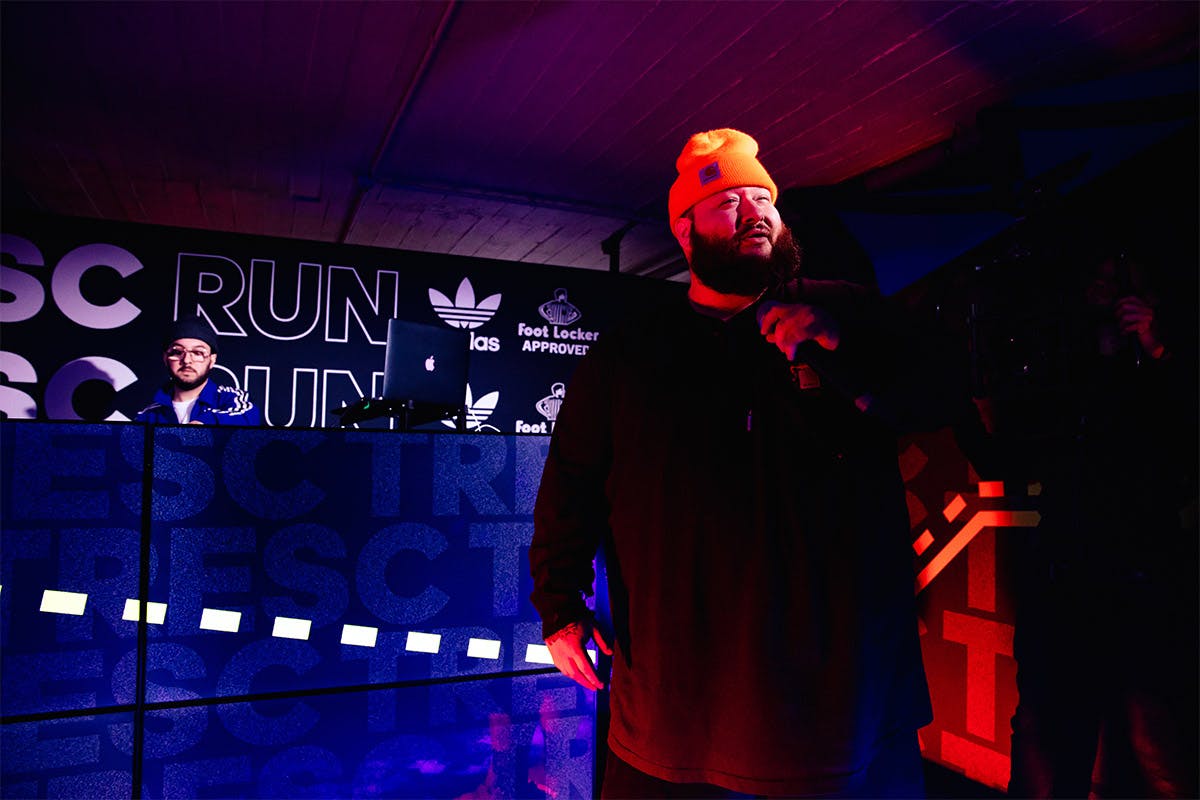 Hip-hop chief, media don, and gastronomic genius that is Action Bronson dropped into Berlin Friday night to launch adidas' latest kick: the TRESC RUN. The wavy trainer is available exclusively at Foot Locker from today, November 26, and is inspired by classic '90s running silhouettes and, significantly for us at Highsnobiety, one of the best and often overlooked sneaker that predated any of this chunky sneaker trend thing: 2014's gorgeous Temper Run.
Taking influence from classic '90s sneaker design, the TRESC RUN features a mesh upper with suede and leather overlays as well as reflective 3-stripes. The shoe's aggressive lines and patterns pay homage to some of adidas' most dynamic running silhouettes of yesteryear, finished with a BOOST midsole with a signature "flame" insert and a multicolored rubber outsole.
To mark the sneaker's launch, adidas opened the TRESC RUN Garage in the heart of Berlin's Kreuzberg. On the top floor of a multistory carpark hidden behind some of the Berlin district's iconic apartment blocks, Action Bronson helped host a garage party where you could customize your kicks, your ride, or even yourself (with tats and haircuts). Of course, this being Bronson, banging food and drink was on offer right next to the stage where the living legends gave an exclusive live performance.
We sat down with Bronson for a hot minute to get his take on cooking, cars, songwriting, and sneakers.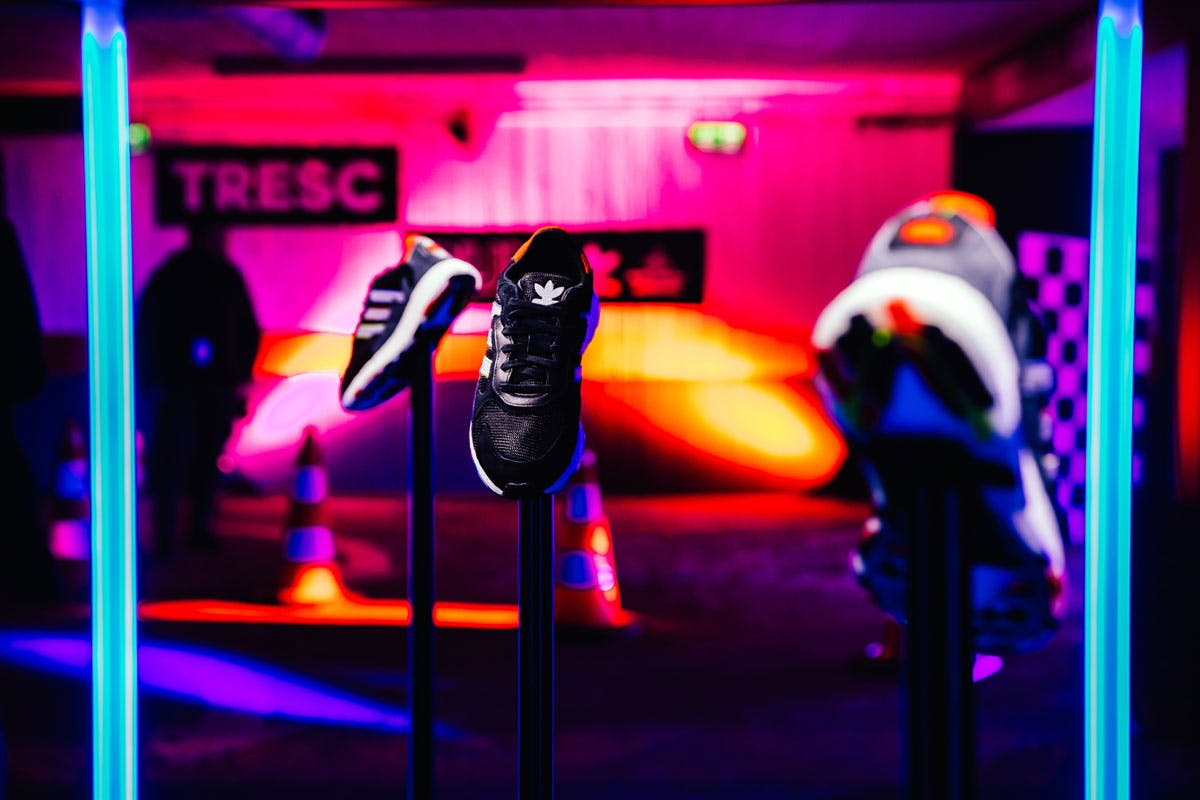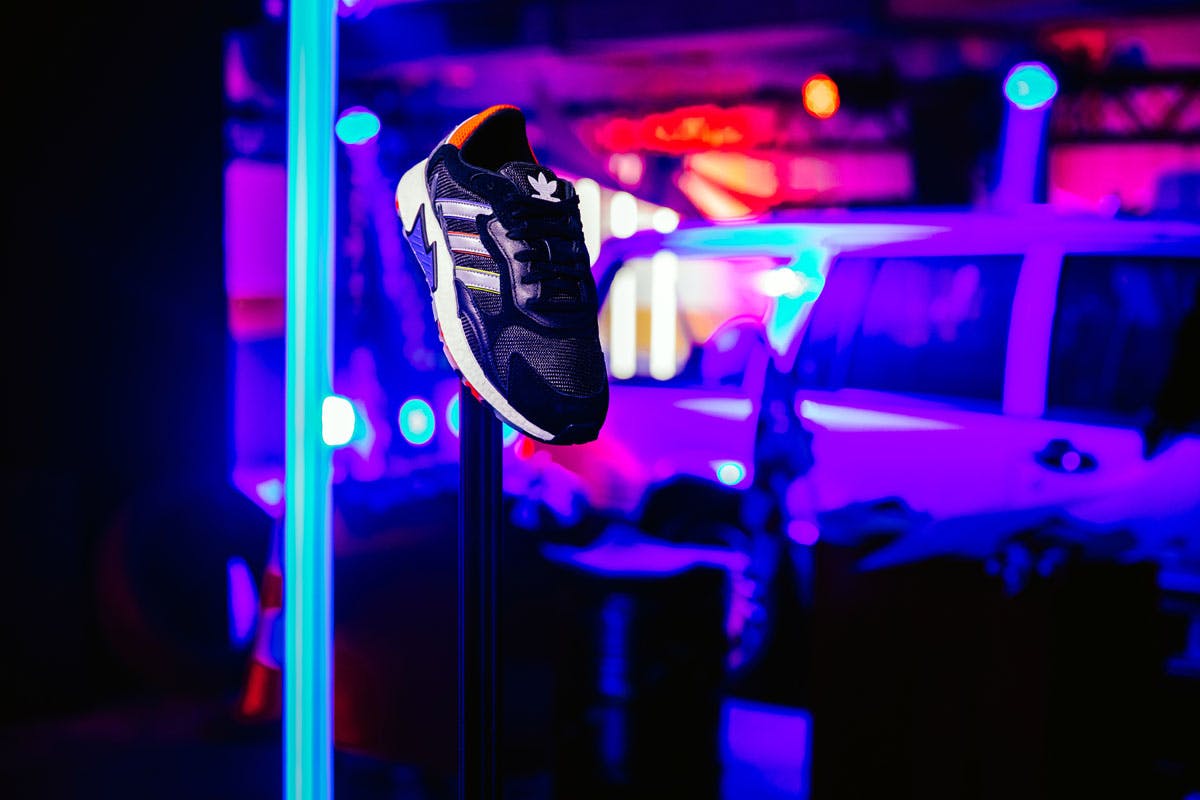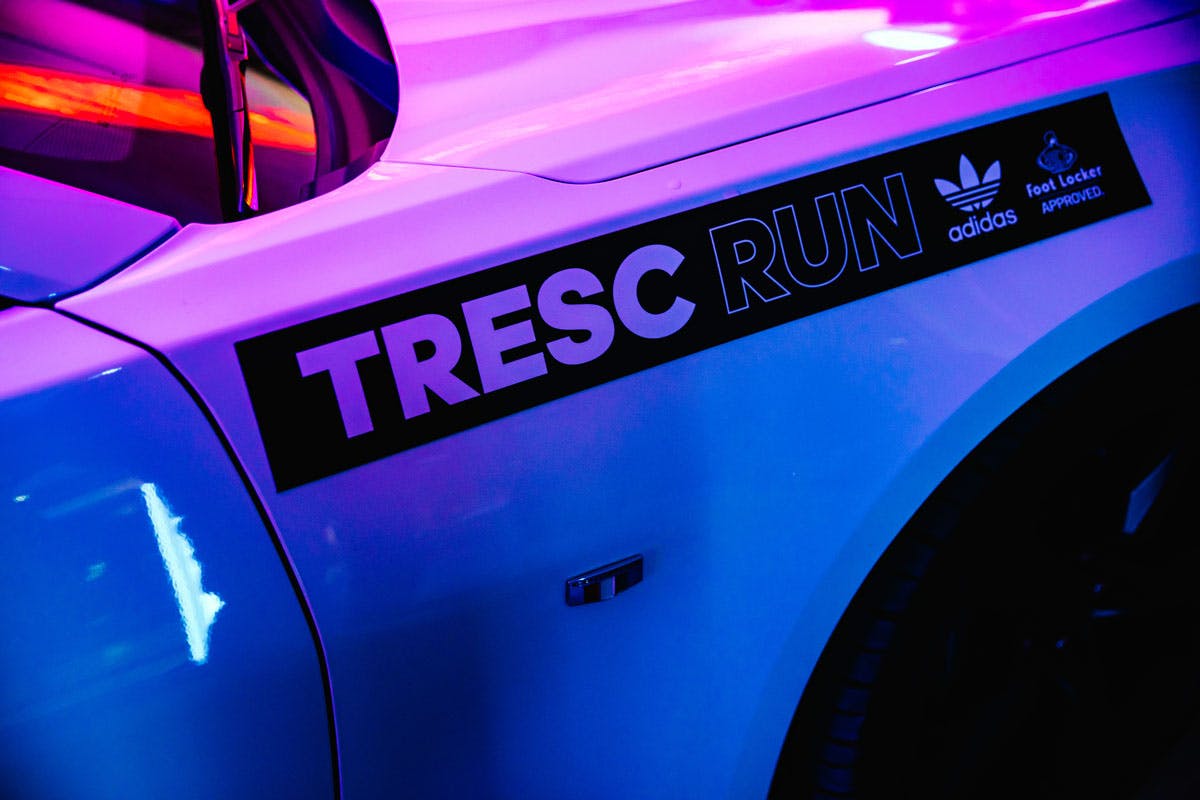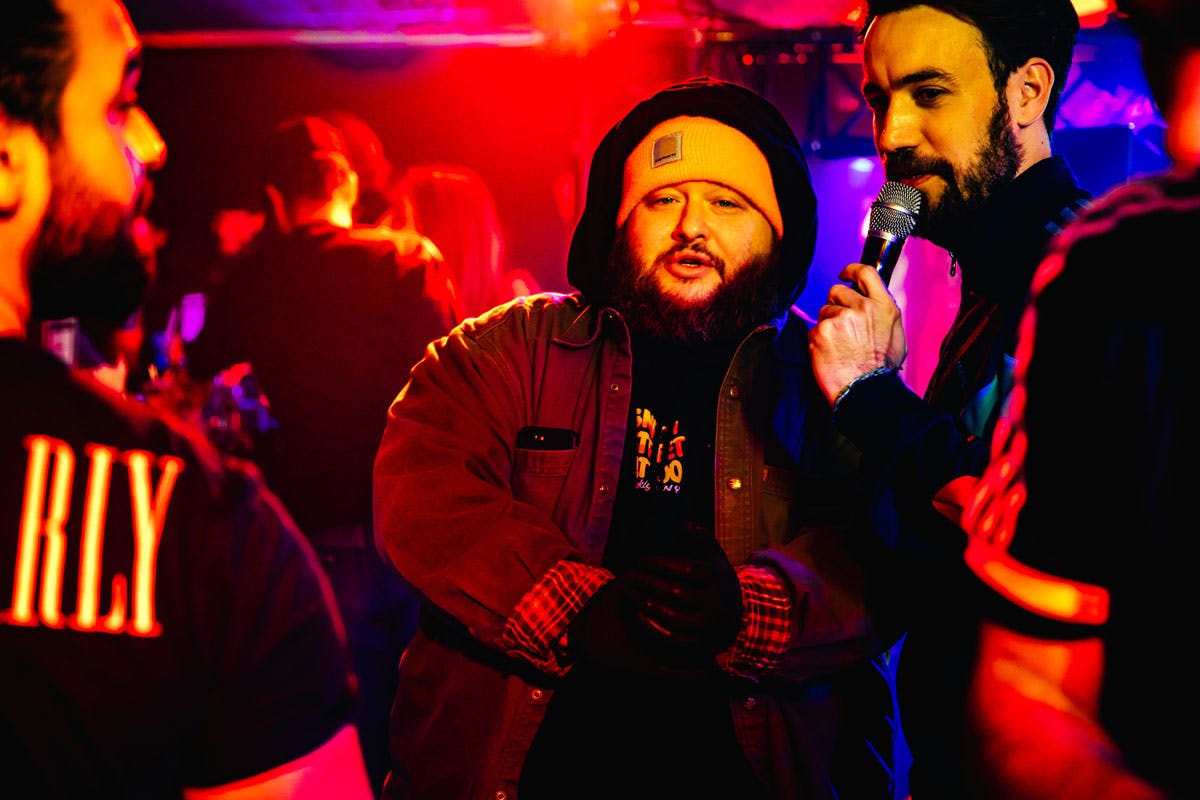 You're a big fan of adidas. Do you remember the first pair you ever bought?
Honestly, the first pair I ever bought was the adidas UltraBOOST "OG." I wasn't a huge adidas guy growing up but UltraBOOST was really the first shoe that blew my mind. I've been wearing them ever since.
Now, you've got on the new TRESC RUN.
These are beautiful, man.
What's your favorite part about them?
They're stable. The UltraBOOST kind of sucks your foot, but these are as stable with a little bit of a cooler edge to it. You can loosen them up more and make them crazy looking. Fluffy. Back in the day, everyone used to take their sock and put their sock back over their foot so the shoe would look fatter. You never did that? That was a big deal back in the day. You would get a fatter tongue area.
Also, I invented something. You take the insole of a pair of shoes you don't fuck with and take it out. You match that with your [new shoe's] insole and cut a bit off the top to fit the top of the toe and then you flip it and put it on the corresponding foot so it'll never crease. I used to be self-conscious about a creased shoe. I invented that.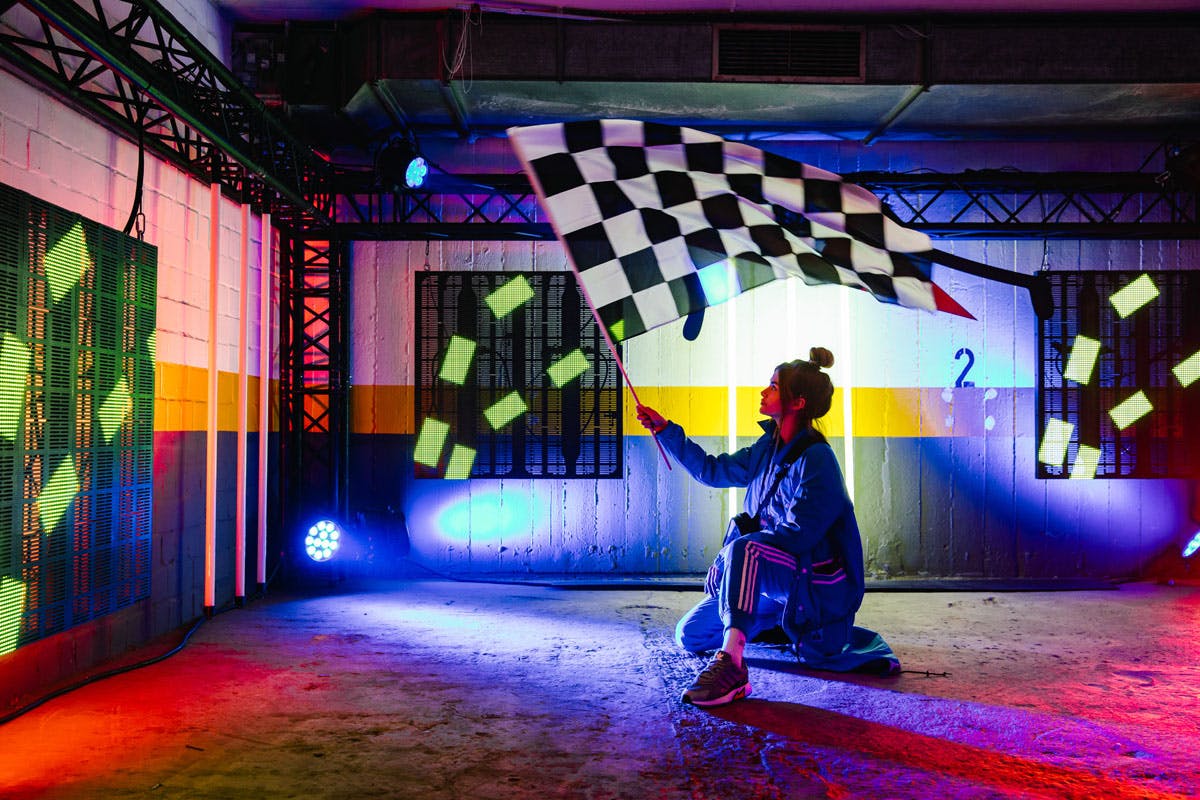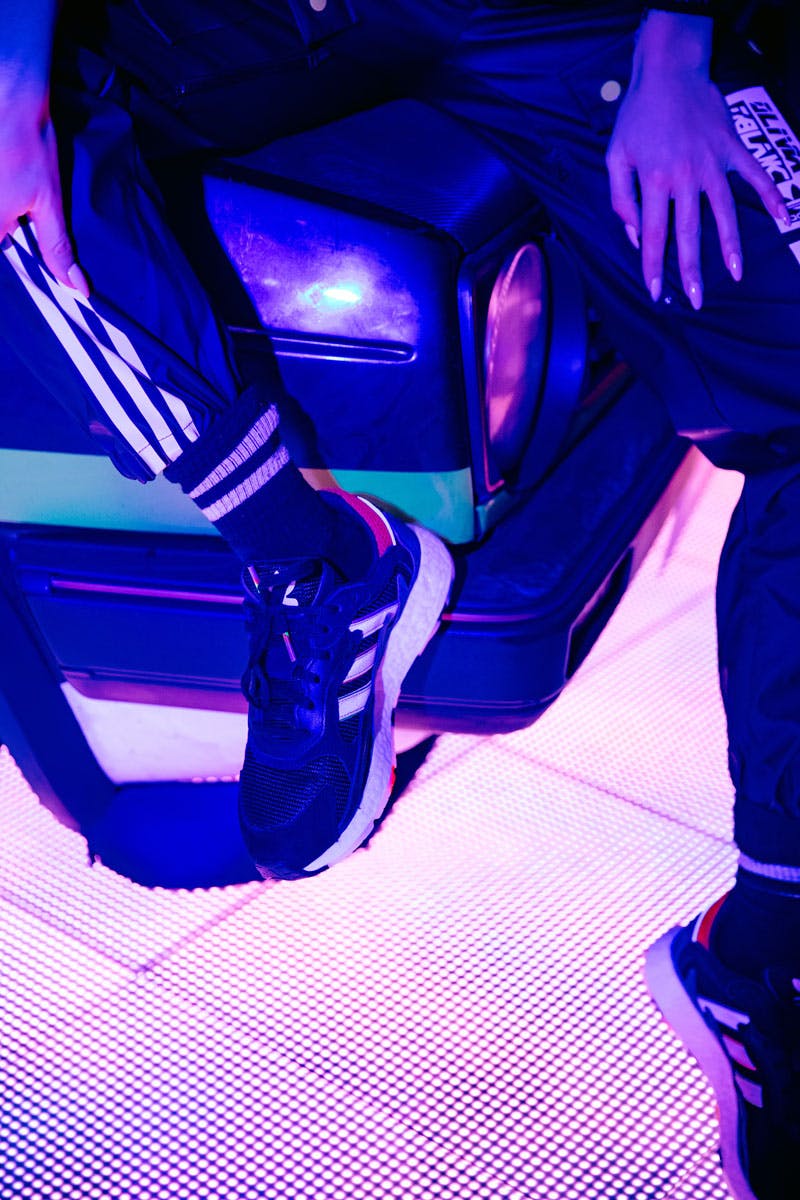 Part of the design of the TRESC RUN is inspired by the old school three-striped design of the '90s. I'm curious, what was your favorite shoe in the '90s?
To be honest with you, I was a spoiled little brat. I had a lot of girl cousins and cousins in general that always loved to buy me things. They put me on to all the shit they were rocking in the '90s because they were already teenagers. I was just copying them. I had all kinds of different situations on my feet. I had every athlete's shoe. Anyone that was hot, I had it.
How many sneakers do you own?
Right now? A lot, but I also donate a hell of a lot. I just donated over a hundred pairs of sneakers and I'm actually trying to start something where we clean our closets. We don't need all these things. It's time to give back to people. I'm starting my own little thing but I donate to homeless shelters and women's shelters. Whoever will take it. I donate shoes to Columbia.
If you aren't wearing them, you really don't need them around.
Exactly. It's just taking up space and not allowing someone else to be able to use those. You have so many things and just two feet. I end up wearing the same shoe every day anyway.
You don't need more than a few pairs at a time. So, this shoe is exclusive to Foot Locker. I have memories of going to the mall and going to the Foot Locker for a new pair of shoes. What memories do you have of the brand growing up?
Absolutely. The Foot Locker was the place. As time went on, it became the "mall store" as boutiques opened up, but I feel like Foot Locker is still the place to go. I buy my kid's sneakers at Foot Locker. My mother gets her shoes at Foot Locker. It's a staple.
Tonight's launch event is in a nondescript parking garage and has a lot of classic cars to check out. What are some of your favorite cars?
I own old BMWs so I have an old '87 M6 all-white. I have a '95 E36, which is a Touring hatchback. I have a '96 850CSia. I'm a BMW guy. I just recently looked at a special edition Range Rover but I don't know. It's modern, loud, and expensive. It might be fun.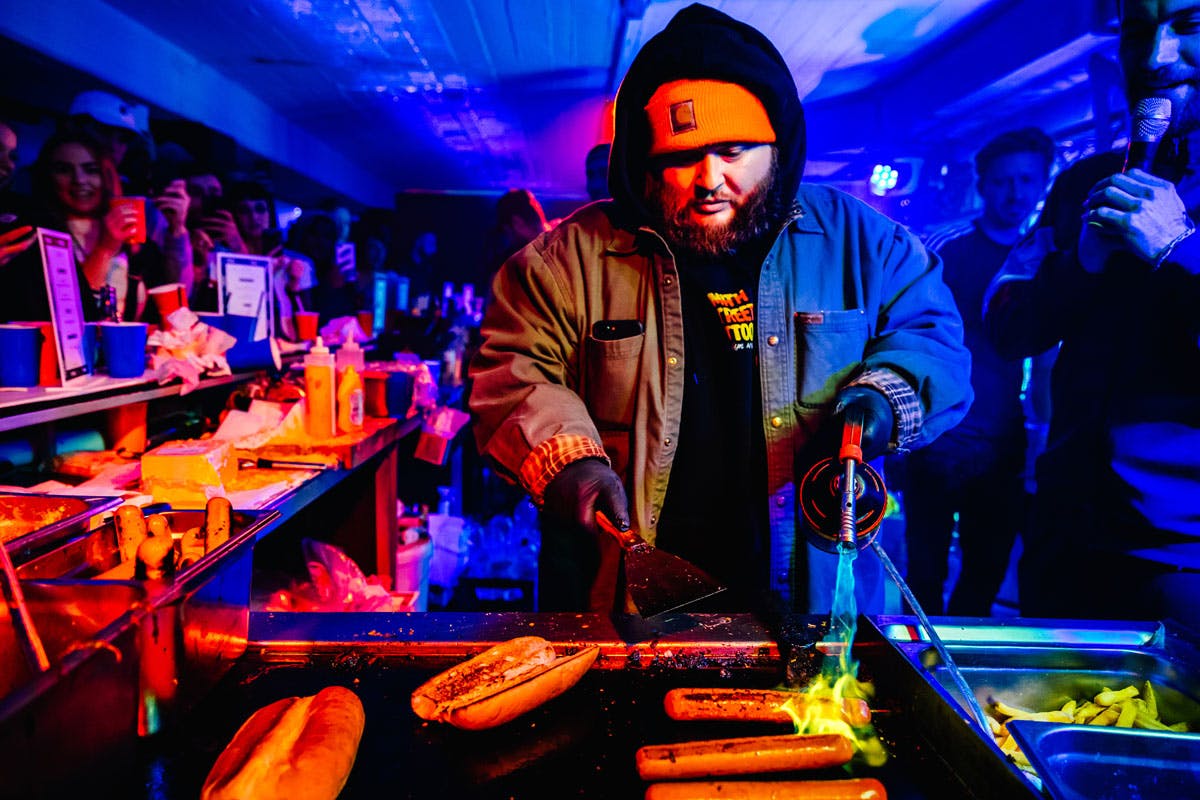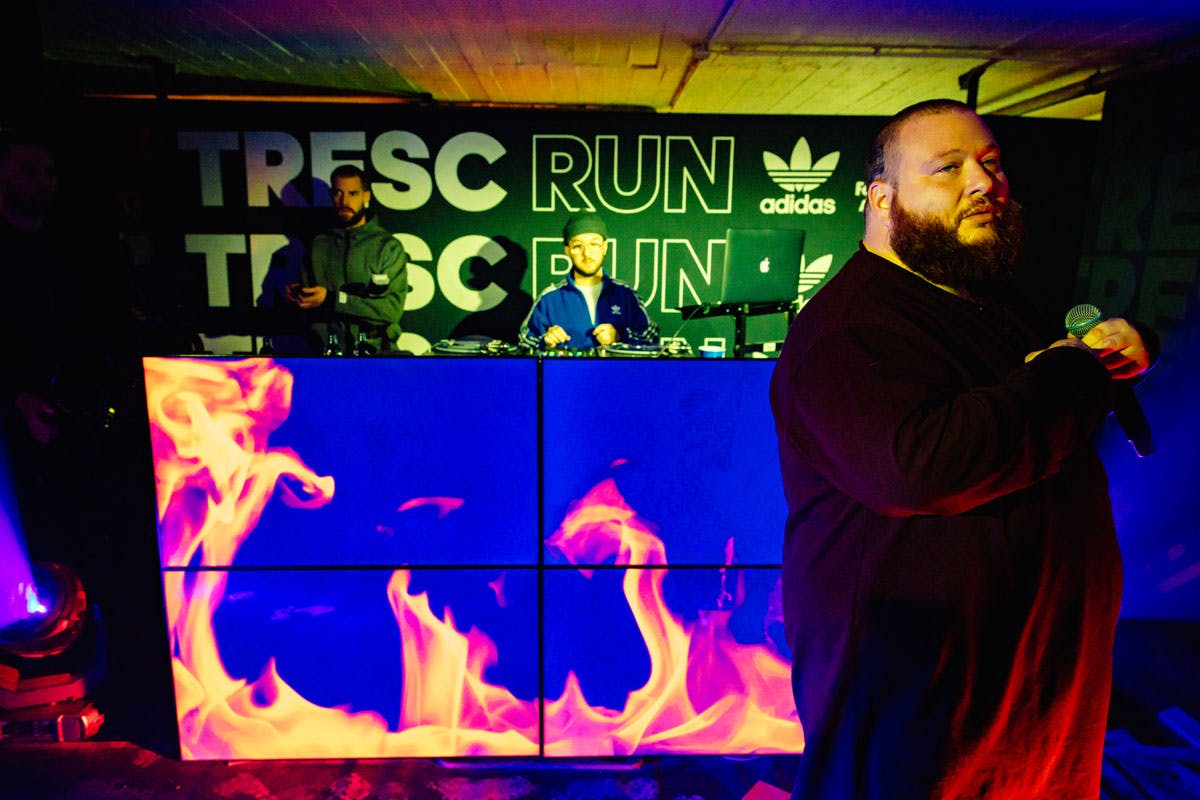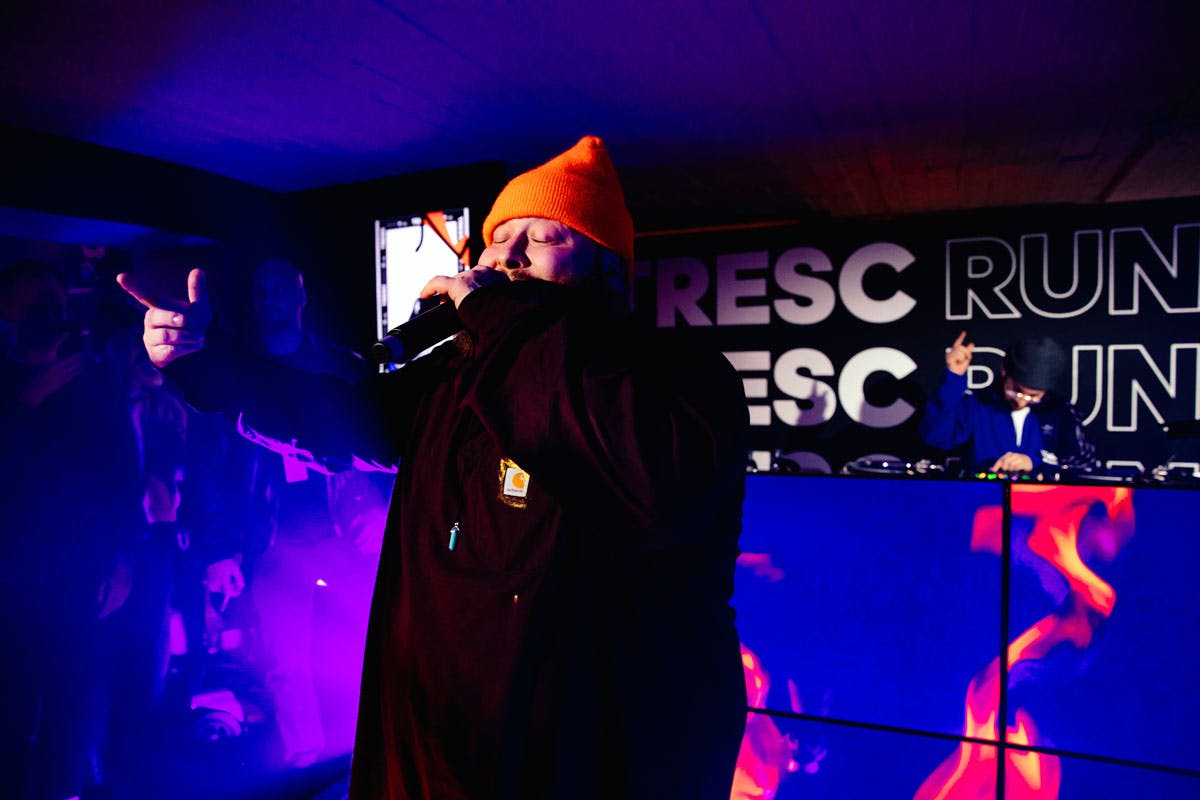 When you're in Berlin, is there any specific food you have to eat while you're here?
I haven't been here in a while but I know 100% you always go for kebob. Turkish food in Berlin specifically is that shit. We had some doner earlier and lamb shish kebab. A lot of good stuff.
You're making me hungry now. You just released your new album White Bronco. How would you describe the album in a sentence?
It's more a project than an album but I'd describe it as a wild, free psychedelic journey through my mind.
Have you thought of riding a white bronco before?
Well, what I learned recently is that "bronco" was slang used by the early Spaniards to describe anything wild. I've never ridden a stallion or bronco or any type of horse. I don't want to hurt them. I like to look at animals and hug them and kiss them and tell them they're the best. You want to pet a nice, white horse.
I want to love it. I want to stand next to it and pose with it. I want someone to draw me next to it. Paint. Sketch. All different mediums. Do you have a favorite song on the album?
For me, it's one long ballad. It's like "Bohemian Rhapsody." It's one long epic track that keeps going on and on.
I like the horse noises in the background of some of the tracks. Was that you?
Yeah, well that wasn't me doing it. It was my idea. That would be a pretty good horse noise if I could do that.
Comparing songwriting to cooking, what's the key ingredient to make a song good?
The vibe. Just like food. With food, certain things are a repetition and so is writing, but it takes more than just repetition. You have to realize what you're repeating and not always repeat. Every time I make a certain dish, it won't always taste the same. With music, you can't just keep doing the same thing. You have to constantly reinvent yourself with each song.
You can't go by a recipe.
No, there's no recipe. Even with food and with cooking, there's a base but then you reinvent. With all art, there's been a foundation laid for us already. Nobody is reinventing the wheel so we just have to play on what's already there. We invent new things because we find new things in life and nature but there's always a baseline. You just have to riff off that.
The adidas Original TRESC RUN sneaker is available right now via Foot Locker Europe.