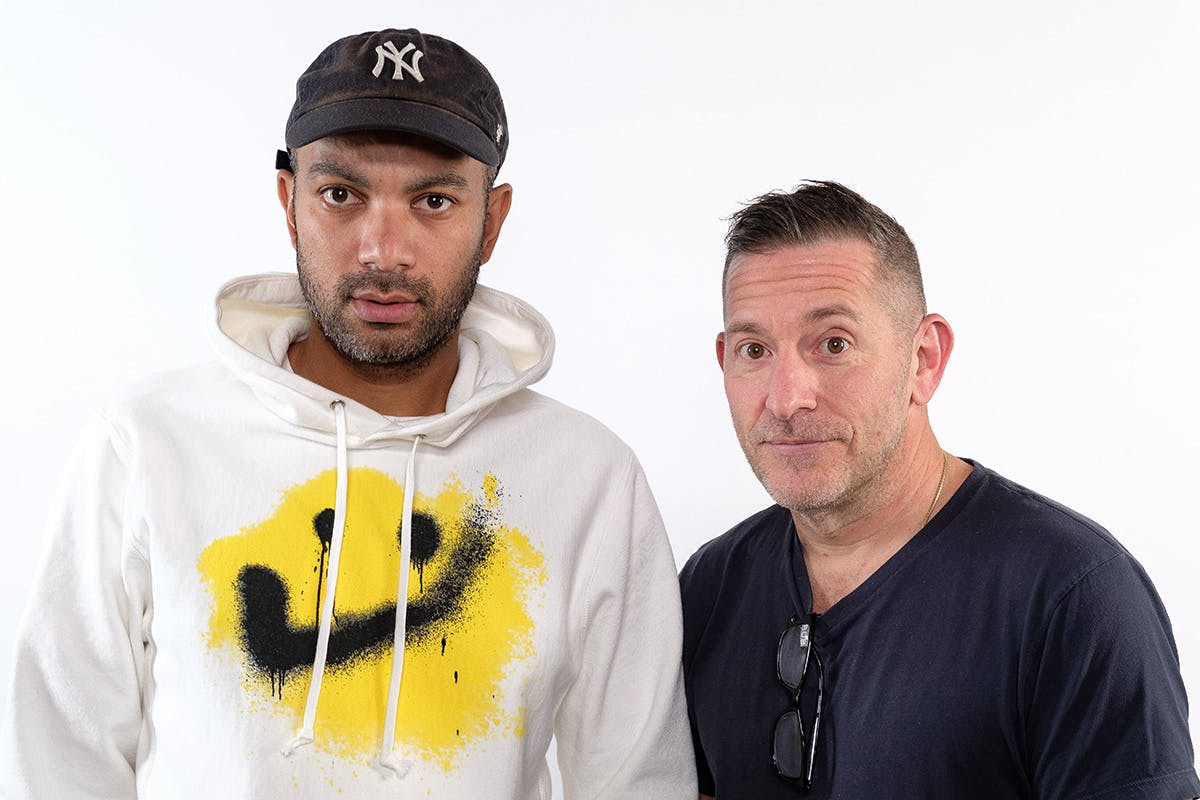 On this week's episode of The Dropcast, hosts Jian DeLeon and Noah Thomas are joined by Treis Hill and Rob Cristofaro, partners-in-crime at Alife, who are on to celebrate the 20th anniversary of the New York City-based lifestyle, street, and skatewear brand.
The quick hits start off with Kith's co-branded apparel capsule in collaboration with Nobu and their dinner event which took place at the world's most recognized Japanese restaurant (2:48). While Noah was filling up on sushi as a Nobu regular (shout out to Uncle Woody), Jian was knee-deep in work at the office. Treis notes the merging of food with fashion as the cast expresses their mutual love for authentic restaurant merch (4:30). Somehow, discussion of the Snow Peak x New Balance sneakers brings us back to food again — more specifically, food utensils, including the world's most luxurious spork (8:06).
Talk of Burberry's Nova Check fleece jacket drop leads to Rob and Treis sharing the lack of high fashion pieces in their closets and Alife's history of collabs (11:10). Rather, the duo emphasizes the importance of finding relevance in co-branding as seen through their work with Foot Locker's Project Greenhouse (16:13). The initiative focuses on sustainable product design and empowering youth culture through collaboration with mentors.
Alife's multifaceted identity, which includes being a museum, extends their storytelling beyond pure products as seen with their recent partnerships with Brooklyn Museum and The Bronx Museum of the Arts. When the latter held an exhibit for street art photographer Henry Chalfant who produced a body of work referred to as the Bible of graffiti (22:53), Alife injected their contemporary DNA into the collaboration by creating a pop-up retail space selling a capsule featuring Chalfant's work.
In light of their 20th anniversary, Alife is collaborating with Lee Jeans who are also celebrating 130 years in the making (26:00). This leads up to the Question of the Week (QOTW): "What's your favorite Alife collab?" (29:08) with the hosts giving their takes.
The cast wraps up the episode by making the rounds in "What'd You Cop?" Rob got his hands on the iPhone 11 Pro while Treis got a pair of red Chuck 70s.
Check up on our next QOTW out Monday on Highsnobiety's Instagram, and make sure to leave us a voicemail on The Dropcast hotline at 833-HIGHSNOB (833-444-4766) for a chance to be featured in a future episode.
Relevant links:
KITH Cooks Up a Co-Branded Collection With Nobu
Snow Peak's New Balance Sneaker Collab Is for Mountain Adventurers & City Dwellers
Nike Gives the Blazer Mid '77 Vintage a Snakeskin Swoosh
Get FW19 Ready, Head-to-Toe, With These Fleece & Shearling Highlights
Patta Celebrates 15th Anniversary With NYC Pop-Up & Insane Collabs
Rowing Blazers & Barbour Team up for Japanese Exclusive Capsule
Foot Locker, Inc. & Greenhouse Collab With VFILES, Alife, Diet Starts Monday, & More for Innovation Incubator