Experience this story and others in HIGHStyle, a print magazine by Highsnobiety, available from retailers around the world and our online store
"Even though I was terrified, it was really important for me to speak my truth," Allyson Felix explains. "It was really the shift of becoming a mother, and also the mother to a girl. I did not want her to face the same challenges that have been here my entire career." Motherhood could have cost the Olympic athlete her career — but she wouldn't let it.
With a career that spans five Olympics and the better part of two decades, you wouldn't think that one simple but powerful choice over her body is how she changed the conversation around female athletes. But for the sprinter turned mom turned advocate, motherhood did just that.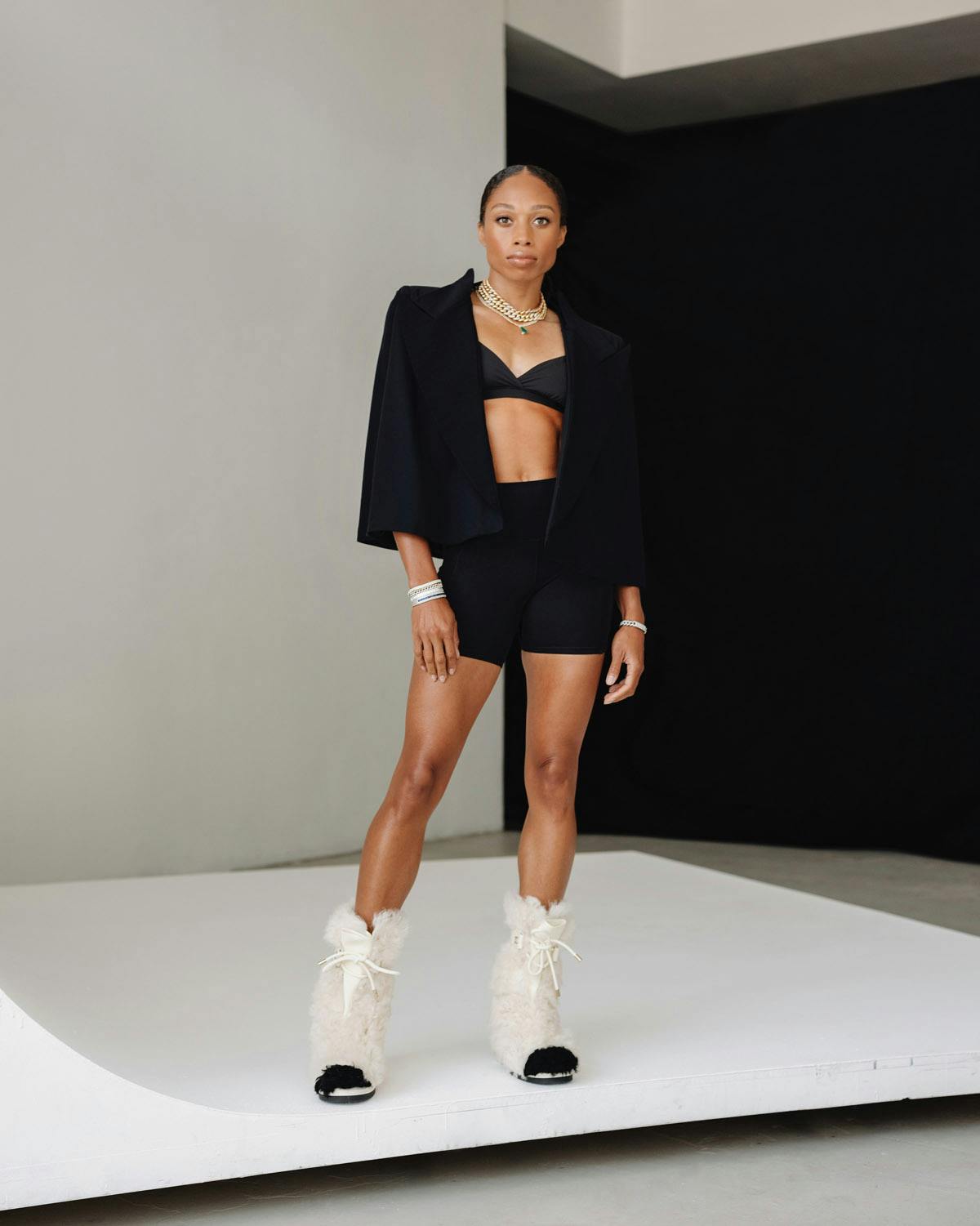 When Highsnobiety speaks to the athlete, she's just on the brink of her fifth and final Olympics, where she will go on to win a further bronze medal, becoming the most decorated female track athlete in the history of the Olympics. This is a farewell that wasn't promised; as recently as a few years ago, almost nobody thought she'd be here. By spearheading a conversation about the way women are treated in track (and sports in general), the greatest runner in women's track history almost incinerated her own career. "I was really scared," she admits. "I just wasn't sure what my future was going to hold because of my decision to become a mother."
Female athletes have had to endure a separate set of obstacles to their male counterparts; expected to give up their hopes and dreams outside the sport for the grinding pursuit of perfection within it. The decision to have a child for most signals an end to their Olympic aspirations and the loss of vital sponsorships. For companies like Nike, motherhood was fundamentally dissuaded and the effects were punishing. In a 2019 open letter, Felix called out the sports conglomerate and her then-sponsor for cutting her pay after the birth of her daughter. It was a heartbreaking encapsulation of the high stakes and even higher pressure of playing professional sports as a woman. The move was fraught. Felix risked being blacklisted, losing her primary source of income — and her entire career.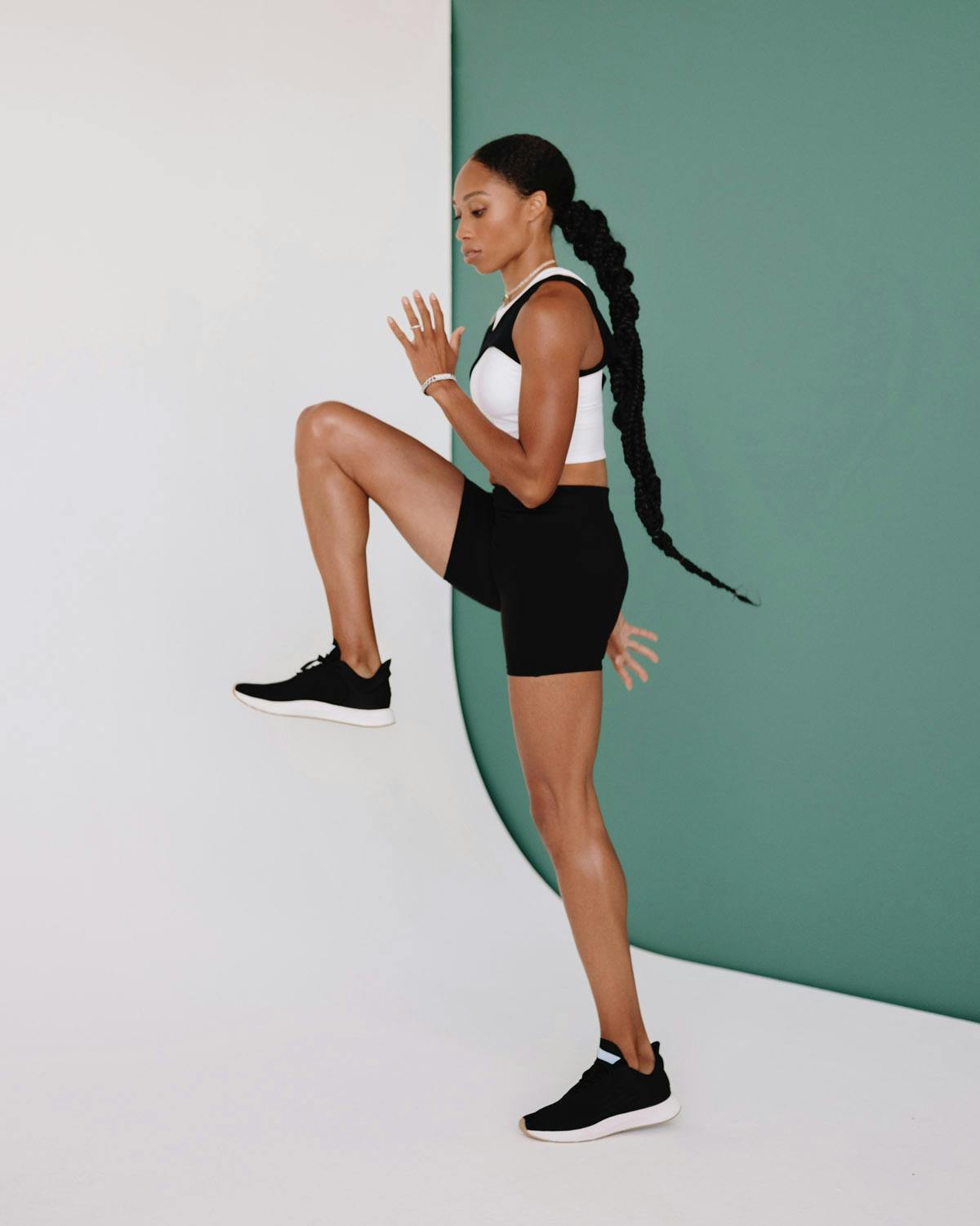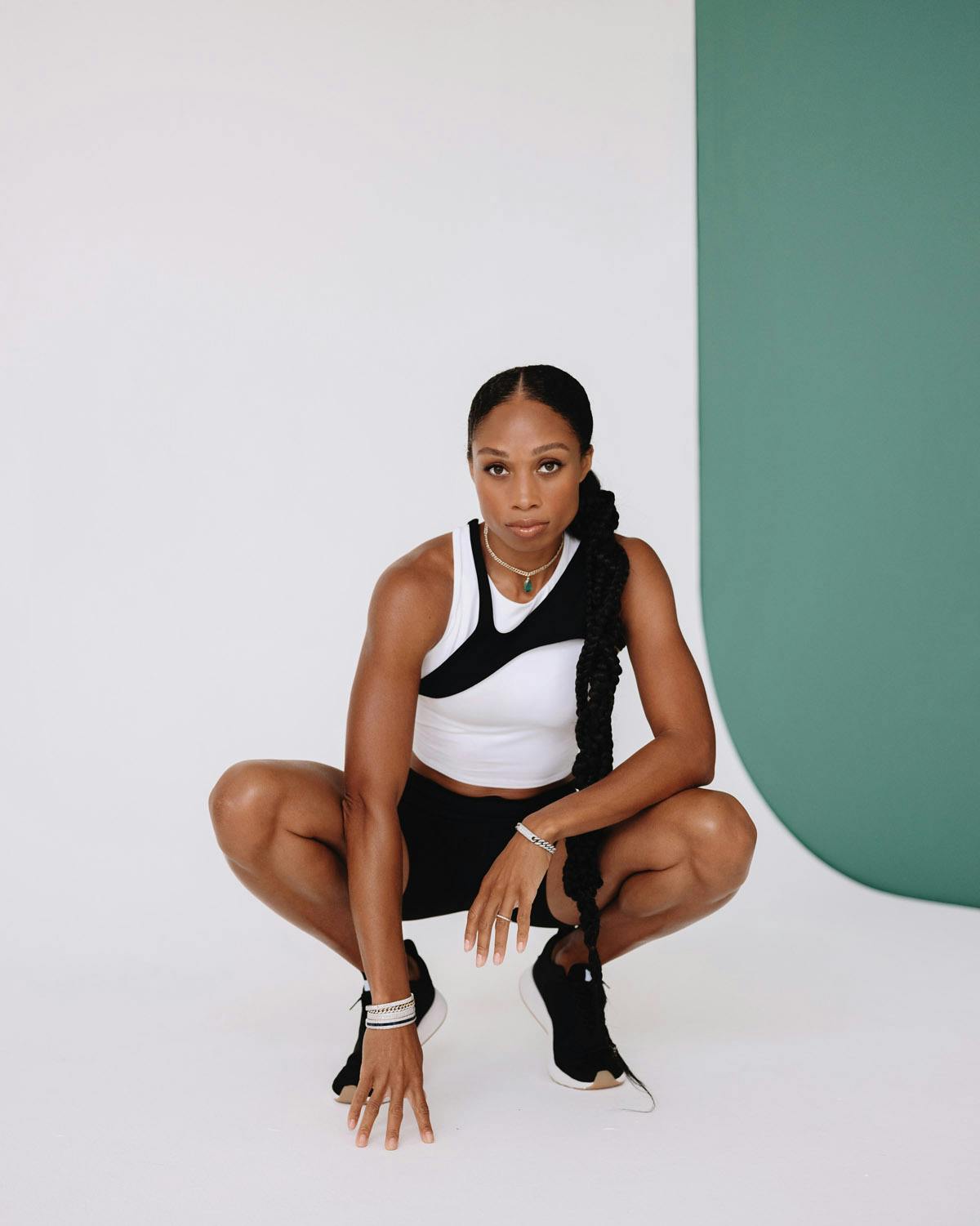 Knowing that starting a family could be "the kiss of death" for female athletes, Felix decided to forge ahead anyway with her dream of being a professional athlete and a mother. At first, she hid her pregnancy for fear of being penalized — Nike wrote in pay reductions to women's contracts if they became pregnant. "It was just a really difficult and dark time. I felt like I really had to [hide my pregnancy] because of everything that was going on with my sponsorship," Felix tells us. "So I felt like I missed so many of those moments in such a time that should be celebrated. For me, it was spent by myself and in the house and not being able to really embrace all of the happiness that comes along with bringing life into this world." However, she realized as one of Nike's most widely marketed athletes she could set a precedent for others: "If I can't secure maternity protections, who can?" she wrote in her op-ed.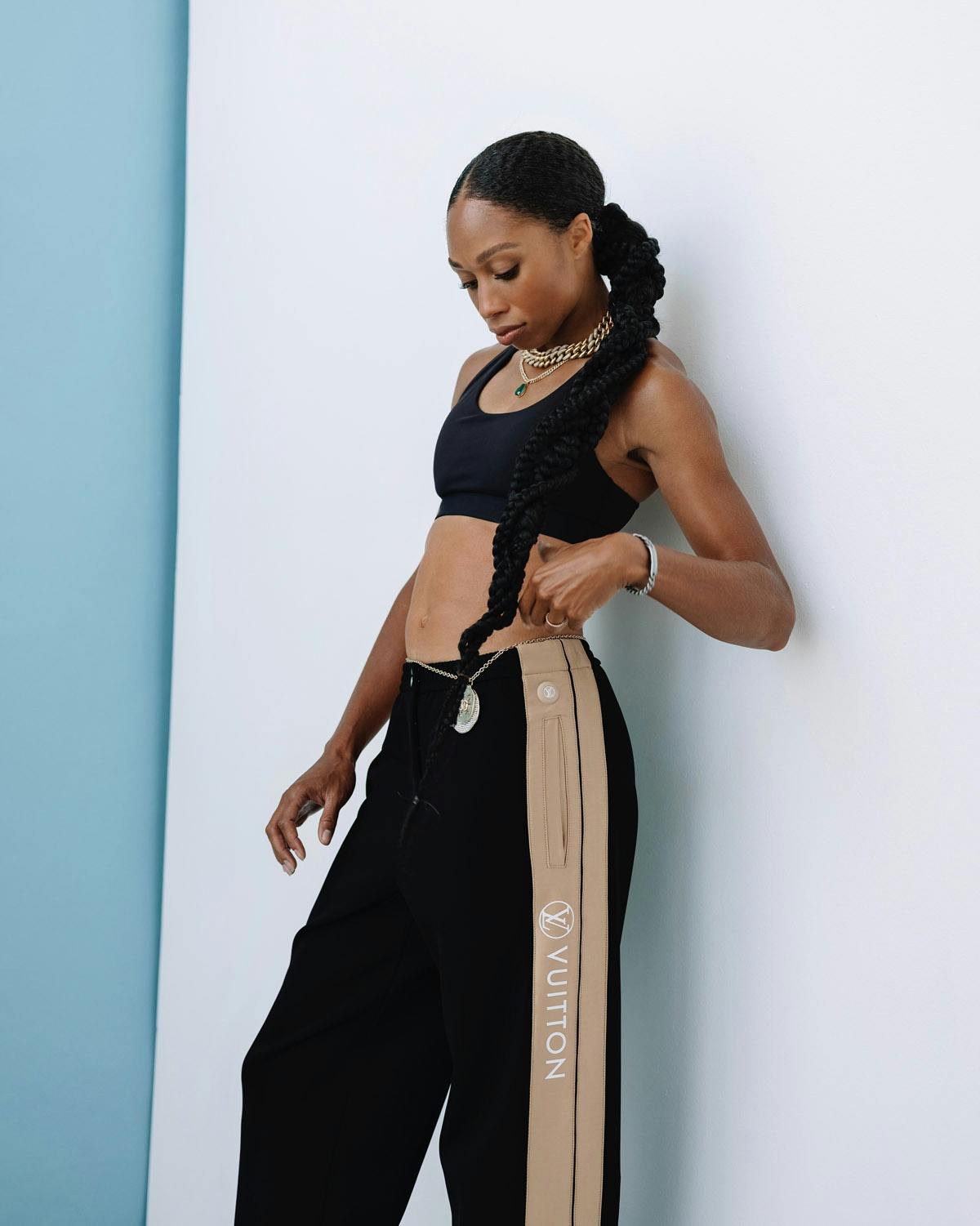 "I do feel like it's a privilege to speak on behalf of my community to fight for other women. So many women who came before me did the same so that I could have this opportunity, and I've always been taught, once you're through the door, open that door for the next person." Yet even as the sports world and the public rallied behind her, Nike balked. With motherhood in the picture, Nike was clear: the company would not continue to sponsor and pay Felix the same way going forward. Here was an all-time Olympian just two years removed from accruing more Olympic medals than any female track athlete in history, and she was being bullied out of a deal, with her Nike endorsement set to be cut by as much as 70 percent. But for Felix, the battle was always bigger than money. By speaking out about her circumstances at Nike, she knowingly violated the terms of her non-disclosure agreement with the company. It would mean the end of her endorsement deal with the most powerful apparel brand company on the planet. In an industry-altering moment; Felix's move forced Nike, as well as other brands in the industry, to establish new maternity policies that protect pregnant athletes on contract, forever changing the future and potential of women in sports. By choosing motherhood, Felix had inadvertently opened Pandora's box.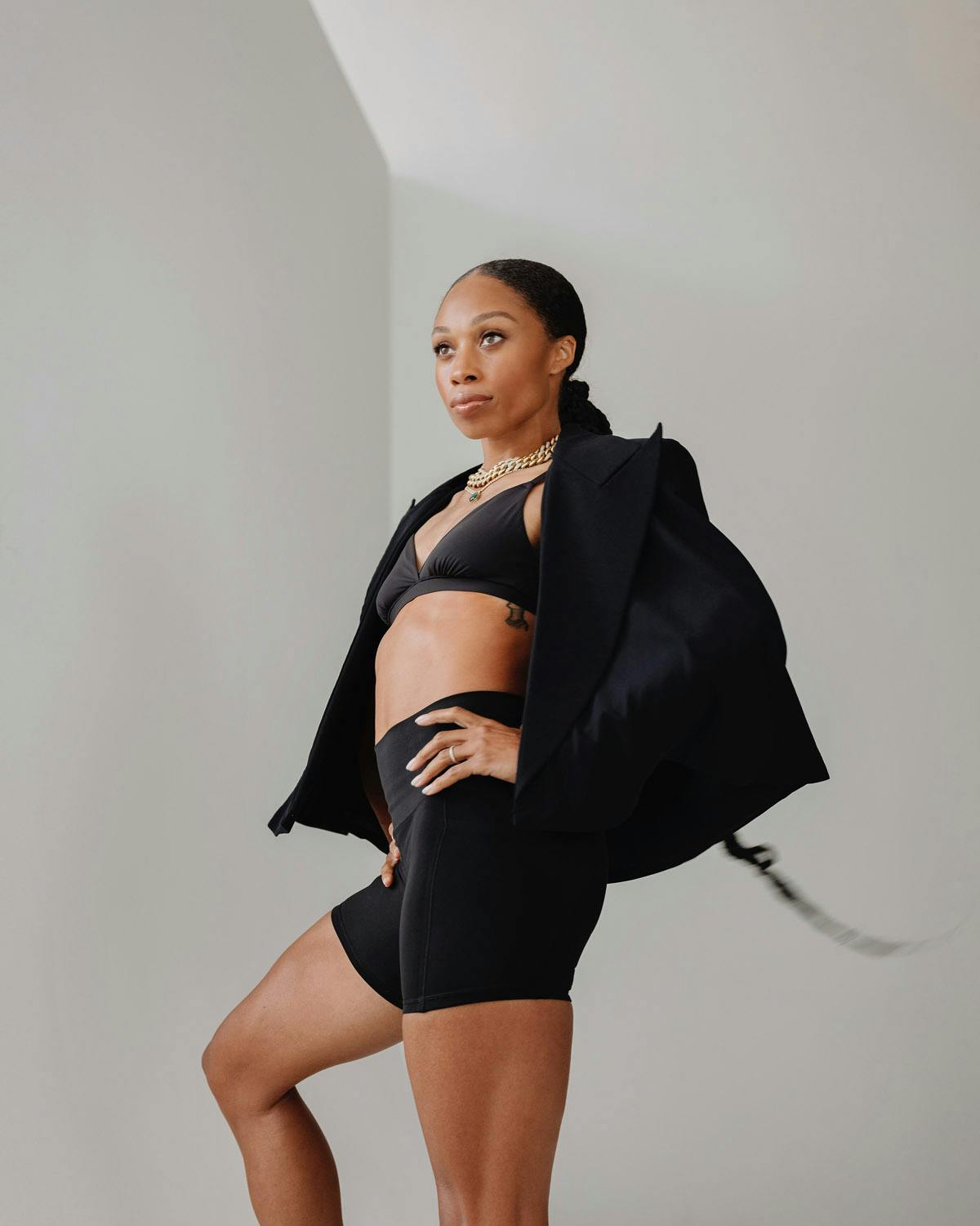 When Felix crossed the finish line in Tokyo this year, she had run her fastest 400 time in six years — meaning she ran better in Tokyo as a 35-year-old mom than when she took the silver in this event in 2016, at the age of 30. Not only that, but she had done it all while wearing her own shoe brand, Saysh. Brilliantly defiant, Felix recently added a new title to her resume: CEO of Saysh. What happened this summer at Olympic Stadium was so much more than a couple of age-defying sprints by the greatest female track star of all time, this was about breaking barriers for women around the world after a David and Goliath fight with the Swoosh. In an Instagram post announcing Saysh ahead of the games, Felix wrote: "I used my voice and built this company for you. So that you never have to train at 4:30am while you're 5 months pregnant to hide your pregnancy from your sponsor [...] The world doesn't need more shoes, but the world does need to see women wholly and meet them right where they are."
When the systems in place refuse to make space for women to be women, I guess it's time to stop relying on those systems and make your own way. "Saysh really came out of necessity. In my career, I'd gotten to this place where it's like, 'Here I am, I need a footwear sponsor. I'm tired of asking. I'm tired of forcing people to see my worth and my value.' I didn't have shoes to wear in the Olympics and what I had seen was product from and for men, even when it was supposed to be for women." Felix pauses. "Why search for what is missing when I can make it myself?" As Allyson Felix has forged her own path, the tables have turned to where power and choice are no longer privileges to be wielded by large corporations, but something that athletes can own themselves. Looking back at her storied career, she'll be remembered not in her records alone, but in her long-lasting impact for others.
Order HIGHStyle, a magazine by Highsnobiety, via our online store.