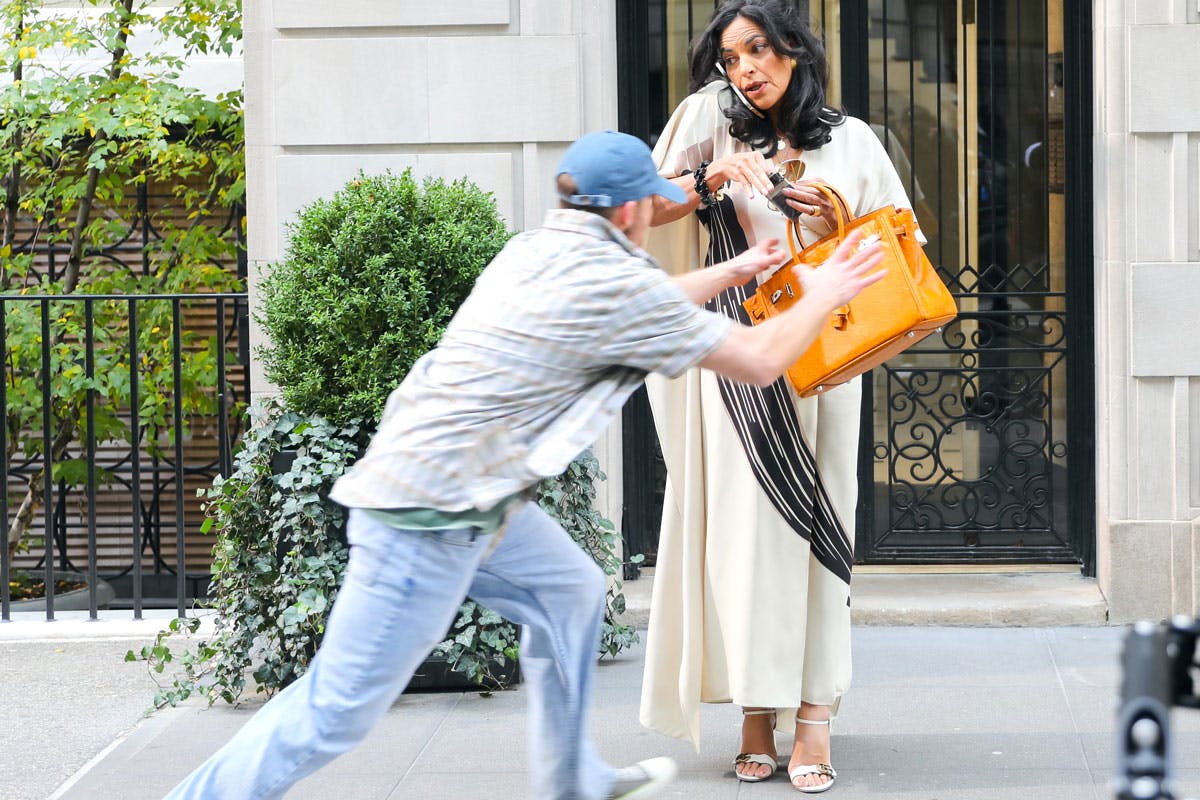 Beware! A Birkin thief has been let loose on season two of And Just Like That. 
As evidenced from our latest batch of paparazzi shots, HBO's Sex and the City reboot will tackle a very important issue in season two: Hermès handbag theft.
On November 29, Seema Patel — Carrie Bradshaw's high-powered real estate broker, played by Sarita Choudhury — was photographed in a pretty relatable pickle. From the looks of it, Seema was strolling Park Avenue, clad in a fabulous Fendi kaftan and Gucci heels, when a Chris Pratt lookalike snatched her orange, ostrich leather Birkin 35 right out of her hands.
Happens to the best of us!
The stills immediately recall Samantha Jones' Birkin debacle from season four of the original Sex and the City. In case you need a refresher: the PR maven attempts to buy a Birkin at the Hermès store, a request that a sales associated (very realistically) scoffs at.
After discovering that buying a Birkin is one of the most difficult maneuvers known to mankind, Samantha name drops her new client, Lucy Liu (!), in an attempt to secure the bag. While Samantha leaves empty-handed, Lucy is later gifted a cherry-red Birkin, causing Samantha to explain the mix-up — and promptly get fired.
While our thoughts and prayers go out to Seema and her stolen bag, we have to give her credit for actually using her Birkin, instead of keeping it locked away for fear of wear, tear, and theft. After all, TikTok says a lived-in Hermès bag is the ultimate status symbol.
Shop our favorite products