For the last couple of months, this particular pair of tracksuit bottoms from Keizo Shimizu's label, Needles, has been inescapable, likely gracing your Instagram feed courtesy of celebs like A$AP Rocky, A$AP Bari and Tyga.
If you were lucky enough to get in ahead of the hype train, these pants, available in several colorways and fabrics like polyester and velour, would have only set you back a fairly reasonable ¥21,000 (about $190) on the Nepenthes online store.
If you were hoping to pick up a pair now, good luck—they're completely sold out at Nepenthes, as well as every North American stockist, and a quick perusal of your favorite resale sites show than they're selling for upwards of twice the retail price.
I doubt I'll be wearing mine to the gym any time soon.
While this obsession might be new, the tracksuit, and the Needles brand, certainly aren't. Shimizu's personal project has been operating for decades now under his Nepenthes brand, which is home to several labels, including Daiki Suzuki's perennial heavyweight, Engineered Garments. Since its inception, Needles has always been about breaking the rules.
A quick glance at any collection will show indisputable roots in workwear and Americana, yet those labels inevitably fall short. Subversion (though certainly not severity) permeates Shimizu's work. Cuts are quirky, proportions are exaggerated, and styles are mixed-and-matched—workwear may always be front and center, yet it's not uncommon to see it combined with his whimsical interpretations of classic tailoring or, in the case of these track pants, sportswear.
To get a sense of this, look no further than to the mastermind himself: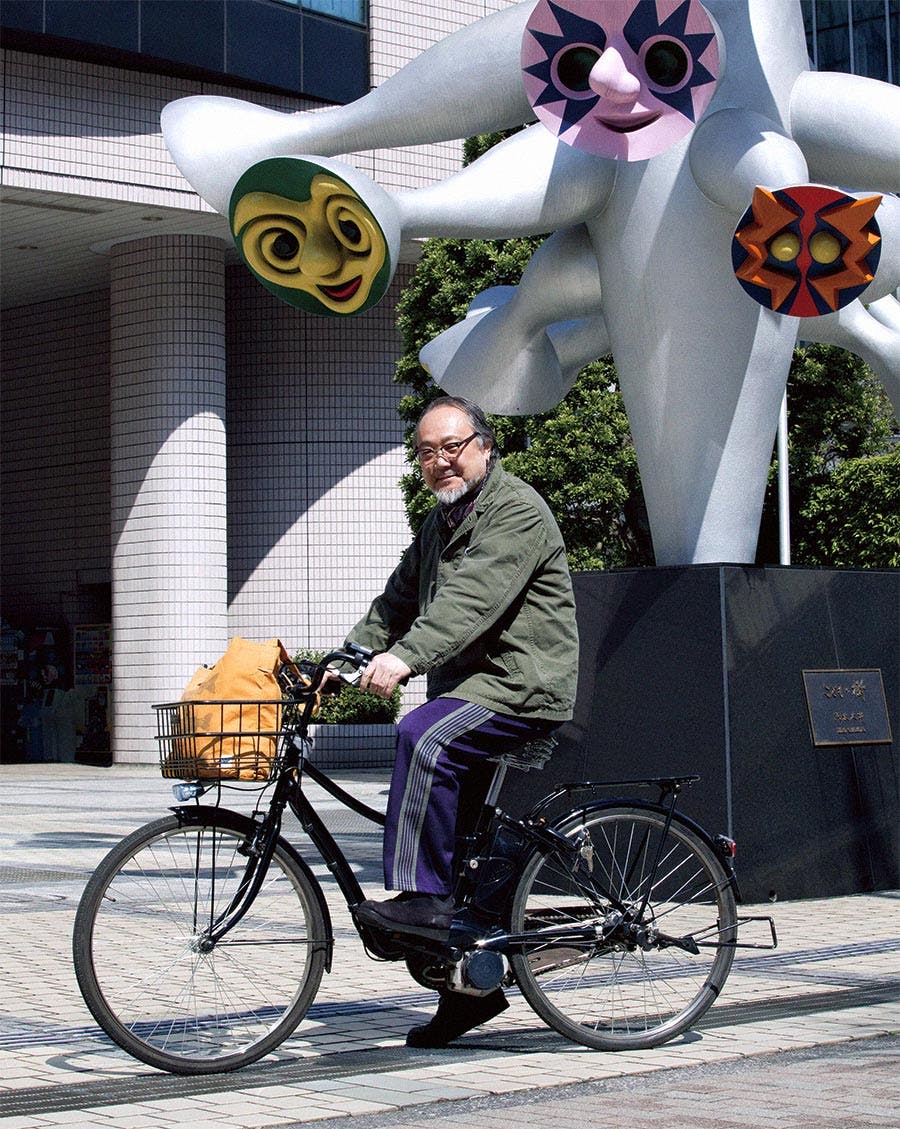 Those pants sure look familiar, don't they? As early as 2015, when this interview was published, Shimizu was rocking these track pants in the most Needles way possible—with a polystylistic and quirky, yet practical combination of a classic canvas jacket and derbies. Though an integration of sportswear into a workwear-based aesthetic might be visually jarring, sportswear has an equally strong footing in the American cultural imaginary—think brands like Polo and Calvin Klein or Certified American Heroes™ like Rocky Balboa.
For Shimizu, who, according to this profile, visited a Ralph Lauren factory store on his first American buying trip, sportswear's connection to Americana has always seemed to be sufficient conceptual justification the resulting aesthetic clash. Or maybe he just likes being cozy, who can say? Either way, in 2011 (though the tracksuit is mainline Needles), his love of the style even birthed a dedicated sportswear line, Needles Sportswear.
Though sportswear has been a core element of the Needles ethos for quite some time, it's only as of late that the tracksuit made its way into U.S. stores. According to a representative from the Nepenthes NY storefront—the only North American Nepenthes store—they've only been stocking the tracksuits for a couple seasons now. Perhaps because of a perception of Needles as a workwear-centric brand, the store never anticipated the tracksuit's appeal to the historically less-adventurous American shopper.
Regardless, after the decision to begin shipping pairs Stateside from Japan, the same representative claims that the tracksuits have remained a popular item. Yet even their relative popularity fails to explain the fact that, in the last few months, the bottom half of the suit has sold out at every Needles retailer. So the questions remains: why are they just now blowing up?
At the end of 2016, model and fashion renaissance teen, Luka Sabbat, tweeted these pictures of himself in the track pants with a shoutout to @DenimTears. Denim Tears is the alias of Tremaine Emory who, along with Acyde Odunlami (@prettyvacantcyde), make up No Vacancy Inn, which Acyde describes in this interview with Dazed Digital as something between "a nightclub, a record store and a clothing shop." The pair can often be seen hanging out behind the scenes with the likes of Luka, A$AP Rocky, Virgil Abloh and Heron Preston.
I was able to get in touch with Acyde and Tremaine to get their thoughts on the pants and why they blew up, and one thing is clear: social media and influencer hype were key. According to Acyde, we can thank "zeitgeist and social media...But the truth is Tremaine wore them, I wore them, and a few other famous friends wore them at different points and other people saw that online." Tremaine seems to agree, mentioning the fact that "guys like Ian [Connor], A$AP Bari, and A$AP Rocky were wearing them and being seen on social media."
If this hilarious Instagram post from Tremaine is any indication, he doesn't seem to mind owning up to his and Acyde's roles in brutalizing the Nepenthes stockroom, leaving orphan track jackets in their wake. He mentions, after I asked him for context on the post, "It was a funny way to show how accidental influence can popularize something that has been there a long time (such as the track pants) and also the power 'we' have to sell things for others."
It's this "we"-not just Tremaine and Acyde, but the celebs that have since started wearing them-that's played such a central part in the pants' newfound popularity.
Celebrity co-signs aside, it's tough to ignore how readily a luxury track pant fits into current trends: think Gosha Rubchinskiy's recent collaborations with Sergio Tacchini and Kappa, or Supreme's collection with classic sportswear brand Lacoste. "There's definitely a sportswear luxury thing that was in the air…," comments Acyde, "look at Gucci." Tremaine confirms, yet qualifies the luxury influence, describing Acyde and himself as guys "who wanna have things that resemble the norm but with a twist aren't accessible to the people who solely dress based on trends."
I also asked the pair to comment on what exactly drew them to the pants in the first place. "I've been searching out tracks pants that worked well with loafers, cowboy boots, dress shirts, and long coats for like over a decade," Tremaine commented, "so when I came across them in the Nepenthes store I kinda lost my mind." Acyde adds, "I saw Tremaine in the blue/silver pair and he was wearing them with cowboy boots...ill combo. When I saw the black/gold lurex pants I just had futuristic flashbacks of Michael Jackson, Mick Jagger, Elton John, Bob Marley—all these classic performers who had great style and could pull off anything from tailoring to glamour, sportswear, and workwear effortlessly."
Tailoring, sportswear, workwear, cowboy boots...sounds pretty Needles, doesn't it? Sure, it would be easy to attribute the recent popularity of the Needles track pants to—like most hyped pieces—a confluence of social media influence and trends. But to leave the story at that would be a slight to what enabled the hype in the first place: Keizo Shimizu's wonderfully wonked out interpretation of all things Americana.
For more in-depth fashion musings, see what industry insiders think of Balenciaga's $2,000 "IKEA" bag.