Experience this story and others in HIGHEnergy, a print magazine by Highsnobiety, available from retailers around the world and our online store
It's morning in Memphis and world-renowned pro-climber Ashima Shiraishi sits between some major milestones, outfitted in a bright green hoodie, sharp bangs framing her face. Days before, she competed and qualified for the US National climbing team, and a couple days ahead, she will turn 20. Despite these recent, staggering achievements, she gets animated when raving about community-based climbing gym Memphis Rox, where she spent time with their youth team.
"[I'm here] doing some clinics with the kids team. I've always wanted to visit this gym because it's a community-based, pay-what-you-can, sliding scale gym. It's really community oriented. One of its goals is to make climbing more accessible by trying to take down the barriers of class and race and have climbing be a vessel for integration. It's a very cultural experience out here, so that's really cool."
Right out of the gate, Shiraishi makes clear that climbing is about more than winning "comps" by making it up an impossible-looking wall or rock; it's a way of bringing people together and improving their lives in a tangible way.
Having spent more than half her life focused on climbing (with her career innocently starting out with an ascent to the top of Central Park's Rat Rock), it tracks that the New York-native would naturally carry an air of precocity. Her 20 years might feel longer than those of her peers, who likely wouldn't employ the term "career" when speaking about their pasts. "I do feel kind of old now," she says of her upcoming birthday. "I never thought this day would come. Twenty is a really big deal in Japanese tradition, because that's the age of maturity."
With this milestone and sense of responsibility instilled in her, Shiraishi hasn't forgotten part of the reason she climbs professionally today. "If it wasn't for the gyms being able to provide me coming in for free and just climbing, I wouldn't have been able to climb. I don't know if I would be a climber right now." Someone at her local climbing gym offered her a ride to her first competition at age eight, where she managed to land her first sponsorship.
With the support of her community and her own strength and brilliance, Shiraishi soon broke barriers and smashed records in climbing, all while effecting a gracefully strong interpretive dance rather than a sweat-inducing sport. Her speciality is bouldering, a style of climbing without ropes or harnesses, where one is usually not more than 20 feet off the ground. However, she's also a killer lead (on the rope) climber.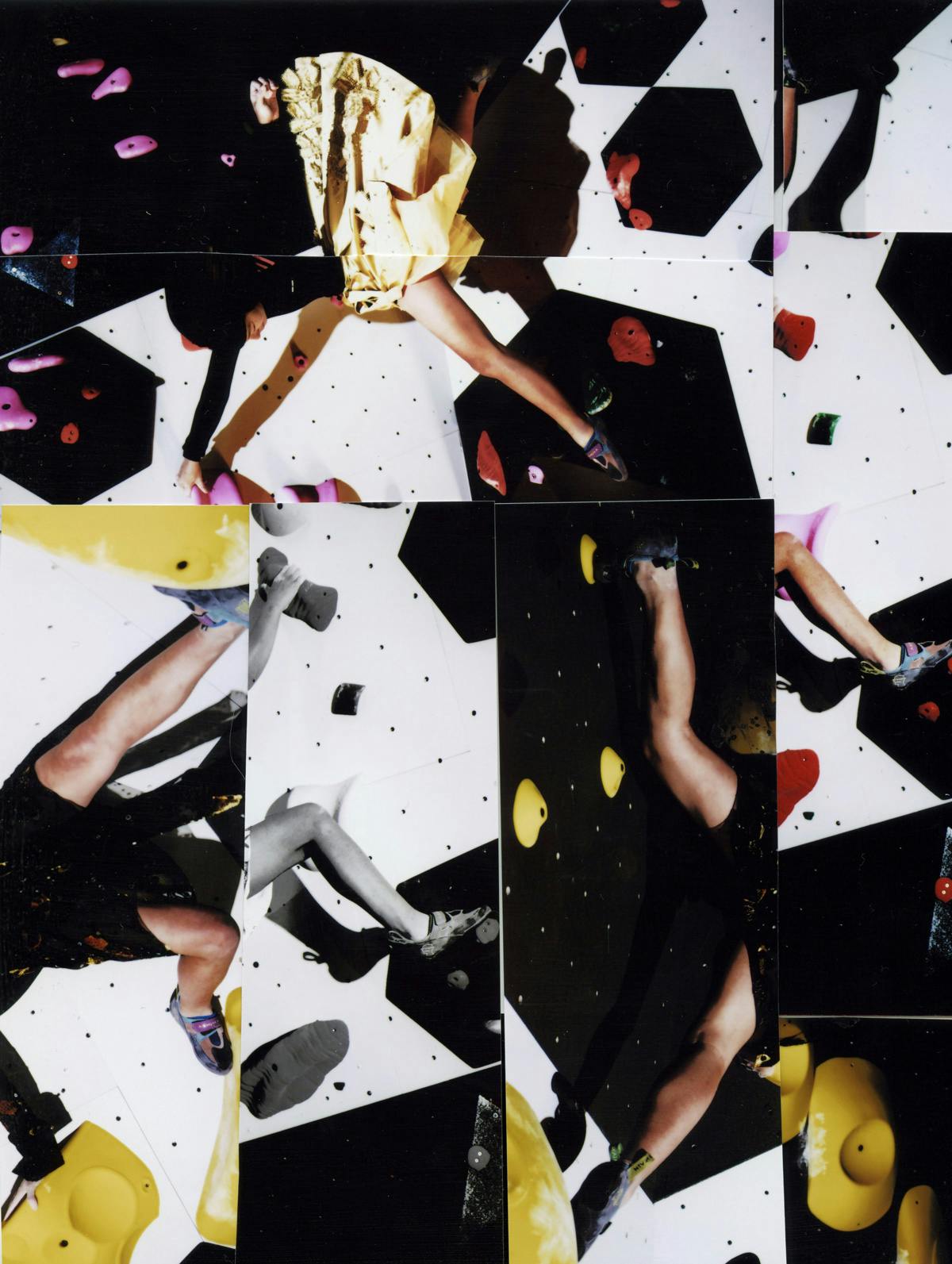 But without the encouragement of her parents, she may not have fully devoted herself to the art of climbing. Hisatoshi "Poppo" and Tsuya Shiraishi, who came to New York from Japan in 1978, saw the potential in their only child after her skillful scramble up that Central Park boulder, instilling "discipline and intensity" within her, as she puts it. "When you're putting everything into this one thing, you can't go in halfway," she says, speaking of her parents' mentality. "And that doesn't leave space for other joys of life, like the other things that I might be curious about. You can't even think about following those passions, because once you give some thoughts to that, that leads you astray."
"It probably wasn't the most balanced lifestyle," Shiraishi ruminates, detailing a precise routine that included around three hours of climbing each day on top of school, with five or six hours of sleep, leaving little room for socializing or other interests.
In contrast to the commitment and discipline instilled in her since she was young is the playfulness of her iconic climbing pants, each pair a collaboration between her mother and father, who met at fashion school in Tokyo. They keep her parents close, wherever the rock she's scaling may be. "I'm able to feel their support and their energy when I'm climbing, even if they're not here with me. I wear those pants because my dad's the one who picks all the fabrics," she explains. "My mom is the one who sews them — it's really like a family ordeal. Each pant is different. Each pair has a different story that goes along with it and reasons why my dad chose that fabric. There's so many little intricacies that make them really special. They're kind of a statement piece for me now because everyone who sees me, they always see my pants."
Highsnobiety / Pegah Farahmand / Romper and tights CHANEL Shoes and bag Ashima's own
While Shiraishi has become known for her bold style, to which she credits both her artistic parents and the anything-goes sartorial attitude of New York City, her achievements in the world of climbing stand out even more. Four years after she started, she made it up Crown of Aragorn, a boulder graded V13 (the grading range is V0-V16) in Hueco Tanks, Texas, becoming the youngest person ever to solve this problem. A week before she turned 15, she achieved the hardest boulder climb ever done by a woman, solving Horizon in Mount Hiei, Japan, a V15. A few months later, she danced to the top of Sleepy Rave in Australia, another V15. Then right after her 19th birthday, she officially became a published author with her children's book How to Solve a Problem, taking full advantage of the double entendre of "problem" — in her world, the term for a climbing route, as well as the challenges in life we all face.
Although she's expressed that 99 percent of climbing is falling, Shiraishi can be a bit of a perfectionist when it comes to holding on to that 1 percent — everything needs to be in its right place. So, how does a top-tier wall dancer prepare for her performance? For someone who can make it look so easy, she's got it down to a science.
"I like to feel like perfect form, basically, and anything that strays away from that makes me a little nervous," she explains. "So I try to mash that doubt, by reaffirming to myself that everything is where it should be. I always do a stretch routine where I engage my core and my breathing. Right before I climb, I look up at the ceiling or at the sky, and I find three different points to look at. I go between all those points so my eyes aren't looking back and forth to what's around me. I look at three distinct points and that allows me to focus and not be overwhelmed by other stimuli."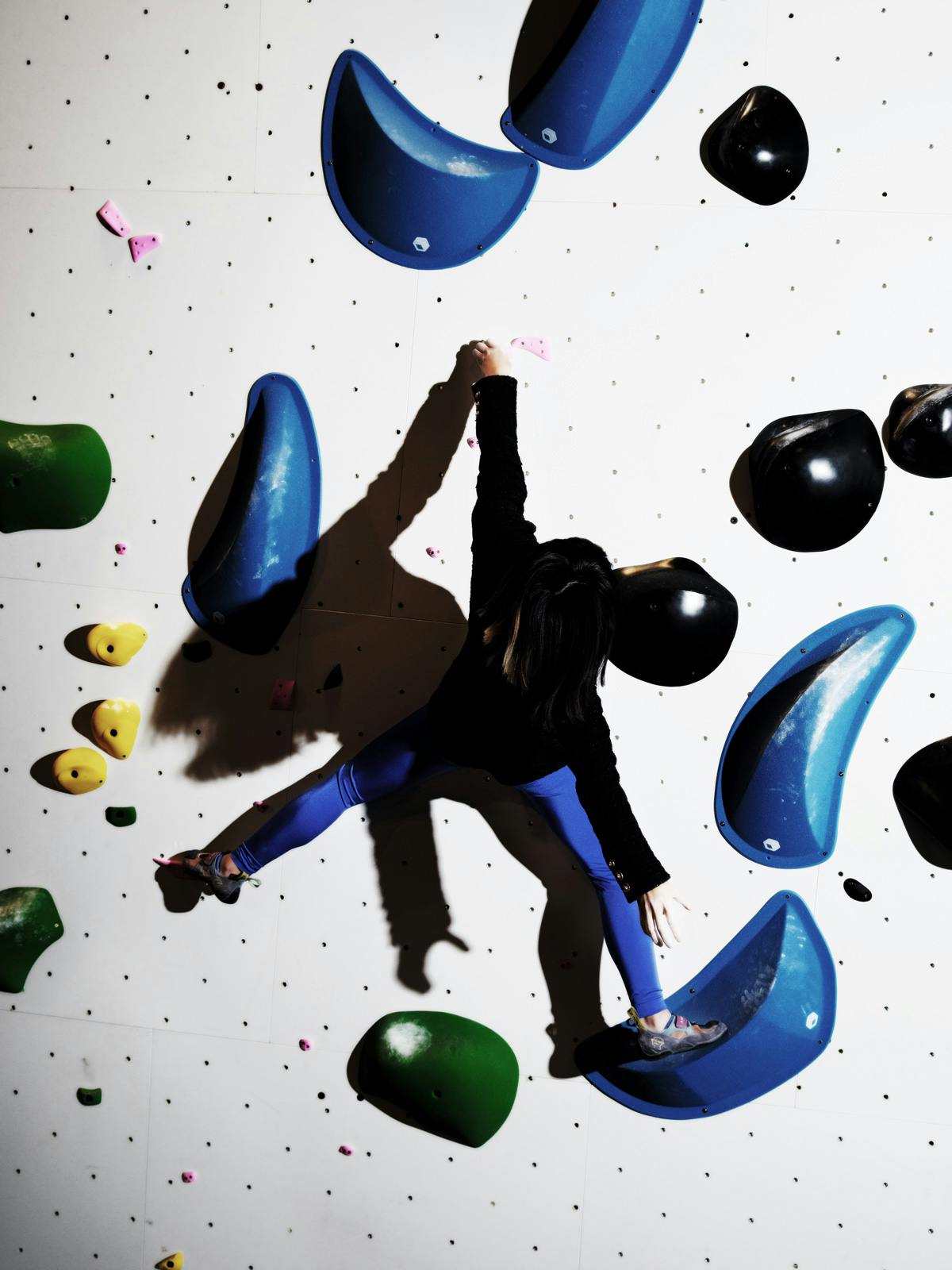 While this description (and much of our collective vision) of climbing is often imagined as a sort of stoic, solo sport, Shiraishi holds in her heart a vision of climbing (and by extension, the world) where humans come together without question to support one another and achieve things they never could alone.
"It is unique in the way you cheer for people on their climbs. There's a parallel to life there... Everyone can choose their own different climbs, or they might be trying the same climbs in a different way, but no one is doing the exact same movement. You cheer each other on so everyone is able to climb up to their best, everyone's individual best way of getting to the top. You want them to succeed in their endeavor." The roar of the crowd helps drive her up the wall at competitions and the climbing gym, but the cheer that always stands out is her father's unmistakable, passionate "Ganba!" — "come on" in Japanese.
With all the adrenaline and excitement moving from hold to hold, Shiraishi remains centered with tidbits of her father's wisdom. The concept of tamashii, "soul" in Japanese, is a guiding force in her life on and off the wall. "It's beyond beauty and it's beyond just strength; soul is also intentional, and being conscious and aware of things," she describes. "Finding your soul and being passionate about things is beyond just being excited about it. You're putting a lot into something. You're putting your soul into it." Another Japanese phrase meaning "having a calm and strong mind" has also stuck with her. "You have to have a strong mind and be confident, but you have to be at peace and not let your emotions get ahead of you. To be in a meditative state where you're tranquil, but also you have that energy inside of you is really important."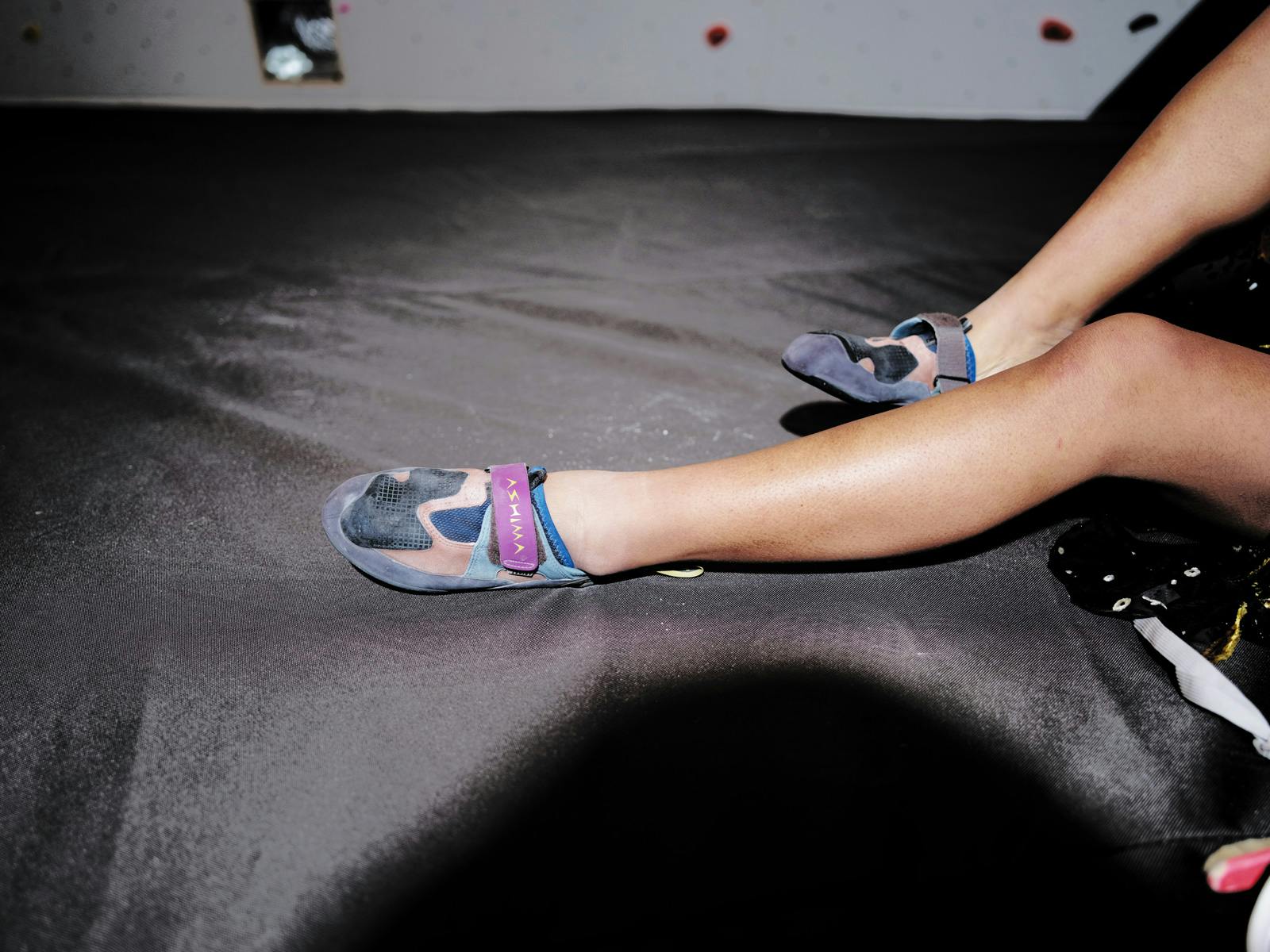 As she gets older and steps into the responsibility of letting her energy flow wherever she wants, Shiraishi can't help but proceed intentionally and with increased awareness of her surroundings. "I get to decide what I want to commit my energy into," she explains. "And recently, I've been really trying to be more involved in community stuff, and I'm doing more for the people. There's so many opportunities and there's so much potential to just share what resources and skills that I have and the connections that I have, in order to bring joy and happiness to other people."
She's keen to soak up ideas about how to best serve those around her, whether its being shown the ropes at Memphis Rox, volunteering at a local soup kitchen, or speaking to her social worker friends that help run programs in NYC that view climbing as a therapeutic art, "kind of like how dance can be therapeutic and all these other ways of moving your body and trying to break down that mental barrier of fear and trust," she explains, hopefully.
"Climbing has always been my passion, but a huge part of [that passion] now comes from the sense of community. My perception of things would be so different if it wasn't for all the people I've been able to meet, all these characters who come into climbing gyms. I'm really grateful for that. It feels like I have a little fire of activism inside of me. I've been trying to be more involved, to do more for people. My parents don't agree with me — sometimes we argue about it, because they want me to have stability as an athlete. If you break away from those norms, that's a risk. But it's a risk I'm willing to take; it's something that has to be done."
In 2020, Shiraishi sowed some crucial community seeds that will surely grow and flourish for years to come. When the racial justice movement in the US gained new momentum in the summer, she decided to donate all the proceeds from her stylish shoe collaboration with creative collective Brain Dead and climbing mainstay Evolv, to grassroots organizations that provide underserved communities access to climbing. A few months later, she celebrated Global Climbing Day by announcing All Rise Climbing, an initiative with Braindead and Long Beach Rising climbing gym to make the sport accessible to all. Speaking days before the unveiling of the community wall, Shiraishi elaborates: "It's not just the wall, but also the whole facility itself. And also jobs and other ways that make sense to have the local community involved in climbing."
Shiraishi's got a lot going on, admitting: "I have too many goals right now." But it's a good thing, as she's learned there's more to life than solving problems. "My goals have always constantly revolved around climbing and school. And I didn't think that you could even come up with goals in other realms of your life — your wellbeing and making sure that you're living a life that you want to be living. I think I'm finally at a place where I'm able to do that."
Order HIGHEnergy, a magazine by Highsnobiety, via our online store.