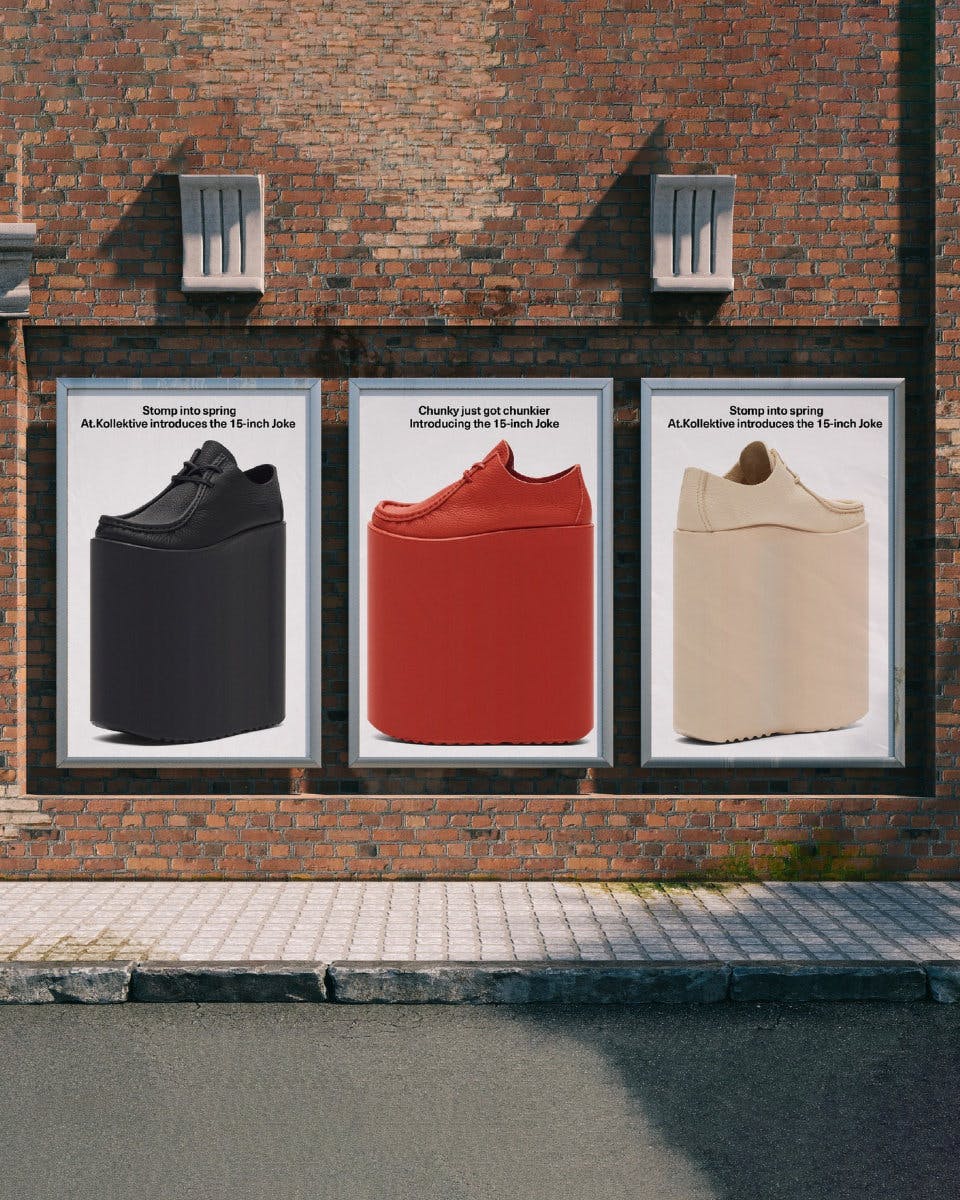 In case you forgot, today is April Fools' Day. Happy holidays to those who celebrate!
In honor of the day dedicated to jokes and gags, creative platform At.Kollektive dropped new Joke shoes equipped with a towering 15-inch platform sole. This must've been the "thique" that Beyoncé was referring to.
Essentially, At.Kollektive's new shoes take the classic (and more ground-level) Joke lace shoes to new heights, literally. The Joke platforms arrives with most of its predecessor's traditional construction, like the premium calf leather upper and lace-up system. The only difference is, for this version, the rubber sole grew a couple of inches (more like 15).
In short, the joke is truly on you — and your ankles.
Founded by Danish tannery ECCO Leather, At.Kollektive launched in 2020, describing itself as "a creative platform where leather innovation meets visionary design."
The initiative works with names like Bianca Saunders, Isaac Reina, Kostas Murkudis, Natacha Ramsay-Levi, and Bernard Dubois for exclusive collections displaying the designers' creativity combined with the high-quality innovation of At.Kollektive's material.
In addition to key works from its designer collective, At.Kollektive also releases its own in-house pieces like the Joke series, which offers a leather lace-up shoe, boot, and now a thicc platform rendition.
Yep. Despite the name and its laughable sole, the Joke platforms are actually real, and currently up for grabs on At.Kollektive's website for the price of €590 (approx. $641).
Thought you had seen it all with Robert De Niro's headline-worthy platform shoes from Martin Scorsese's The Irishman? Well, I'll raise you At.Kollektive's 15-inch Joke platforms, which offers fans a hefty "stomp into spring" season, per the brand.