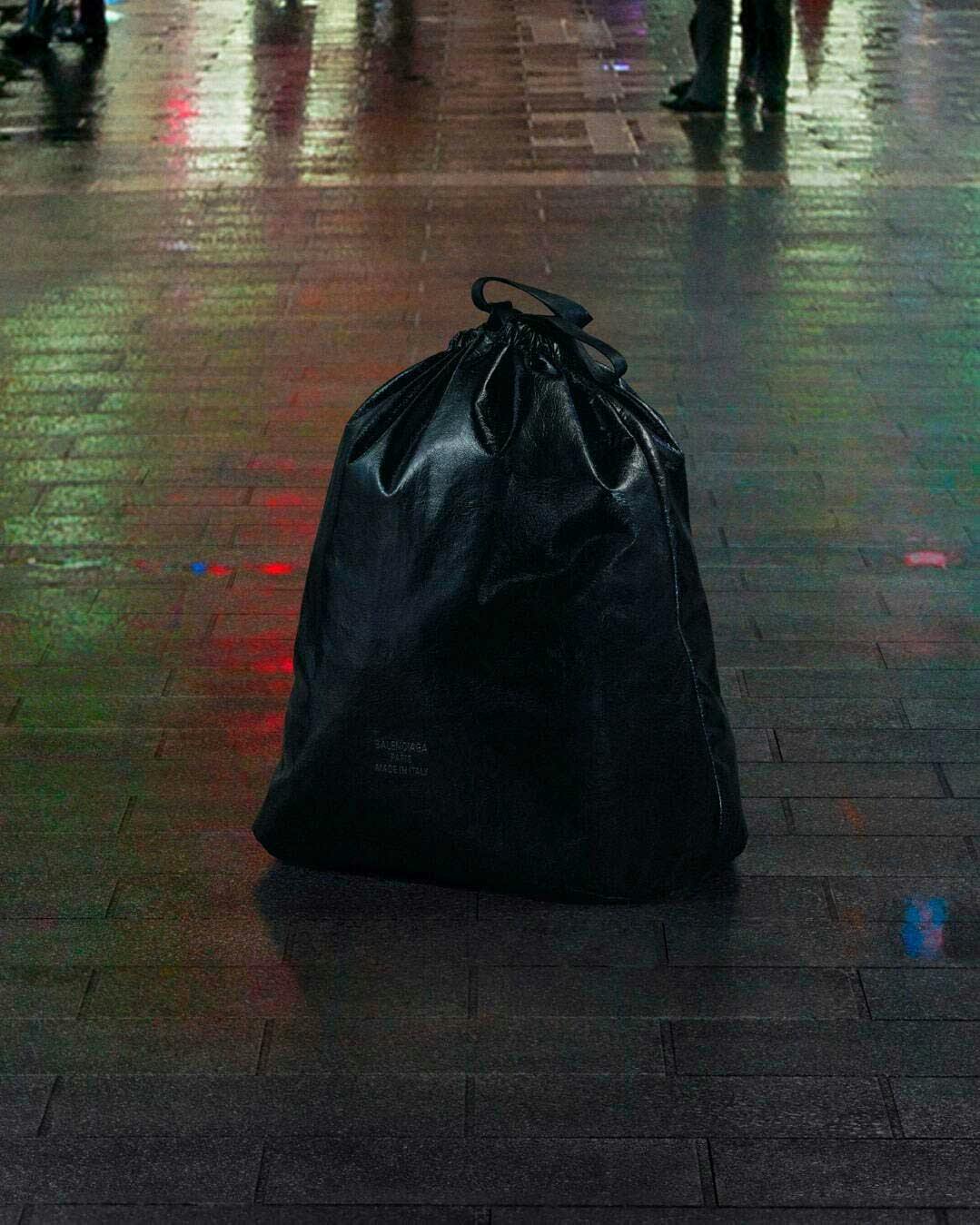 The outrage over Balenciaga's $1,800 trash bag was greatly exaggerated. Simple as. Certainly, there's some stuff to unpack here, but the social media firestorm kicked up around the trash bag's release was outrageous — and exactly what Balenciaga wanted.
Earlier this summer, Balenciaga's Winter 2022 Trash Pouch, which looks exactly like an IRL trash bag, exploded across the internet.
Though it was actually first seen at the luxury house's Winter 2022 show, there was so much other hubbub (an Apple collab?) that it got lost in the shuffle.
But once it was revealed that Balenciaga was dropping what looked like a trash bag for nearly $2,000, drama began in earnest.
Folks across the internet, from mainstream publications to TikTok, began churning out hyperbole.
The trash bag was "a social experiment," "a joke," "trolling," "offensive."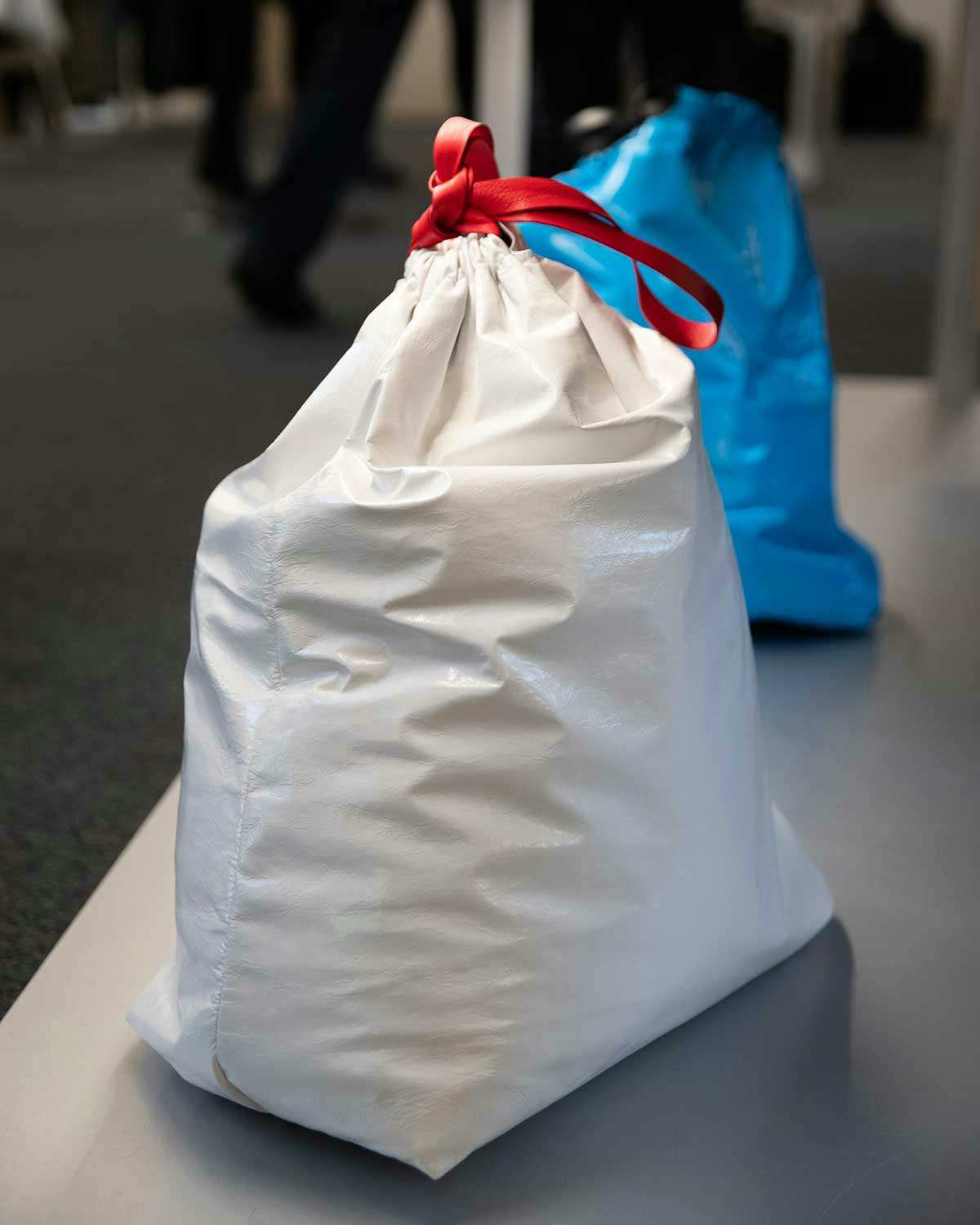 It was universally panned, DIY'd, mocked, reviled.
And it was instantly sold out on Balenciaga's website.
Folks calling the trash bag a "troll" aren't entirely wrong.
"I couldn't miss an opportunity to make the most expensive trash bag in the world," designer Demna reportedly said earlier this year. "Because who doesn't love a fashion scandal?"
This is basically Balenciaga's entire schtick: intentionally go against convention and the people who cling so desperately to it, then make a mint selling provocative anti-fashion to early adopters until it drops that "anti-" label and simply becomes the norm.
For pearl-clutchers across the internet, the Balenciaga trash bag was everything wrong with Balenciaga, luxury fashion, the world. For Balenciaga, it was a Tuesday.
The trash bag figured prominently in Balenciaga's recent Winter 2022 campaign, given just as much place of prominence as Kim Kardashian and Balenciaga's signature Hourglass handbag as if to reaffirm that the Trash Pouch is here to stay, like it or not.
It's a reflection of how this kind of antagonistic marketing only solidifies Balenciaga's place as one of the world's most powerful fashion brands, just like Vetements was when Demna was overseeing it.
Stunt or not, dude knows how to generate buzz. And, even if people are laughing at the trash bag, there are plenty more lusting for Balenciaga's hoodies and T-shirts.
The same thing happened when Balenciaga rolled out its destroyed Paris sneaker, remember, and that multi-layered parka, and those Crocs stilletos and the zipper chain and...
It's also worth mentioning that the Balenciaga Trash Pouch isn't literally a trash bag, though it certainly resembles one in photos.
The Balenciaga "trash bag" is a calfskin leather pouch with nylon lining, removeable handles, drawstring closure, and a zippered interior pocket. Especially without the straps, it resembles a slightly more structured version of Bottega's deliciously unstructured Pouch clutch.
Frankly, the shapeless sack of leather is pretty aesthetically appealing, emotional baggage or not (pun intended?). If it had different carrying straps instead of garbage bag-style handles, this debate wouldn't exist. But it does and that's the point.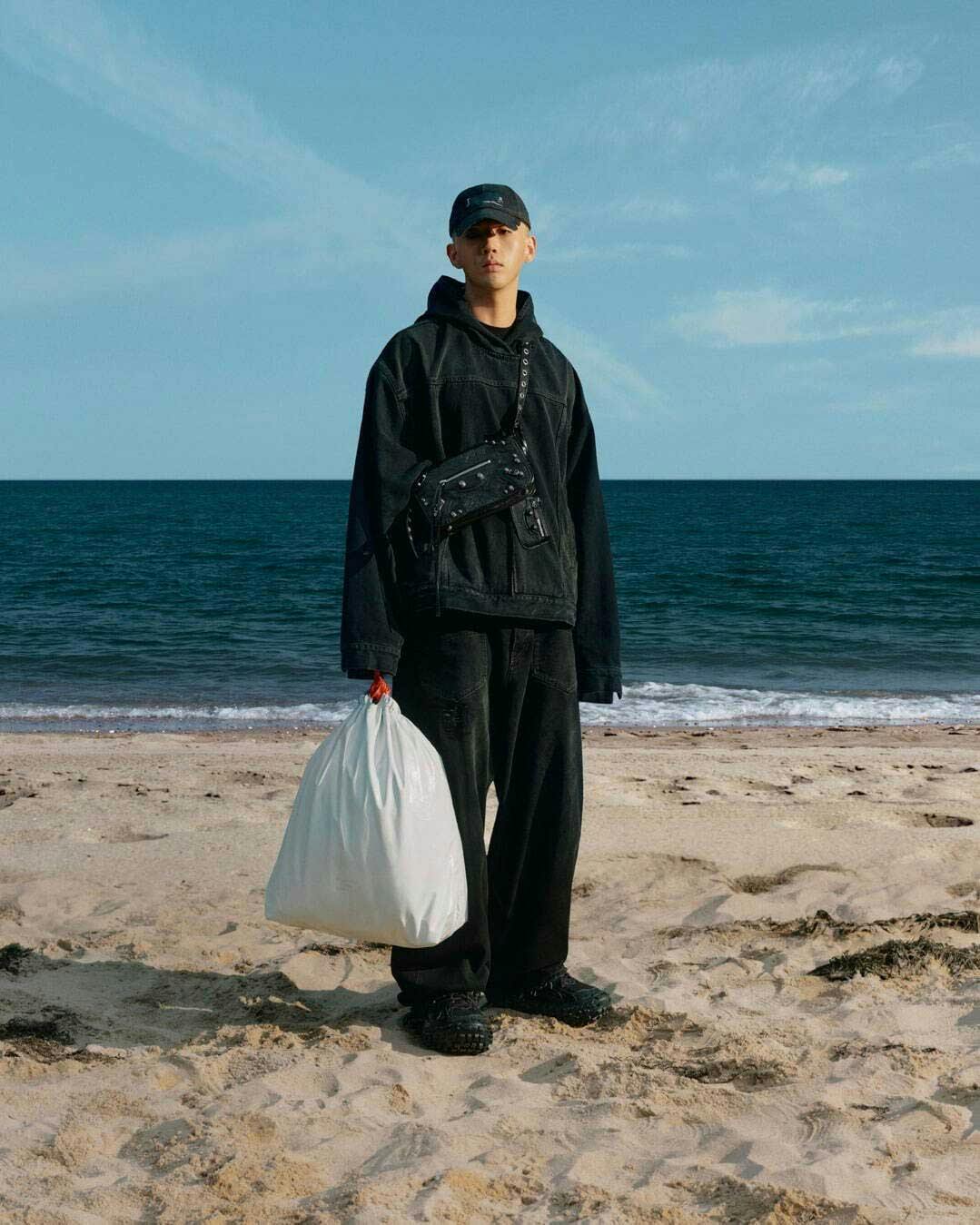 Balenciaga's trash bag is novel, it's cheeky, and it's exactly what pushes contemporary fashion's needle forward. Insert that Banksy quote about art making the comfortable uncomfortable here if you want (or not).
Is the Trash Pouch really worth $1,800? That's for the consumer to decide. Hardly anything in fashion is worth literally what you pay for it.
But you don't buy luxury clothing because it's a great value and you don't get emotional over an obviously inflammatory design unless you enjoy falling for the trick every single time.
Is there something to be said about Balenciaga and pal Kanye West's alleged inclinations to swipe inspiration from underprivileged folks? Sure, maybe.
Really, there are only two types of people who lose here: the individuals who get mad about what luxury brands do and the individuals who actually buy this stuff.