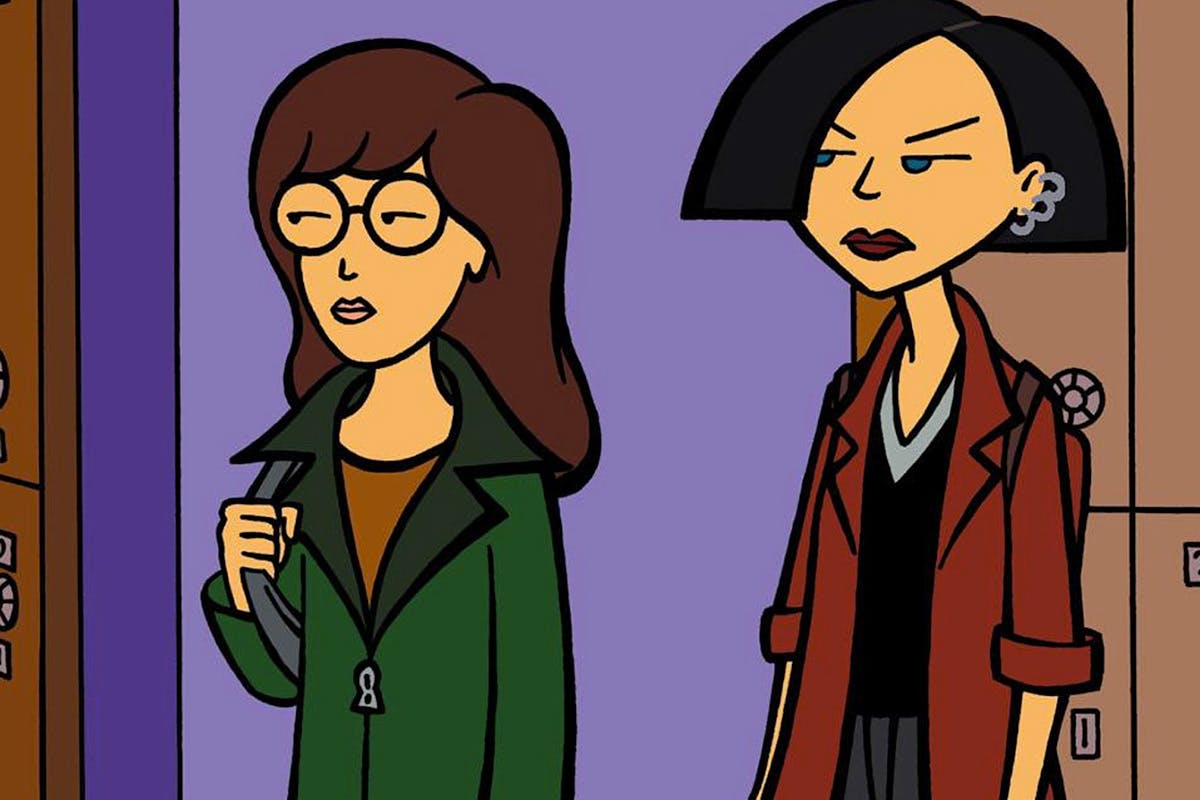 With characters such as the well-knitted BoJack Horseman and IG accounts dedicated to Animal Crossing fits fulfilling our animated sartorial needs, it's unlikely you've spent much time recently (or ever) considering the style offerings of cartoons from the '90s and '00s. Well, that's all about to change.
If you ask us, the oft-overlooked '90s and '00s animated characters in our list carry as much clout as any Instagram influencer. From half-and-half shirts and scumbro aesthetics to Margiela-inspired coats and vintage threads, these illustrated style dons know what's up.
Check out our roundup of the best-dressed cartoon characters from the '90s to the mid-'00s below.
Rocko
Show: Rocko's Modern Life
Years: 1993-1996
Look: '90s-print bowling shirt with no pants
Editor's notes: Rocko's choice of attire might give off a slight moved-to-Miami and developed-raging-coke-habit vibe (by way of Saved by the Bell; the opening credits clearly inspired his shirt's graphics and colorway) but really, he was just a humble Aussie wallaby trying to make a buck. Little did he know that he would become the inspiration behind the bowling shirt trend that's been everywhere the last few summers.
Dexter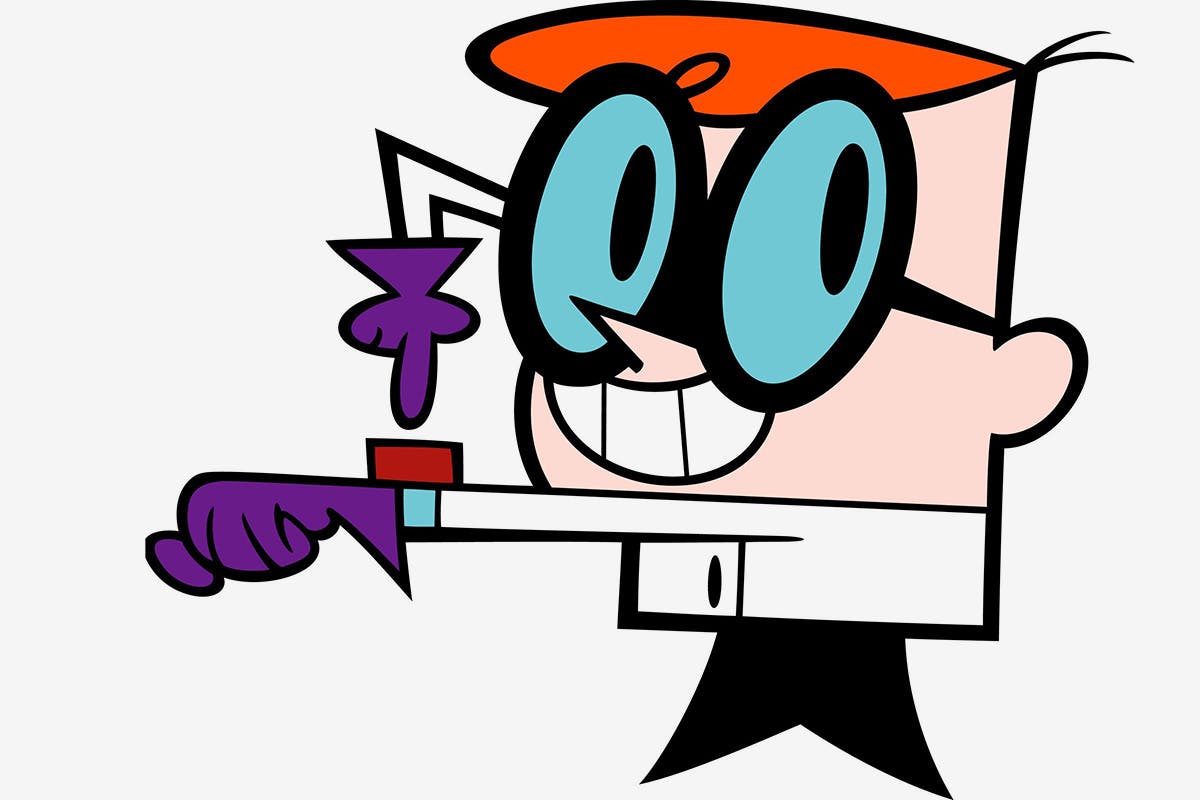 Show: Dexter's Laboratory
Years: 1995-2003
Look: the "blouson blanche"
Editor's note: Did this guy work for Margiela or what? While naive childhood you probably thought Dexter was simply an evil nerd, we never truly appreciated how haute his haughtiness was. That white lab coat is curiously similar to the jackets (aka "blousons blanche") Margiela staff wear, which would explain why this tiny, creepy genius seemed to carry so much clout.
Daria and Jane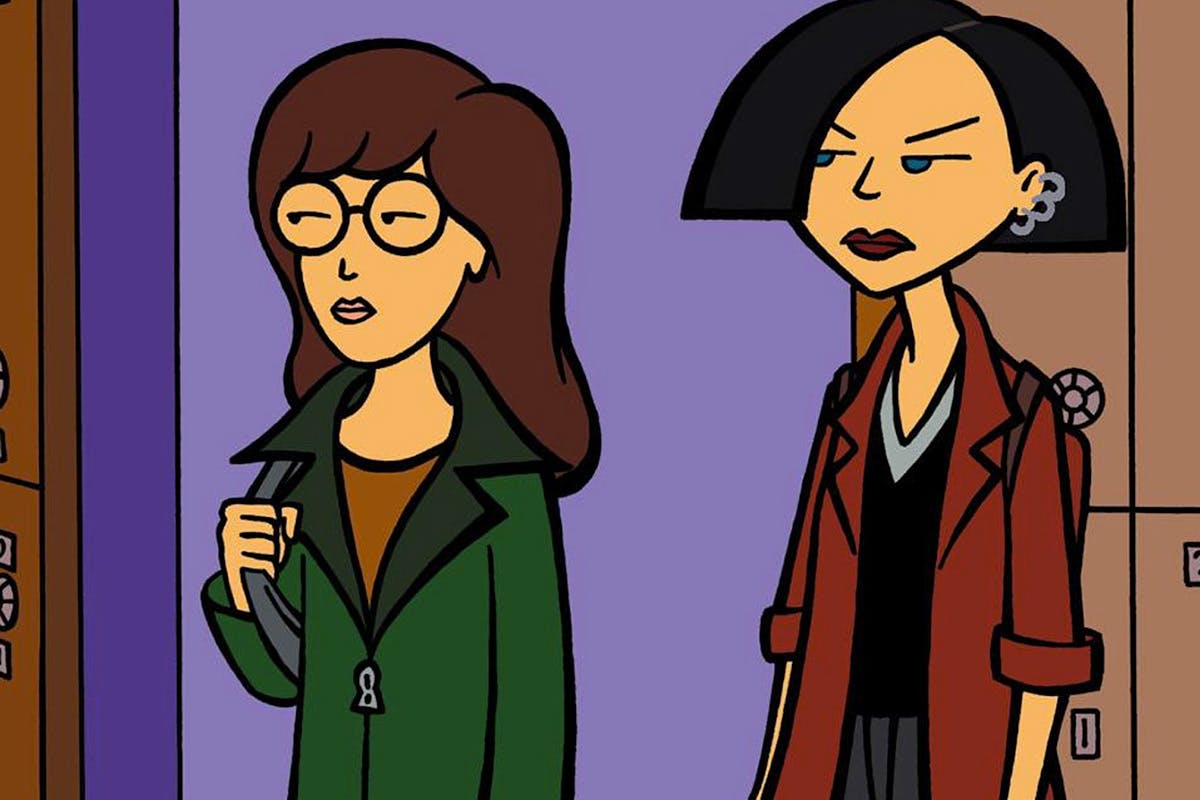 Show: Daria
Years: 1997-2001
Look: thrift store honey
Editor's note: There are few fictional characters that nail the "you can't sit with us" look quite like Daria Morgendorffer and Jane Lane, aka the OG kweens of not giving a flying F. Donning military boots and vintage-style blazers in autumnal shades of green and red, their now iconic aesthetic at once summarizes the true pain of teenage angst, totally subverts preppy style, and delivers the kind of rebellious attitude most trust-fund hipsters spend their days knee-deep in thrift stores trying to achieve.
Bender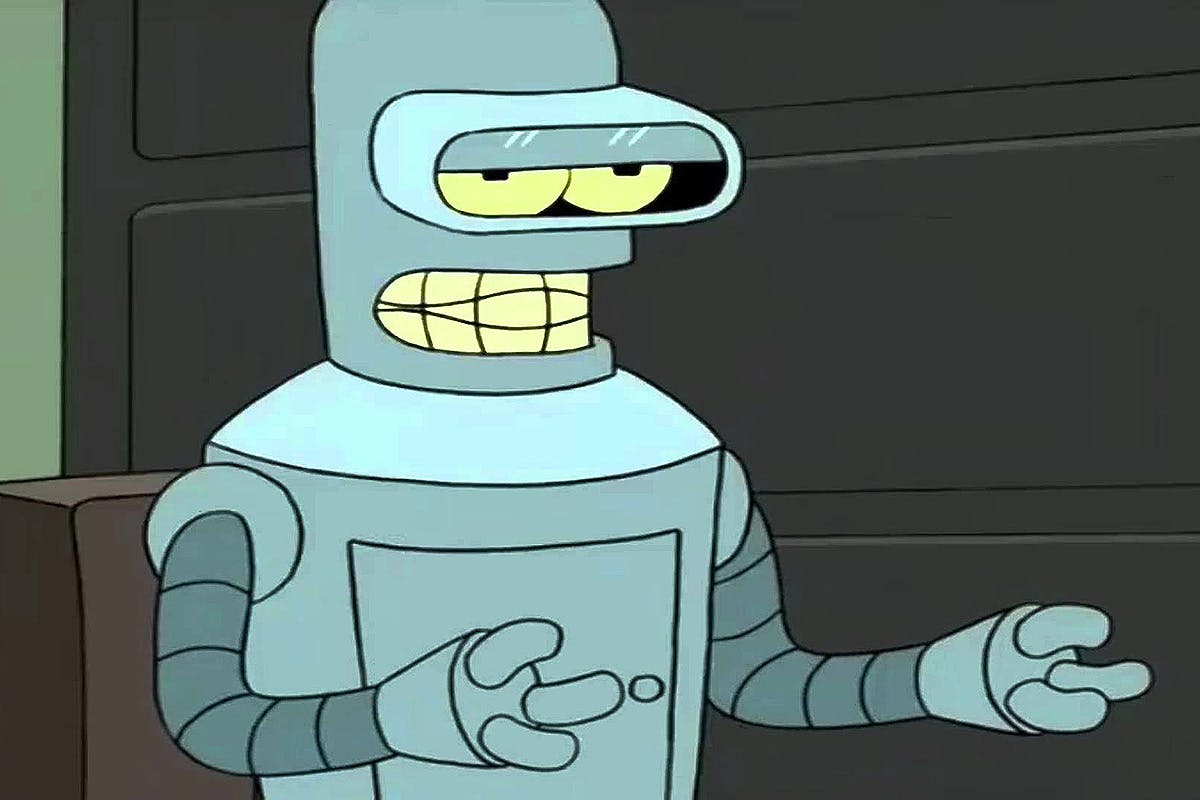 Show: Futurama
Years: 1999-2013
Look: retro futurism
Editor's note: While "alcoholic, whore-mongering, chain-smoking gambler" (Leela's words, not ours) probably isn't a vibe most robots should be aspiring to, Bender knows better. This hunk of glistening junk realizes he's channeling Kate Moss and Naomi Campbell in metallic Versace mini-dresses circa 1999 in both look and attitude, and he's here for it. And so are we.
Debbie Thornberry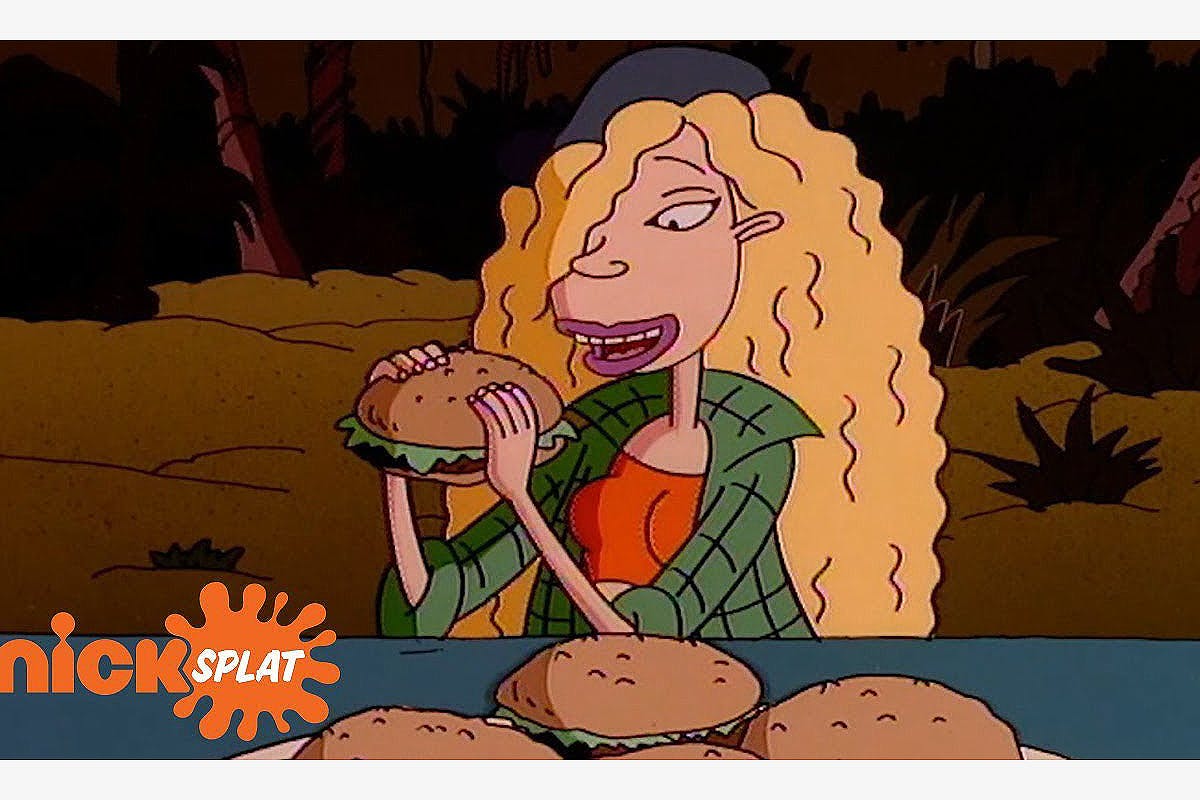 Show: The Wild Thornberrys
Years: 1998-2004
Look: Bleach-era Kurt Cobain goes chasing waterfalls
Editor's note: Debbie's aesthetic is so grunge meets Herbal Essences commercial meets off-duty TLC that we just cannot deal — and she probably wouldn't care if we could. Rather than going full Courtney Love by whipping out a negligee and fishnets (which would be a bit awkward in an RV shared with your parents, to be fair), Debs went for a "this jungle would literally be Nirvana if my family weren't so annoying" vibe and it's solid.
Gerald Johanssen Show: Hey Arnold!
Years: 1996-2004
Look: Scottie 2 hottie
Editor's note: Boasting a sweet hi-top fade and a red and white "33" crewneck (or hoodie) that may or may not reference Scottie Pippen's Chicago Bulls jersey, Gerald was undoubtedly the most sportswear savvy member of the Hey Arnold! gang. And considering donning basketball jerseys wasn't really a thing in the early '90s (unless you were a player), one could (read: should) claim that Gerald helped pioneer a major off-court trend.
Oblina
Show: Aaahh!!! Real Monsters
Years: 1994-1997
Look: monochrome minx
Editor's note: If Cruella de Vil got stuck down a drainpipe for a month and consumed nothing but leaves and rainwater, she'd probably look a little like this monochrome, catwalk-worthy candy-cane creature. With lips that could make a jealous Kylie Jenner suck on ice cubes for the foreseeable, Oblina is the most fashion-forward monster mid-'90s TV has given us and we thank her for it.
Kearney Zzyzwicz
Show: The Simpsons
Years: 1989-present
Look: Berghain bro
Editor's note: Let's be honest, Kearney was always steezy, he just never got the recognition he deserved because he's a complete jerk. Think about it, though: he's low-key rocking a normcore-meets-punk style that would only need a slight attitude adjustment to be fully appreciated. Give him a few years to get his shit together and harness his creative potential, and you'll probably see him linking up with likes of Berghain's Sven Marquardt on his next photo project.
Launchpad McQuack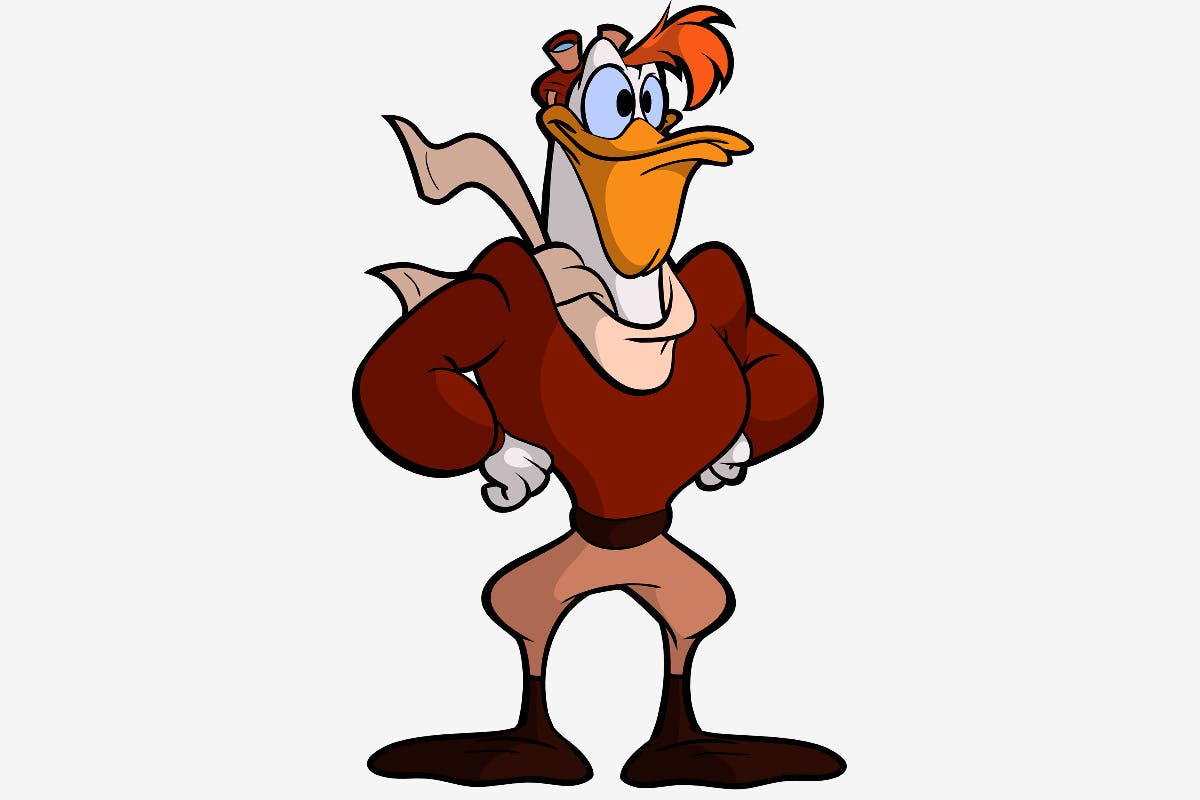 Show: Darkwing Duck
Years: 1991-1992
Look: intrepid anatine explorer
Editor's note: Something tells us Launchpad McQuack and Kim Jones would be great pals if they ever met IRL, as both clearly have a soft spot for looks befitting only the most stylish globetrotters. Frankly, we'd root for a collaborative capsule between the two, which could comprise tan cargo pants, cashmere sweaters, and leather-bound aviators.
Otto, Twister, Squid, and Reggie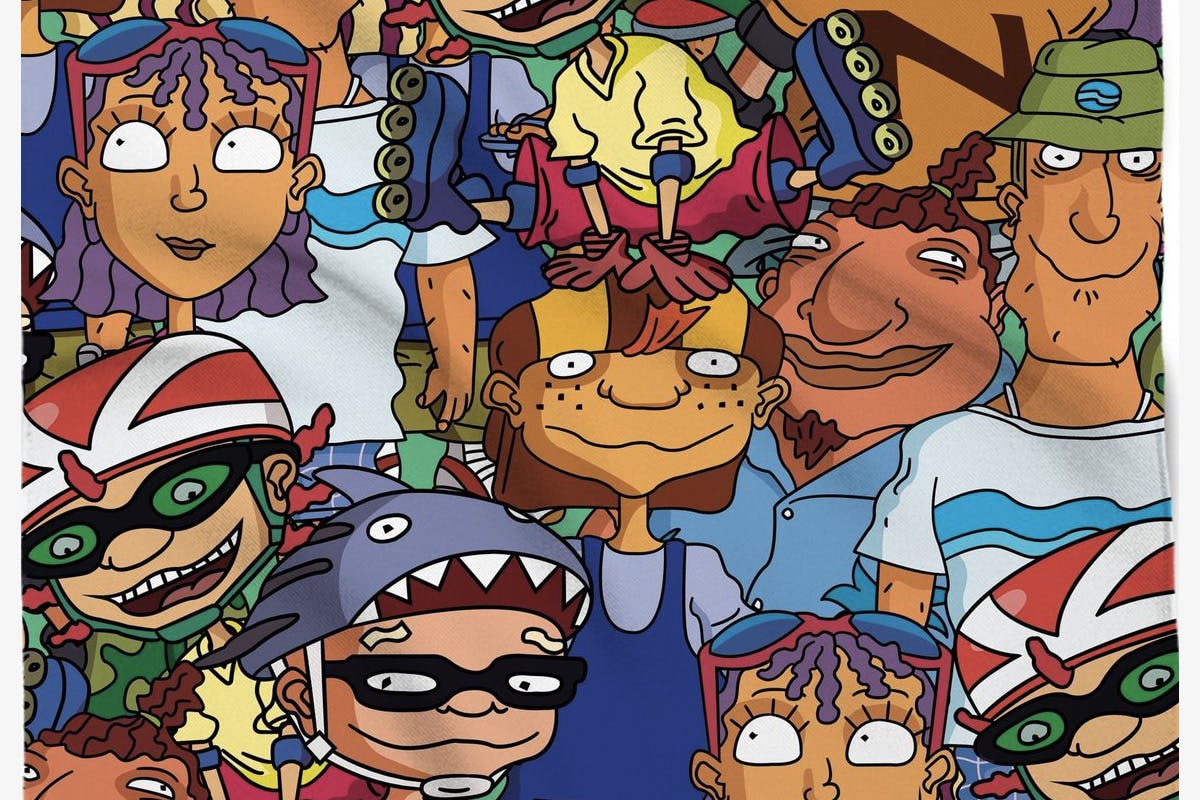 Show: Rocket Power
Years: 1999-2004
Look: decked-out
Editor's note: Okay, it's probably cheating slightly to whack all of these guys into the same entry, but to mention them separately would be doing their squad goals a serious disservice. Despite going off-air almost 15 years ago, this decked-out clan's attire nails the look every skater with a passing interest in fashion wants to flex right now. Sports sunglasses? Check. Camo print? Check. Sweet kicks? Check, check, check, and check.
Ashley Spinelli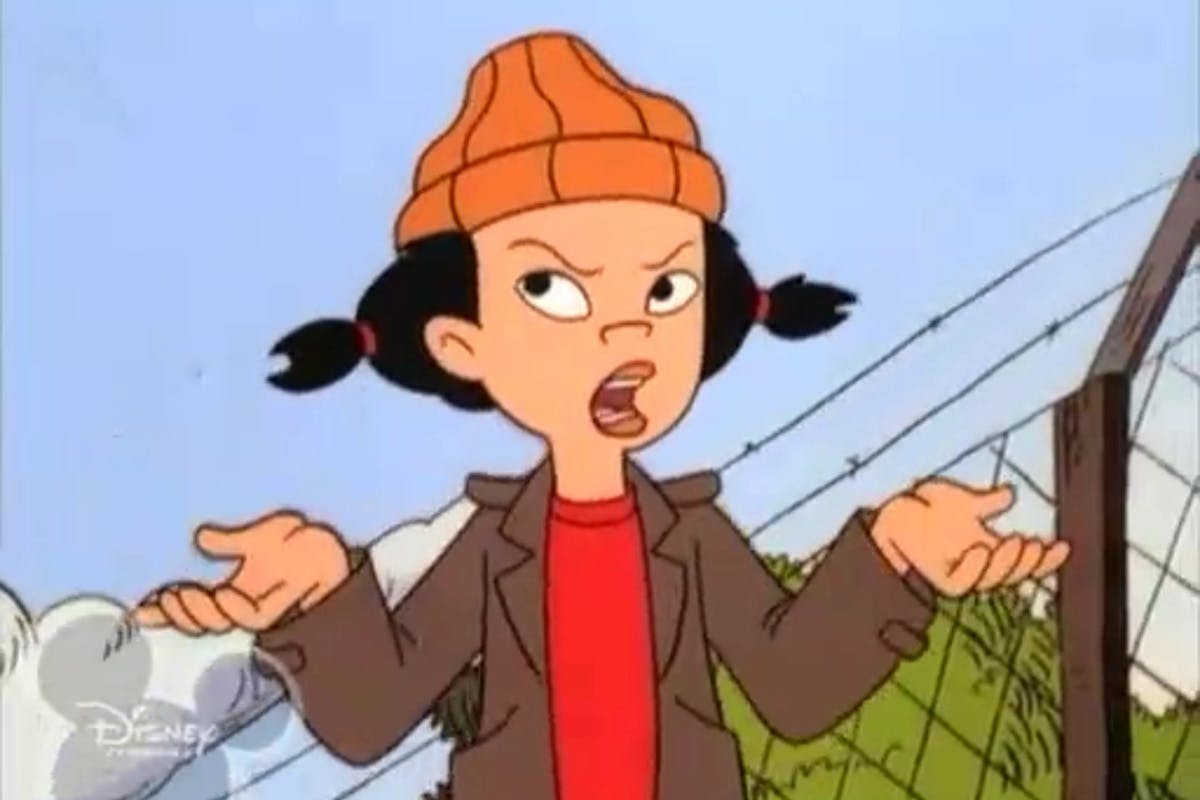 Show: Recess
Years: 1997-2001
Look: dirtbag diva
Editor's note: Disney isn't exactly renowned for pumping out bad girls of the non-villain variety, which is perhaps why we've always loved Spinelli so much. This pint-sized diva might wear her hair in bunches, but that's the only sweet thing about her overall look — a red dress topped with a well-worn leather jacket, orange beanie, and riding boots. Her look is easy to imitate, too. In fact, if you're looking to amp up your Spinelli aesthetic ASAP, Supreme dropped a very similar hat in its Fall/Winter 2018 collection.
Roger Klotz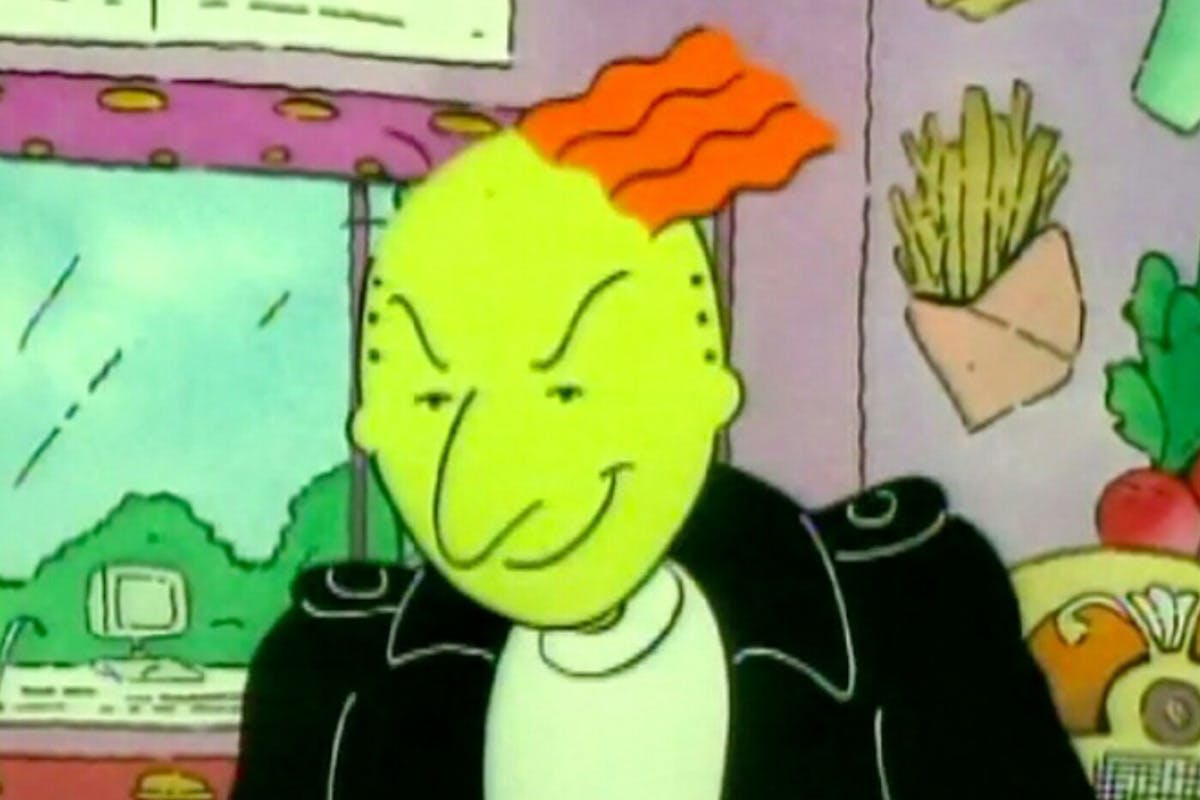 Show: Doug
Years: 1991-1994
Look: Ziggy Stardust at a punk gig
Editor's note: Everyone loves a leather-clad bad boy (or bad girl, see above), especially when they rock a haircut as bold as our frenemy Roger Klotz did back in the early '90s. Coming off like the result of a three-way between David Bowie, Macklemore, and Shrek, Roger and his wild and wavy orange locks deliver a traffic stopping look. And we mean this quite literally: his colorway is basically a traffic light sequence.
Chuckie Finster
Show: Rugrats
Years: 1991-2004
Look: OG scumbro
Editor's note: If any animated baby was likely to transform from a drip into the drip, it's Chuckie. Once he'd had a few years to nip that "I'm afraid of everything" crap in the bud, we reckon he would have honed his already bright AF aesthetic — camo pants, blue graphic print ringer tee, bright red kicks, and purple-rimmed glasses — into something a little more Pete Davidson.
Team Rocket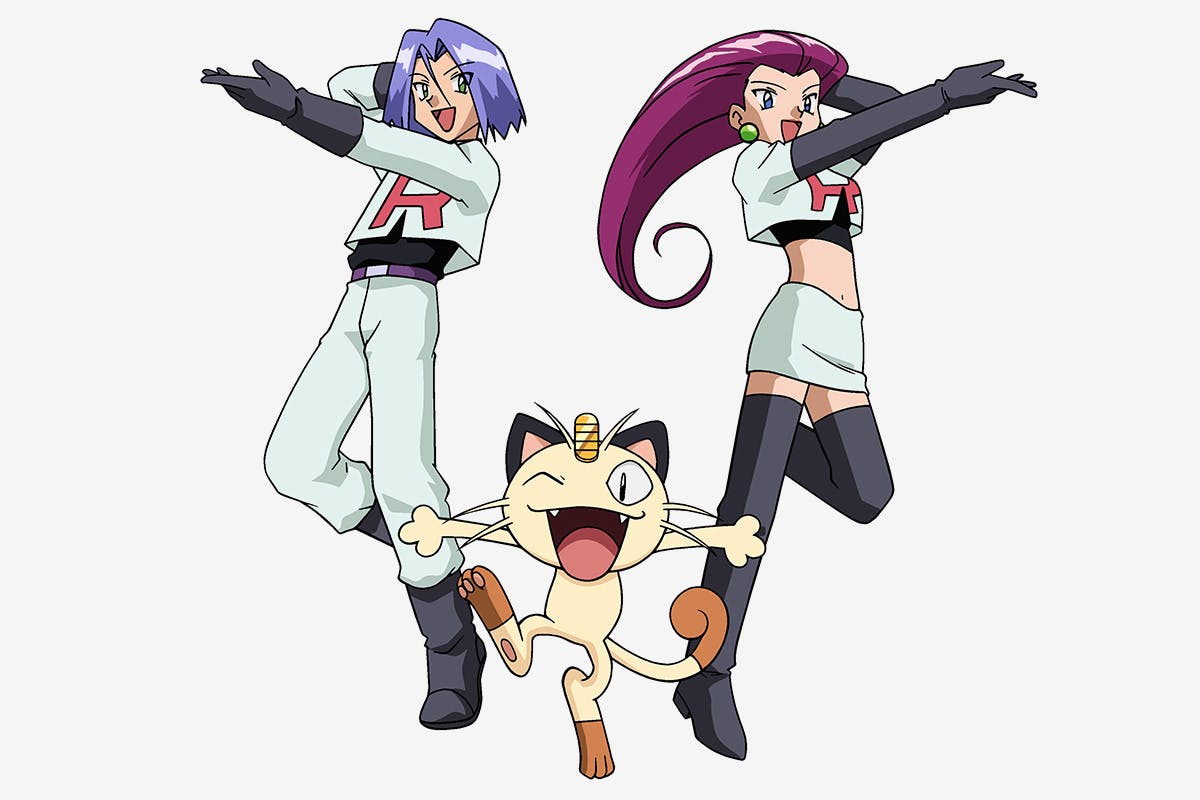 Show: Pokémon
Years: 1997-present
Look: co-pilot co-ord
Editor's note: Championing utility wear since '97, Team Rocket's boiler suit co-ord — complete with on-point red "R" branding — was truly ahead of its time. While the full look might be a tad extra for your standard workman-slash-nanamica flexer, who actually cares? It's strong, super current considering it was created more than 20 years ago (or maybe because it was created more than 20 years ago), and — the most important part, let's be honest — looks super comfortable.
Judy Funnie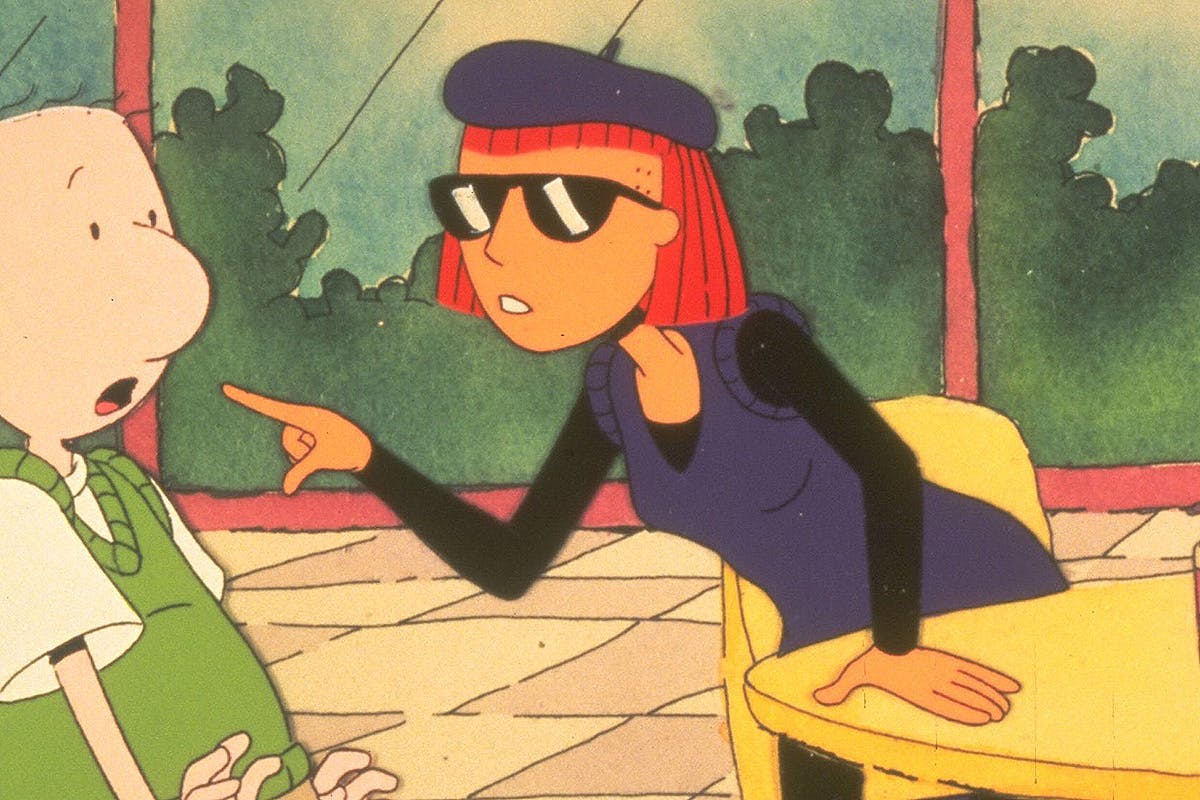 Show: Doug
Years: 1991-1994
Look: beatnik kween
Editor's note: There's a certain point in every woman's life when you just have to say, "Fuck it," and throw on a beret. Because nothing quite nails that intersection of angst, quasi-mystery, and "I'm artistic now" quite like this flat French head treat. Sprinkle the look with salt, shave a section of your hair, add a pair of those purple vegan leather Dr. Martens platforms everyone was wearing at Last Heirs' SS19 presentation, and you'll be more than a match for Roger Klotz in the style department.
Milo Kamalani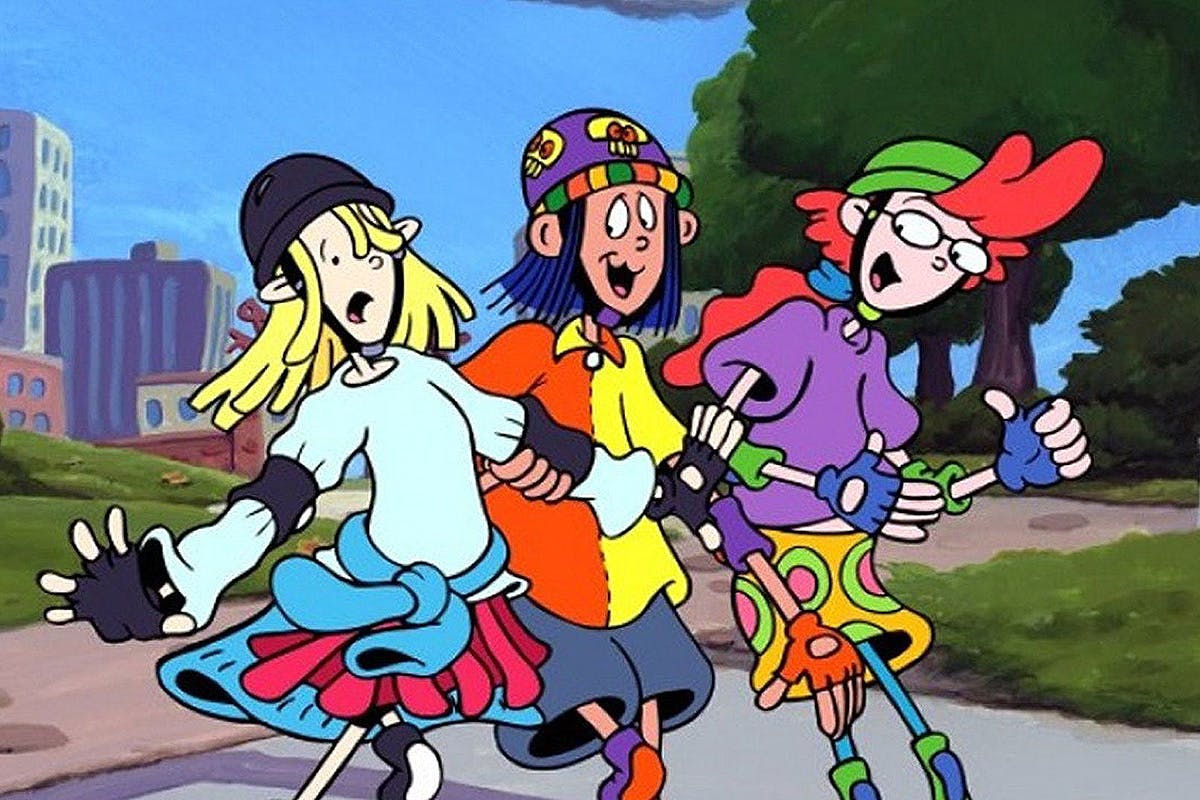 Show: Pepper Ann
Years: 1997-2000
Look: Prada 1.0
Editor's note: If Prada had dropped the half-and-half shirt back in 1997 — and especially if The Lost World: Jurassic Park-era Jeff Goldblum had donned said shirt — Milo Kamalani's two-tone bowling top would probably have gained the sartorial traction it truly deserved. Instead, Prada and Goldblum waited around for two decades and now Milo is probably just some bitter dude in his mid-30s who won't stop talking about how he did it first.
Randy Marsh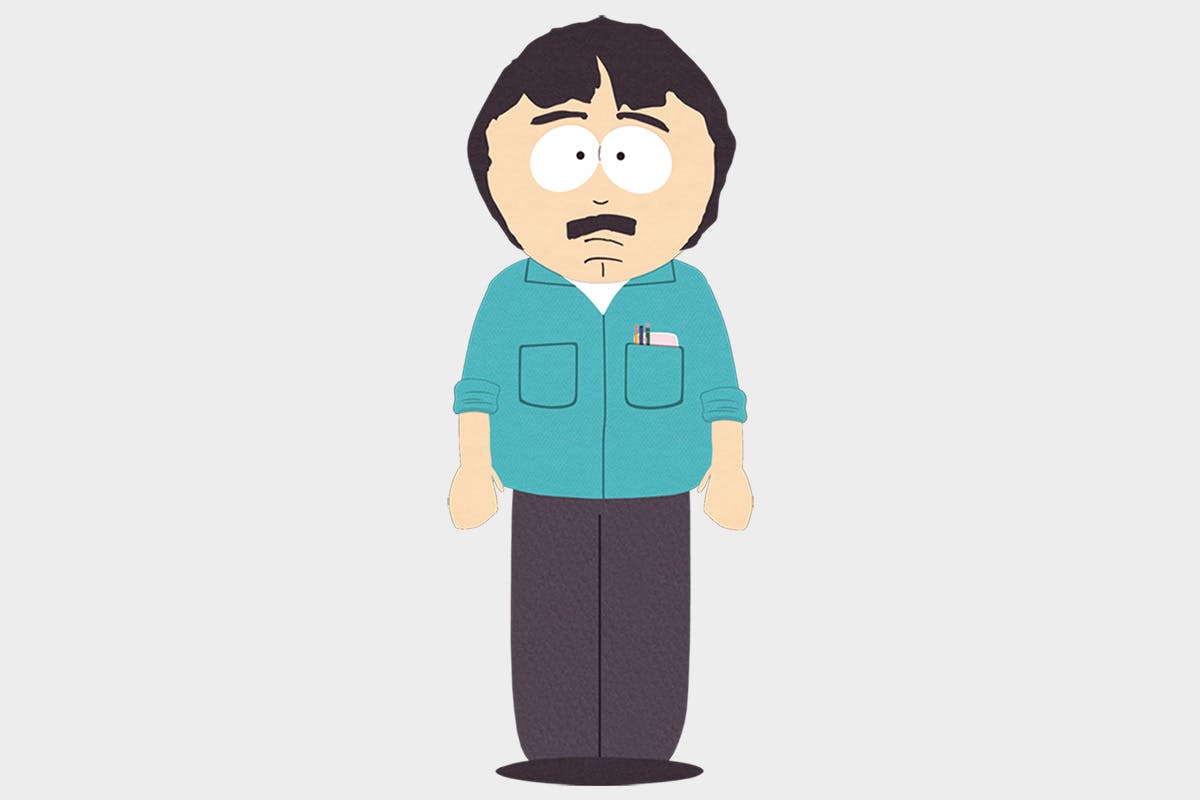 Show: South Park
Years: 1997-present
Look: work, work, work, work, work
Editor's note: Randy Marsh is not only South Park's best character, he's also the best dressed. As much as you want to fight it, this madcap, liberal, musical cock magician is the steeziest inhabitant of his sleepy Colorado town. His utility wear game is sharp, and while he probably copped his garms at a local workwear store (as any savvy soul on a budget should), they could just as easily have been plucked from the FW18 collections of Carhartt WIP or Junya Watanabe.
Roger "Booda" Sack
Show: King of the Hill
Years: 1997-2010
Look: low-key luxe
Editor's note: Before Kanye was Kanye, King of the Hill's Booda was rocking the monochrome normcore vibe we've seen time and again in 'Ye's day-to-day looks. When stand-up Booda — voiced by Chris Rock in the episode above — gives his "freedom of speech" spiel (around the 1:40 mark), his 'fit consists of a black sweater worn over an oversized white tee, with tailored gray slacks and a gold chain. In fact, it isn't dissimilar to the look West donned in the "I Love It" video, only a little less square.
Yakko Warner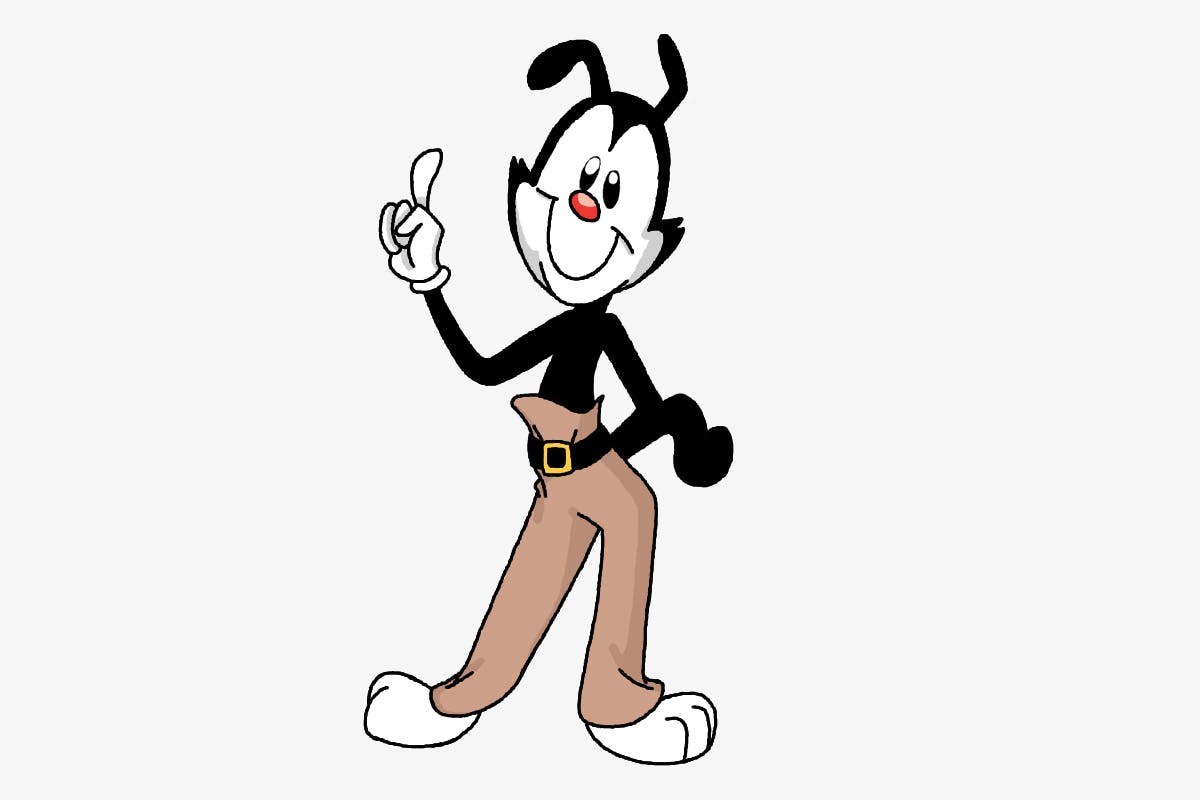 Show: Animaniacs
Years: 1993-1998
Look: Parisian prince
Editor's note: If classic tailoring and pleated pants are more your jam than laid-back skater style, no doubt Yakko's look speaks to you. While his fur already forms a svelte turtleneck top, his pants are where it's at. They look like they could have been plucked straight from Y/Project's SS19 collection: super comfortable and effortlessly chic.
Think we've missed anyone? Share your best-dressed animated character in the comments.
In other entertainment-inspired fashion news, Calvin Klein 205W39NYC's SS19 show paid homage to 'Jaws.'