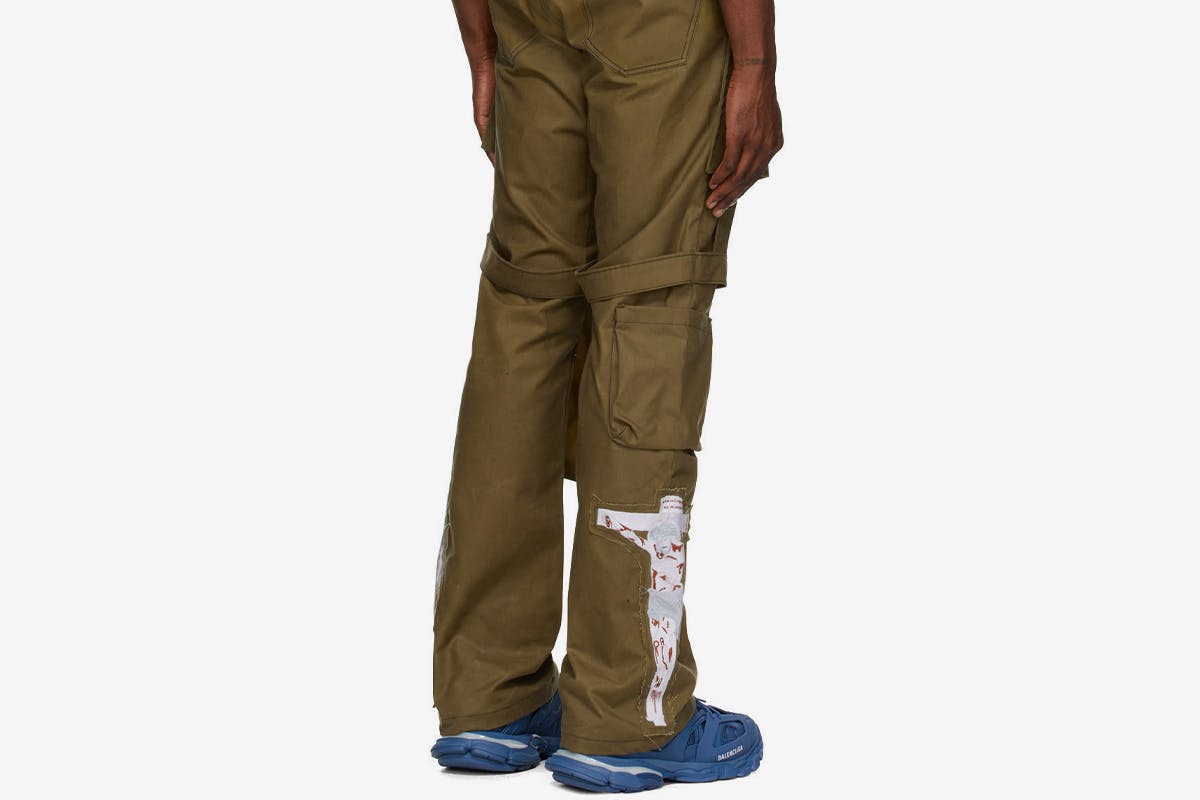 We've been edging closer and closer to a full takeover of '70s style for a while now. Of course, Alessandro Michele's Gucci lives in a perpetual '70s dreamscape, and a growing list of designers — from Lemaire to Wales Bonner — have added sweater vests and oversized collars to their proceedings. Now, these designs are getting uptake from famous faces. Travis Scott took to Instagram yesterday to exhibit a pair of flares from Raf Simons' upcoming SS21 collection.
Whether he's announcing a collaboration with McDonald's, performing innovative virtual shows on Fortnite, or dressing up as Batman, Scott continues to surprise from many angles. His wardrobe is no exception. You're as likely to see the artist sporting a pair of fresh Nike Dunks and baggy shorts as you are a sharply tailored suit. The newest arrival to this lineup? Flares.
Travis matched a long canvas trench coat complete with two teasing Raf Simons-initialled badges with a pair of two-tone flares. Cut to a slim, tailored fit to the thigh, the black pair which was seen in Raf's FW20 show, features contrasting blue panels beginning at the knee to alter the shape, offering up one of recent memory's most striking flares. So, whether you're a '70s aficionado or new to the flared game, we've rounded up some pairs that echo Travis Scott's newest addition.
Shop some of our favorite flares below.
Who Decides War by MRDR BRVDO Reaper Cargo Pants
Murder Bravado is a name that should be on your radar. This burgeoning star is a stylist and designer and if this pair of flared cargo pants is anything to go by, he'll be part of your wardrobe soon.
SECOND/LAYER Paso Flared Trousers
Flares are undoubtedly a bold choice in 2021. If you're not looking to rock the boat too much, this pair from Second/Layer should do the trick. A subtle kick flare elevates the silhouette without stealing the show.
Raf Simons Slightly Flared Tech Pants
While you'll be hard-pushed to get your hands on the actual pair that Travis Scott is wearing without a very effective plug, this pair of lightly flared tech pants comes very close.
AMI Alexandre Mattiussi Wool Flared Trousers
Alexandre Mattiussi's AMI Paris offers up a very authentic '70s style here. The formal style sees slim-cut legs fall into an effortless flare below the knee.
mastermind JAPAN x C2H4 Streamline Tailored Trousers
Mastermind and C2H4 combine formal tailoring with workwear influences on this pair of flared pants. Detailing is kept to a minimum with a Jolly Rodger motif wrapping the right leg and a silver-tone chain hanging from the waistband.
Off-White™ Check Formal Pants
Flares might be uncharted territory for you, in which case a more subtle silhouette like this pair from Off-White™ is a nice entry point. Cut from pure virgin wool, the Off-White Check Formal pants feature restrained check detailing.
Our designated Selects section features products that we love and want to share with you. Highsnobiety has affiliate marketing partnerships, which means we may receive a commission from your purchase.