As Bottega Veneta doubles down on its inimitable Padded Cassette, it's unearthing major moments from its own legacy to honor the timeless bag.
Reintroducing: Andy Warhol's Bottega campaign.
Yup, the world-famous artist personally oversaw a campaign for Bottega Veneta, which has been newly overhauled for 2022 with a focus on the Padded Cassette.
The original imagery was co-created back in the '70s by Laura Moltedo (née Braggion), a Warhol assistant, Factory regular, and the woman who inherited Bottega Veneta from her ex-husband, co-founder Michele Taddei.
Moltedo brought in Warhol and an ad agency, who eventually hit upon the "When your own initials are enough" campaign. Warhol lensed the beauty shots and the whole shebang ran in Warhol's Interview magazine in 1978.
Delicate, humble, and somehow simultaneously incredibly bold: this campaign inextricably united Bottega's Intrecciato weave with a notion of understated elegance; stealth-wealth before the term was ever codified.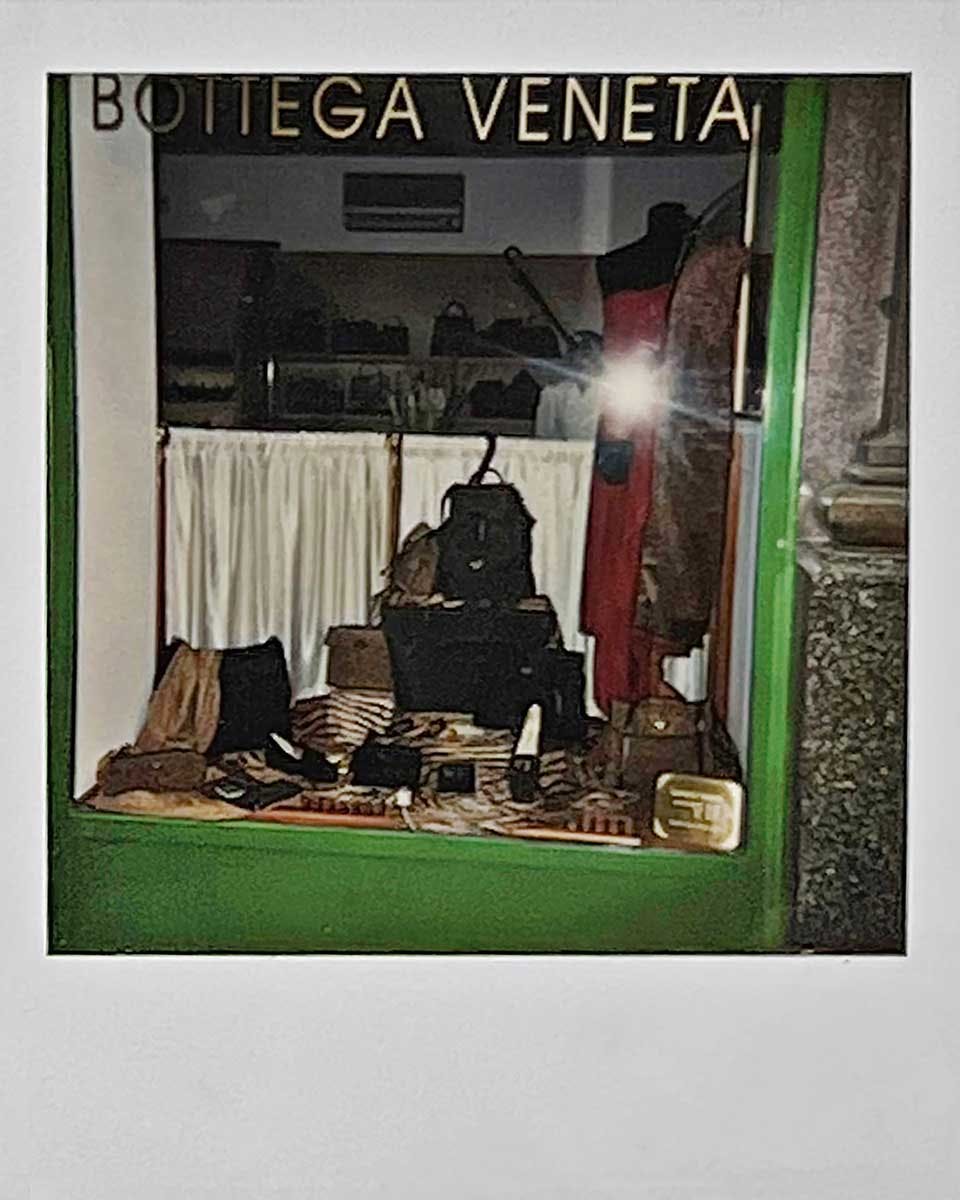 The revived campaign actually unites a pair of core Bottega codes: the layered Intrecciato is rendered in XL atop the surface of the Padded Cassette but the bag is partially obscured by BV branding executed in the house's signature parakeet green, a timely update that makes Warhol's years-old campaign again feel fresh.
Parakeet green has nearly as much Bottega heritage as Intrecciato; the color has been part of the house's aesthetic for decades.
For instance, it was the hue utilized to brand Bottega Veneta storefronts, like the Vienna outpost seen in the Polaroid photos above, and dictated the packaging seen in Bottega Veneta Industrial Videotape, a 1985 Bottega campaign film that Warhol also oversaw. Now, it's the first thing you see when you open the Bottega app.
Bottega Veneta's Padded Cassette celebration follows a few landmark moments in the house's contemporary history, including its sponsored relaunch of BUTT and creative director Matthieu Blazy's debut collection for Fall/Winter 2022.
Bottega has plenty of other "It Bags" in its stable of plush leather accessories but few speak as directly to the Bottega Veneta ethos as the Padded Cassette.
Amidst 2022's sudden Warhol renaissance, fitting that his vision for the Padded Cassette is having its own moment.
But make no mistake: the boost from Warhol's name is valuable enough but this is one bag that stands tall on its own merits.
Shop our favorite products