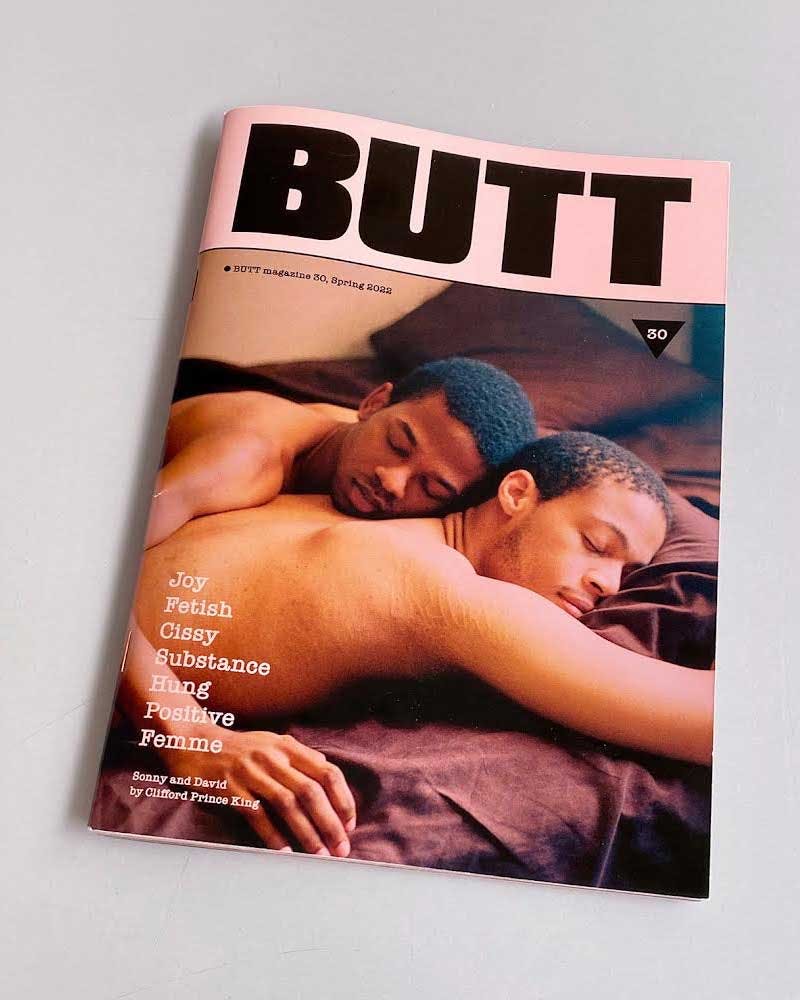 You'd think Bottega Veneta would have no time for extracurricular activities between creative director Matthieu Blazy's debut collection — already co-signed by celebs — and the BV app launch. You'd be wrong, however, cuz Bottega Veneta is also behind the relaunch of seminal gay magazine BUTT.
Created by co-editors Gert Jonkers and Jop van Bennekom in 2001, BUTT was as cheeky as its name implied. Before closing up shop in 2011, the quarterly magazine dished gay lifestyle trends, candidly interviewed dozens of queer artists, and published editorials both non-sexual and deliriously horny.
The BUTT aesthetic was hairy, authentic, intimate, impudent. Its pages held real perspective into contemporary gay lifestyle; that insight was filtered through the BUTT community (or BUTTheads, as subscribers were known) and back into the magazine through fan-submitted photos, stories, and articles.
As Hyperallergic put it, BUTT readers got "immediate access to a thriving culture and to an international community of (horny) gay men."
Since BUTT shuttered, it was the subject of a Taschen hardcover and 2018 documentary, After Butt.
"It's time to get together again," says a press release for the reborn BUTT, which will kick off with its 30th issue, comprising catch-ups with AA Bronson (who interviews trans male porn star Billy Vega) and DJ Babynymph, art from Ajamu X and Sunil Gupta, poetry, diaries, and a cover story from Clifford Prince King.
Bottega Veneta is the exclusive advertiser of BUTT's 30th issue and will oversee a special three-day installation of one of Saša J. Mächtig's K67 Kiosks at Paris' Palais de Tokyo on March 3, where the new, 100-page magazine will debut (complete with exclusive BUTT x Bottega T-shirts) before launching across the globe and on the BUTT Magazine website the next day.
Since the end of BUTT, co-founders Gert Jonkers and Jop van Bennekom have focused on Fantastic Man and similar projects.
When reached for comment by Highsnobiety about BUTT's relaunch, Jonkers and van Bennekom declined comment. "The issue speaks for itself, we hope," Jonkers said.
If it's anything like BUTT glory days, that sounds like a pretty fair assessment.