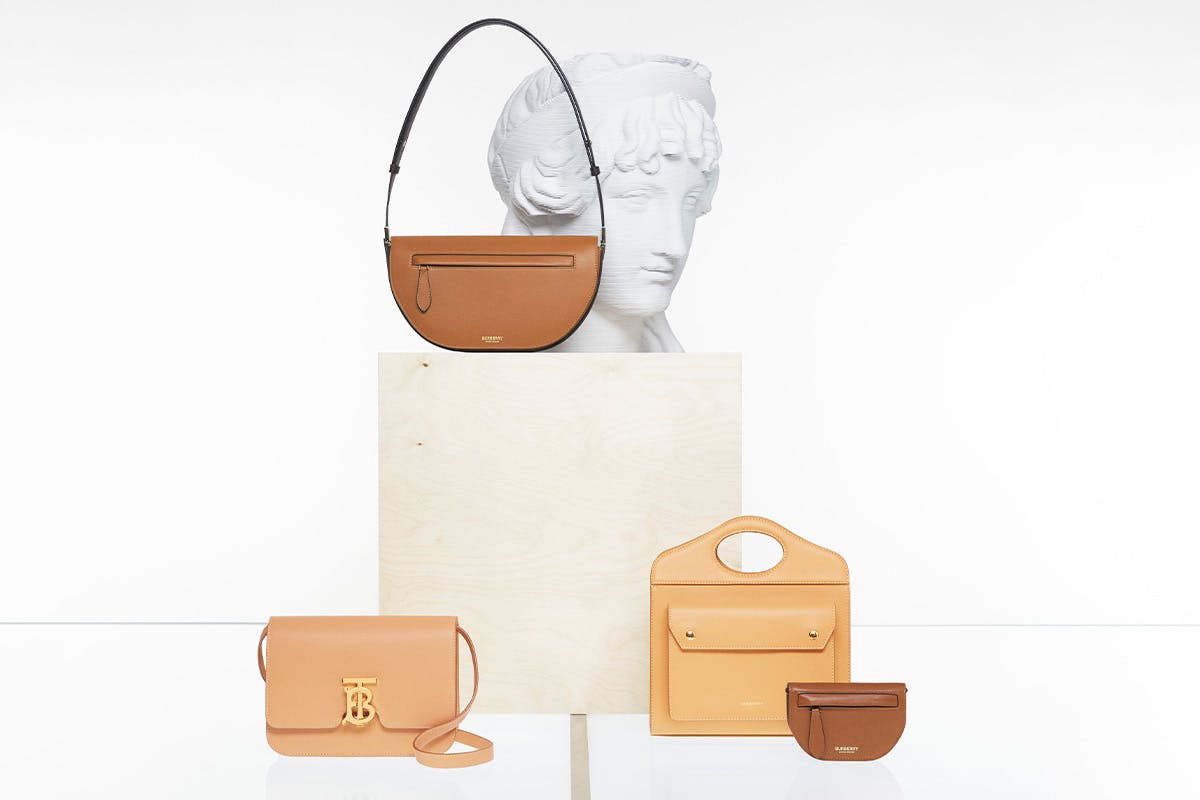 While most top-tier luxury houses began life specializing in one thing, they only reach the levels they do by constantly evolving and adapting. Burberry is a prime case study of this evolution. The British label is famed for its coats, dating back to 1856, which form the basis of its collections to this day. In its 165-year lifespan, Burberry macs have outfitted the British army, countless celebs and style icons, and lost none of their charm. But there's a burgeoning category for the label that we can't stop thinking about: Burberry accessories present a new age for the legendary brand.
In the current fashion climate, where blending disparate influences like sportswear and luxury is not only acceptable but lauded, Burberry accessories play a central role in your overall style. Whether it's a subtle Thomas Bear keyring or one of the label's new Olympia bags, the right accessories have the power to elevate your whole aesthetic.
Better still, as summer approaches and we streamline our fits for the warm weather, accessories take an even bigger chunk of our visual identities. So, from face masks to water bottle holders, here are the Burberry accessories that deserve appearances in your summer wardrobe.
Shop the season's best Burberry accessories below.
Square-Frame Sunglasses
Burberry's clean take on the classic square-frame sunglasses construction lands a heavy visual punch. This pair of shades embodiess the image of a traditional house that has perfected its evolving, contemporary image.
Thomas Bear Charm
We love a subtle flex and few come as subtle as a luxury keyring. This tiny bear is cut from premium leather with the Peter Saville-designed monogram.
Water Bottle Holder
The real key to a successful summer is drinking. Not that kind of drinking. We mean drinking water. Staying hydrated keeps you energized and looking healthy and young, so do it hands-free this summer with a Burberry bottle holder. Holds beer, too.
AirPods Pro Case
If you're an AirPods user then you've likely already got a tally of the amount you've lost. This AirPods Pro case is a win-win situation: you keep your beloved AirPods safe and look good while doing it.
Reversible Bucket Hat
Two for the price of one? Sign us up. This bucket hat is cut from Burberry's world-famous gabardine cotton — the type that built the label's first mac coats — and features one side of signature Vintage Check.
Ankle Socks
Made from technical stretch cotton for breathability and comfort, these Burberry ankle socks are ideal for a shorts & sneakers day (which is every day in summer).
Umbrella
Depending on where you're based, summer doesn't necessarily mean sunshine every day. You have to remember that Burberry is a child of London — a place where a warm summer day is always seconds away from torrential rain.
Face Mask
We're certainly on the way out and there's light at the end of the tunnel, but face masks will no doubt be part of our life for years to come. So why not cop one that actually looks good?
Ziparound Wallet
Emblazoned with Burberry's Horseferry logo, this bold red zip-around wallet epitomizes what we love about Burberry accessories. Equal parts function, style, and luxurious quality, it's everything you could want from a wallet.
Small Olympia Bag
One of the new arrivals to the Burberry accessories offering, the Olympia bag is set to become an icon. The timeless shape is small and unimposing, making it a versatile addition to all fits.
Olympia Card Case
Sitting somewhere between cardholder and bag, the Olympia Card Case comes with a detachable shoulder strap. Despite its small stature, the Blue Topaz colorway ensures that it stands out.
Want to keep browsing? Head to the Highsnobiety Shop for more products that we love. Highsnobiety has affiliate marketing partnerships, which means we may receive a commission from your purchase.