Our lives are fast-paced relationships between us and the world; our environments shape our thoughts and actions, and our thoughts shape our environments. We inhabit spaces that, in turn, inhabit us.
City Charged is our latest collaborative film project with Nike Sportswear and the guys behind the new Nike LunarCharge sneaker. Each film asks a group of individuals whose lives are shaped by high-octane, dynamic urban environments to show us their world's beating heart. Molded by the cities in which they grew up, their own endeavors now reshape the city for future generations.
The series' fourth film takes us to Berlin where we met music collective BASSGANG, comprising members Gofi, Tuan: Anh, Ostblokkk, Minoto, and J.Cloud. The group's founders grew up together in Berlin's Friedrichshain neighborhood and, wanting to distance themselves from Berlin's legendary techno scene, they began instead to host parties that played other music genres which they felt better expressed their Berlin experience.
Performing DJ sets around the globe and possessing various cultural backgrounds, BASSGANG has international influences. However Berlin has undoubtedly formed the foundation for their recent successes. Developing their talents during the evolution of the internet, they've been shaped by fast-paced physical and digital spaces.
We spent some time with them while filming the latest City Charged to get a greater insight. Read our conversation below and watch the short film co-created with videographer Hendrick Lamar above.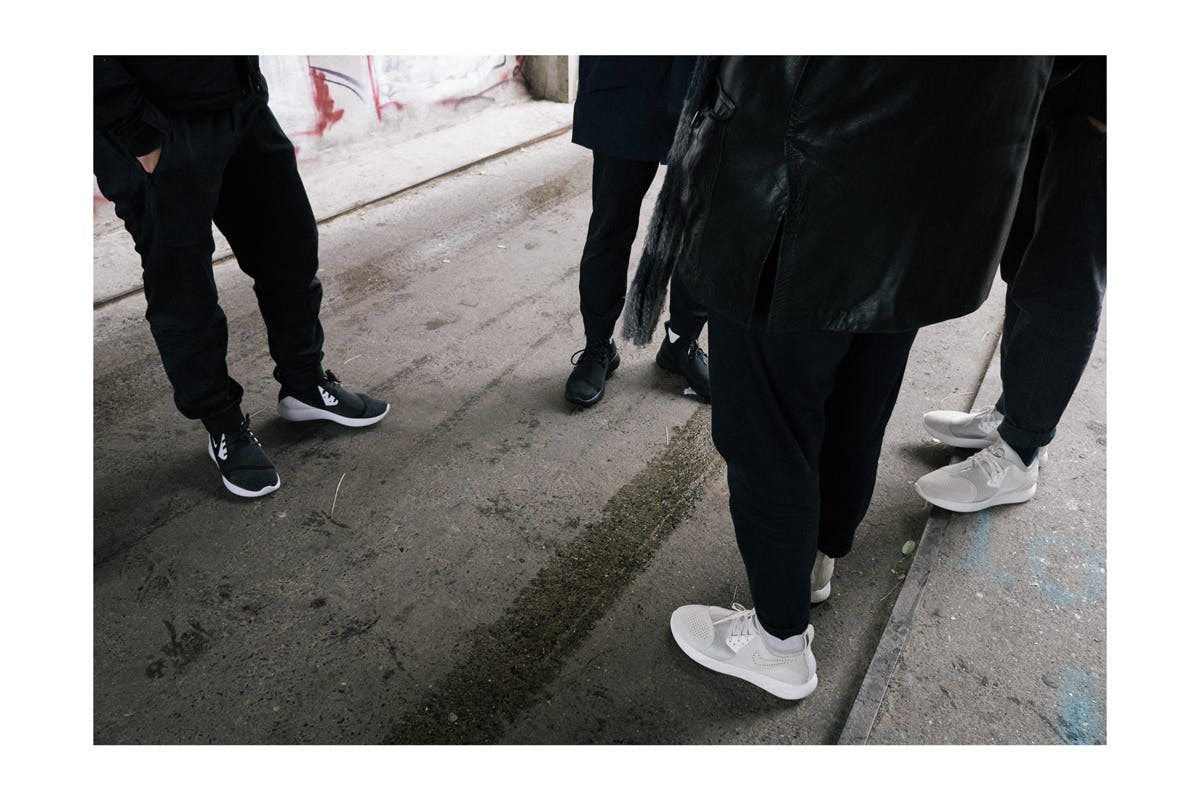 Do you see yourselves as being part of a subculture?
Yes, we do! Us and a few local crews are trying to fill a void in a city known for its techno and house music. Berlin is much more versatile than you think. You just have to look closely.
How has Berlin influenced your creative work?
The city gave us the opportunity to be where we are right now. We're lucky enough to have grown up here collecting inspiration. The creative environment here gave us the opportunity to connect with like-minded people that support us in what we do.
What other cities do you find inspiring?
Every city that we've traveled through DJing has inspired us. They've given us a small insight into different people, scenes and club cultures. It's interesting to see how every city's culture and population are so varied, from London, Amsterdam and Antwerp to Vilnius and Shanghai.
Where do you look to discover new music?
We started DJing at a time when music streaming services like Soundcloud, Mixcloud and Spotify were blowing up. We can find lots of music really fast, but that can be a problem. It's sometimes hard to keep up with all the new music, even as guys who grew up with the internet. For this reason, we exchange music amongst each other and get new productions from friends.
What were the last pieces you bought and why?
Some proper winter clothes because it's getting damn cold in Berlin right now!
What did you make of the Nike LunarCharge?
We like it! It's really comfortable with a simple but slick design.
What interests you outside of music?
Some of us danced Hip Hop and Krump before starting to DJ. When hanging out we like to watch dance battle videos on YouTube. It's an entirely different form of expression to DJing, but we try to capture the energy and bring it into our sets.
J.Cloud is really into his art thing. He likes to paint and create collages influenced by his African roots. You should check out his work on Instagram.
Also, we love food! We enjoy cooking and dining together. It gives us the feeling of being a family. Our first music-cooking show is coming soon stay tuned.
Minoto and Gofi, how was it performing your first Boiler Room set?
Initially, we set really high expectations for ourselves and tried to prepare the perfect set. Usually, our selection and mixing depend on the vibe at the party, and we never prepare our sets, so this plan didn't work out.
Eventually, we arranged half of the set and the rest we improvised. All our friends were there, and we had mad fun. It was a great experience, and we are looking forward to doing our own showcase with all the guys together.
Gofi, what music most impacted your current work?
I think African music. For me, Africa is the Godmother of rhythm and dance, and if I want to make people dance, I have to go to the roots of music.
Tuan:anh, what's your go-to track to excite a crowd?
It's currently "Teriyaki Boyz - Tokyo Drift Instrumental." You might think it's cheesy, but the bell, percussion and synth on this are crazy if you leave out the vocals. The Neptunes are also two of my favorite producers ever!
Ostblokkk, what advice would you give to your 16-year-old self?
Start djing, producing and making music as soon as possible. You will never have so much time compared to back then. Don't waste it with doing nothing.
Minoto, if you could go back and work with one late artist, who would you choose and why?
To be honest, Aaliyah was my first love. I am really into R&B because of her.
J. Cloud, what's your earliest music related memory?
Listening to Michael Jackson. I can still remember it like it was yesterday, my big sister jumped around and started to dance when she heard Thriller on the radio.
The final chapter in our City Charged series follows soon. In the meantime, check out the project's London, Paris and LA films, or cop the new Nike LunarCharge via Nike.com.