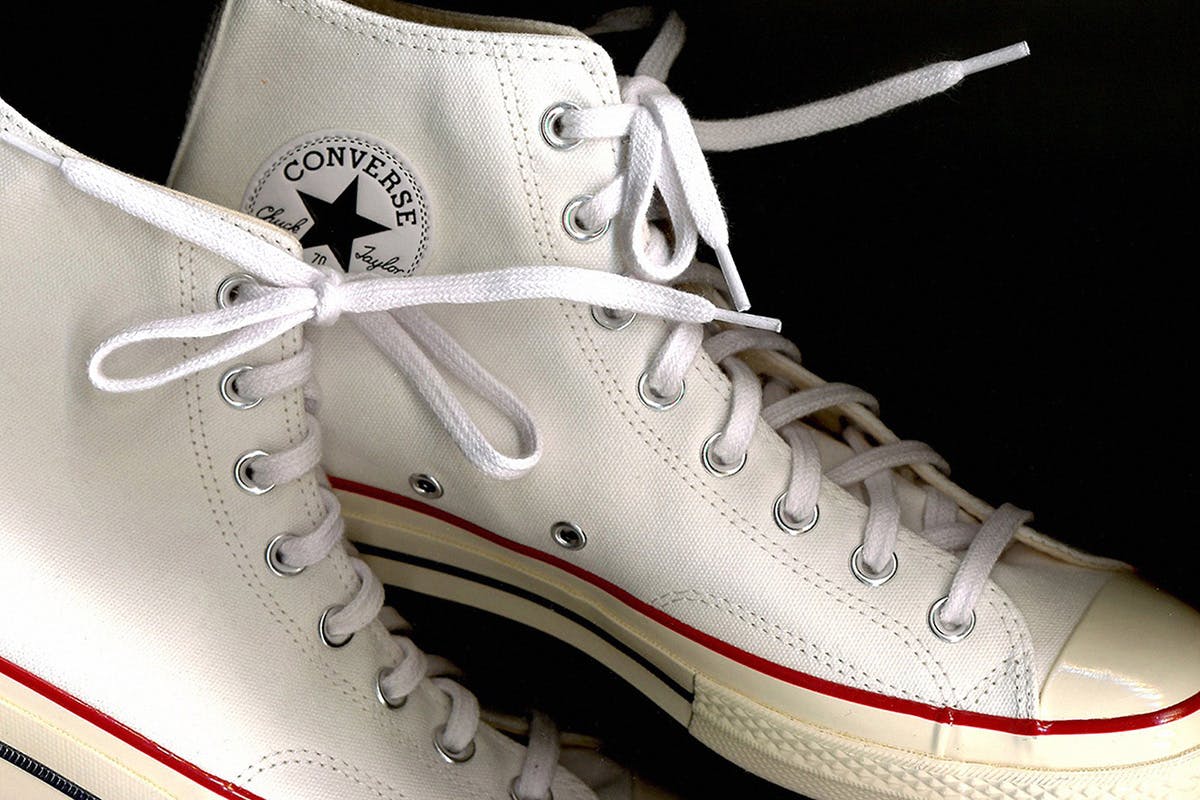 When StockX released its year-end report for 2020, several facts jumped out at us. Most notable was the year-on-year increase in female and non-US users on the platform, two topics Highsnobiety had previously covered at length in our 2020 sneaker report, and the call for equality in the sneaker community. Just as notable — and certainly more surprising — was StockX's list of the top seven brands, measured by total trades on the platform.
Jordan Brand, Nike, and adidas make up the top three, which is no surprise. However, Converse coming in at fourth place on the ranking and beating out 2020's big winner in New Balance, YEEZY, and Vans, which made up the rest of the top seven, was a big surprise.
The brand had a relatively quiet year. When you compare its output to that of YEEZY, who seemed to have a hyped release every few weekends without fail, or New Balance, whose collaboration strategy meant it landed hit after hit, it's hard to imagine Converse outranking both brands.
According to StockX's chief economist, Jesse Einhorn, that's due to several factors. "Like New Balance and Crocs, the success of Converse once again demonstrates the power of collaborations to drive secondary market success," reveals Einhorn. "If you look at the top 10 best-selling Converse sneakers on StockX, nine of those sneakers are collaborations."
Collaborations with Fear of God, Yoon Ahn's AMBUSH, and its long-time partnership with COMME des GARÇONS Play, have catapulted Converse up the rankings. According to StockX data, all three colorways of the Fear of God Chuck Taylor All-Star 70s saw 15,000 trades on StockX.
"Five of the top 10 most traded Converse sneakers on StockX in 2020 were from the CDG collab," explains Einhorn. "Despite the fact that they've been on the market for years, the Comme des Garçons Chuck Taylor All-Stars continue to move major numbers, with the black colorway ranking as the top-selling Converse of 2020."
While the CDG Play Chuck Taylor has long become a meme among fashion snobs and streetwear hypebeasts, it's clear that the model has not lost its appeal to the wider market. Its timeless and clean design are apparently still very much in, and a big reason why Converse was the fourth-most traded brand on StockX. Perhaps most telling, though, is that Converse's ranking did not change from 2019 when it was also the fourth-most traded brand on the platform. New Balance and YEEZY, on the other hand, jumped up one and 10 places, respectively.
Additionally, Converse sneakers generally trade at a lower price premium (30 percent above retail being the lowest in the top 7). This means there is a lower barrier to entry for buyers, and more potential for sneakers to be traded.
In addition to its top brands, StockX unveiled its top five silhouettes, measured by total trades. There were fewer surprises there, as four were iconic classics and the fifth was Kanye West's answer to Nike's Roshe Run, the adidas YEEZY Boost 350 V2.
The Nike Air Jordan 1 led the charge at number one, which is no surprise considering how many colorways have been released over the past few years and how the saturation of the market hasn't had a real effect on the silhouette's popularity. The Nike Air Force 1 in third, the Nike Air Jordan 4 in fourth, and the Nike Air Jordan 11 in fifth round out the top five.
The Nike Air Force 1 may seem like the odd-one-out, as there were not many high-profile collaborations associated with the silhouette in 2020, whereas the Union x Nike Air Jordan 4 was hotly hyped, as was the Off-White™ x Nike Air Jordan 4.
According to Einhorn, though, the Air Force 1's ranking comes down to general release sales on StockX. "In 2020, the best-selling Nike sneaker on StockX last year wasn't a hype collab or new release. It was the Nike Air Force 1 Low White '07, which was also the top-selling Nike sneaker last year," he explains. "While hyped collaborations and new releases dominate social media and press headlines, the massive sales of accessible classics like the Air Force 1 can't be pushed aside."
The classic all-white Nike Air Force 1 retails for $90 and resells for $94, making it the perfect sneaker to pick up on StockX if your local store or online retailer runs out of your size. It's also a sneaker that never goes out of style, which explains its continued performance on platforms such as StockX.
To see StockX's full year-end report, head here.