This article was published on September 10, 2021 and updated December 21, 2022
Some designers do fashion, Dana Lee makes clothing. That sounds like a cliché now, but it definitely didn't in the 2010s when Vancouver-born Lee was one of New York's pre-eminent menswear designers. The anti-pretentious work jackets and trim sweaters that Lee dished out over those few years quickly became the stuff of tastefully dressed legend.
Suddenly, she was gone. And just as suddenly, she's back with a new lease on life and a new brand: DANA LEE BROWN.
Around 2011 or so, the rise of the male fashion blogger and prestige television like Mad Men sparked a menswear "boom" that baffled industry insiders (hilariously so, in hindsight). The only menswear-centric fashion week was exclusive to Paris and pitifully small.
Not a problem for Lee: she couldn't have cared less for runway shows or glossy magazine spreads. Her deference to fame mirrored the unfussiness of her easy essentials.
Amidst the rise of the Kinfolk aesthetic, Lee's eponymous brand catnipped men who were discovering the inherent pleasure of well-made clothing for the first time.
Lee is press-shy and took convincing to give her first clothing brand, A-Z Collection, an eponymous rebranding after it became the subject of a trademark dispute. Even then, she shyly called the line D.Lee before it became DANA LEE proper.
She also (very politely) refused a video chat for this piece in favor of back-and-forth email exchanges over a series of months.
Perennial DANA LEE standouts included waffle-woven chore coats, patterned shirts, and handknit sweaters ethically crafted from materials so quietly luxurious that they meld naturally into ultra-twee indie album covers. The clothing was as aspirational as it was approachable.
A decade ago, Lee's easy ethos was novel — nowadays, it's something aped en masse by "elevated basics" brands that maintain an aw, shucks veneer despite their immense overseas production lines and angel investors.
After restarting her eponymous company with a swiftly sold-out archive sale, Lee is once again doing it all on her own. And, finally, loving it.
First things first, what initially prompted you to put the Dana Lee brand on hiatus?
Well, when my first child was born, it became increasingly difficult to stay on top of my brand. And when my second came along in late 2015, I was undeniably in over my head. I decided that if I wasn't able to make things or engage with clients in a quality way — I was clocking close to zero social media at the time — then it was probably best to hit pause for a while and be the best person I could for my kids.
But it was an injury in 2016 that prolonged what was intended to be just a one-year break [briefly bridged by the Stock Program]. Add onto that a year of questioning whether the world really needs more clothing, and suddenly it's 2021.
It was pretty disheartening leaving behind what felt like quite a lot of brand momentum, but I also feel extremely lucky to have had some dedicated years with my kids and the chance to gain perspective — something that's hard to come by while working in fashion.
How did you get started in clothing and what made you move to New York?
I spent quite a lot of time thrifting vintage and deadstock when I was young, my go-to being an Army & Navy in Vancouver's downtown East Side filled with deadstock from the 1950s-'80s: a time capsule of men's perma-pressed polyester slacks and scratchy wool Canadian union suits.
After a couple years studying in Helsinki and London, I returned to Vancouver and just really felt the need to get "out" there. Upon visiting a boyfriend studying at Pratt [in Brooklyn] later that year, there was just no turning back.
I know people can relate when I speak of the intoxicating feeling one gets while in New York and how that can completely change your course.
Three months later, I found an incredibly cheap lease on the corner of Prince and Broadway, where I slept on an air mattress and showered at the gym across the street while using it to showcase some experimental clothes I had made.
Before there was DANA LEE (the brand), there was the A-Z Collection. What was that all about?
A-Z got going after a stint exploring more luxe fabrics and darker, edgier themes, before I came to terms with my inherent love for simpler, more ubiquitous things, like primary color and shapes, unassuming fabrics, color-blocking, child-inspired raincoats, everyday quirky things.
An order from Opening Ceremony opened up the doors for me, which carried over to DANA LEE. And though A-Z was much more impersonal, it was very much a predecessor to DANA LEE in terms of emboldening my love for simplicity.
Why were clients buying DANA LEE during its initial run?
In the mid-2010s, my clothes seemed to fill a funny gap that existed between streetwear, workwear, and [luxury] fashion. And, with the wearer probably tuned into at least one of those cultural streams, I think the common thread was the desire for low-key, simplistic interpretations of things, clothes that weren't as available then as they are now.
Who are [my clients] today? That's a question I'll hopefully know more about soon. One of my favorite parts about getting back into things has been the chance to reconnect (or just connect) with my clients and followers.
What were they wearing back then?
Any of my heavy gauge sun-washed jerseys (Double-Needle Tanks, Twill-Sleeved Tees) and any simple, relaxed style like the Work Coat or Flap Pocket Shirt. And the custom-printed Tropical Shirts in summer! If you asked my clients, they'd probably also add the Deck Jacket and Waffle Leisure Coat, two styles that I could never make enough of.
Also, the Stock Chino, Easy Shirt, Walking Shorts, Hopsack Shirt, Dad Jeans have also been mainstays over the seasons.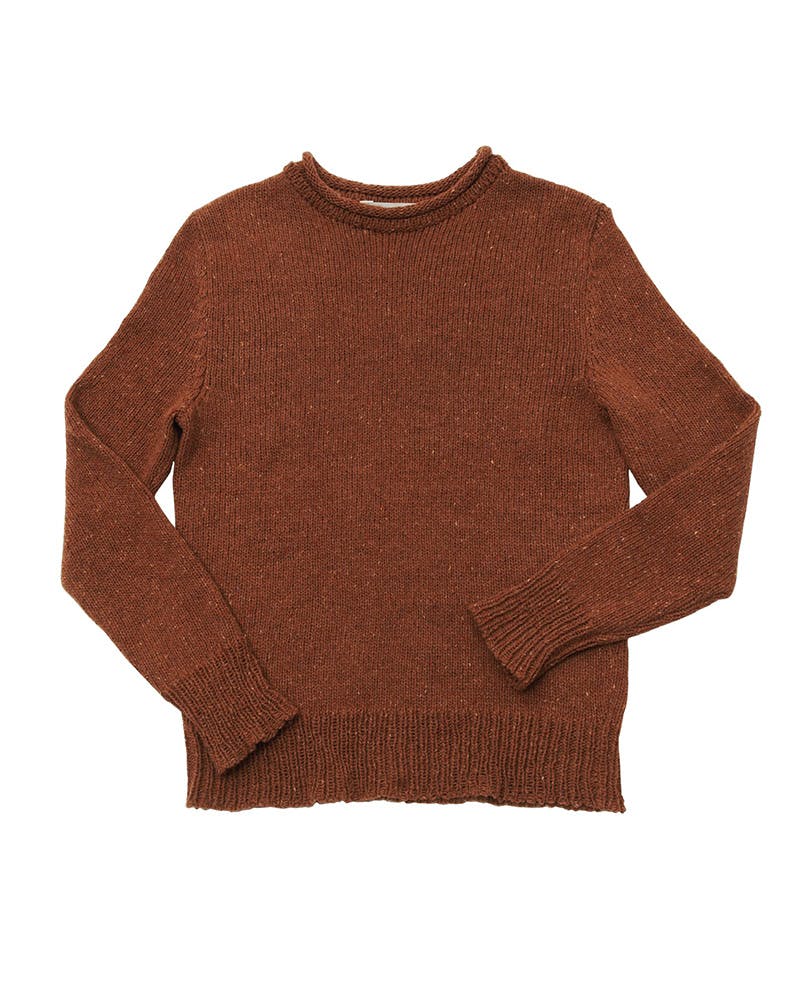 A lot of write-ups of your clothing would label it with phrases like "the perfect basics." How do you feel about those kinds of descriptors?
I totally relate to them.
There are a lot of clothes out there and finding something that fits exactly the way you want — with the perfect texture and without any distracting details — can be really hard! It's what got me going in the first place and why I spent days on end scouring deadstock and vintage.
Knowing that someone might possibly feel that way about my clothes is the most I could possibly ask for. From both a design and sustainability perspective, I'm very proud to be considered part of that territory.
Was there a conscious effort for your line to be "simple?"
YES.
At that time — pre-2008 — there was a lot of excess (and, dare I say, elitism) in the air and what seemed kind of thrilling at first, started feeling just wrong.
Personal aesthetics aside, there was this looming feeling that things really needed to shift in a humble, conscious direction, and when the [financial] crash happened in 2008, pursuing simple, staple-driven clothing felt like the right thing to do.
Can you describe the experience of making clothing in the late '00s? What was the landscape like, how challenging was it to produce?
It was a constant grind and hustle.
Like a lot of things pre-Instagram/e-comm, you really had to physically live somewhere to pick up on trends and understand a culture. You were physically banging on the door of a factory in hopes that they might take your business seriously — considering the lack of comprehensive websites at the time — and had to be extremely resourceful (or connected) when it came to finding decent fabrics with low enough minimums.
Not having any scholarly mentors and being a small, scrappy girl in menswear probably didn't help. If it wasn't for my time spent working in a factory, I'm not sure I would have gotten my start!
I resorted to piece-dying (some even by hand) a lot of my initial fabrics, which ironically ended up creating my "look." That also opened up the world of color to me, which ended up being integral to my brand!
Can you offer some perspective on your experience as a woman in the late Noughties menswear scene?
It's funny, I've endured so many atypical challenges (things completely out of left field) that being a woman designing menswear is not the first thing that comes to mind when I think of adverse situations. And all this probably pales in comparison to what some other industry minorities have faced. But when I think of the unequivocal amount of men designing for women compared to women designing for men, I'm reminded that there is definitely some sort of conversation here.
Internally, I felt pretty self-conscious about not being a guy when I first started showing my work, and that being female might discredit my product somehow. I did everything to make my work seem as impersonal as possible and expended a lot of energy gauging what other brands were doing. But when the trademark issue with A-Z arose, the identity thing came to the forefront.
And as uncomfortable and awkward as that felt for me, it really encouraged me to embrace my female perspective — something I felt supported in, which I think speaks to some openness in the industry?
I'll be honest, I've had a few questionable experiences along the way but, for the most part, the shop owners, clients, and all the people in between have been incredibly nice, cool, people.
Where are you based now?
I was based in New York for about eight years, but with most of my production happening in California, my building undergoing renovation, and a partner who works in film, I gave up my Crosby Street studio in 2014 and fully relocating to Los Angeles.
While it was a bit heartbreaking leaving that community and landscape, being close to so many "making" resources was a step that really needed to happen. As someone really focused on washes and textile customization, LA really opened things up for me creatively and helped me establish a more streamlined process.
More recently, my family and I have been living and working remotely alongside a couple other NY design ex-pats from a place called Bowen Island, a tiny island with a vibrant 3,000 person community about an hour north of Vancouver.
What's your personal style these days?
My go-to is a pair of vintage Levi's 501s or my washed-down Stock Chinos, the same pair of Dr. Martens oxfords that I've been wearing since 2012, and one of the papery white t-shirts that I bought in bulk at the Canal Street Pearl River Mart 10 years ago... not sure what I'll do when those t-shirts run out!
What's the response been like to your archive sale?
Happy to say it went amazingly well. With most of the pieces being upwards of 10 years old and priced normally, I wasn't getting my hope up, but about 90% of the product sold within a day, followed by a few hundred re-make requests.
A really good feeling, having been off the radar for a while.
I also received photos of beloved shirts, shorts, tees, and pants worn (some to smithereens!) over the years. Being very close to hanging up my hat not long ago, this was especially heartening to see!
What's in store for the future of the brand?
The Fall/Winter portion of my archive sale is happening now, including some one-of-a-kind pieces and inspirational objects dating back to 2010. And very happy to announce there will indeed be some new things coming out after that with more of a monthly release pace as opposed to biannual collections, possibly even some pre-order items.
And while it's tempting to expand a product line, I'm most excited about the possibility of a calm, thoughtful process working with a few key stores and my own e-comm. Having had a lot of hangups about sustainability during my time off, I'm also extremely excited about the recent accessibility of some environmentally friendly processes I've been hoping for.
I love this quote, from an older write-up of your work: "There is nothing like the feeling of being understood." Do this still relate with you today?
Funny, I don't remember providing the content for this!!
But the desire to feel "understood" has definitely always been a motivating factor. As someone who struggled with speaking when growing up, I found clothing to be a place where I could express my thoughts and values.
And though I've found my voice over the years, clothing continues to be very personal. Trying to think of how this might relate to choosing to work in menswear... Maybe one day that part will become clear to me.
Shop our favorite products