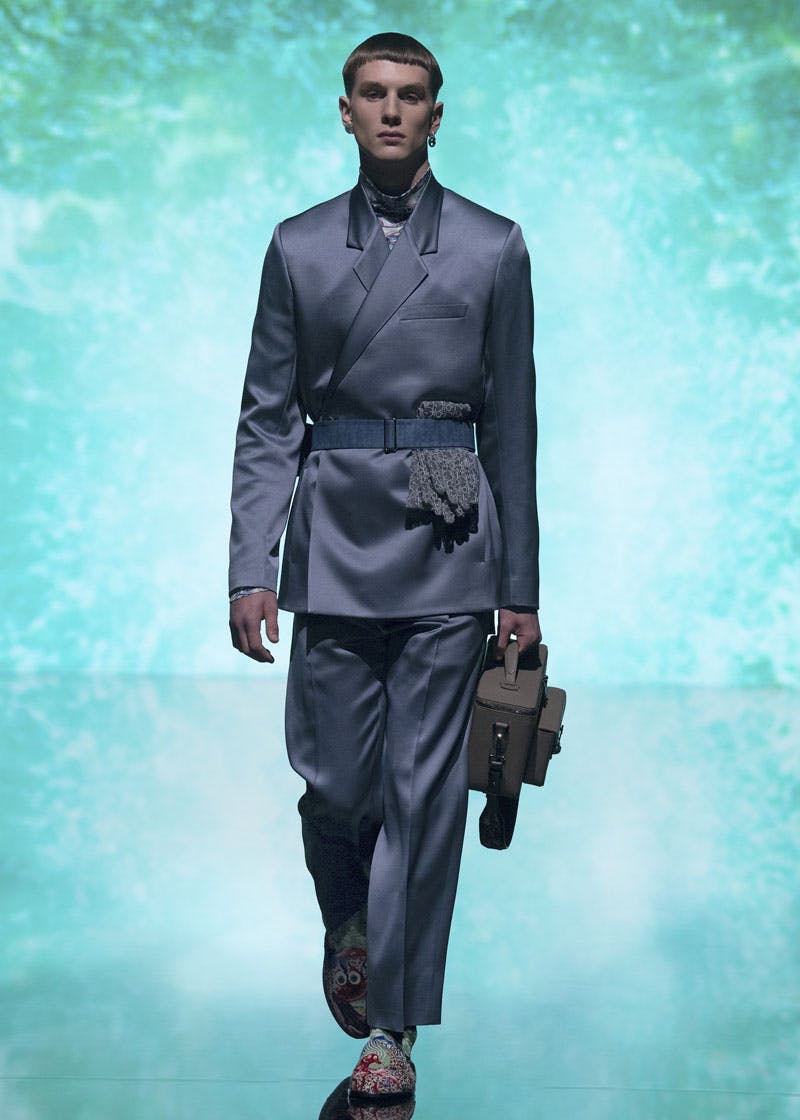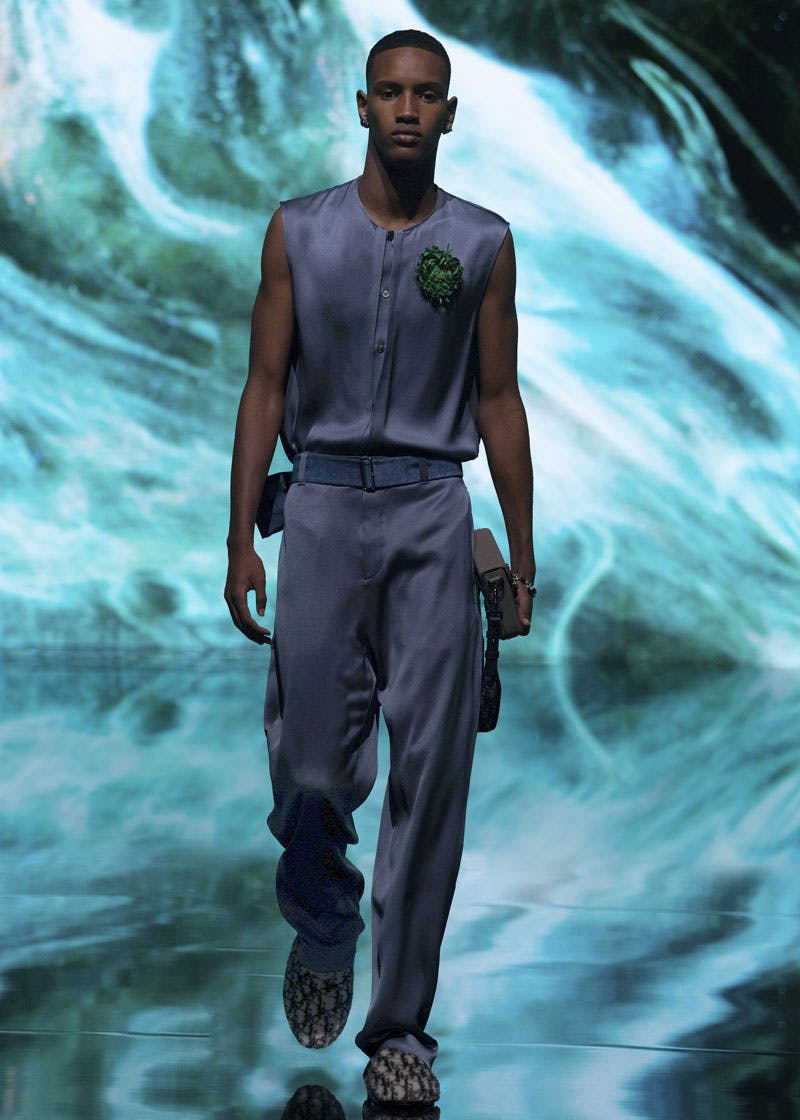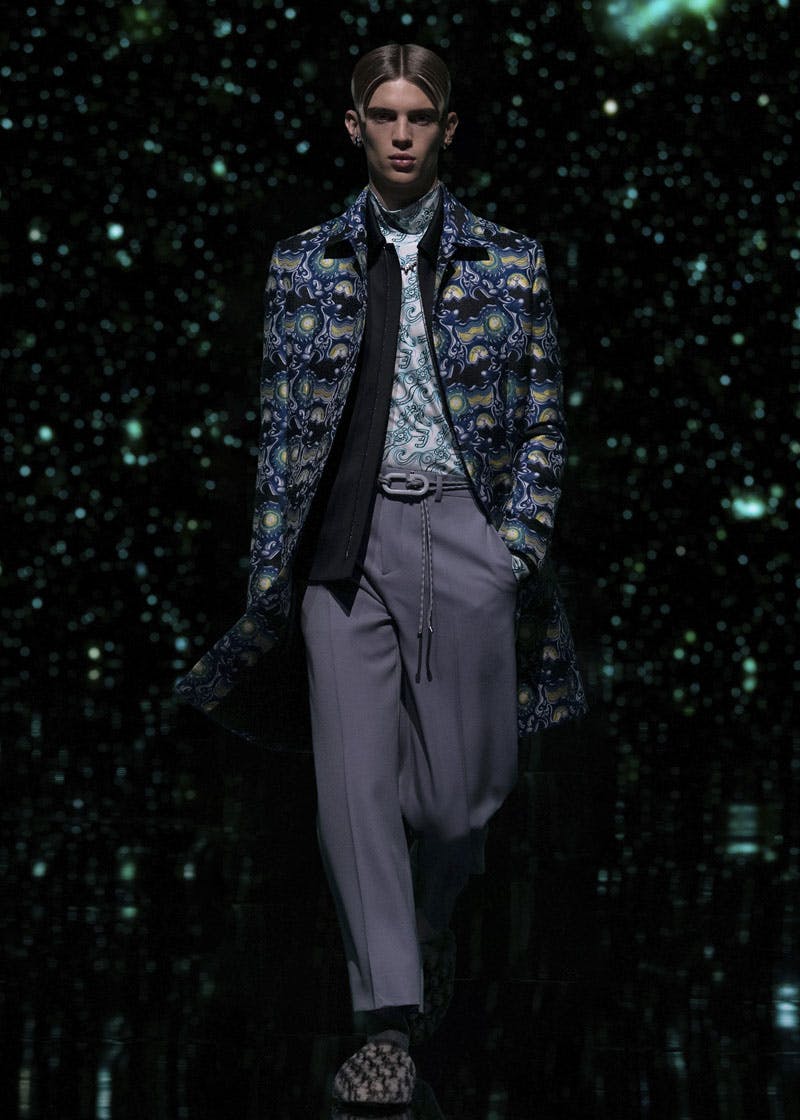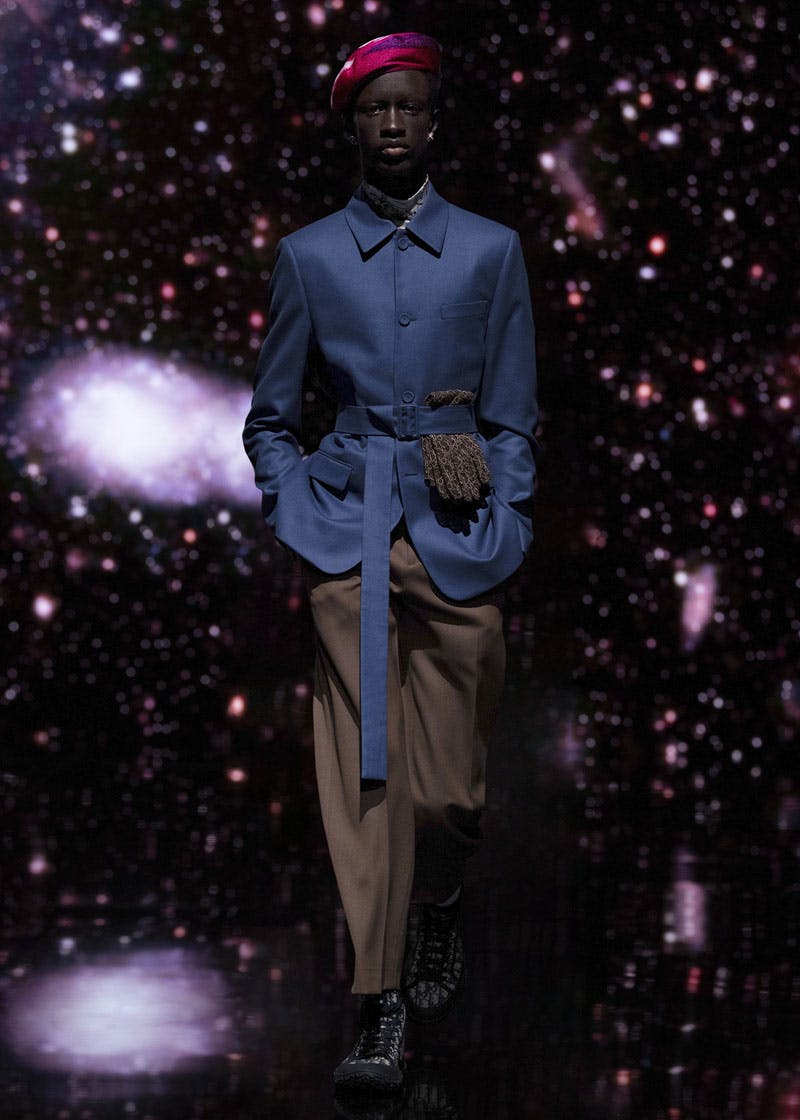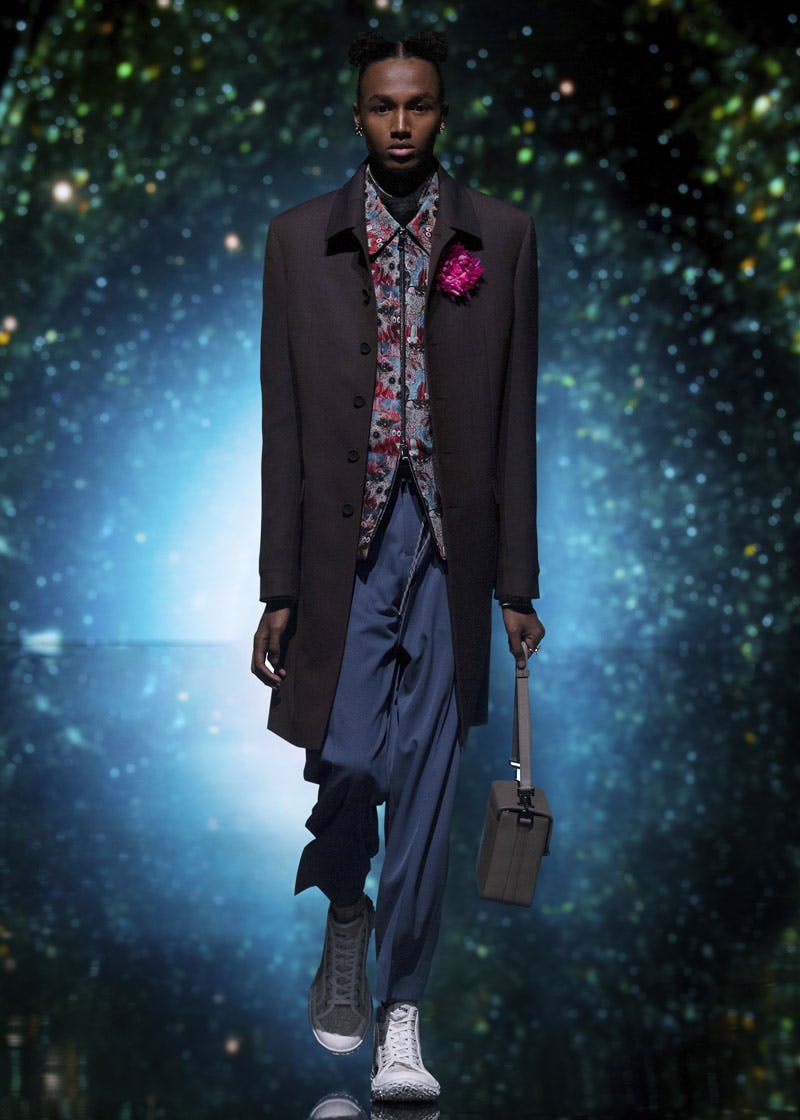 Dior showed its pre-fall 2021 men's collection today, as part of a virtual live-streamed fashion show that is now the norm under Covid-19 conditions.
Artistic director Kim Jones is a well-documented art enthusiast and collaborator and his penchant for street art in particular has informed his aesthetic direction for Dior since enlisting KAWS for his SS19 debut. Since then, Jones has collaborated with Amoko Boafo, Shawn Stüssy, and Raymond Pettinbon to weave contemporary artworks into a heritage couture house.
For the pre-fall 2021 collection, Dior has collaborated with Kenny Scharf, an American painter known for his black light and Day-Glo installations, psychedelic characters, as well as his participation in the '80s New York City East Village Art scene among Basquiat, Keith Haring, and Andy Warhol.
Here's 5 main takeaways from the pre-Fall 2021 collection, which you can watch here.
Kenny Scharf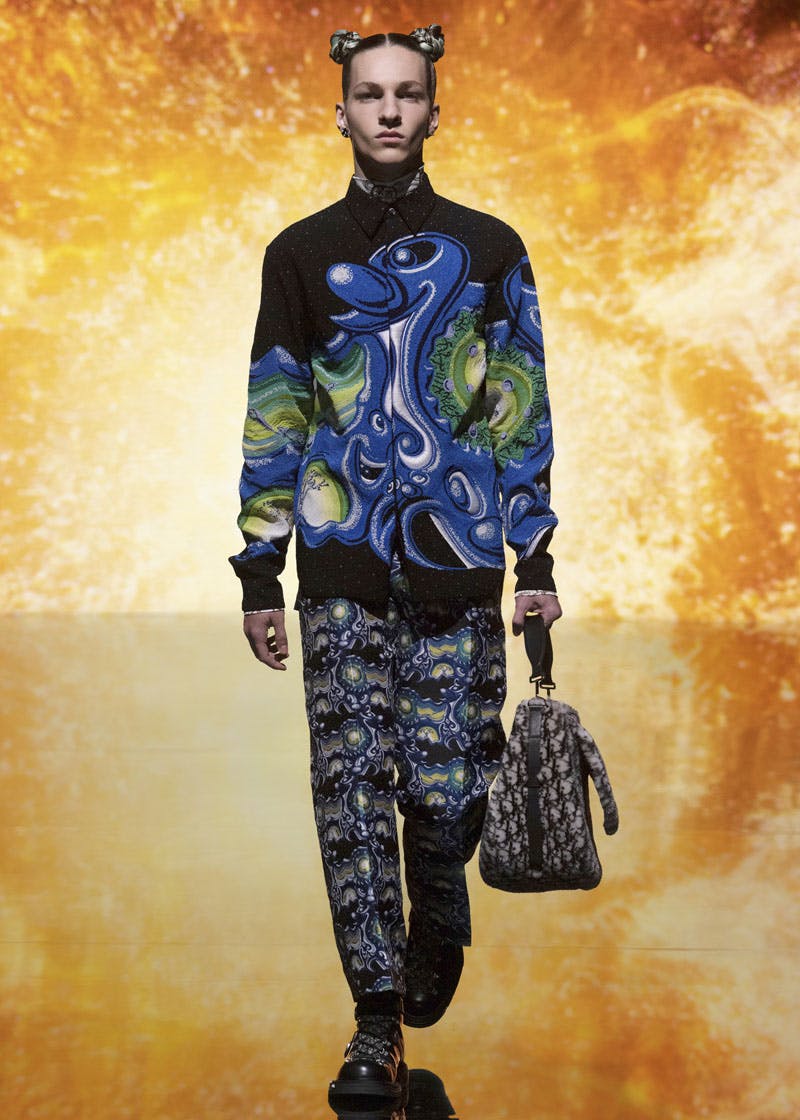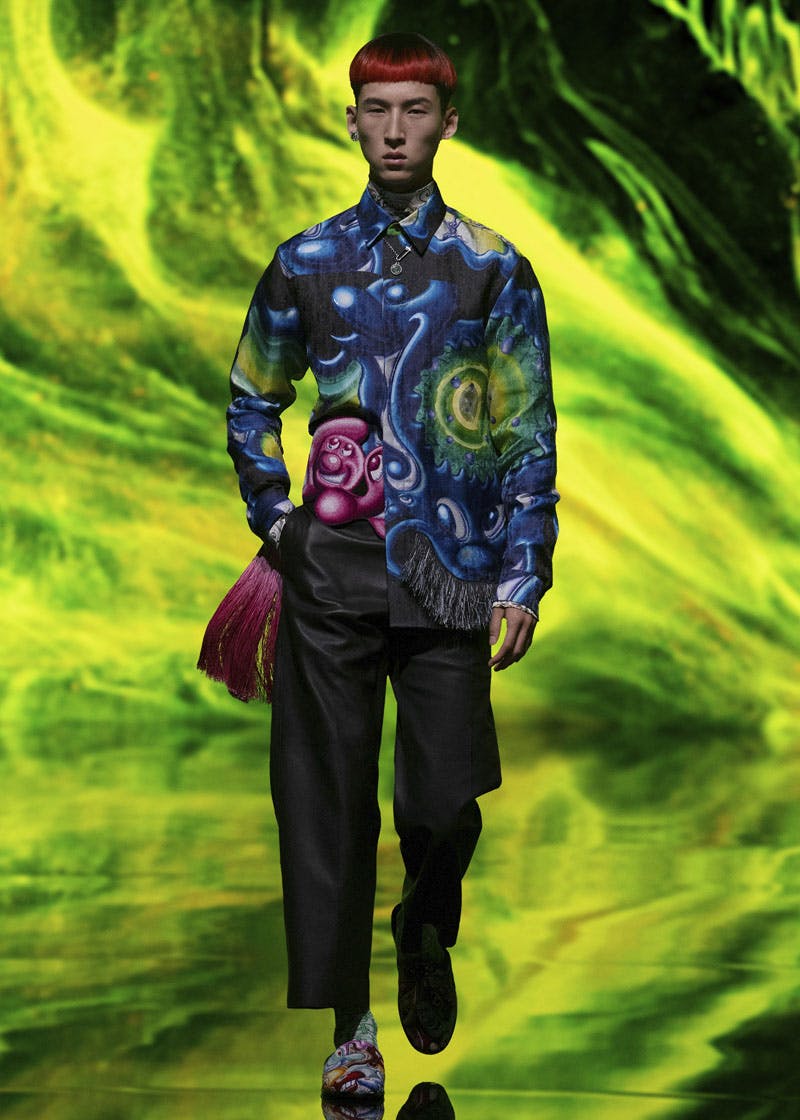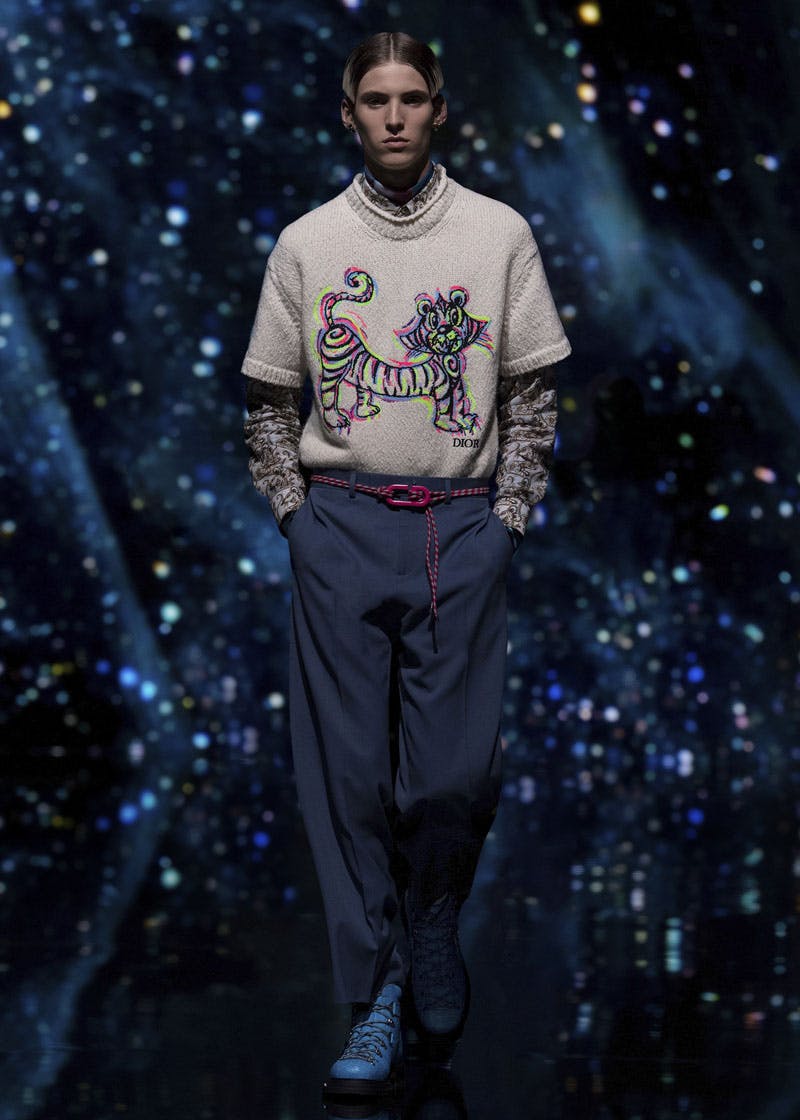 The inclusion of Kenny Scharf's colorful iconongraphy was a contrast to the silky and austere tailoring from the rest of the collection.
Speaking to Highsnobiety, Scharf tells us "I let Kim have free rein of my archives and I was happy to see that most of the imagery is current, things that I post on Instagram as I'm finishing them, and sometimes things that are still works in progress because I like showing those, too. And I noticed he used some of that imagery, too, which makes perfect sense because it's floating and so easy to use and apply. A few of my "classic" paintings were used, much to my delight, and I also created some new imagery specifically for this collection."  
For us, the highlight of this collab arrived in the form of animals from the Chinese zodiac woven into off-white knitwear, and a pair of illustrated mules.
Check out Scharf explain his vision with Dior in the exclusive video below.
Experimental Accessories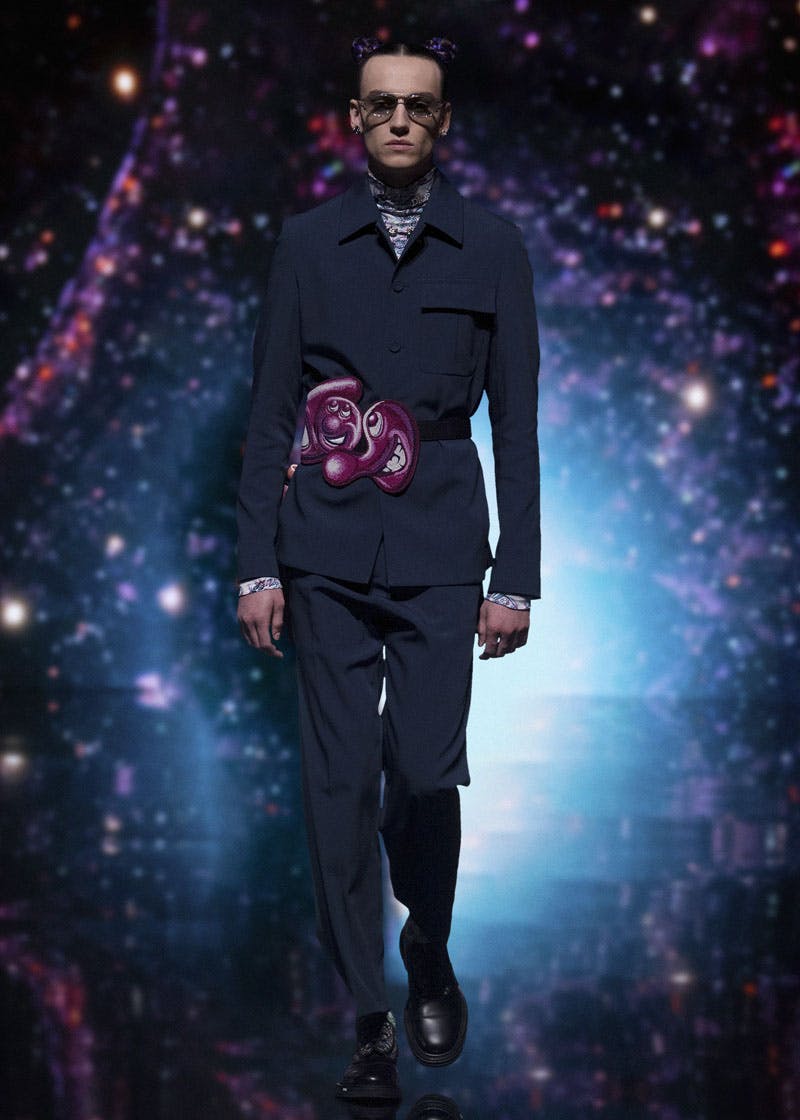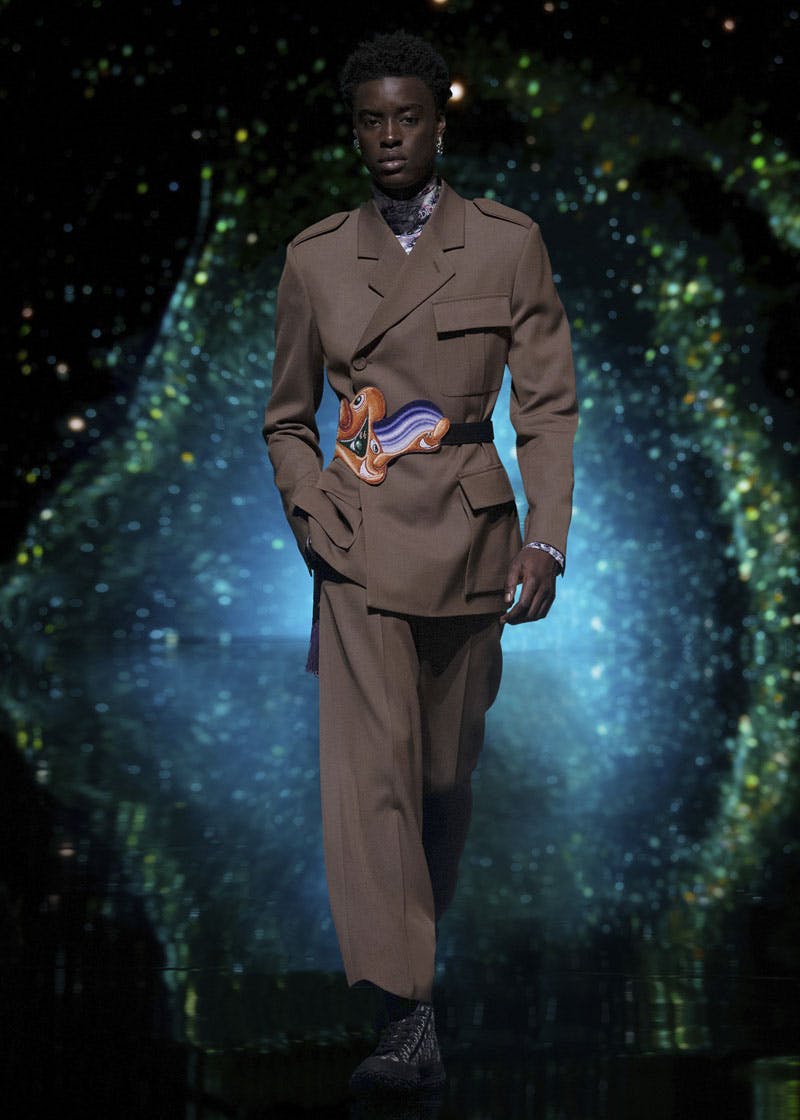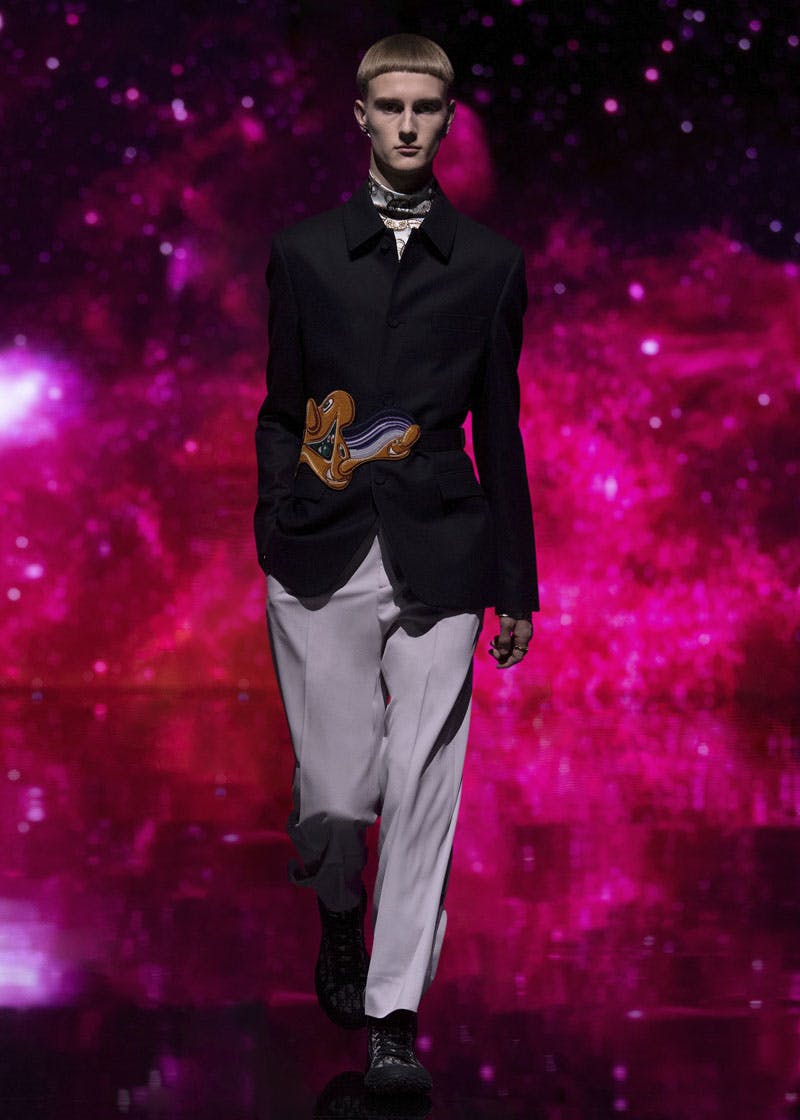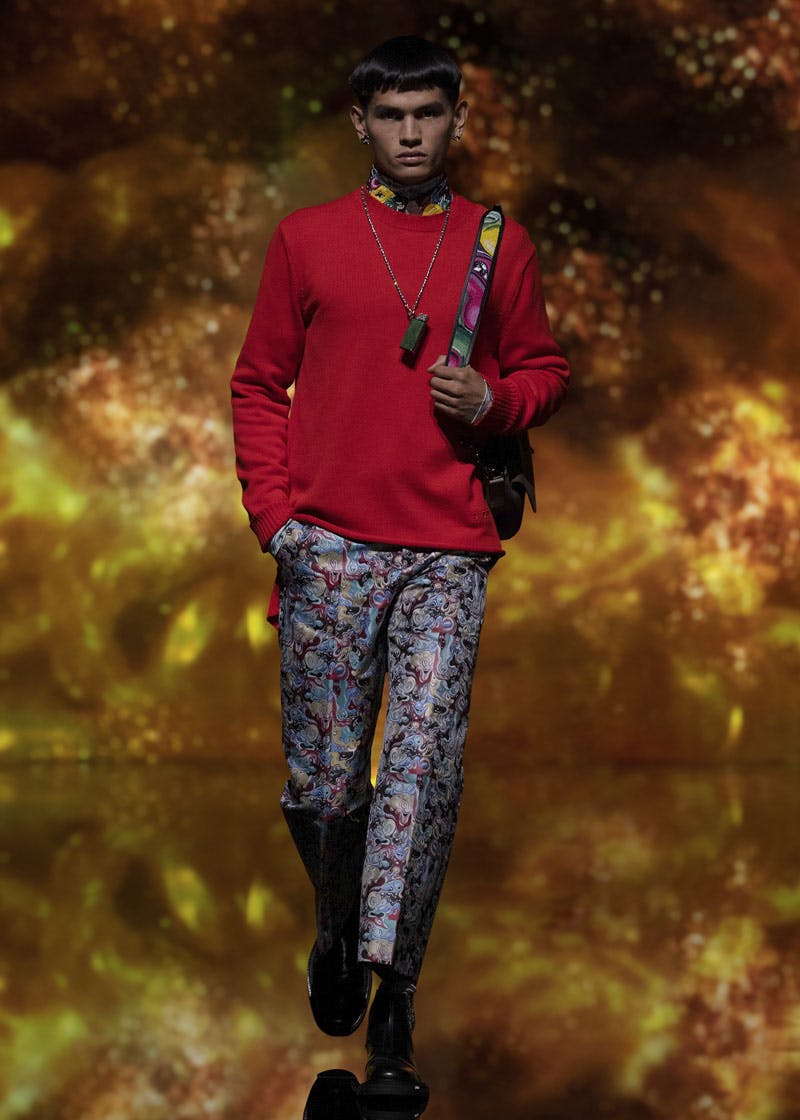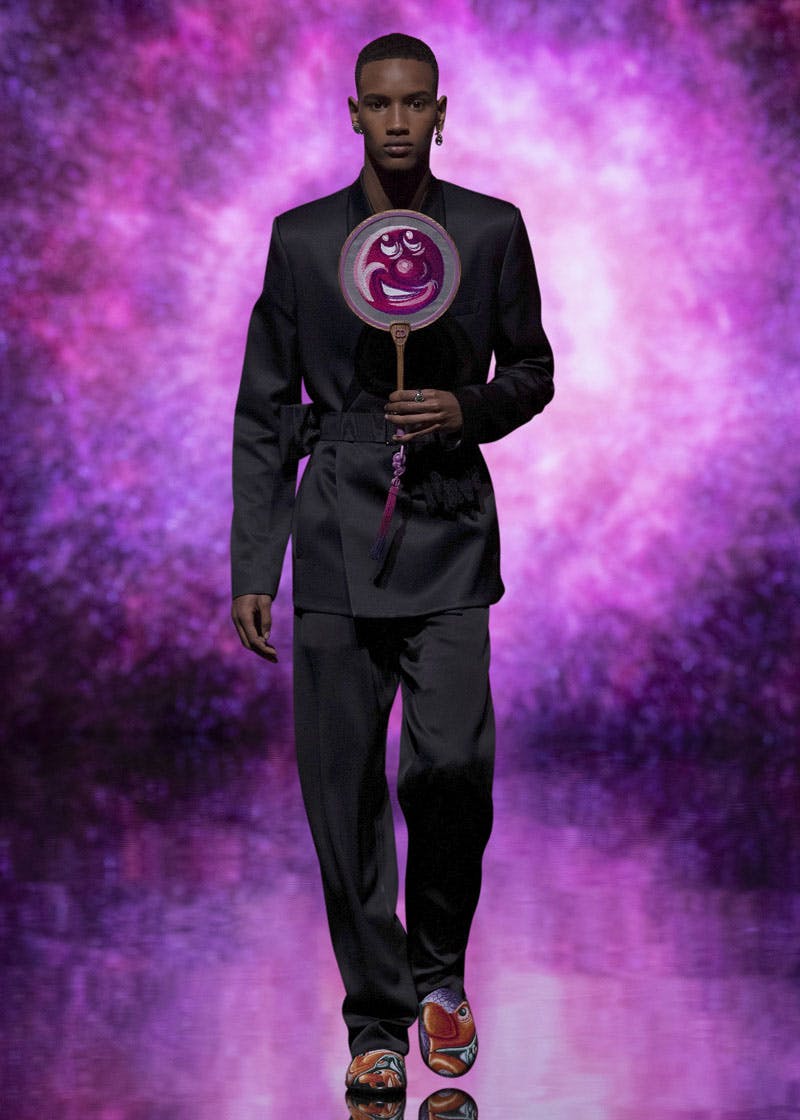 Belts were everywhere this season; wrapping up long coats, carrying lace gloves, and cinching in double-breasted blazers. It's a reference to the classic Bar Jacket first designed by Christian Dior in 1947, which helped seal the house founder's reputation as a modern couturier.
Dior has experimented with the classic accessory for pre-Fall in the form of a singular metallic "CD" buckle with ropes tied and threaded through it, boy scout knot style.
Twitch, Please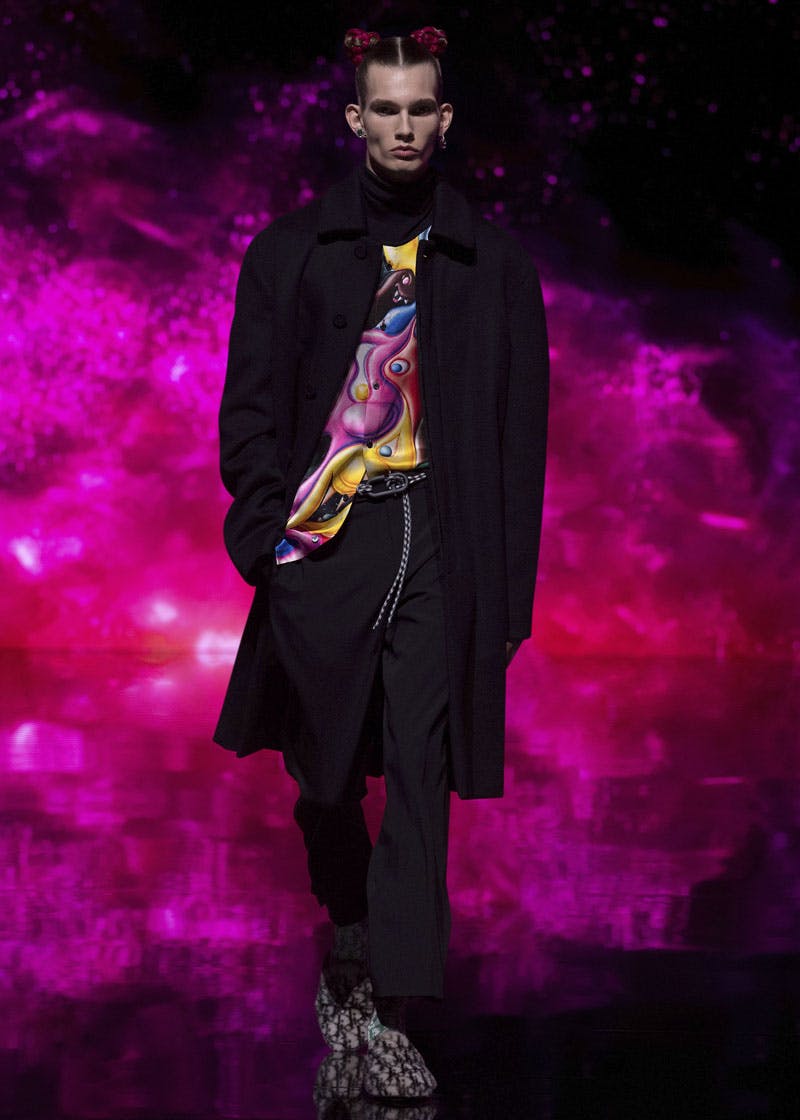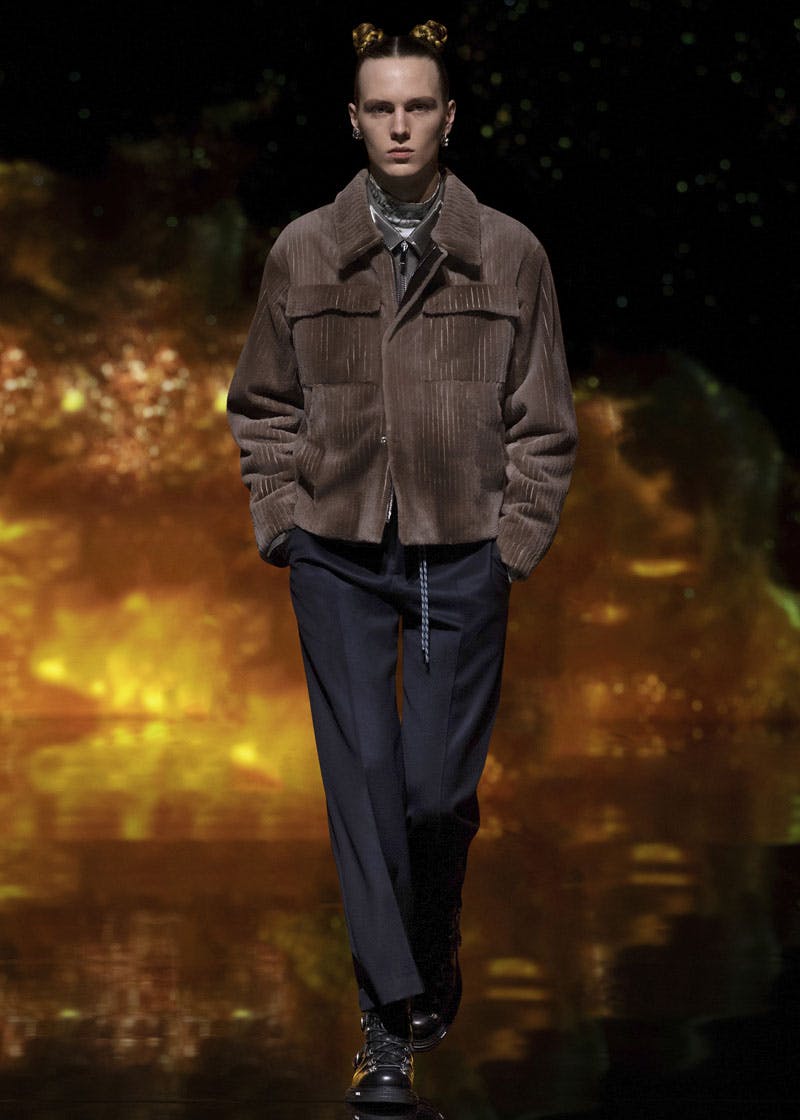 Dior showed its pre-fall 2021 men's collection virtually, in stark contrast to the high-profile event this time last year when the label was collaborating with Shawn Stüssy. While the lack of an audience is noticeable – Dior usually pulls in some interesting guests – the kaleidoscopic set design, inspired from NYC house music group Deee-Lite's album covers and assembled by French director Thomas Vanz combined with a Honey Dijon soundtrack kept up the energy to simulate the real thing.
This was also the first fashion show to debut on streaming platform Twitch, more commonly used for gaming. Perhaps the gamers at Balenciaga also want might also want tap into that market.
Art Punk Styling
Hair tied up in symmetrical bunches, large studded earrings, neon bowl-cuts, flowers worn on the chest, and a lighter worn as a necklace underpinned collection with an art punk vibe, connecting to the world that Kenny Scharf's career ascended in, namely that of the interdisciplinary NYC East Village art scene in the '80s.
Fluorescent Footwear
Among the furry Dior oblique mules and patent chelsea boots, there were some new faux-crocodile embossed leather mountain boots in highlighter pink and blue, and a new "B2" sneaker silhouette which will be available in low and hi-top variations.