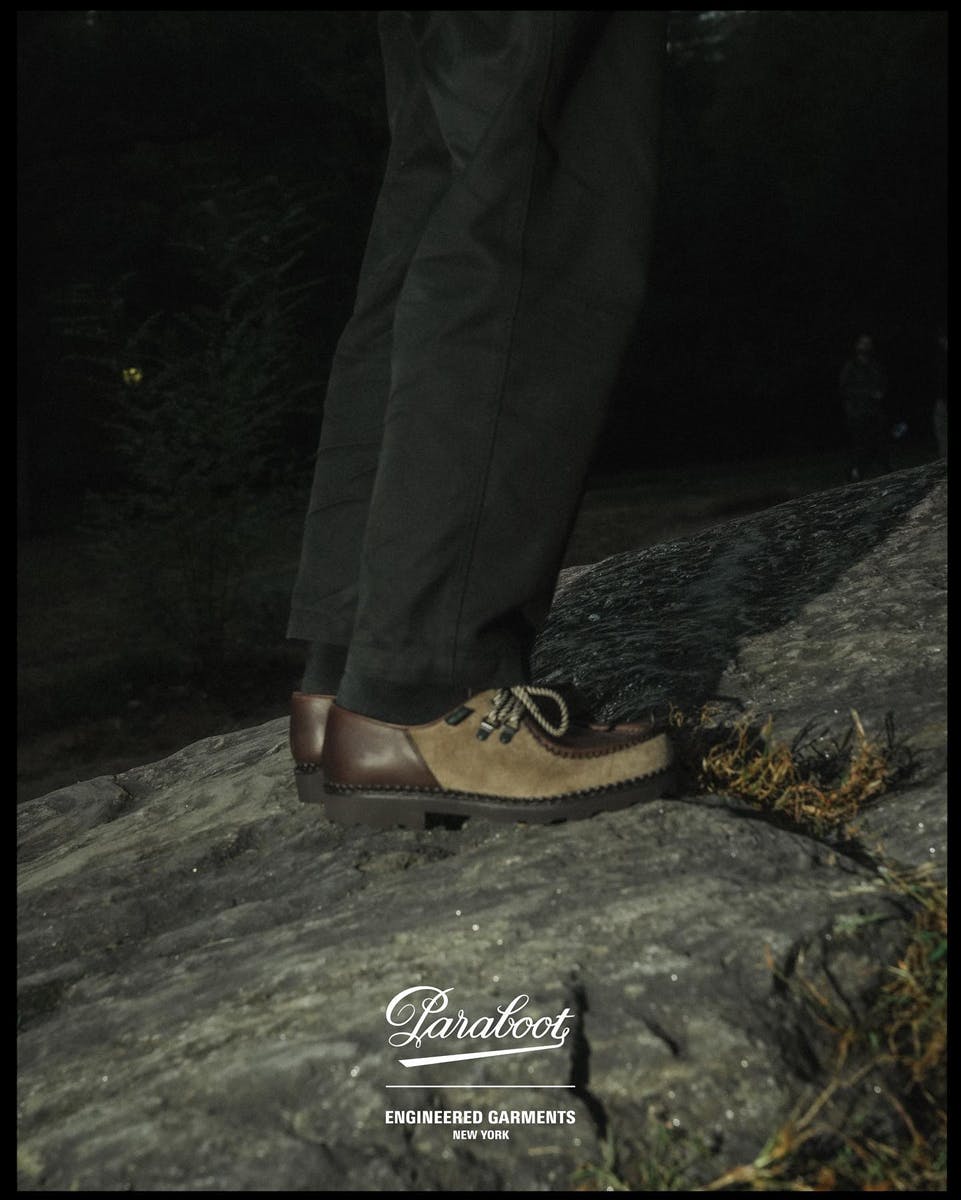 It's no secret that sneaker alternatives like Birkenstock Boston clogs, Clarks Wallabees, and Suicoke sandals enjoy just as much hype as sneakers nowadays.
Don't get me wrong, these silhouettes have always been relevant. For years, they've proven to be equally — maybe even a little more, in some cases — cozy and stylish as sneakers.
When discussing the post-sneaker society, the French footwear label Paraboot also comes to mind. I like to think of the brand as a silent assassin in the sphere, having racked up noteworthy collabs with The North Face and MLB — but only making noise amongst streetwear's IYKYK style crowd.
Fresh off a project with Drôle de Monsieur, Paraboot taps Engineered Garments for a Michael derby shoe collaboration, riffed with the shoemaker's legacy craftsmanship and the Daiki Suzuki-led brand's meticulous design.
Leather and suede take over the upper of the Engineered Garments x Paraboot Michael shoes, making for a smooth contrast of texture and colors — a design technique frequently incorporated in Engineered Garments in-house garments.
This play on material and hue kind of reminds me of YMC's spin on the model. Of course, Engineered Garments' shoes are more fine-tuned to fit its understated tastes, muted color palette, and peak attention to detail.
The Engineered Garments x Paraboot Michael rounds off with a rope-esque lace system and that familiar rubber lug outsole, one of the many Paraboot signatures loved by its fans.
Available in three colorways, the Engineered Garments x Paraboot Michael shoes are expected to arrive soon on Engineered Garments and Nepenthes' websites. So, sit tight. The EG x Paraboot steppers are on the way.
In the meantime, let's manifest that Tyler, the Creator collab next. I mean, who better to link up with next than the king of loafing himself?
Shop our favorite winter footwear