Over the last few years, RIMOWA has been through a considerable transition. Once known only by those with hundreds of dollars to drop on a suitcase, today it's a luggage brand that has collaborated with some of the biggest brands in the streetwear scene today, including heavyweights Supreme, Anti Social Social Club, and Off-White™.
The change came after the heritage German company was acquired by LVMH in 2016. Shortly afterward, Alexandre Arnault, the son of LVMH chairman Bernard Arnault, was named co-CEO of the company and began dipping into the streetwear market, putting the brand on everyone's radar.
The younger Arnault seems to be a genuine fan of the culture, writing on Instagram back in '16 that he's followed Virgil Abloh since his work with Kanye West and Been Trill. The CEO has also posted pictures of himself with mainstays such as Nigo and Takashi Murakami.
RIMOWA's collaborative output has been insane, but Arnault has told The Business of Fashion that he's planning to slow down the releases. "You'll see us come with collaborations for sure, but not all in the same space or at the same scale every two months. I'm very cautious of one collaboration too many."
Below, we've rounded up all the RIMOWA collabs you need to know right now, including huge ones such as Supreme x RIMOWA, Anti Social Social Club x RIMOWA, and OFF-WHITE x RIMOWA, as well as more under-the-radar releases such as the brand's collabs with NASASEASONS and 032c.
Supreme x RIMOWA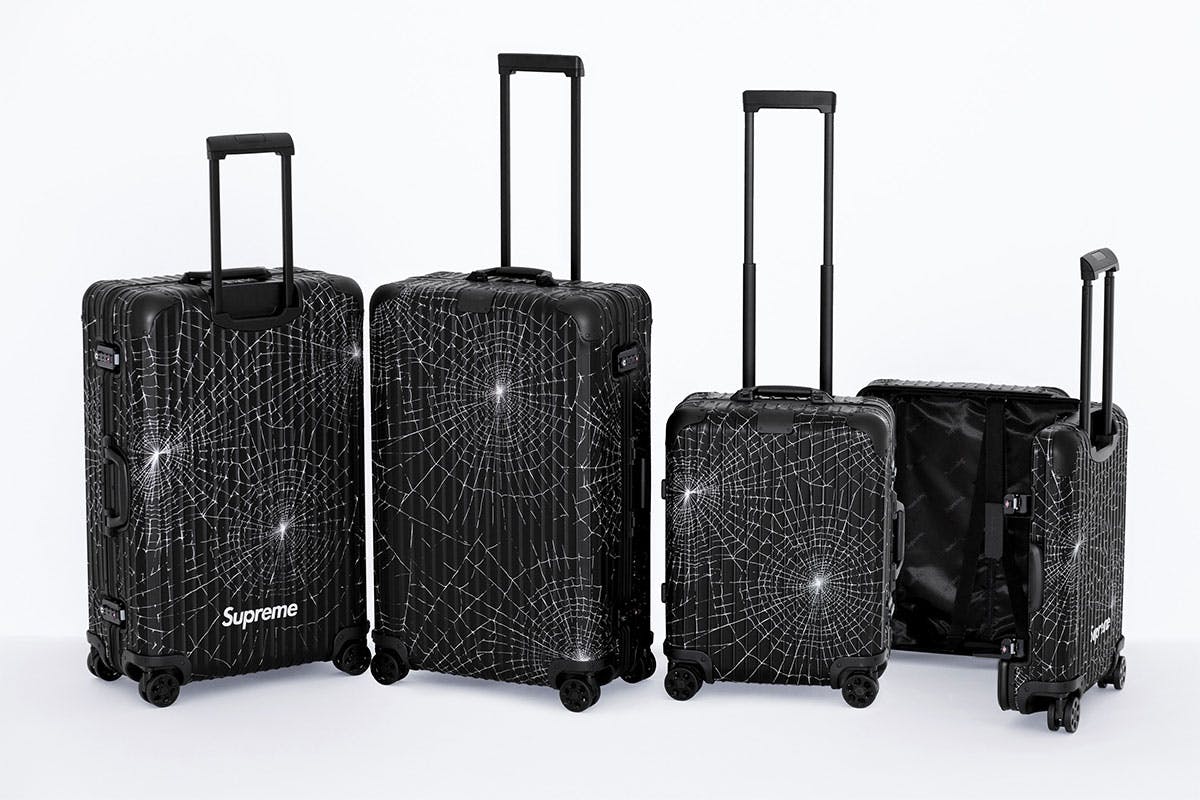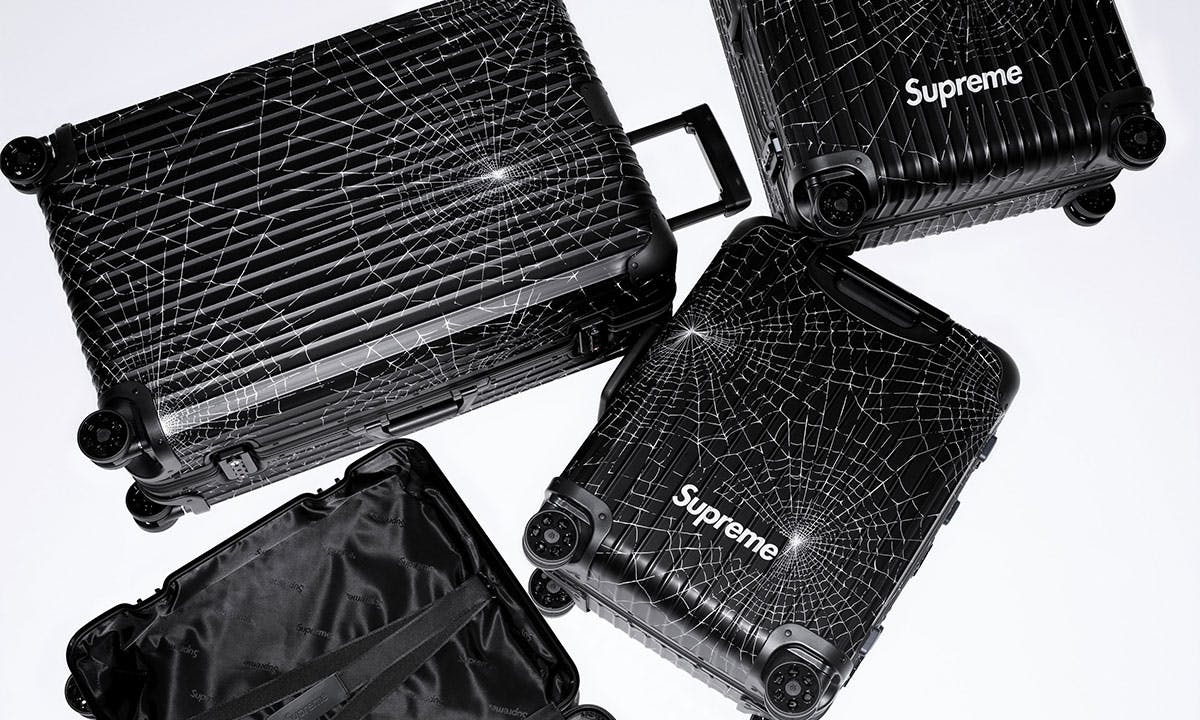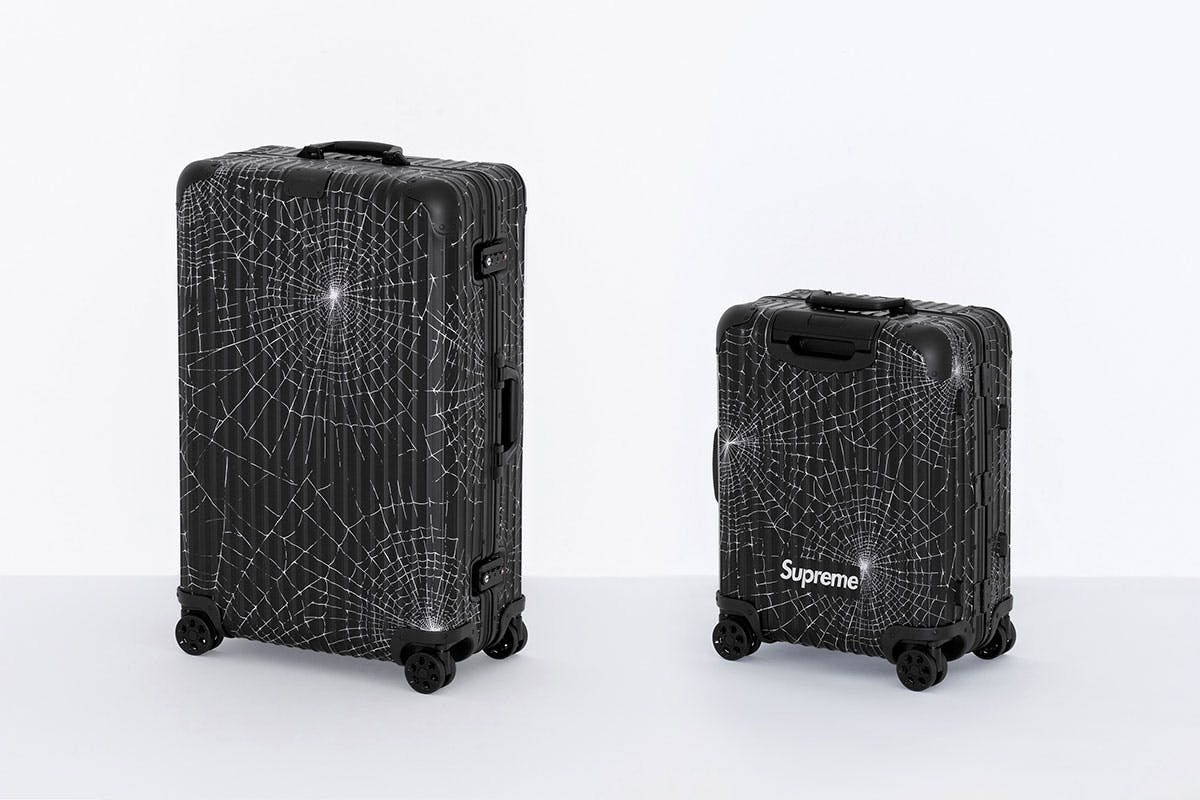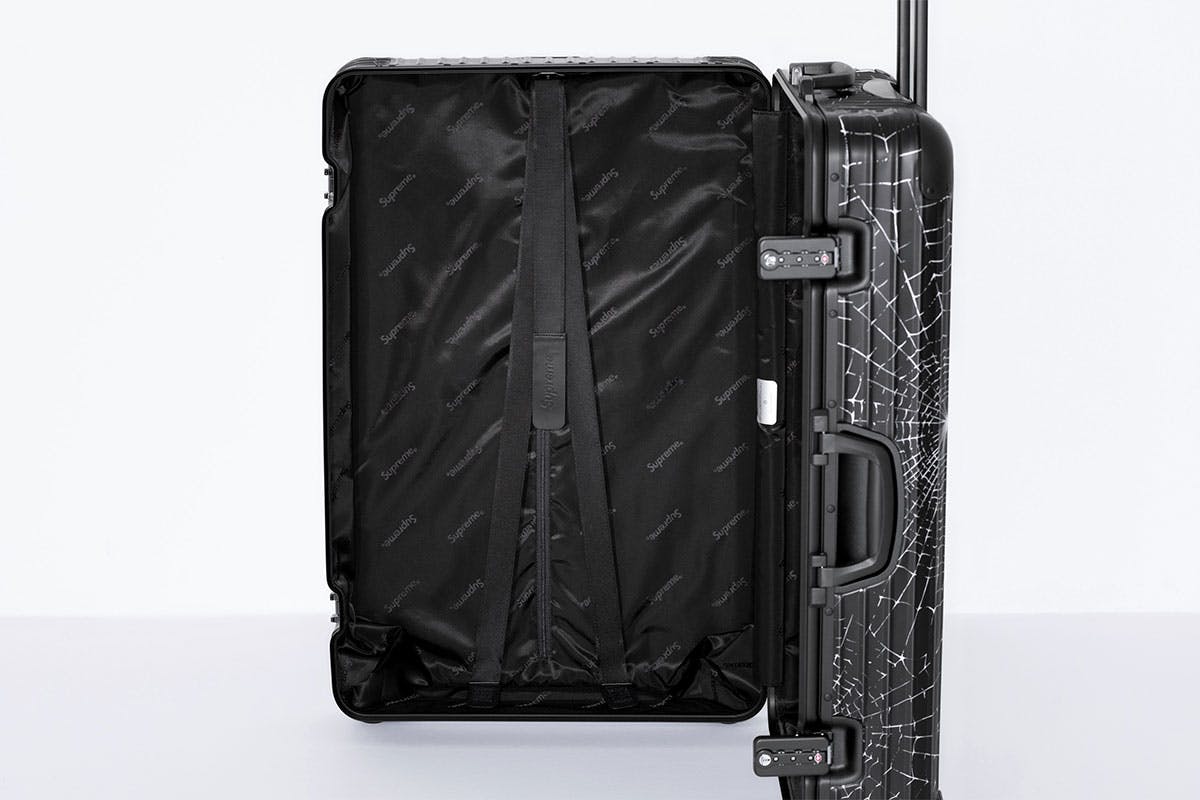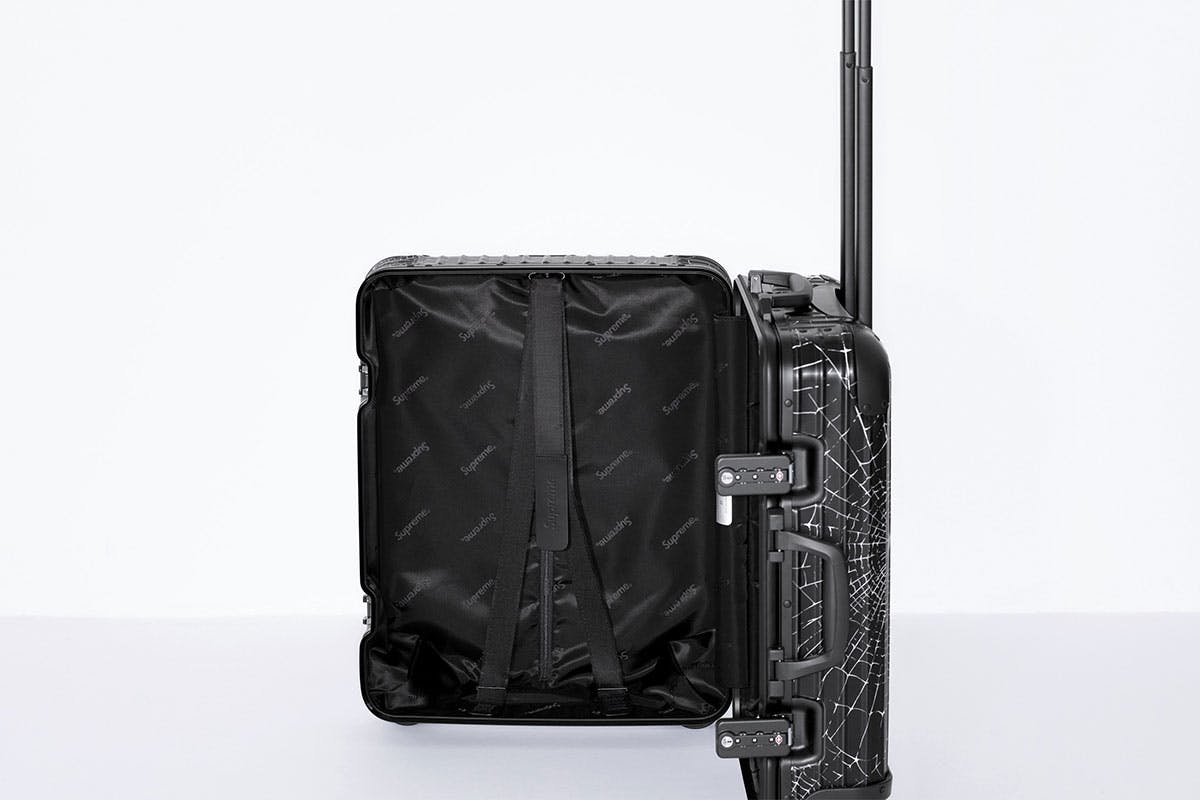 After dropping a logo-heavy luggage selection (below), Supreme and RIMOWA have teamed up once again. This collab gives the luxury luggage brand's signature aluminum cases a spiderweb update, complete with black box logo and Supreme branding.
The selection arrives in RIMOWA's large check-in and carry-on Cabin Plus sizes and feature TSA combination locks, internal Flex-Divider systems, and co-branded leather luggage tags. The first Supreme x Rimowa collab arrived a little over a year after the streetwear brand's game-changing collaboration with Louis Vuitton. The suitcase came in two sizes and colorways — 82-liter and 45-liter in black or red — RIMOWA's aluminum Topas suitcase was basically turned into a giant box logo.
Naturally, the Supreme x RIMOWA collab didn't come cheap, with the smaller size retailing at $1,600 and the larger one going for $1,800. Despite the prohibitive retail price, the 82-liter case sold out in 16 seconds in Europe, although we're not convinced the majority of buyers actually plan to travel with their suitcases.
This wasn't the first time Supreme had dipped its toes into the luggage game. Back in 2011 and 2014, Supreme and The North Face also released all-over print rolling bags.
Anti Social Social Club x RIMOWA
Many people first heard of RIMOWA when the brand announced its Anti Social Social Club collaboration in December 2017. The collab teamed a classic black RIMOWA suitcase with the hype brand's wavy hot pink logo on the front and a solid pink square on the back. The suitcase came with a black ASSC x RIMOWA collaboration hoodie, tee, and cap.
OFF-WHITE x RIMOWA
OFF-WHITE is one of the most high-profile Rimowa collaboration. The OFF-WHITE x RIMOWA collab saw Virgil Abloh adding his signature all-caps text and quotation marks to an existing RIMOWA bag, Virgil Abloh made the not-so-practical but striking decision to make the suitcase out of transparent polycarbonate.
Speaking to The Business of Fashion, Abloh explained the concept behind the transparent design. "It's like 3.0 of personalization," he said. "It's not just putting your initials on it, but allowing another layer to come in play. There's an emotional component to owning [the suitcase] and you become a performance art piece just by using the thing. It's like putting your items on display and rethinking the premise of a product."
BAPE x RIMOWA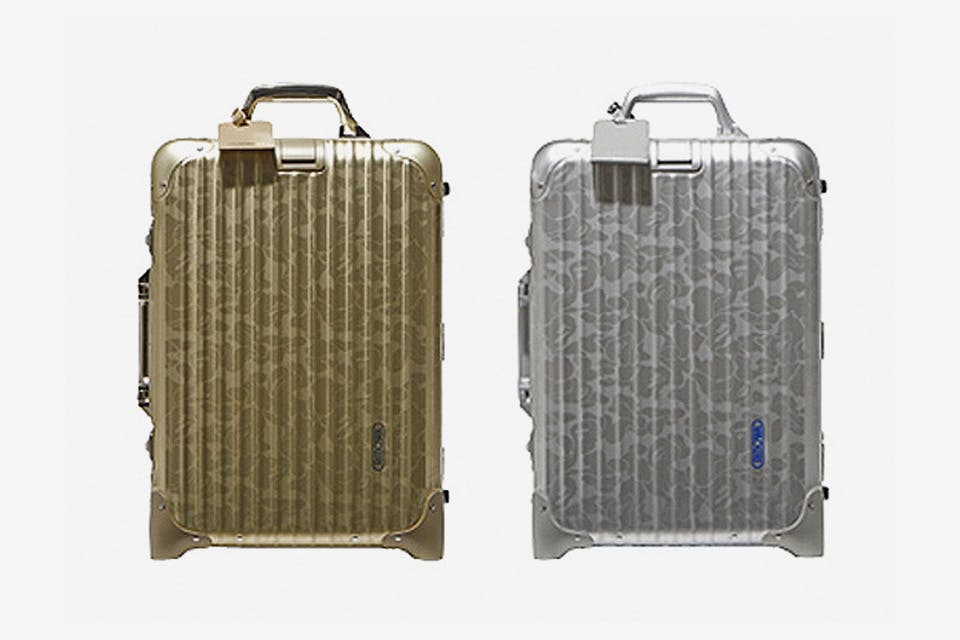 Even before Arnault became co-CEO, RIMOWA still dabbled in the occasional collaboration with streetwear brands, hitting up BAPE for multiple collabs. However, the 2010 BAPE x RIMOWA collab is definitely the standout, coming in gold or silver and featuring a subtle (or at least as subtle as BAPE gets) camo print.
032c x RIMOWA
While RIMOWA hasn't released a full-blown suitcase collaboration with 032c, for the cult magazine's 2017/18 Winter issue, the duo teamed up on stickers designed by J.W. Anderson, Virgil Abloh, SSS World Corp, Wes Lang, Geoff McFetridge, and AMBUSH, which are made for decorating your RIMOWA suitcase with.
Fendi x RIMOWA
RIMOWA isn't just focused on streetwear collabs. The luxury luggage maker has also worked with LVMH stablemate Fendi. The collab, which launched in November 2019, included a suitcase with black neoprene lining, an aluminum outer with gray Fendi logos, and cuoio romano leather handles. It was topped off with an orange Fendi-branded luggage strap.
RIMOWA also launched a second Fendi collab. The release features RIMOWA's new visual identity, alongside a contrast blue or red leather detailing.
Solebox x RIMOWA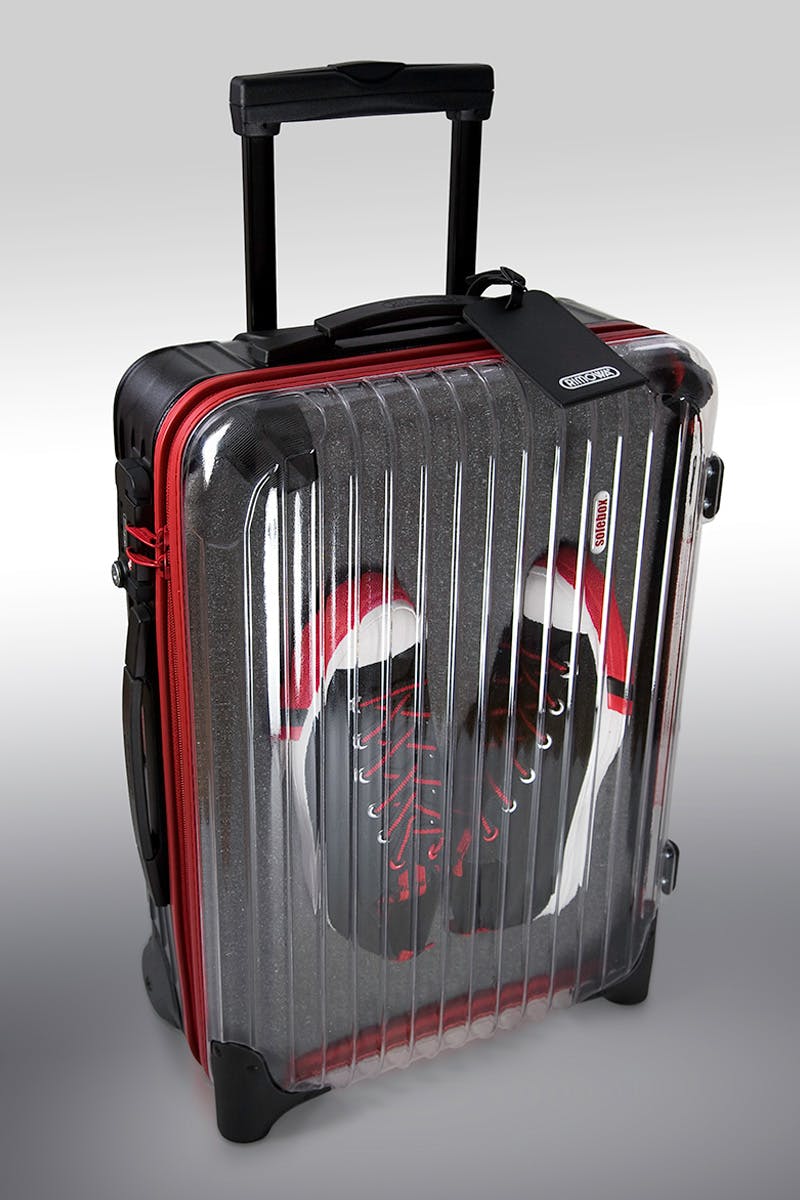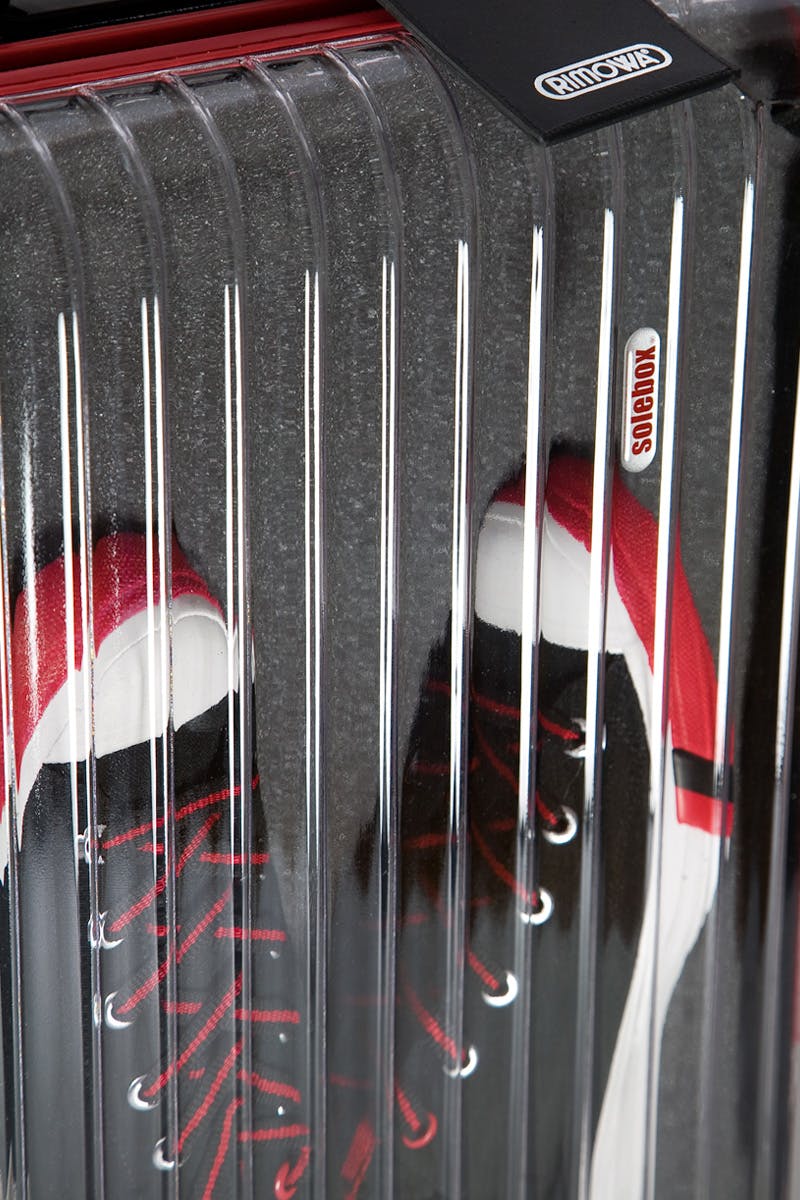 Nine years before Virgil Abloh debuted his see-through RIMOWA collab suitcase, Berlin-based sneaker store Solebox released a partly transparent Cabin Trolley IATA suitcase with the German luxury brand.
The suitcase was released in extremely limited numbers — only 25 were made — and was part of the brand's three-way collab with RIMOWA and PRO-Keds.
NASASEASONS x RIMOWA
RIMOWA doesn't just work with massive names such as Supreme or Fendi. The brand recently dropped a collab with French streetwear label NASASEASONS, which came to prominence in 2015 with the "I Came To Break Hearts" dad hat that was subsequently seen on every influencer and cool kid on Instagram.
For its RIMOWA collaboration, the company released an "I Need Space" cap complete with NASASEASONS and RIMOWA branding on the back, along with a range of stickers to deck out your suitcase.
UNITED ARROWS x RIMOWA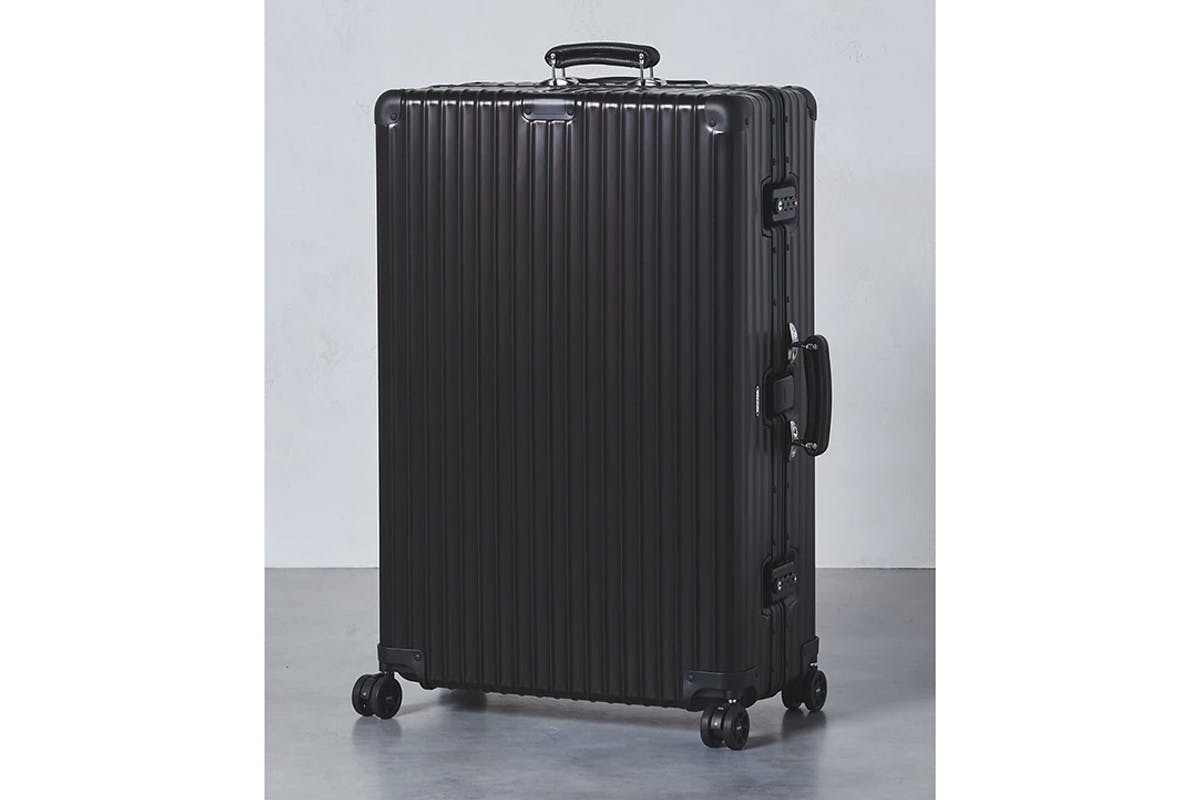 In December of 2017, RIMOWA linked up with Japanese streetwear legends UNITED ARROWS for a matte black edition of the brand's classic Flight suitcase. The collab came in two sizes, 33L which retailed for ¥129,600 JPY ($1,155 USD), and an 89L version which sold for ¥156,600 JPY ($1,395 USD).
While the collab is a little less flashy than the others on this list, a RIMOWA suitcase is an investment, so a go-with-everything black is a subtle flex — if you know, you know.