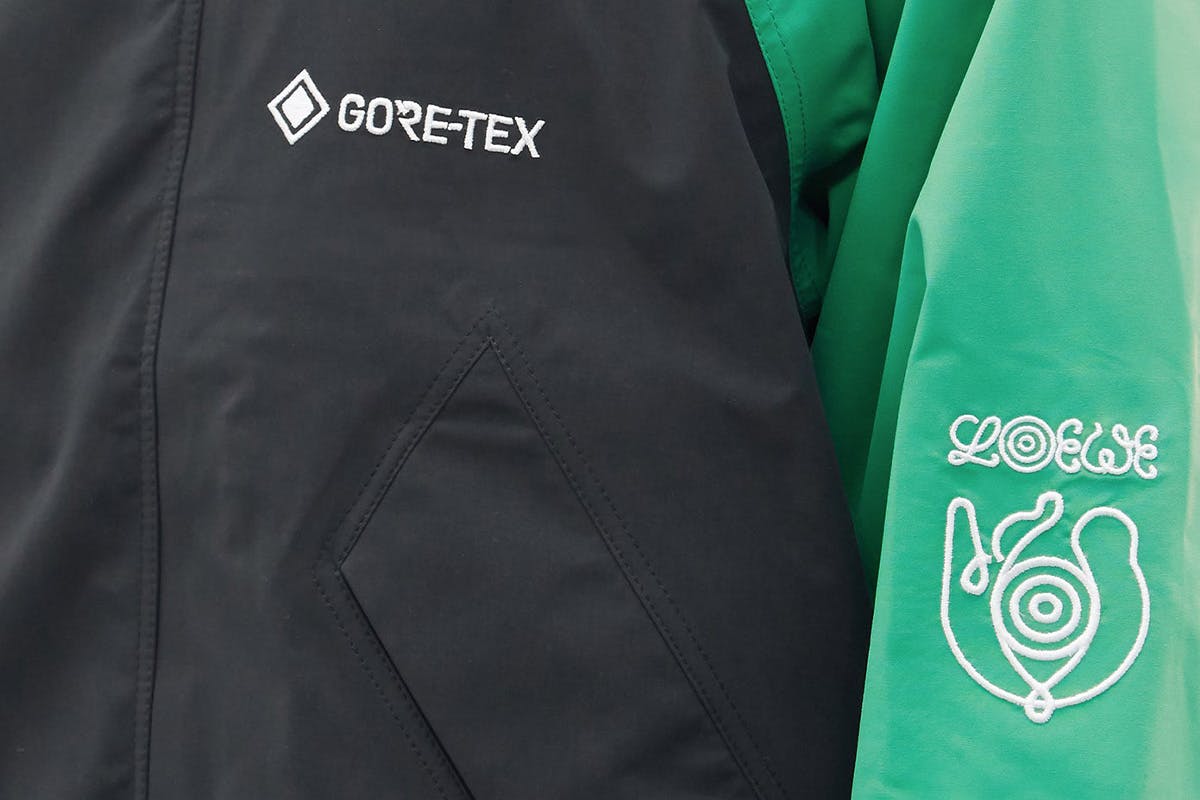 Jonathan Anderson's Loewe is all about loud eccentricity but with an elevated edge. The label's off-shoot, Eye/LOEWE/Nature stands as the younger, even bolder sibling, characterized by distinctive streetwear and utilitarian influences. In place of Loewe's fine leathers, expect upcycled quilting, acid washes, and patchwork.
We're seeing the world of fashion lean more and more into outdoor styles right now, with hiking footwear and accessories moving to the fore while technical fabrics are woven deeper into the fabric of contemporary everyday style. Eye/LOEWE/Nature — as the witty name suggests — caters exactly to this appetite. Functional, outdoor style meets immaculate craftsmanship with a healthy dose of eye-catching graphics and color.
This heady cocktail of influences amounts to a bulls-eye hit on the Spring/Summer 2021 trend target. It's all that we could have asked for, really, so of course, we wanted to give Eye/LOEWE/Nature its moment in the spotlight. Here are the best bits from the label's Spring/Summer 2021 collection which you can shop now at MATCHESFASHION.
Shop our favorite pieces from Eye/LOEWE/Nature below.
Quilted Shell Bucket Hat
The bucket hat is an undisputed spring/summer essential in any form, but this quilted khaki number is winning for us. The wide brim definitely catches eyes in tandem with the quilted construction. It's all upcycled, too, in line with the label's environmentally conscious MO.
Upcycled Padded Patchwork Parka
More upcycled goodness. This color-blocked parka is up there with our favorite coats of the season. The quilted texture is lightweight but provides enough warmth for a chilly evening and the color palette is spot-on.
Color-Block GORE-TEX Shell Jacket
GORE-TEX shell jackets are a gift from the weatherproof gods. Breathable, waterproof, and windproof, the fabric makes the perfect foundation for a year-round jacket. This shell jacket is technically sound and doesn't lack any visual personality.
Upcycled Parachute Jacket
Panels of parachute material come together to make this jacket, and if you know anything about parachutes, you'll know that the canvas is about as durable as they come.
Logo-Embroidered Hooded Sweatshirt
The label's distinctive logo details the front of this relaxed-fit hoodie. The eye logo signifies a feeling of being at one with nature, helped along by the fact this piece is cut from eco-conscious GOTS-certified cotton.
Digital-Print T-Shirt
Ever dropped acid before a hike? It looks a lot like this tee.
Patchwork Cotton Trousers
Cotton canvas, twill, and herringbone join forces for this pair of patchwork pants. The workwear-leaning design offers a bold, durable anchor for your springtime fits.
Camouflage-Print Upcycled Shorts
Each pair of these shorts is unique because each pair is made from upcycled military jackets. Loewe luxury comes in the form of a full cotton lining and the signature chunky drawstring waist.
Logo-Patch Organic-Cotton Track Pants
Made from organic cotton, this pair of relaxed-fit track pants goes all the way with biodegradable wooden buttons to embody the label's eco-conscious direction.
Want to keep browsing? Head to the Highsnobiety Shop for more products that we love. Highsnobiety has affiliate marketing partnerships, which means we may receive a commission from your purchase.