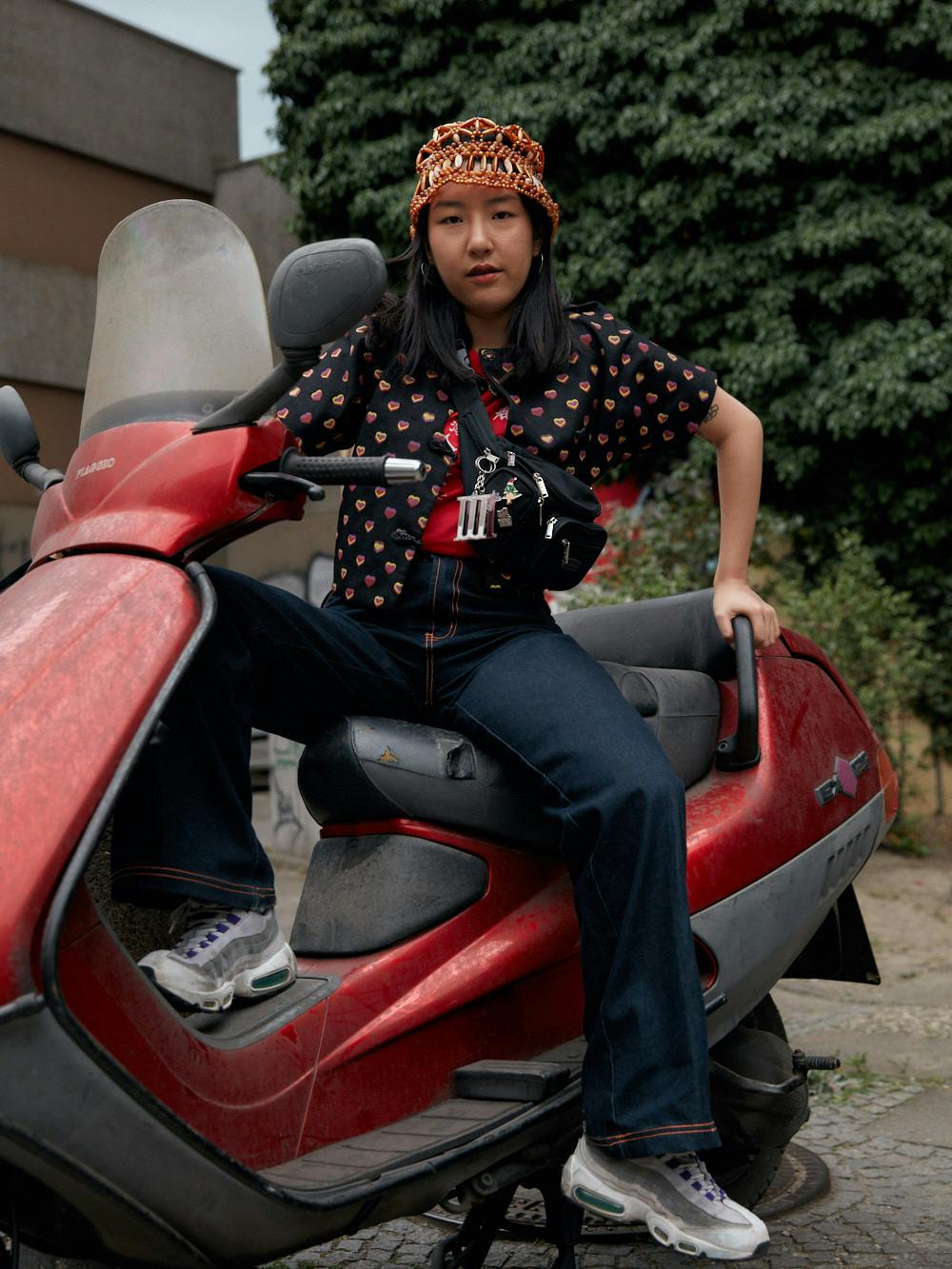 Under the Radar is Highsnobiety's celebration of upcoming talent. Each week, we're spotlighting a rising artist who is bringing something new to the world of music and is capturing our hearts and minds (and ears). This week, we're featuring Fotan Laiki, a Hong Kong rapper with activist roots doing her part to put her city on the map and not take herself too seriously in the process.
Sometimes it just takes one serendipitous moment for someone to turn enough heads. For Fotan Laiki, it was last year, onstage in front of thousands of people at Hong Kong's Clockenflap Festival that she truly broke out onto the scene. Another local rapper YoungQueenz, founder of Wild$tyle Records, had invited her to perform a song with him. Despite the fact that they performed at the same time as Icelandic avant-rock band Sigur Rós, most of the crowd were drawn to the energy of Fotan Laiki's debut performance. Soon after, the duo released a music video for their song "火炭麗琪," a maximalist onslaught of big city materialism, impulsively shot in the streets of Hong Kong. It's since racked up nearly a million and a half YouTube views, cementing Laiki's status as a cult underground rap sensation.
Although Laiki refers to her rap beginnings as an "accident," she's clearly onto something. While she says a lot of rap music talks about "cash and more cash," she's more interested in conveying the realities of living in Hong Kong as a young person, which are at times raw and harsh. "Because my friends and I were born a couple years before Hong Kong became united with China, the country has been changing a lot. We're kind of part of China, like in between, so it's hard to feel a sense of identity. So, most of the young people don't know what they should do. We are so lost," she explains.
The Umbrella Movement of 2014 helped Laiki begin to find herself. Through the demonstrations, where students led a strike to protest restrictive reforms to the Hong Kong, her eyes widened to the political situation in her country. Taking part in Occupy sit-ins, she learned the power of speaking up against injustice. Despite the promising signs of a shift, Laiki lamented that nothing really seemed to change after the protests.
Although the Umbrella Movement didn't quite garner the political impact Laiki and many other young people had hoped, she would carry on with the lessons she'd learn in her own way. Instead of going to university like most Hong Kong youth, Laiki attended art school, supporting herself with a string of part-time gigs. Although she never wanted to work full time because it doesn't give her any room to pursue her creative projects, she stumbled into her first job at an outdoor winter carnival. She got it along with a few other friends and thought it would be easy - they could just smoke weed before their shift and would hopefully sit around a lot. The job proved more physically demanding than they expected; one time Laiki even fell ill because it was so cold. But the tale of her work misfortunes soon turned into yet another example of her strong sense of social responsibility. When the carnival didn't pay out salaries for an extended period of time, she began talking to her coworkers about the issue, then a local news agency, and soon the pseudo-union that she organized went on strike.
Although her self-image might not project one of a typical activist, the very fact she has chosen a less conventional life demonstrates to apathetic Hong Kong youth that other ways of living – other realities – are possible, and that they can take part in shaping their own destiny. For Laiki, working with others has made it possible for her to express herself through art.
"Some people can create things by themselves when they're really sad," she says. "But I need my friends, so that we can chill together to get the vibes, and then we can do something really.... I'm not sure if I would say 'positive,' because in Hong Kong, everyone living there is very depressed or stressed, but we're trying to do something different with it."
In addition to the Fotan Laiki universe, she also started a project with her friend Anna called Cooking Bitchess. It was a truly interdisciplinary experiment based on whatever was inspiring her and Anna at the time, which was often food (Their only track on SoundCloud is called "Green Tea Brocolli"). Laiki describes Cooking Bitchess as such - "Not only rap music, but also we would do radio shows, art, performance, just trying out different mediums. To us it was experimental." Another food-inspired project is rap group Hui Lan Shan, a sweet shop frequented by tourists that only sells mango desserts, and also a nod to the type of weed her friends enjoy smoking - Mango Haze.
With only a few tracks under her belt, it would be unfair to try to categorize what Fotan Laiki is trying to do with her music. She's still figuring it out. Although art school offered her a chance to dabble in different mediums, she resented it for its emphasis on grades and teachers' critiques of work, and also finds music a more direct way of expressing her emotions. In deciding to shift her focus of self-expression to music, she's far removed from all the baggage of art as a structured institution and can actually have fun with it. "I feel like this way I can express my emotion, or anything, really," she says. "I feel happy with it, I love to do it. I enjoy it. That's it. I feel good. I don't care about how anyone out there critiques it or comments on it. It doesn't matter."
When discussing the message she wants to get across in her music, she's very firm in not wanting to try to tell people what to do. "I don't think it works, and I would rather show people my way. You can take it or leave it," she explains. Instead, she'd rather present something personal to listeners, hoping it will make them reflect on their own lives.
Recently spending a few weeks traveling and performing throughout Europe, you'd assume Fotan Laiki has her sights set on global rap domination. While that might be on the horizon for her whether she likes it or not, her true desire lies in improving the lives of the people around her in her own city.
"I want to create more stuff that makes people happy. People are so stressed in Hong Kong, maybe all over the world. I just want to do something that helps people relax and release the pressure they feel, after they watch or listen. That's what I want to do."
For more of our features on rising musicians, get to know rap trio Black Fryar from Berlin and Brooklyn right here.