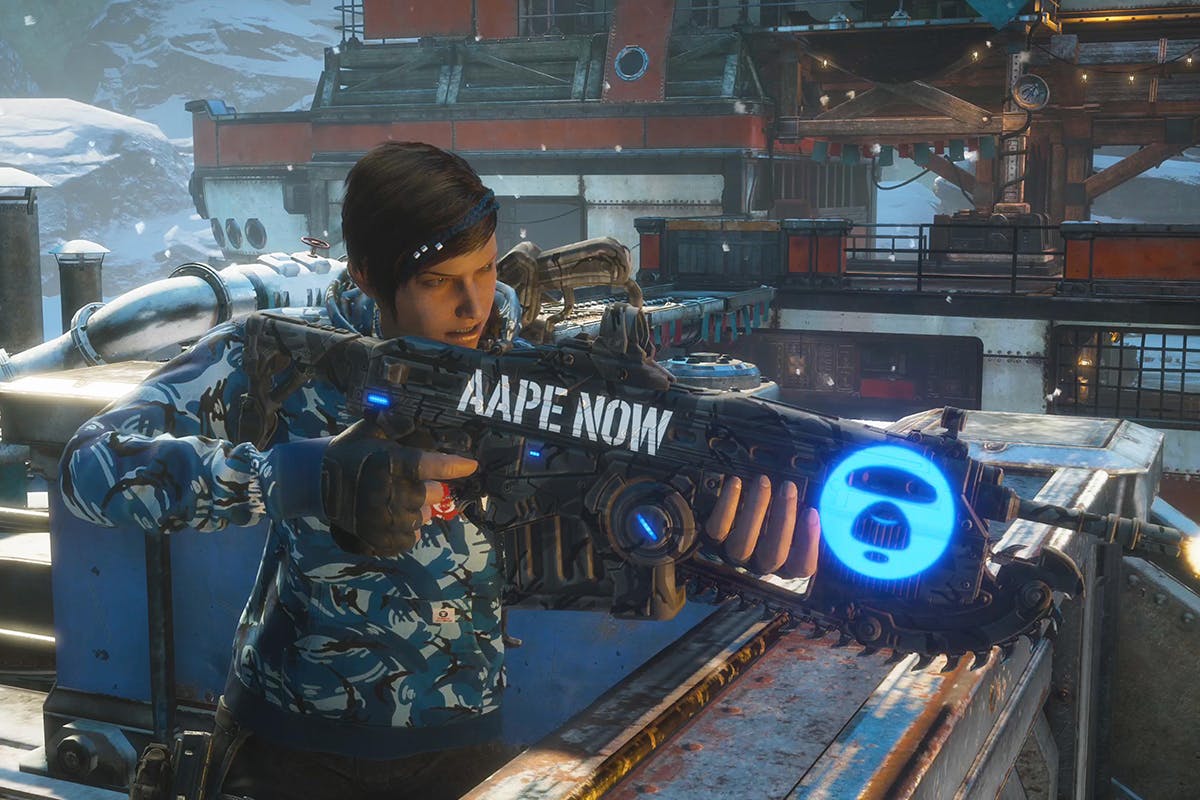 Xbox first announced their collaboration with AAPE by *A Bathing Ape at this year's E3 convention, revealing a surprise Gears 5 capsule in the process and teasing that a larger co-branded collection would release in the future. So, why now more than ever are we seeing a crossover between streetwear and video games time and time again? The cult-like connection fans have with the games they play and their favorite characters (weapons are characters, too) make gaming the perfect cultural partner; Run the Jewels are playable characters in Gears of War 4, and you can play as Sarah Connor and Terminator as well as Halo: Reach characters in Gears 5. There's also the crossover between gamer's favorite streamers and the brands they wear, but that's a topic we'll deep dive another time.
For most, when Drake and Mixer streamer Ninja (and then Travis Scott) played Fortnite live together it was the first time the two communities realized how much of a force gaming is within street culture. Since that cultural moment we've seen K-Swiss gaming shoes, Kappa eSports gear, an Overwatch team wearing custom Nikes, and Ninja officially becoming the first-ever pro gamer signed to adidas.
When we learned the E3 capsule was only the first step in a more broad AAPE collaboration, we took a trip to Gears developer The Coalition's Vancouver studio for an exclusive hands-on look at the upcoming larger collection (first drop is available now in LA and NY) as well as enjoy some extensive play time with Gears 5 (more to come on that later).
The second phase of the AAPE x Gears partnership includes an all-new clothing line and in-game cosmetics. The latter of which is the key difference maker compared to most other gaming/streetwear collaborations. Sure, PUBG also did a BAPE collab with a similar concept - we shot an unboxing video - but it seems only BAPE and its subsidiaries are the ones really tapping into this crossover space.
"We see a lot of these different communities grow from the interactions they have and the affinity that they now have for the characters and the story that they experienced," explains Jerry Chu, Director of Licensing at The Coalition. "When we look at a collaboration like this one, we thought, 'how can we do this in an authentic way that speaks to their love for the game as a lifestyle outside of just interacting with the story, but something that they're living and breathing?'"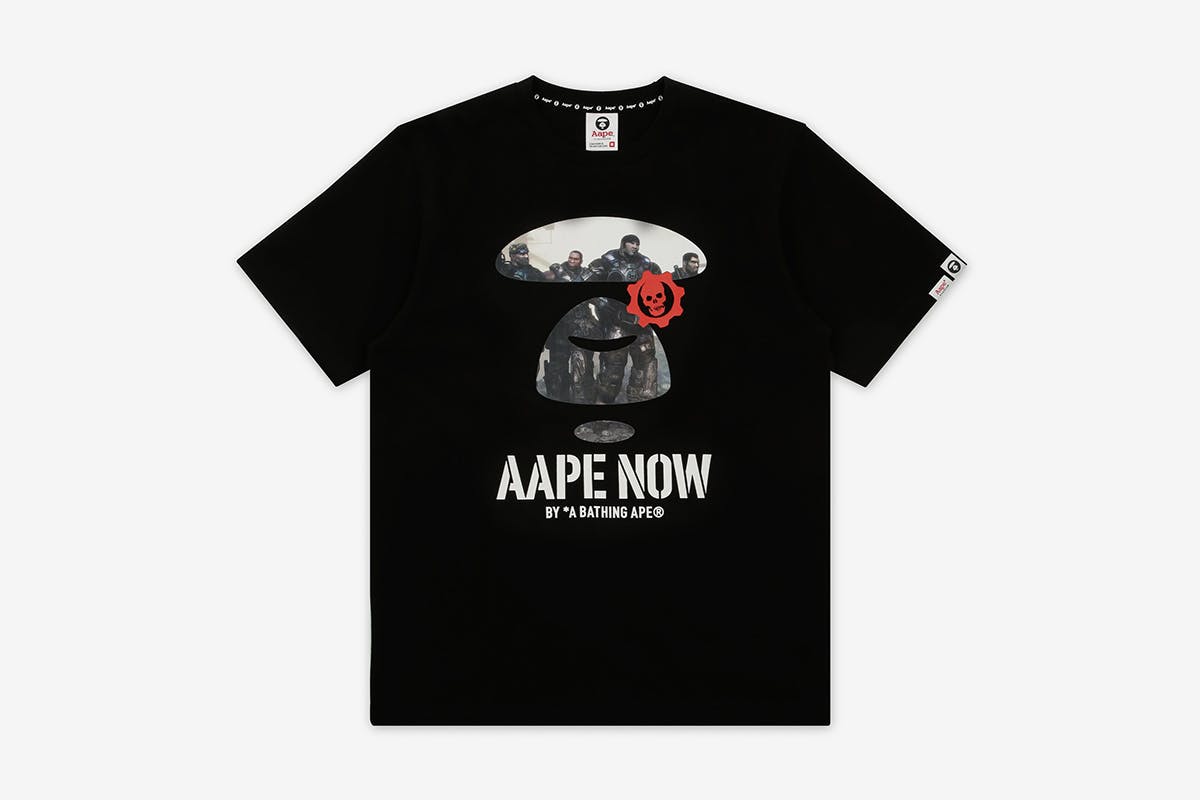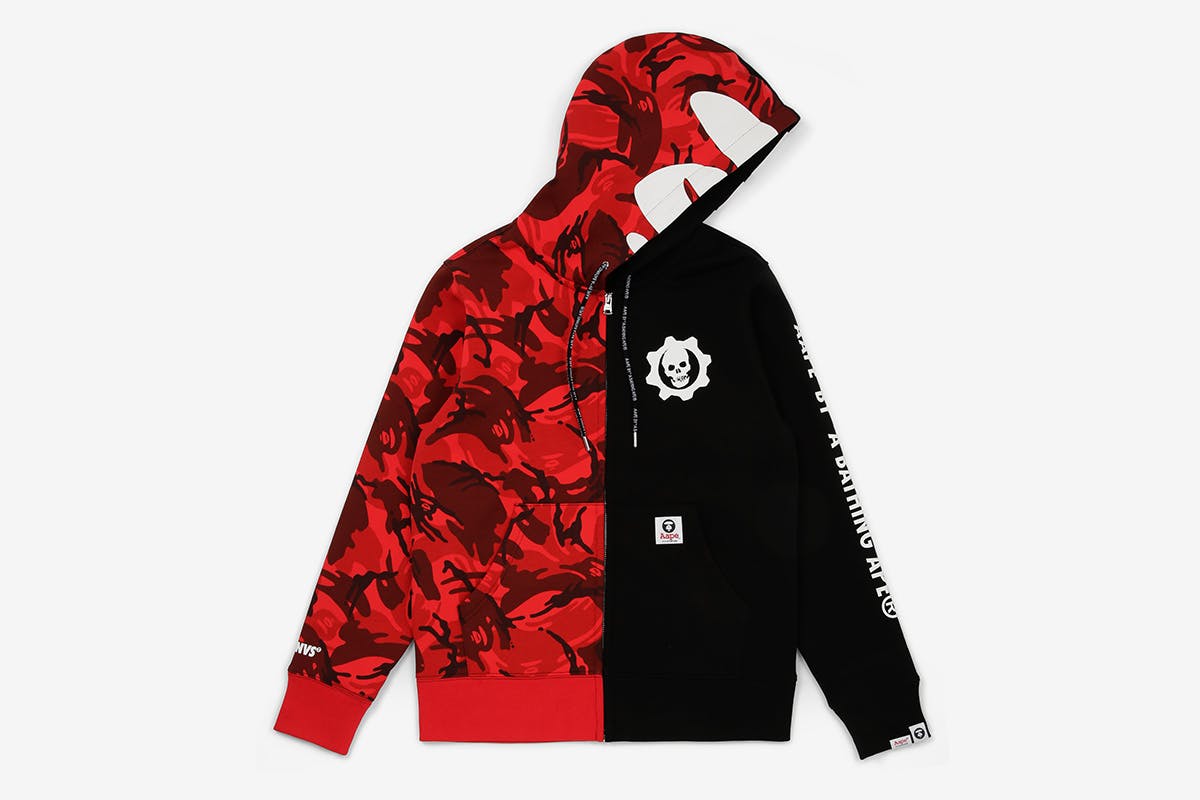 With any purchase of the AAPE x Gears capsule, fans will receive the Gears 5 in-game AAPE Moonface Mark, AAPE Moonface Bloodspray and AAPE Black Camo Lancer weapon skin, as well as the AAPE Red Camo Banner that is exclusive to the clothing line purchases.
Additionally, fans will also be able to purchase the Gears 5 x AAPE customization pack which includes Kait Diaz character skin featuring the AAPE blue camo hoodie, AAPE Black Camo Weapon set and other cosmetics including the Moonface Bloodspray, Moonface Mark, and the AAPE Blue Camo Banner.
"We can honestly say our designers here along with the designers at A Bathing Ape, because they're gamers too, they wanted to develop a program that could live both out of game with the collection and in-game," Chu explains. "We didn't want to just take the camo, put it on the armor. It's very easy to do. Within our game, we wanted to make sure it felt authentic to what's out of game. That is, if we have Kate Diaz wearing AAPE then let's have her wearing the hoodie."
"Along with that you have the weapons. We have an entire weapon set. The entire 18, I think it's 18 weapons that are in game for PVP. You'll have all of that in a grey, black camo with the Moonface. Neon lit. It'll be pretty sick in game. We've really integrated it in every aspect of your PVP, multiplayer life to reflect the collaboration."
In addition to the AAPE line, The Coalition also teamed up with graphic designer and illustrator Luke Preece to customize a pair of Vans Sk8-His for a display at Gamescom. While this one-off is only a custom, the project will act as a case study for future collaborations and tells us a licensed sneaker collaboration is not out of the question.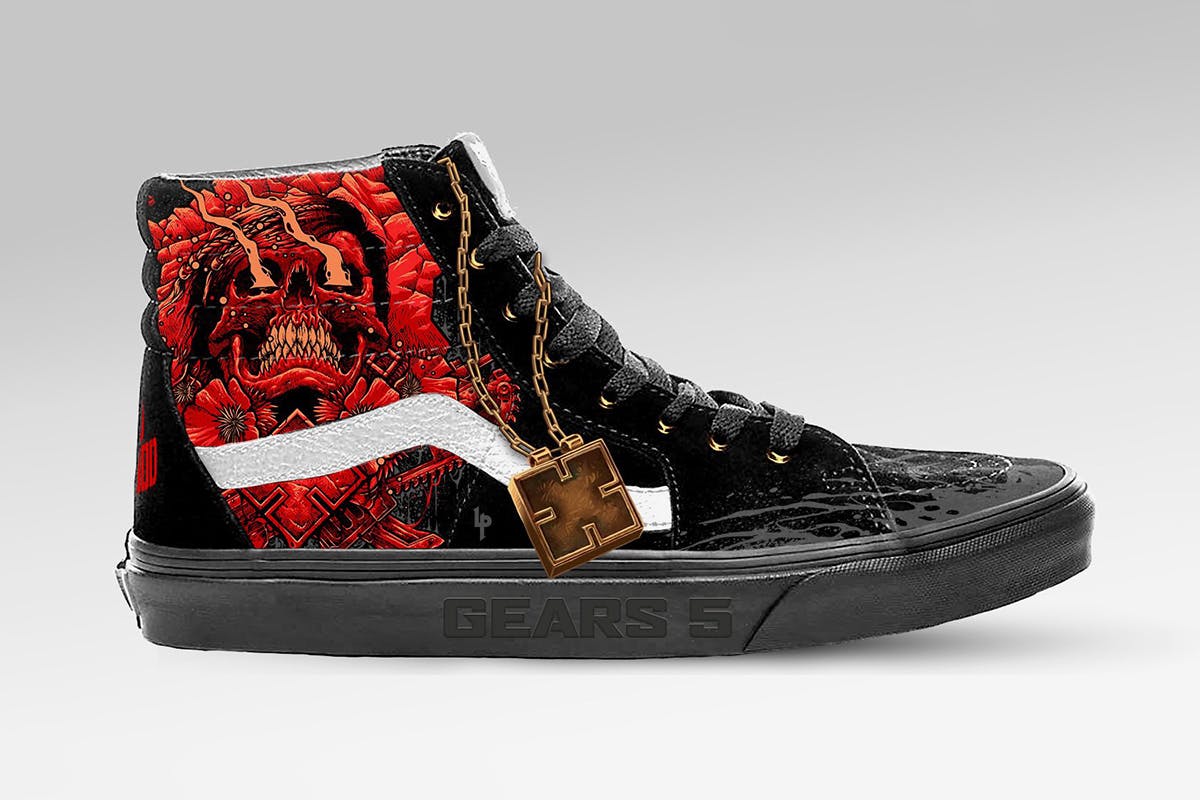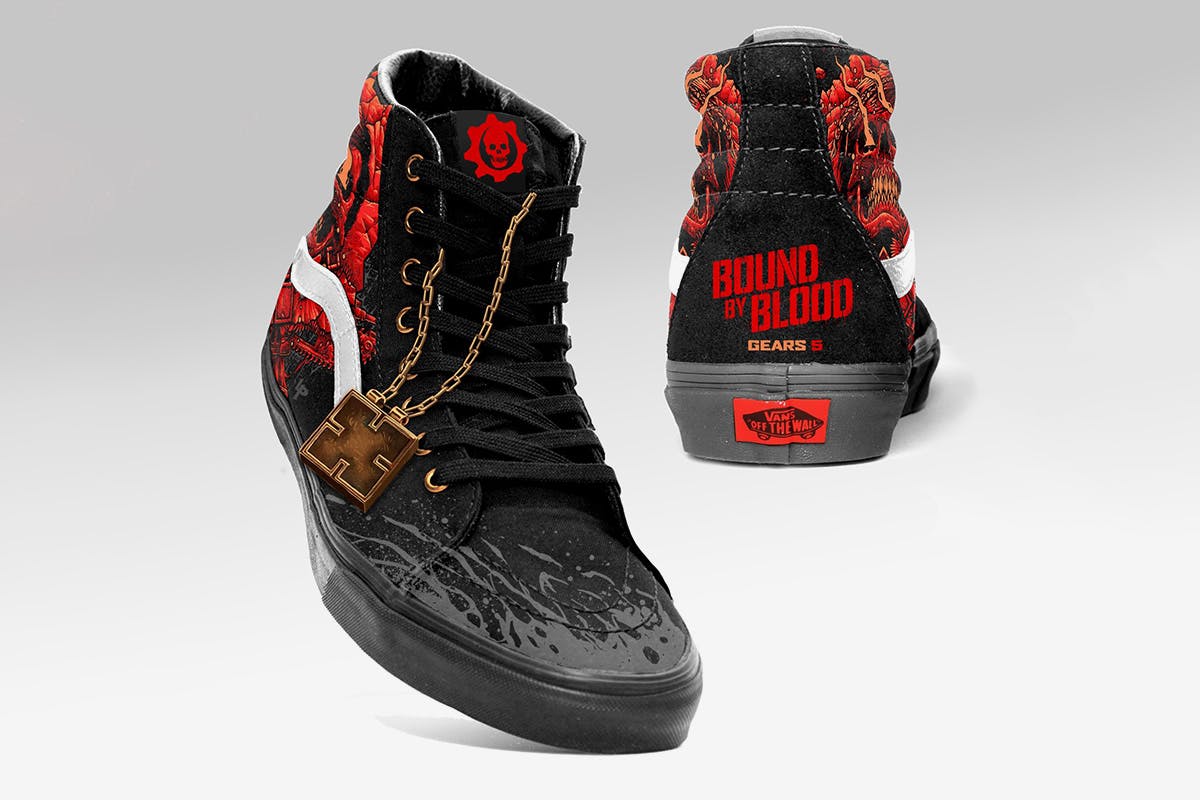 When asked if more product is on the way, Chu said "I don't want to give too much away. The answer is yes, but we also want to take it a step further. I talked a bit about community and the bonds of playing Gears of War and how this is a reflection of that. We want to continue that theme."
For AAPE, figuring out how to differentiate themselves to their fans in North America is a key goal for the brand as they expand. By the looks of it they've tapped into the gaming and anime communities to do just that. "Right now you'll find the collaboration in all their stores from Japan, Hong Kong, China, and L.A. is going to see the drop," Chu said as he confirmed their expansion. "I believe [AAPE] just opened up a store in Paris a week ago. They're re-tinkering what they're doing in Vancouver. I believe they're developing a store in New York."
The immense fan base of both gaming and anime makes sense to target if AAPE's goal is to further expand in North America, and hopefully that means we'll be seeing many more video game-inspired collections in the future. With games like Cyberpunk 2077 and Death Stranding releasing in the coming months upcoming gaming x streetwear collaborations have me hopeful.
The AAPE by A Bathing Ape x Gears 5 limited capsule collection is now available at the AAPE's L.A. store (443 N. Fairfax Ave., Los Angeles) and at Stadium Goods (47 Howard St., New York). Limited quantities will also be available September 3 at 10:00 a.m. PT on the Xbox Official Online Store.
The AAPE customization pack will be available on September 6 when the game launches on Game Pass Ultimate.