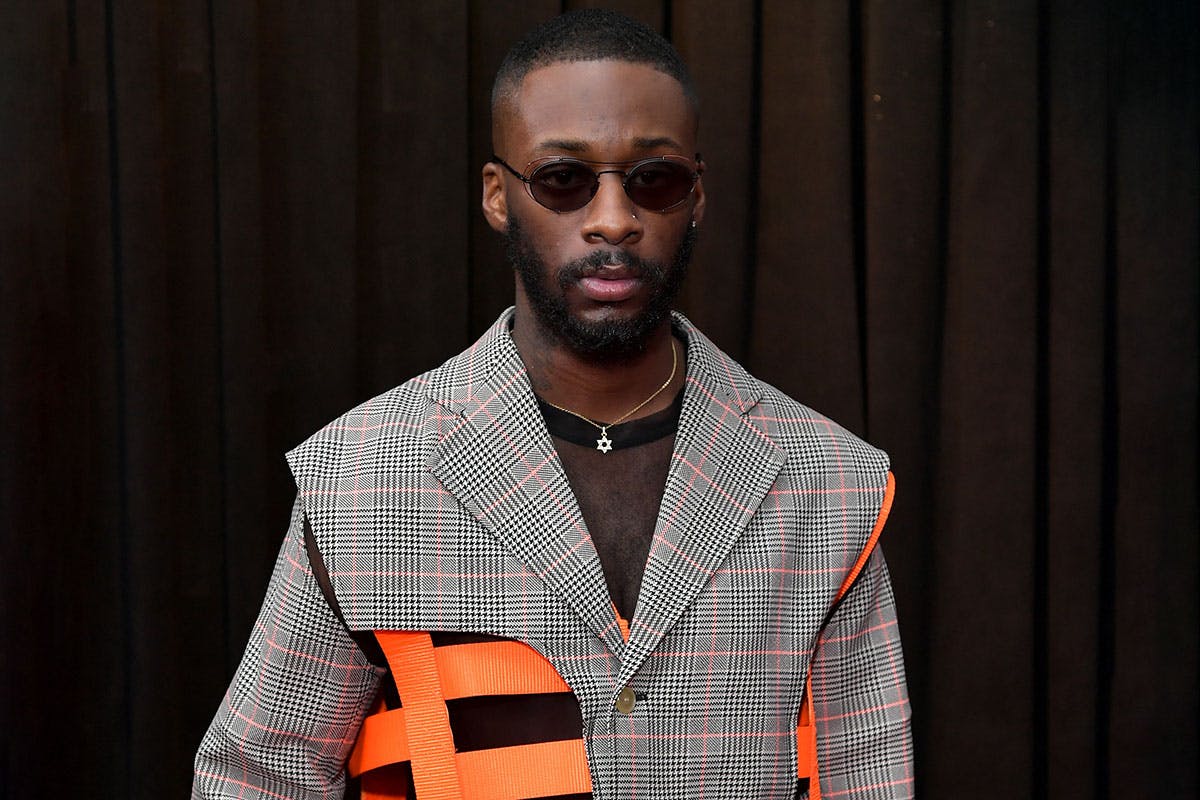 A year on, the music world still grapples with the death of Mac Miller. However, this week the late rapper's name made headlines for very different reasons, when GoldLink posted an unlikely tribute in which he made some serious plagiarist allegations against Miller.
GoldLink's comments were swiftly followed by severe backlash from fans and industry peers alike. Now, the rapper has finally responded to the controversy. At a concert on Wednesday night, Link took time out of his set to address the crowd. Referring to to Miller as his "best friend," he doled out words of praise the late rapper, saying "Without Mac Miller, there would be no GoldLink."
Addressing the comments he made, Link explained "That whole post I made about Mac Miller was about love." He insisted he never insinuated Miller had stolen his music: "It wasn't about stealing. I never used the word copy. I never used the word steal. The thing is, Mac Miller wrote all of Divine Feminine. That was a great album [...] That's one of the realest n****s I ever met. So I don't give a fuck what nobody say about it." Watch his speech below.
In a post published to his Instagram on Tuesday, GoldLink addressed the death of Miller and his complicated relationship with the late artist. In his lengthy caption the DMV rapper admitted they "weren't always on the best terms," and accused Miller of copying his music.
The problems started when Link was supporting Mac's GO:OD AM tour. During this time he played his album And After That, We Didn't Talk for Miller, who Link says heavily supported his music.
"I always thought you drove yourself insane about your own music. So much that, you would adopt styles as homage to those around you that you loved," he wrote. Link then revealed that Miller's "Divine Feminine was an actual blueprint of And After That, We Didn't Talk." Apparently, when Link tried to reach out to Miller to address the similarities, he never responded.
Despite these damning allegations, GoldLink revealed he still appreciates what Mac did for him. "You were the first person brave enough to openly say 'he's dope,' and gave me a platform." Read GoldLink's message in full below.
A day later, Miller's frequent collaborator and close friend, Anderson .Paak — who was notably mentioned in GoldLink's post — addressed the allegations in a ferocious, now-deleted rant. According to a screenshot obtained by Complex, Paak called GoldLink's revelation a "disrespectful, narcissistic, jealous grossly unnecessary post."
"Why would you do it? I can't even understand it," he wrote, before directly addressing Link's accusations. "Since you felt it necessary to bring me up twice and my boy ain't here to respond, Ima say it like this. You ain't the first to make an album inspired by a relationship, you ain't the first to make a song featuring Anderson .Paak. But you are the first to disrespect my friend who is no longer here for absolutely no reason and I can't stand for that."
The singer also echoed fans' sentiments over the tastelessness of GoldLink voicing his grievances publicly after Mac's passing: "Whatever issues you had with Mac should have been addressed in person and ended there. What's the point of bringing this up after his passing and disrespecting his name?" Read his whole statement below.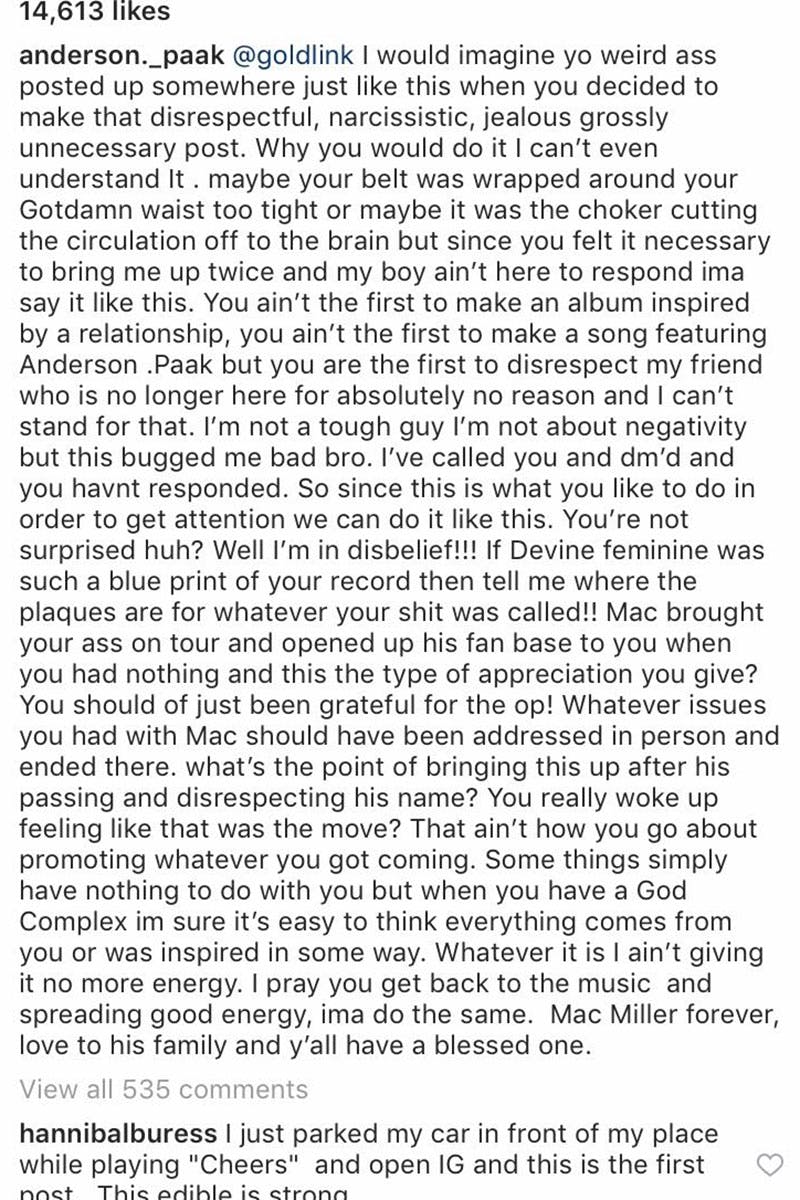 Understandably, GoldLink is facing fierce backlash from fans over the memories he chose to share, effectively accusing Miller of being a creative thief after his death. People took to social media to express how Link's post backhandedly came after the late Pittsburgh rapper and was in poor taste.
Since speaking his truth GoldLink has disabled the comments on his Instagram account. The Mac Miller post is still up on his Instagram.
The rapper also recently used his platform to criticize the Grammy's color-blindness with their 2020 nominations and announce he's boycotting the awards.