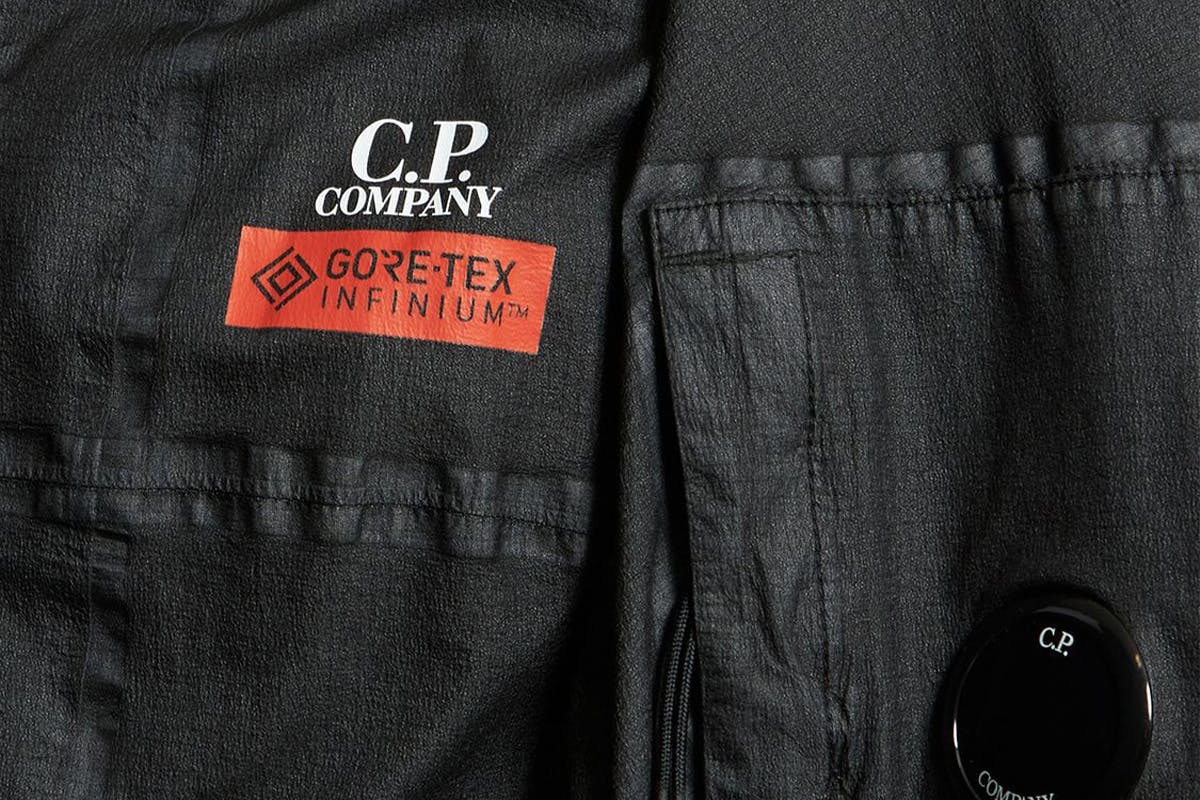 With spring showers looming on the horizon, waterproofing your wardrobe should be a shopping priority right now. And though there are a number of materials that can boast keeping wet weather and windchill at bay, few do it quite as well as GORE-TEX.
Introduced in the late '60s by William (Bob) L. Gore, anything packing GORE-TEX is about as waterproof as garments get. Most impressive about the Teflon material, though, is its ability to let vapor and sweat escape while keeping you and your fit underneath out of harm's way, allowing for optimum temperature control.
It's a technology that was first adopted by mountaineering brands, applied to outdoor gear such as hiking jackets and winter boots. But while GORE-TEX has traditionally been associated with high-performance gear, the material has more popped up in the collections of brands far and wide, from Stüssy to Nike.
In appreciation of the infallible waterproof material and the man who invented it, we've rounded up a few of the top GORE-TEX jackets to shop right now. Ranging from sports and high-tech brands such as C.P. Company and Veilance to the likes of Moncler and Goldwin, those looking to buy into GORE-TEX aren't short of options.
Scroll down to view some of the best GORE-TEX jackets in Spring 2023 below.
nanamica GORE-TEX Shell Hooded Down Jacket
KODENSHI® down padding and storm cuffs retain heat while a GORE-TEX shell provides waterproofing and breathability. It's what ensures that this nanmica jacket is an all-round specialist that's ideal for the transitional period.
C.P. Company Gore-Tex Infinium Jacket
Much of what makes GORE-TEX so popular is its ability to make fabrics waterproof, but the company's INFINIUM™ fabric is for those who want high-performance wares without it having to be completely water-tight. Created with windproof technologies to keep you warm as well as being highly breathable and lightweight, this GORE-TEX INFINIUM™ jacket comes with waterproof zippers, contrasting fabric pockets, and the label's signature goggle detailing.
66°NORTH Hornstrandir Jacket
Coated in GORE-TEX® Pro 3L nylon ripstop, there's not a whole lot you can't take on. That why, as we move into the unpredictable, transitional terrain of spring, we've got our eyes firmly set on the 66°NORTH Hornstrandir Jacket. Fitted in an all-black palette, this piece is extremely sleek, an aesthetic rounded out by taped seams and zips.
ACRONYM J96-GT Jacket Black
True ACRONYM fans are well aware that the OG of techwear is an easy choice when deciding on a GORE-TEX jacket. But in true ACRONYM style, this is more than just a jacket and features a hood that converts into a bucket hat when removed from the collar.
Moncler Grenoble Villair Colour-Block Gore-Tex Jacket
Moncler Grenoble gives wearers a jacket that can handle even the most brutal ski slopes while also looking good enough to wear at a fashion week event. Today's Villair Colour-Block Jacket is no exception to that rule. The outwear piece is made from a 2L GORE-TEX Paclite shell with heat-sealed seams and AquaGuard® water-resistant zippers. If you get too warm in the jacket, you can take off the jacket, use the internal straps to store it, and carry it as a backpack.
Veilance Node GORE-TEX Jacket
And here is the aforementioned tech-heavy Arc'teryx Veilance Jacket. The Node Jacket is cut from 3L GORE-TEX and features a long list of tailoring decisions that maximize wearability, comfort, and performance. One of our favorites is the wind skirt that remains hidden when worn but which affects the wearing experience to no end. Chilly gusts no longer exist for us.
Gramicci Pertex Trailside Wading Jacket
Though technically not GTX by name, Pertex offers a similar quality and will definitely keep you protected during any untimely showers. This lightweight jacket is perfect for spring and even comes with a hidden hood to keep you dry.
adidas Originals Rain Jacket
adidas' Blue Version collection takes a more style-forward angle, reworking archive Three Stripes pieces through a modern lens. This Rain Jacket is the perfect example. Featuring a hard-wearing GORE-TEX shell, it's most noticeable for its bold retro detailing.
Moncler Grenoble Purple Tullins Hooded Jacket
The sentiment is the same here as it was with the Moncler Grenoble above. Except, we get all that Gore-tex functionality in a statement-making Lilac.
Nike Storm-FIT ADV GORE-TEX Hooded Jacket
As mentioned earlier with the adidas selection, bagging a GORE-TEX jacket from one of the big dogs is a great idea for those on a budget. While you might not get the kind of technological niches that, say, an Arc'teryx Veilance jacket would have, you do get a high-level waterproof for a seriously tempting price.
Want to keep browsing? Download the Highsnobiety app for all the hottest products and brands from the the Highsnobiety Shop. Highsnobiety has affiliate marketing partnerships, which means we may receive a commission from your purchase.