ICYMI, HBO Max dropped The Hype, an all-new television series that sees 10 young streetwear designers compete in weekly challenges. The contestants are mentored and judged by three co-signers: Offset, Bephie Birkett, and Marni Senofonte. We caught up with them to discuss their experiences on the show and get their insider advice on how to make it in streetwear – check it out here.
Now we're turning our attention to some of the designers to talk streetwear, participating in The Hype, and to get their advice for up-and-coming designers. Check out our conversation with Justin Mensinger, Kai Nguyen, and Blu below. And be sure to keep it locked here because we'll be talking to the women of The Hype about women in streetwear.
Tell us a bit about your brand and design work before you joined The Hype?
Justin Mensinger (JM): Before joining The Hype, I was primarily working independently in Chicago creating all of my garments reusing materials. I still operate this way today, and I think coming from the Midwest made me resourceful and self-sufficient.
Kai Nguyen (KN): Lumieres was always the light that guided me, no pun intended. It always was not only that but a reflection of me as a person. I never got the funds to drop a big collection so I took it one small step at the time. By doing that more and more, people who can relate to me slowly followed Lumieres and formed a cult. That enabled me to do a lot of crazy design because of the support, a lot of fun collabs, mostly with close friends! The brand has always been an underground brand and very close to the culture!
Blu: My brand WNTD Apparel is a lifestyle clothing line, designed for the creatives of the modern world. As a designer, I bridge the gap between art and fashion.
What initially drew you to streetwear?
JM: I don't feel that I was drawn to streetwear, but I feel that the things I grew up around were part of what has become defined now as "streetwear." My biggest influence was probably my dad: he always wore motocross T-shirts with crazy graphics, earth-tone flannels, and jeans. BMX, motocross, skateboarding, and music all were part of my reality growing up and have influenced how I express myself making clothing. The people I looked up to were musicians and skaters.
KN: I just love the community and wanting to look cool as fuck all the time.
Blu: Being able to have people live in my creations, and experience life while cloaked in my artistry.
What made you want to participate in The Hype?
JM: The opportunity to be seen and get my work out into the world is what motivated me to participate in The Hype. Getting noticed on a large scale and having industry opportunities in the Midwest is difficult. The Hype gave me the platform to have my voice heard across the world. I feel as though the show has given me the opportunity to display my talents and push my career forward.
KN: I participated in The Hype because I always knew I have the abilities to do wonderful and great things, I just needed a platform to showcase my skills.
Blu: I participated in The Hype to be a part of history. I see myself as someone who will do amazing things in the game and I could not pass up the opportunity to be a part of something that is so needed in the industry.
What has the show taught you about your craft and the business of streetwear?
JM: The show has taught me that, above all, your knowledge of the craft is very important. Anyone can create a facade on social media of their work, but to be in person hands-on everything is exposed and I think that's how it should be.
KN: The show makes me appreciate my sewers, pattern maker, and many more aspects behind the scenes a lot more, and I hope it does the same to the viewer! There's a lot more than the finished project.
Blu: The show has taught me just how conceptual I am as a designer, and how in the business of streetwear you really have to know your audience.
What keeps you motivated?
JM: My mind moves very quickly and I constantly have ideas. What motivates me the most is continuing to get my ideas out into the world and leave a legacy.
KN: I would say money is the main one, anyone lying if it wasn't. But I just get so excited and happy every time I see my sketches and designs coming to life, I get so excited knowing my sewer is finished and I get to see it that I can't sleep. I love the idea that I am building a community around me and as I grow bigger I get to use this platform to do greater things and enable more artists like me to grow!
Blu: Making history, paving the way for designers that will come after me. Being known as someone who not only made it, but changed things completely doing it my way.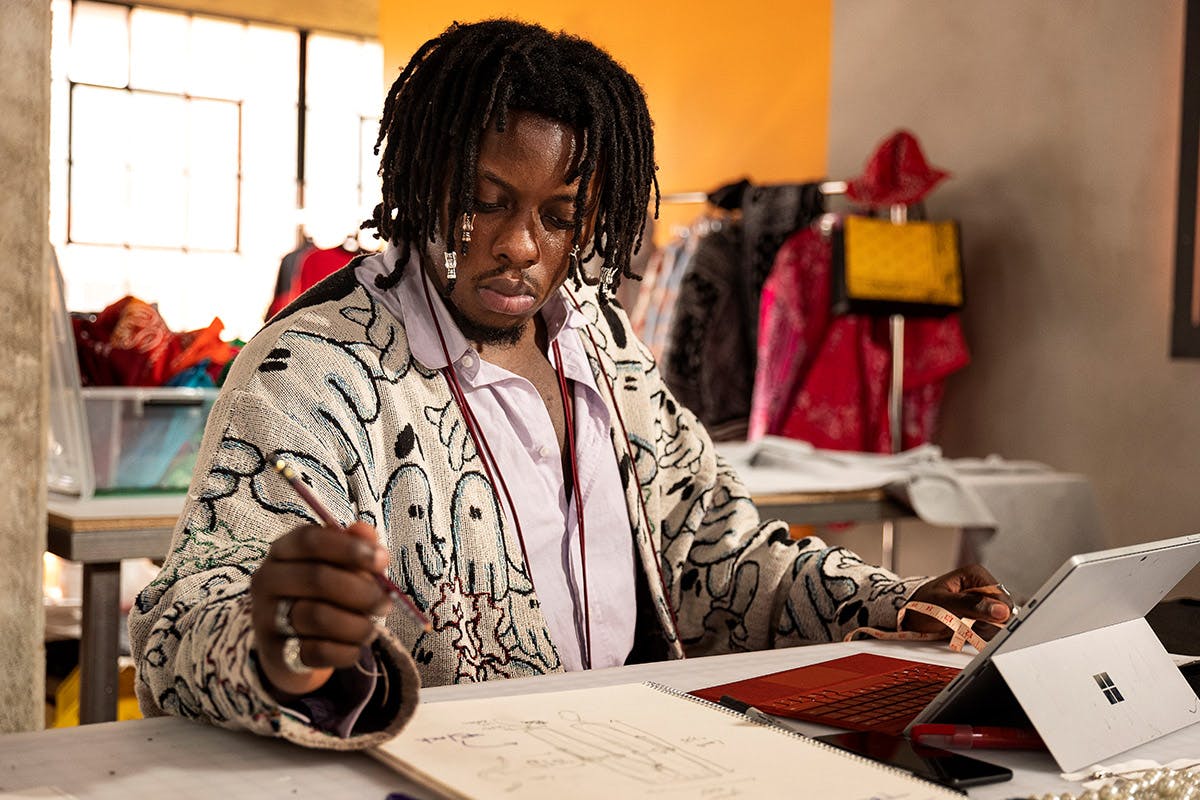 What advice do you have for other aspiring streetwear designers?
JM: My advice to other aspiring streetwear designers is to be authentic to yourself. To truly design is to pull from your own imagination and personal experiences. Only you can see the vision that's inside your head, and that is your greatest gift as a designer. Make sure that you listen to the voice inside your head and let it guide you and the rest will follow.
KN: Take your time! Don't rush and trust the process, the faster you blow up the harder you will fall. The only one you have to compete with is yourself. So just be yourself and better yourself every day.
Blu: Be so good they can't ignore you and stand behind the art you believe in. There are thousands of people in the world that think just like you do, make art for them.
To learn more about The Hype, visit hbomax.com.