As conversations regarding leather alternatives in fashion continue to bubble, MycoWorks remains at the center of the noise with its breakthrough mushroom-based materials.
Founded by Philip Ross and Sophia Wang, the biotechnology company has already tapped names like Hermès and Nick Fouquet to experiment with its 'shrooms — in crafting their renowned products, that is.
Next up, the brand joins forces with designer and DJ Heron Preston for an art collaboration crafted using its praised mushroom leather.
The power of music is what spawned MycoWorks and, thus, its latest creative connection. CEO Matt Scullin, who used to DJ, crossed paths with Preston while immersed in NYC's lively music scene.
Fast forward, Scullin and Wang formally introduce Preston to the brand and its vision. And, as you can see by this official partnership, the rest is history.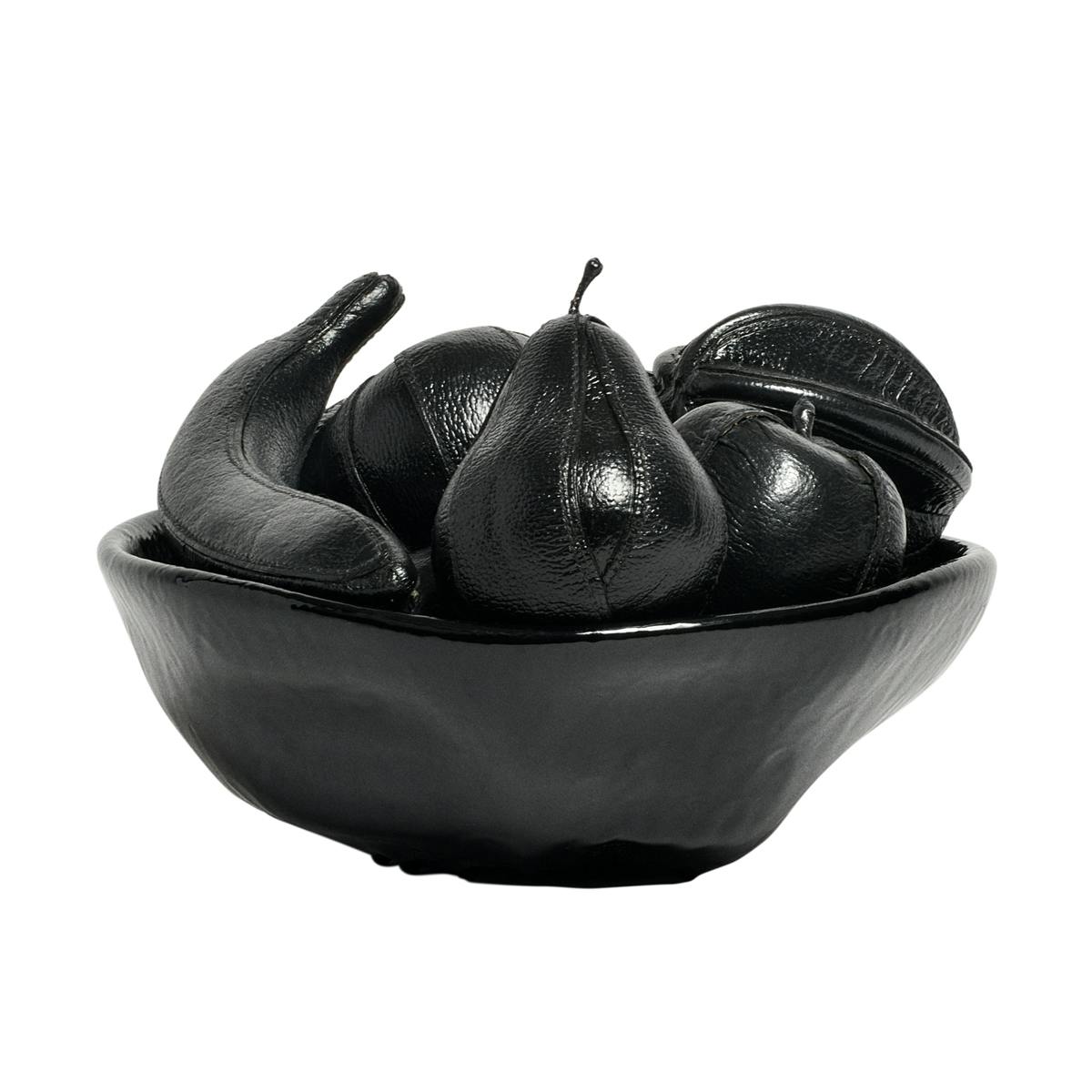 "When I met Heron, what stood out to me was his curiosity about our story, his attention to the look and feel of our material, and his interest in the environmental impact of our processes — which are minuscule compared to plastic-based leather alternatives," Wang states.
"Heron has a track record of being behind some of today's most disruptive designs; he's constantly pushing boundaries and introducing new ideas and concepts to the world," Wang adds.
"At MycoWorks, we are also introducing a new concept and category of materials to the world, so Heron Preston's partnership is incredible validation."
So, what exactly is Mr. Preston and MycoWorks cooking up? For his project with MycoWorks, Preston issues a leather spin on a household classic and artist's favorite muse: the humble fruit bowl.
Naturally titled "A Fruit Bowl by Heron Preston for MycoWorks," Preston's take on the home decor item includes a bowl filled with fruit made from MycoWorks's Reishi™ — the company's sturdy material derived from its Fine Mycelium™, or refined mushroom root networks.
The brand's Reishi™ is said to boast a lower environmental impact than real leather but offers the animal hide's feel, durability, and quality.
"A fruit bowl is an astute use of our material because Heron's design shows off Reishi's beauty and versatility as a design medium," Wang says.
"Creating art and design objects with mycelium is how our company started, so partnering with Heron on this project celebrates our roots and how far we've come."
Preston's leather fruit bowl is set to release soon in tandem with the launch of the designer's new digital platform, which expands on his L.E.D. (Less Environmentally Destructive) concept.
For fans of Preston's eponymous label, the term L.E.D. may sound familiar. In October, Preston told us that L.E.D. is his "version of sustainability," iterated by distinctive branding as seen on his Ex-Ray pieces.
Now, the designer is ready to take his conscious idea to new levels.
The fun doesn't stop at the mushroom leather fruit bowl. The two confirmed that the sleek, stitched, and sustainable piece is just one of many Reishi™ creations by Preston and MycoWorks to come.
I can't help but wonder what's next: a Heron Preston Reishi™ banana stand? Perhaps, a jar set under the shroom treatment?
According to MycoWorks, there are "endless possibilities" when it comes to its leather alternative.
Shop our favorite products