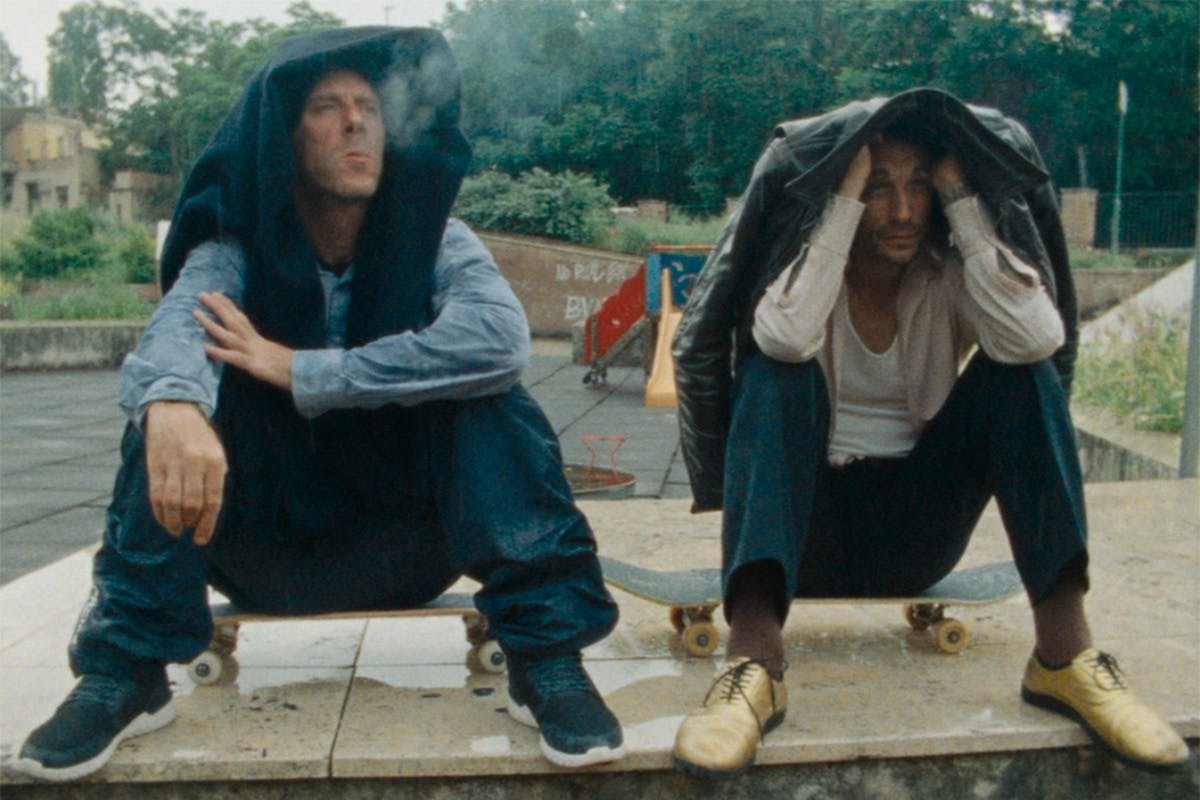 Jim Greco's latest skateboarding film Jobs? Never!! isn't necessarily a new way to document skateboarding as much as it's a different iteration of the medium. Greco himself is an iconoclast. Even when brazenly appropriating an aesthetic, he does so with aplomb, making it his own. His evolution from chatty "Saltine kid" to a Trash and Vaudeville-outfitted member of the Piss Drunx crew has been so documented and dissected, it's easy to forget his actual skateboarding.
When you see Greco ride a skateboard, you immediately reconnect with the talent that let him be so flamboyant. Greco has been Greco forever, no matter what shoes, shirt, lack of shirt, or jacket he's donning. His third film documents the 40-year-old navigating the world differently but much the same.
"I liked seeing skateboarding in the INXS video [for "Devil Inside"] as a kid and Thrashin' has exciting moments, even though it was clearly a The Bones Brigade Video Show rip-off," he says about skating in films. "Honestly, it depends on how it's done. While I am healing, I have been working on writing three different films. Two of them have no skateboarding, the other is a skateboard movie."
The "healing" Greco is referring to is the damage done in a fall while shooting Jobs? Never!!'s first scene. Not just any slam, but one that will make viewers wince, seeing not only the actual impact in slow motion but the protruding hematoma it leaves on his back. It is horrible.
"It was the last thing we shot," Greco says. "I had to finalize the film in extreme amounts of pain. It has been five weeks and I am still healing up. It was a miracle that I was able to drive myself to the hospital. I am very grateful for the slam I got — it could have been way worse. If you want to dance, you gotta pay the band."
This type of storytelling is what separates Greco's vision from the fray. He waits four minutes before showing a single trick being landed, building an atmosphere like a skilled conductor slowly weaving mood and melody from the orchestra pit.
Skateboarding videos rarely deviate from two common conventions. The predominant model is editing various tricks to a song that matches the pace and style, with the director using visual tools to set the tone. Using skateboarding to weave a narrative is the second and much less popular construct, as it rarely works.
Powell Peralta's 1987 film The Search for Animal Chin remains the most effective example of a scripted skate video, despite most of those involved in its production now besmirching it as kitschy and hokey. While Animal Chin was never likely to win any Academy Awards, what it did do was stand out. Animal Chin became iconic simply by being different, even if plot-based skate videos are generally terrible.
There's a certain weight to Greco's work, as he's earned a reputation for putting out things with purpose. This means the audience looks at his footage in a different way, something he's not entirely concerned by. "I try not to think about that. I just try to do my best," he says when asked if he has any worries about how the new film will be received.
What's striking about Jobs? Never!! is that Greco can play in a few spaces simultaneously without losing the plot — pensive sobriety, casual exploration, intense focus, adolescent mischief. He's focused on craft and committed to the process. The look is imperative, but it's also a skate video. In fact, what's so successful about the 22-minute vignette is that the viewer can determine its value and intent.
Despite the grainy look and purposely mundane interludes, the skateboarding is the hero. Whether Greco or co-conspirator Tom Penny's skateboarding induces nostalgia or you're seeing them for the first time, how the pair move and traverse their surroundings makes them commanding protagonists. Greco mentions their filming schedule over 10 days in Rome, starting at 6 a.m. and finishing around 8 p.m., calling Penny a "very honest and beautiful person with a 100 percent original style." In Jobs? Never!! Penny's style looks ageless.
Rewatching Greco's prior two films, I noticed their rhythm and how the director likes to mix things up. In 2017's Year 13 — a reference to his sobriety — Greco devotes almost three minutes of film to a sequence in which he does nothing more than drag a green bench out to a curb cut, sits down, and removes his jacket. It's not only an expensive use of celluloid but a challenging exercise for today's click-happy audience.
As a viewer, I inferred that this was intentional, a device to show the tedium of day-by-day recovery. When I ask Greco if that was his intention, however, he denies it. But that's the allure of his work — if you're looking for something, you'll find it.
"Essentially, these films are a visual diary, bolstered with imagination in places," he explains. "Sobriety is an intrinsic part of my life at this point, and at the point when I started making these films. If I was drunk or sober, it would have nothing to do with how I'd pace a film I was making. These are short skateboard films, not art films."
Perhaps, but at times Jobs? Never!! feels like the work of arthouse darlings John Cassavetes or Vincent Gallo — both of whom, like Greco, share Mediterranean heritage — although the work and his style is intrinsically his own.
As the film moves from a hospital to a hallucination to the interior of a Los Angeles loft and out on to the streets, Greco and cast skate in a way that's relatable and inspiring, but also surreal and ethereal. It shows skateboarding in a different way, yet retains what viewers want from a skate flick. Greco is right to say these are just "skateboard films," as they're focused on tricks and employ B-roll, but how they're constructed, stylized, and set are exclusive to Greco's mind and his collaborators.
"I do not storyboard — I would not even know how to begin to do that," he explains.
"As the director of photography, I visualized and aided the camera operators in setting up the shots," he continues. "However, I am not closed-minded inputting on what may or may not look nice through the camera. If [camera operators] Joey [Sinko] or Tobin [Yelland] point out something worth exploring, I am open to giving it a shot."
However, he knows what he doesn't want his films to be: "Trick, trick, trick to a song is not the way I wanted to make these films. I made a few of those in the past that I am content with, but making them doesn't interest me anymore at this point. That is not to say I don't enjoy watching some of them still. I want to have fun. Things like the apartment scene in the film are a lot of fun to do. Above all, I'm influenced more by non-skateboard films than skateboard films."
Unlike the other works in his loose trilogy, completed by Year 13 and 2016's The Way Out, his latest film has a commercial slant. The film's release has been timed to pair with his seventh shoe for SUPRA, the simply named Greco. Roughly halfway through the film, Greco cuts open a cardboard box after eating a chicken cutlet to reveal the blue suede shoes. It's jarring, almost ridiculous, but also the perfect way to shill product.
"I felt the shoes were a compelling element of the visual narrative, especially in that scene of the film," he says. "That was just the way I chose to bring them to life in the story. From a juxtapositional point of view, they look really beautiful and blue, like they shouldn't be skated in — similar to how an apartment interior shouldn't be skated — but that isn't the reason I did it. There were no real reasons other than it looked nice and felt correct. My intentions were to make it sort of a dream-like sequence."
Regarding the new SUPRA's design, Greco's influences were a little more formal than you'd expect on a skate shoe. "I wanted to create a shoe that felt and looked like I was skating in a pair of my dress shoes because that is what I gravitate toward as soon as I am done skating, and wish I could wear while skating — it's what looks and feels right to me," he says.
"I tried it before with Vans in 2003 with the Escobar, but it was still too wide — we built it on a normal athletic last," he explains, referring to the foot-shaped mold that gives shoes their shape during the development and manufacturing process. "For this one, I did it with SUPRA designer Adam Contreras and I realized the big difference is the last and the shape. We approached the design knowing I was gonna develop it off a dress shoe last no matter how the consumer may react. It made all the difference in the world, and with a bit of tweaking in places, we were able to get it correct.
"It pretty much ruined every other shoe for me because it makes the normal athletic last feel like a vintage brick and look really wide. I'm stuck with this last for life."
To stay updated on everything happening in the sneaker world, follow @Highsnobietysneakers on Instagram, check our sneaker release date calendar and subscribe to our sneaker chatbot on Facebook to receive lightning quick updates to your inbox.