Kanye West's creative endeavors are usually devised as spur-of-the-moment schemes that're worked out in real-time with his people and put into action sometimes within days, if not hours, of them first being conceived. You may be surprised at the speed and scale of these things: take Ye's YEEZY SEASON 9 fashion show as an example.
To plan a runway presentation or otherwise conventional show held on the Paris Fashion Week calendar, a designer or brand's team would normally reach out months in advance to the Fédération de la Haute Couture et de la Mode (which oversees the week), prepare a venue, hire models, ship the clothes, get the production crew in place, send invites, and engage in a few trial runs before the big day. That doesn't even reflect the five- or six-figure cost of it all.
Kanye, however, may very well have begun planning YEEZY SEASON 9 (or YZY SZN 9, as he's calling it) a few weeks ago.
It was only late September when Ye quietly announced on his Instagram page, mid-rant, that he was planning a YEEZY fashion show for October 3 but couldn't secure backing from anyone because of his narrow timeframe.
The post was swiftly deleted and most people forgot about his declaration because, in fairness, it was mixed in between the implosion of YEEZY GAP and random call-outs of adidas executives.
Ye had a comparably quiet month after that, overseeing the sudden drop of YEEZY GAP Engineered by Balenciaga Part 2 and breaking necks with his sparkly flip-flops at the Burberry show later that month, eventually heading to Paris to model for his pal Demna's latest Balenciaga collection.
He then hung out with another famous designer friend, Matthew Williams, who brought Kanye backstage at Givenchy's Summer 2023 womenswear collection.
That'd be a sufficiently big month for most of us but it was merely the beginning of Kanye's busy October.
Indeed, even as he struggled to find production partners in the days leading up to it, Ye ardently clung to the date of October 3 for the unveiling of his latest fashion show, YEEZY SEASON 9.
Reportedly, the affair was so last-minute that YEEZY clothes only arrived in Paris barely a day before the show and the YZY SZN PR firm had to be swapped during the planning phases.
Only 50 people were invited to the presentation on Champs-Élysées —though it was scheduled for 11:45am EST, the livestream actually began at 12:20 and the show began nearly an hour after that — making this far show more exclusive than YEEZY SEASON 8, which held just prior to the COVID-19 pandemic in early March 2020 in an open-air space.
It also meant that the number of attendees was dwarfed by the members of Kanye's DONDA Gospel Choir, flown out exclusively for this YEEZY SEASON show and joined by North West clutching the new iteration of Kanye's Stem Player device.
However, the presentation was simultaneously livestreamed by ShowStudio and on a dedicated YZY SZN 9 website so that Ye's adoring public could still see the hijinks in real-time.
Less than a day prior to the YZY SZN show, Kanye teased his YZY SZN event with pictures of the A-list cast of models — including, really, Rihanna, Beyoncé, Naomi Campbell, Gisele Bündchen, Irina Shayk, and current muse Candice Swanepoel — and a photo of some hooded character from the collection. In reality, none of the pop stars or Bündchen showed.
On the ground in Paris, editors were scrambling around trying to get any scrap of information they can find and very little was forthcoming.
Finally, the show began after a video collage of clips. And by "the show," I mean Kanye came out wearing his sparkly flip-flops and a T-shirt that said "WHITE LIVES MATTER" on the back — seriously.
I'm going to chalk this up to headline-baiting behavior in the vein of Ye's MAGA hat and glittery sandals. I mean, this kind of shock value behavior dates back to the days of YEEZUS, when he was wearing confederate flags.
Kanye offered no context or purpose for the T-shirt, making this a truly empty gesture seemingly tailormade to generate outraged headlines while his adoring followers chuckle knowingly, believing that they're in on a joke that not only isn't funny, but doesn't exist.
One person not finding the humor was Jaden Smith, who walked out of the YEEZY SEASON show before the clothes were even revealed.
Before the DONDA choir took the stage, Kanye began speaking loudly and freely, like he so often does on Instagram these days, referencing everything from the infamous YEEZY SEASON 4 show where models fainted in the sun to his combative history with the insular fashion industry, eventually giving Virgil Abloh a shout-out (curiously not saying Abloh's name, though).
Finally, Ye ended his tirade with what is easily the quote of Fashion Month: "[LVMH CEO] Bernard Arnault is my new Drake."
Guess he won't be taking that job at Louis Vuitton, after all.
The actual YEEZY SEASON collection, modeled by Kanye pals like Matthew M. Williams and Michèle Lamy and designed by both Ye and Shayne Oliver, ran the stylistic gamut.
Borrowing cues from previous YEEZY SEASON lines and the kinda stuff that we've been seeing from YEEZY GAP, the clothes were monochrome and earth-toned, all very much looking like the kind of post-apocalypic Mad Max stuff we've seen from Kanye's previous fashion shows.
Mixed in between the slim-fitting, cut-out dresses, layered bomber jackets, puffer jackets, baggy sweatpants, shin-high boots, and knotted sweatshirts were boxy T-shirts printed with Pope John Paul II.
On the rear, that "WHITE LIVES MATTER" text, in all its desperate "glory."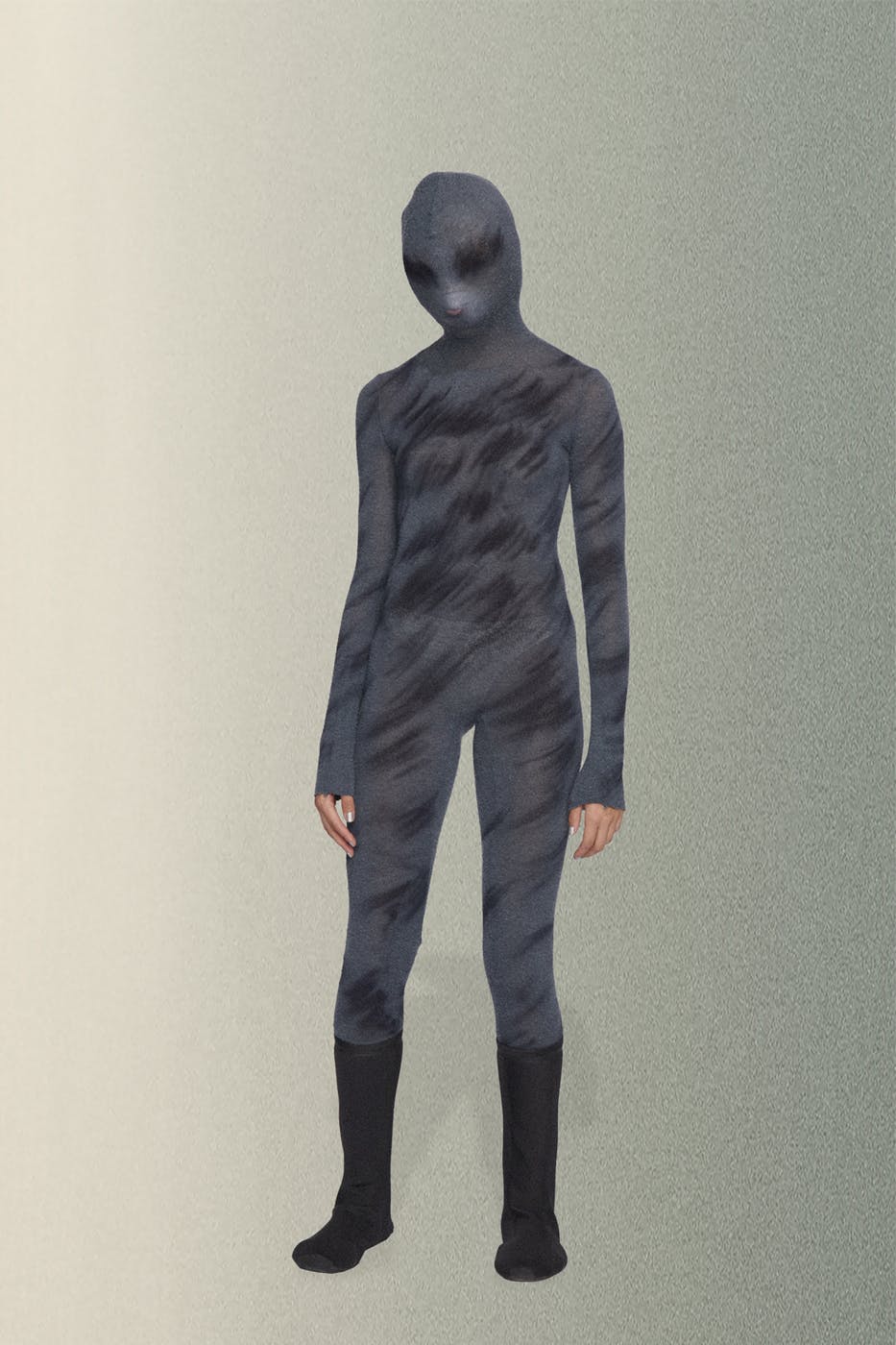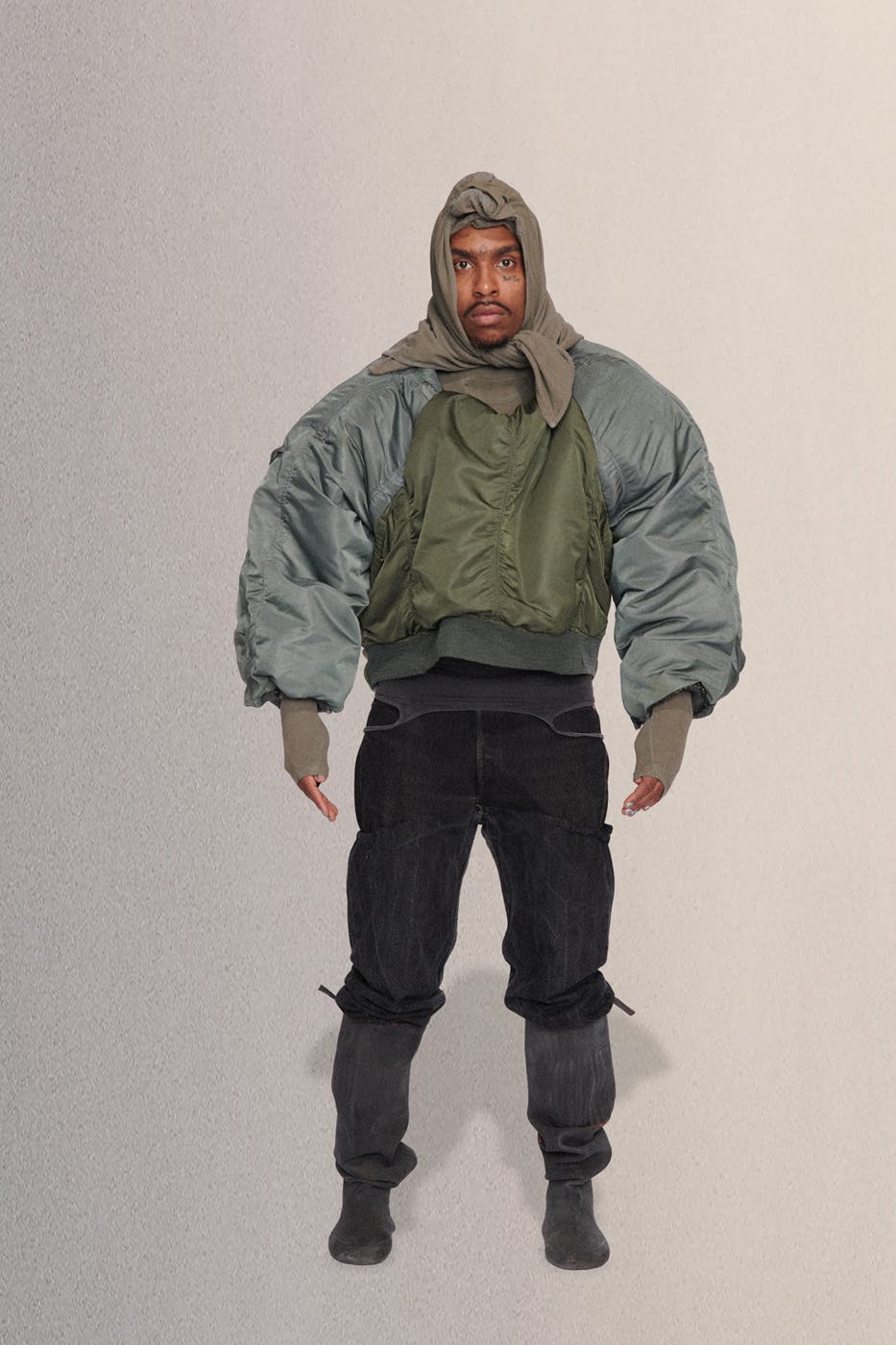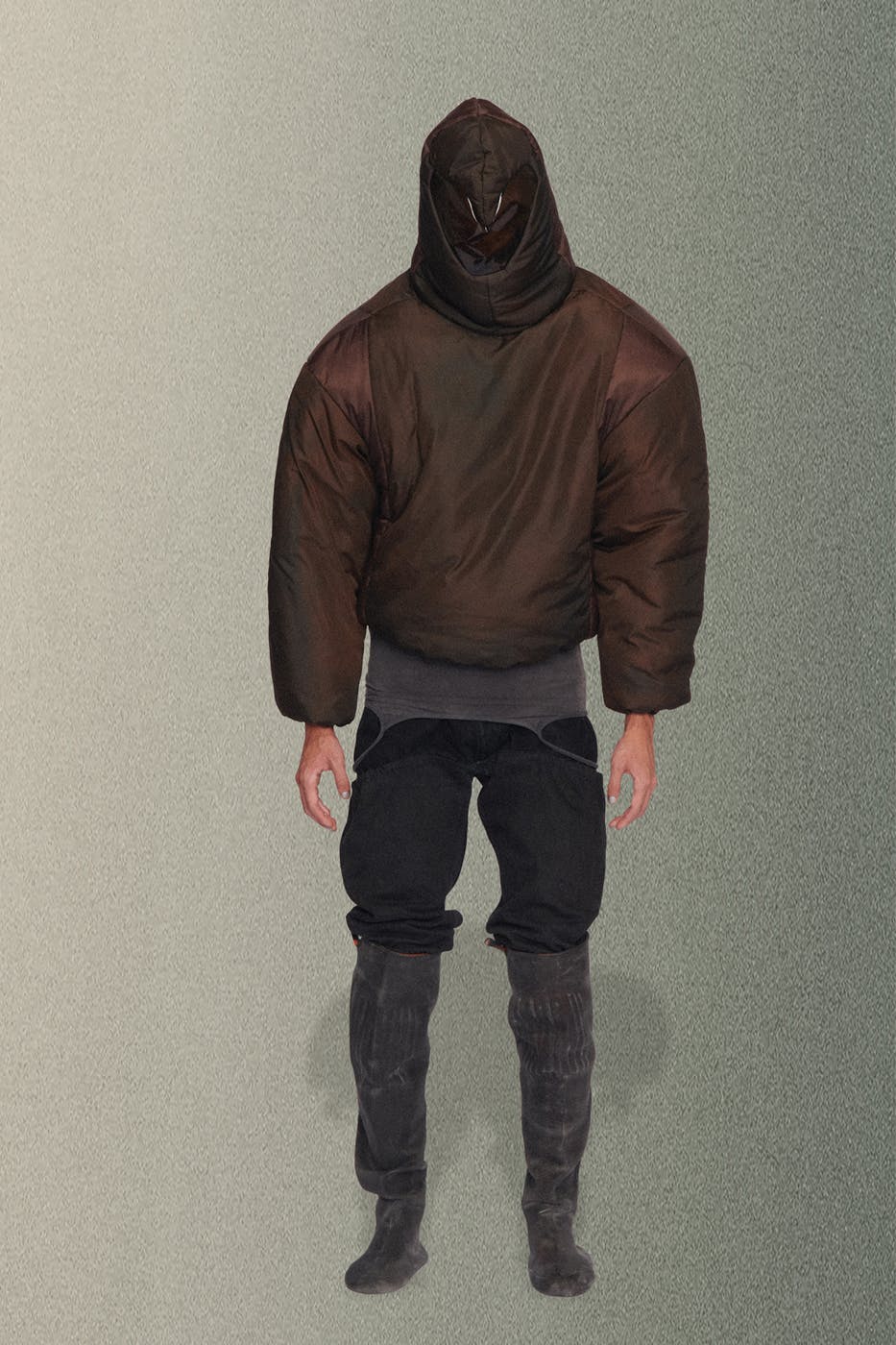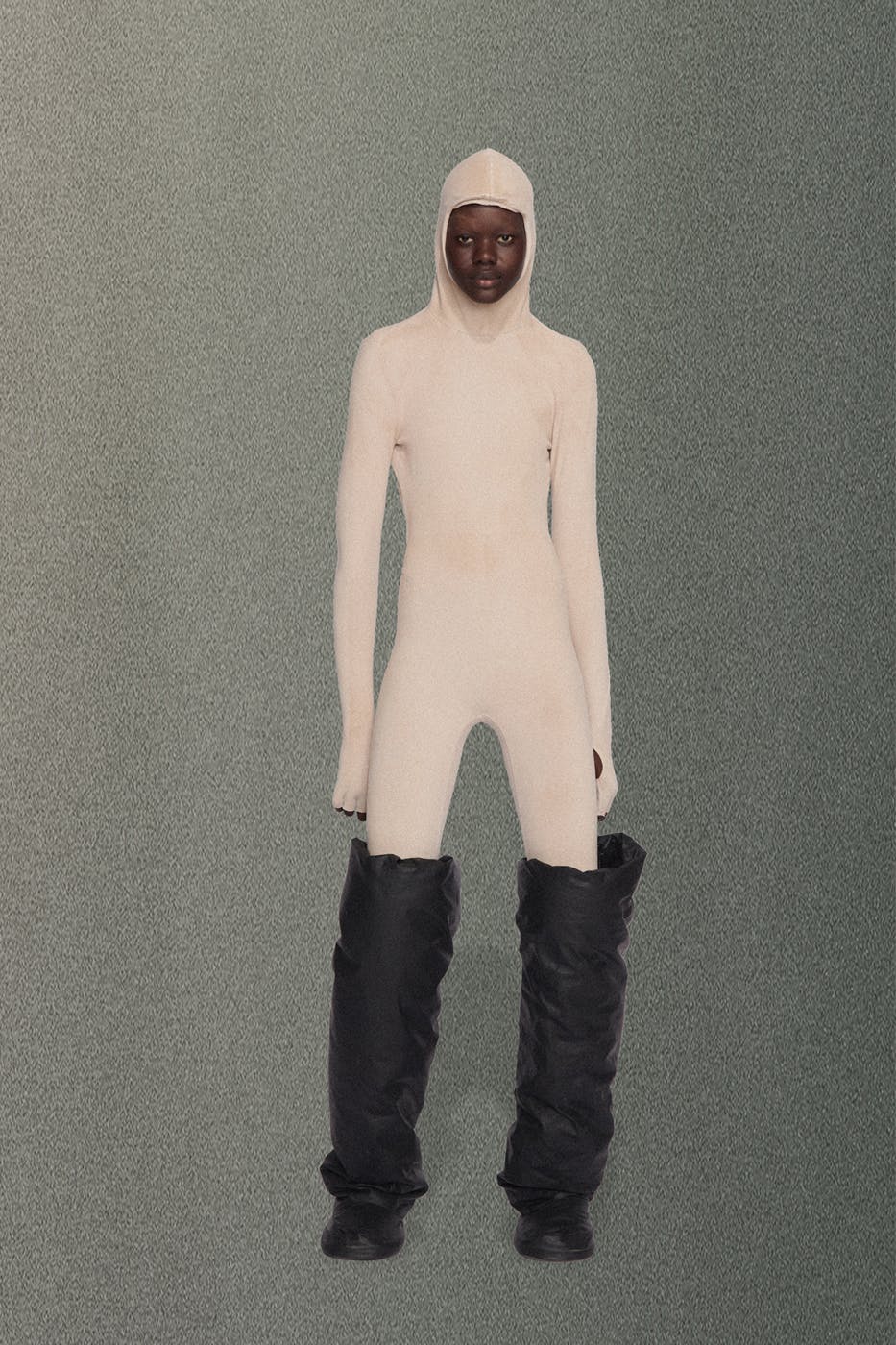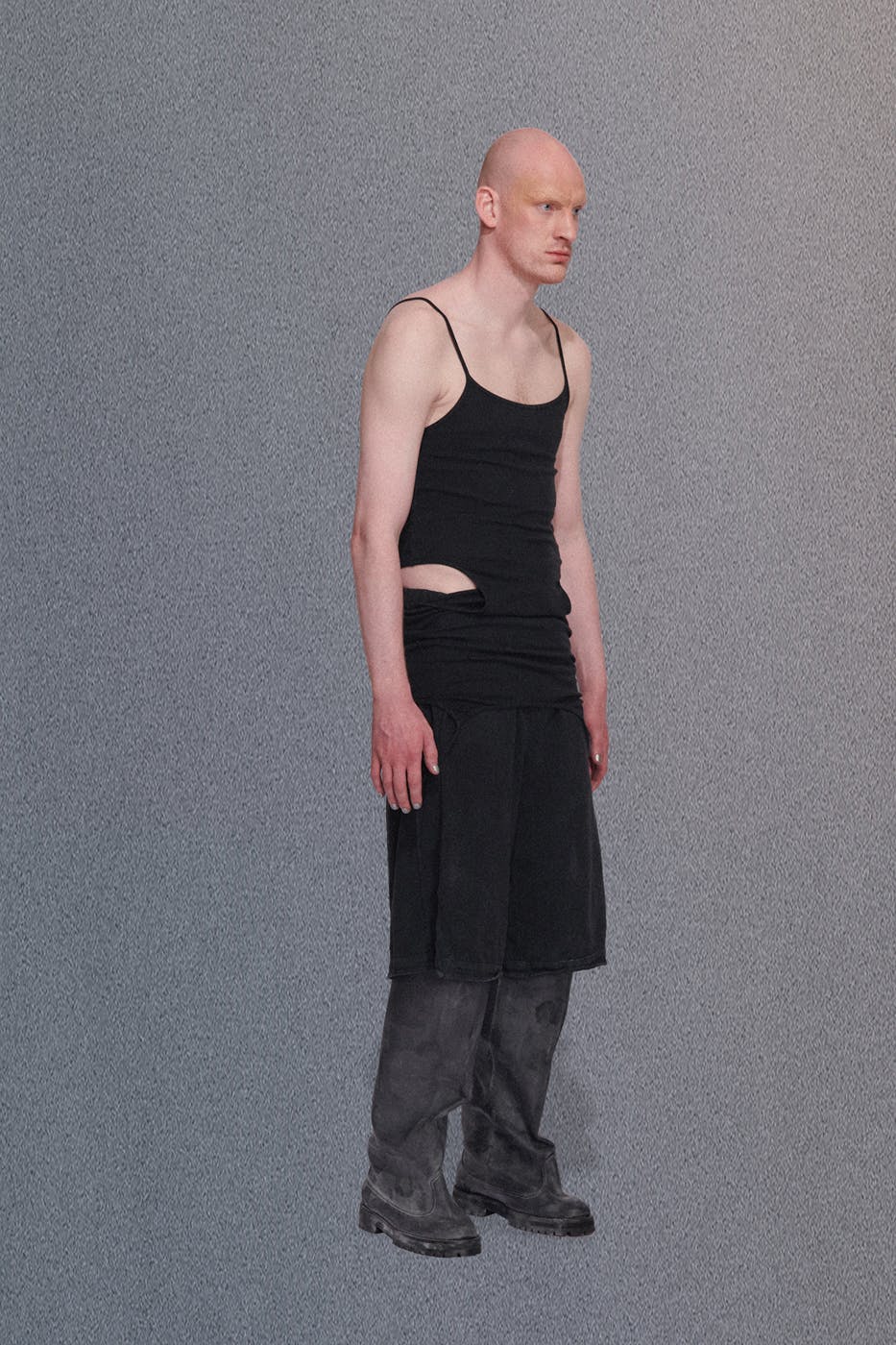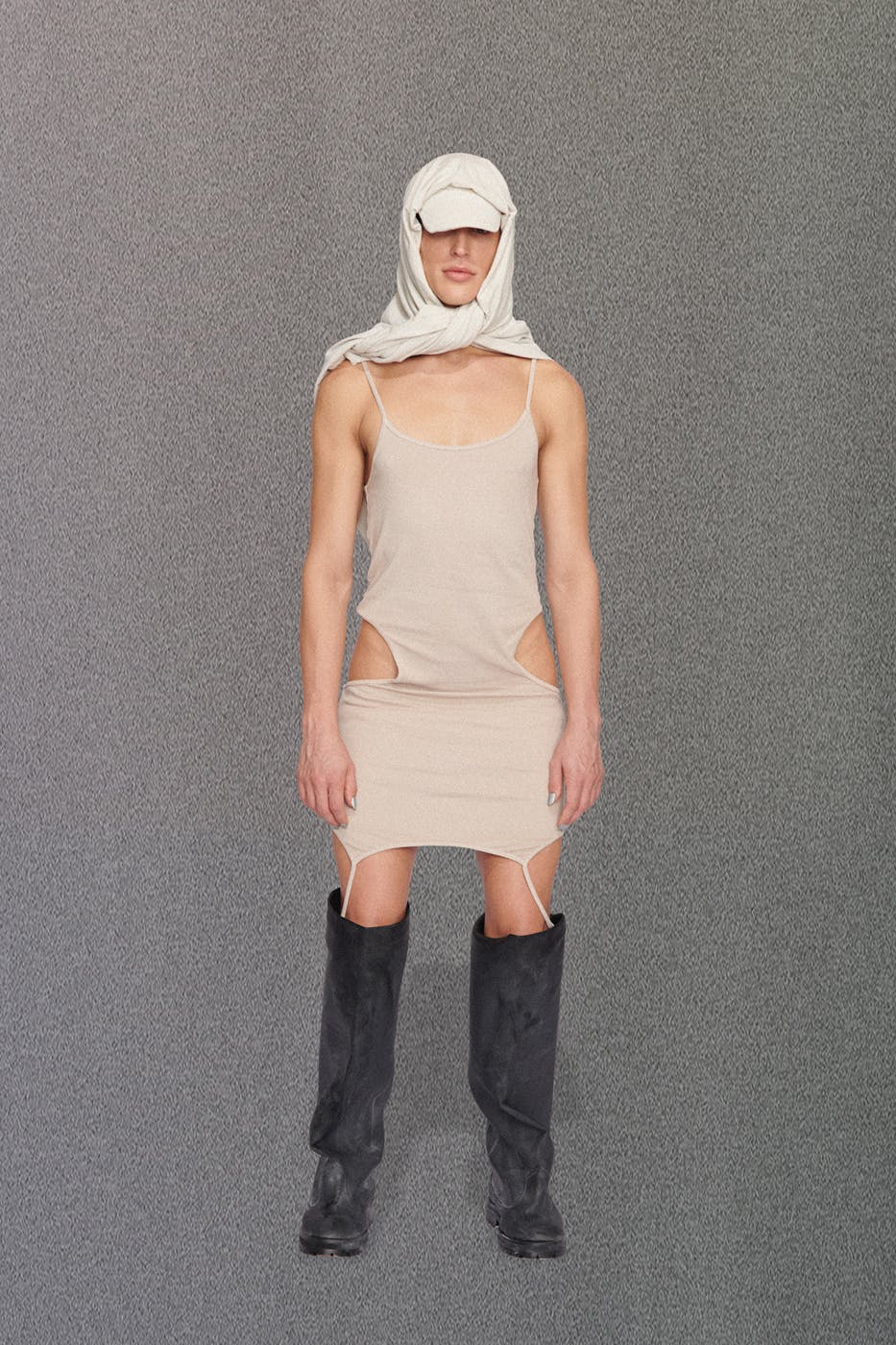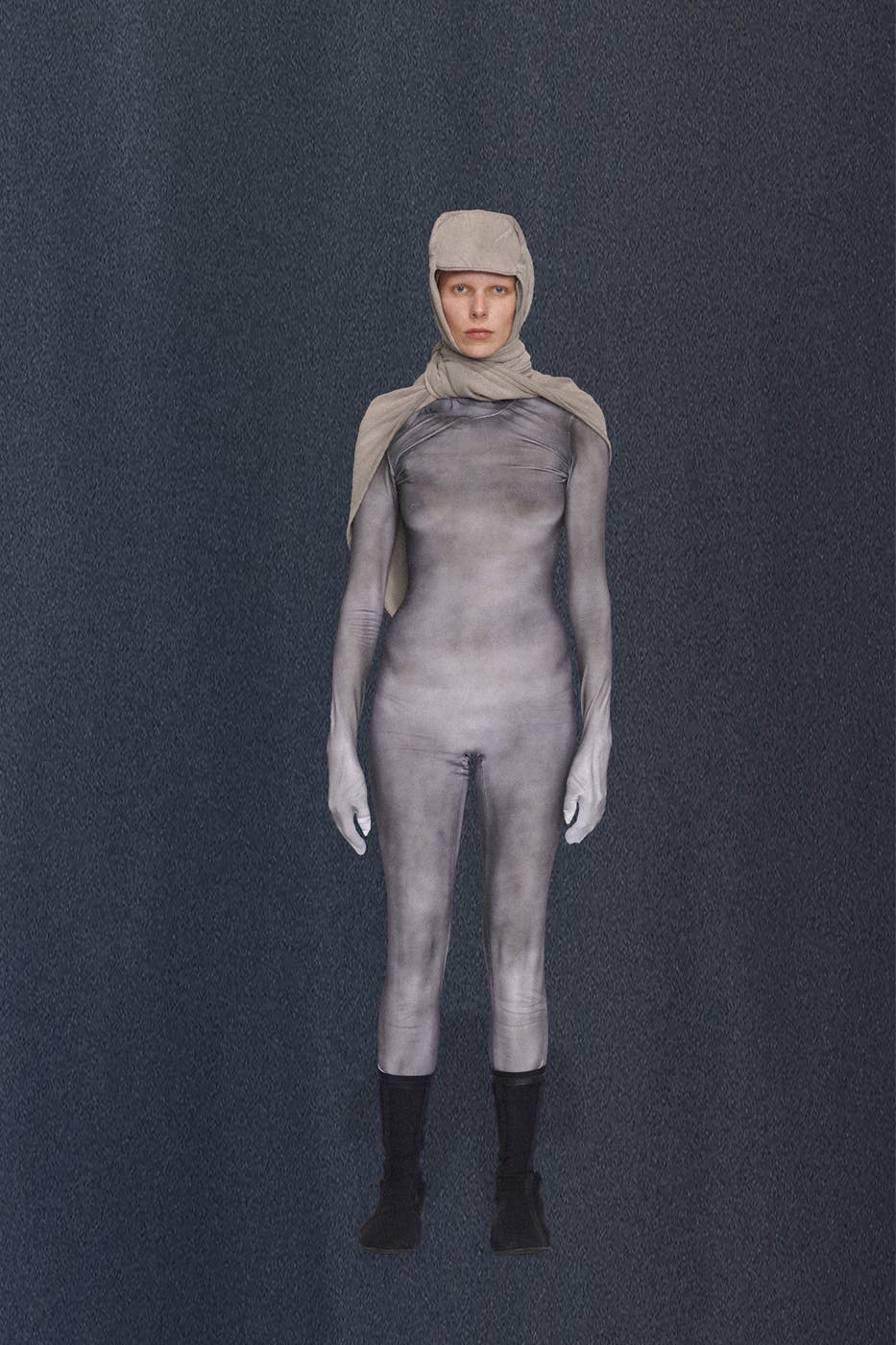 One layered garment shone with an internal light, perhaps a first look at Kanye's Stem Player clothing collection.
Another cape was so big that it fluttered several feet beyond the model's body, creating an alien silhouette.
Quiet a spectacle, though you could argue that the clothes paled in comparison to the rant — and T-shirt — that preceded them.
And that's not all. Later that day, on October 3, Kanye's PR team announced plans to bring YEEZY SEASON 9 to New York. Kinda: YZY SZN 9 was to be displayed on the massive screens of Times Square beginning at 6pm EST.
"ENTER YE'S BLUEPRINT FOR A NEW WORLD," it says. "FEATURING THE CHILDREN OF THE DONDA ACADEMY. AN EDUCATIONAL AND CREATIVE SYMBIOSIS FORMULATED BY YE."
"IT'S A LIFESTYLE AND ITS ALL BEGINS WITH THE CHILDREN."