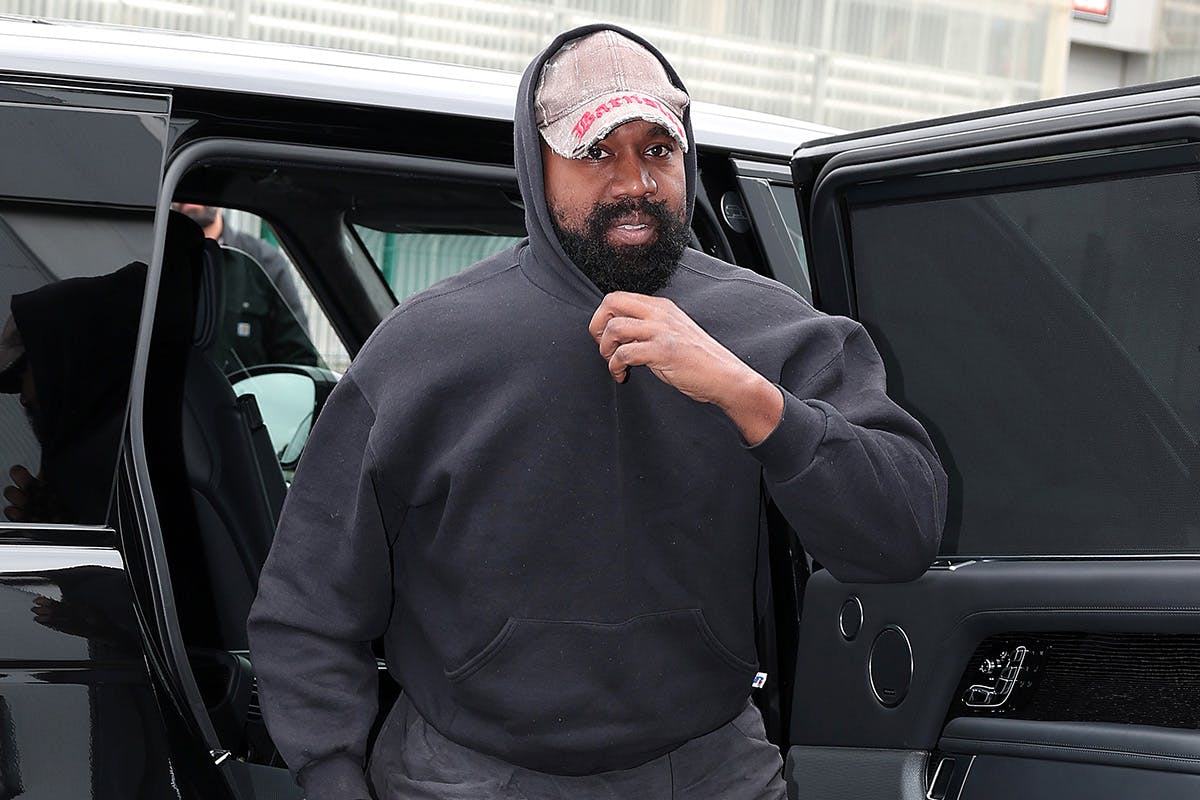 This article was published on October 4 and updated on October 7
Let's begin by stating the obvious: Kanye's "White Lives Matter" T-shirt, the one Ye wore to his YEEZY SEASON 9 fashion show on October 3, sucks.
Defenders can attempt to position it as an "artistic expression" or use flowery artspeak to mask the fact that it was simple provocation, nothing more or nothing less.
Ye didn't even feel compelled to comment on it during the show, which is odd because he opened fire at all manner of other targets, from the fashion media to LVMH CEO, billionaire Bernard Arnault.
The White Live Matter print was even reiterated in a few YZY SZN 9 outfits, as if to underscore its importance to whatever empty sentiment Ye refused to elaborate upon.
To tell you the truth, though, the T-shirt itself isn't that much of a big deal. Cringey? Of course. Unusual? Hardly.
No, the White Lives Matters stunt is merely the latest in a long line of outrageous antics pulled by the man known as Ye. Take his YEEZUS-era merch, which included a Confederate flag-patched jacket.
At the time, Kanye asserted that he was simply reclaiming the flag as his own.
"The Confederate flag represented slavery in a way," he said. "That's my abstract take on what I know about it, right? So I made the song 'New Slaves...' and made it my flag. It's my flag now, now what you going to do?"
The Confederate flag did — and still does — represent slavery "in a way." And there's indeed some argument to be made about reclaiming and reshaping an image of hate through the lens of the people it once oppressed — if only Kanye had developed that thesis further. Instead, he simply used the innate shock value to generate headlines and moved on.
A few years later, Ye was wearing a Make America Great Again hat and posing with President Donald Trump.
Kanye later said that Trump was a "brother" who shared Ye's "dragon energy" (Trump's reply: "Very cool!"), stirring countless thinkpieces about Kanye's politics — as always with these little games Kanye plays, there's a nugget of truth in the points he's making about America's lingering racism and the cultural norms that white political leaders force upon Black Americans.
But Ye is incapable of making a simple, clear statement about anything so his tortured points become indecipherable.
Indeed, Kanye apologized for the whiplash of his MAGA hat and several subsequent statements he'd made about slavery.
Ye eventually outright rejected the hat, claiming that he'd only worn it to initiate conversations with Trump about Kim Kardashian's prison reform plans.
By looking at these past transgressions, we can contextualize Kanye's White Lives Matter T-shirt better. It allows us to examine Ye's consistent failings at framing his arguments and reveals that, really, these are just vapid grabs at relevancy (and they work).
Even compared to the extremely loose explanations given for his Confederate flag patch and MAGA hat, Ye's utter lack of elucidation for his White Lives Matter T-shirt is, simply, unacceptable.
Context is crucial in justifying the use of white supremacy symbols, even when it ought to be unspoken that you don't believe in them yourself.
Surely, no one thinks that Ye, a Black man, is actually in support of White Lives Matter — this is merely a barefaced cry for attention, and it's working great. Just look at all the buzz he's stirred up as a result.
If you're sympathetic to Kanye, though, you could argue that it was an artistic statement. And then you begin justifying the T-shirt for Ye, playing right into his hands.
Kanye eventually brought in past collaborator Vanessa Beecroft to do his explaining for him, and on October 6, she provided plenty of flowery, empty defenses for his artless T-shirts.
"Ye is an artist, Ye cares about all lives, all people, and he is working against all oppression. Ye is an artist with independent power... When I see these conflicts happening over and over again I see the persecution of the artist who is trying to be at the avant-garde for all of us."
Ye published this statement in between all-caps diatribes calling his haters "NPCs" (it's a fairly outdated meme) and using some pretty vile language.
Y'know, like true artists do.
In reality, though, Kanye's Confederate flag patch, MAGA hat, and White Lives Matter T-shirt aren't artful: they're obvious publicity stunts.
At one point in the not so distance past, though, Kanye actually cared to contextualize his actions in real time; now, he's content to let the clicks roll in and maybe have someone do the explaining on his behalf.
It's all very Trumpian. They definitely do share some kind of energy.
So far, so frustratingly normal. But what Ye did later was not.
We'd argue that Kanye already crossed a line with that White Lives Matter shirt. Again, it's obvious that Kanye is merely using the charged phrase for attention and is an attention grab of the lowest common denominator.
Had he left things there, we'd simply chalk it all up to another act of casual iniquity. Instead, Ye leapt to Instagram on October 4, the day after his YEEZY SEASON 9 show, where he uploaded an Instagram Story saying "EVERYONE KNOWS THAT BLACK LIVES MATTER IS A SCAM. NOW ITS [sic] OVER. YOU'RE WELCOME."
Ye then published several mocking photos of Vogue fashion editor and stylist Gabriella Karefa-Johnson.
Karefa-Johnson had attended the YEEZY SEASON 9 fashion show in Paris, uploading a handful of Instagram Stories live from the event.
"Here come the bullshit," she said in response to the White Lives Matter T-shirt.
"There is no excuse, there is no art here. I do think if you asked Kanye, he'd say there was art, and revolution... There isn't."
Somehow, Kanye saw these posts and was so personally offended that one person disagree with his vision that he took to targeted harassment, implicitly inviting his 18 million Instagram followers to savor and, perhaps, join in.
Again, ought to go without saying, but this is vile behavior. Not only was Karefa-Johnson free to say what she said but she was, frankly, correct. Kanye's reaction isn't just childish but flat-out unjustifiably callous.
It should be said that most of them probably will not, in fairness. Top comments on Ye's posts included "Kanye what the fuck are you talking about," "Ye go find god," "No need to put down a Black queen. Be a good person & have a good heart," and "This is so childish."
Former YEEZY GAP design director Mowalola texted Ye in response to his harassment and he subsequently uploaded screenshots of those texts to his page.
I also don't think u should insult [Karefa-Johnson]," said Mowalola. "U could actually hv [sic] real conversation about the tee."
Tremaine Emory was one of the first to break the silence; the Supreme creative director and Denim Tears founder was particularly incensed by Kanye's subsequent Instagram post.
Ye's offending caption said, in part, "BERNARD ARNAULT KILLED MY BEST FRIEND," insinuating that Arnault or at least LVMH is somehow responsible for Virgil Abloh's death. To Emory, this was too much.
"I gotta draw the line at you using Virgil's death in your 'ye' is the victim campaign in front your sycophant peanut algorithm gallery," Emory began.
"This time last year you said Virgil's designs are a disgrace to the black community in front of all your employees at YEEZY... You knew Virgil had terminal cancer and you rode on him in group chats, at YEEZY, interviews... YOU ARE SO BROKEN. KEEP VIRGIL NAME OUT YOUR MOUTH... KEEP [Karefa-Johnson] NAME OUT YOUR MOUTH."
The comment section of Emory's post was flooded with support from Ben Baller, Samuel Ross, Palace Skateboards, and Julia Fox, who dated Ye earlier this year.
Meanwhile, on Ye's page, Gigi Hadid and Khloe Kardashian let the DONDA founder know how they really felt.
In response, Kanye posted a response that said, in part, "IN WAR THEY WILL SEND YOUR OWN PEOPLE AT YOU. LETS [sic] REMEMBER SUPREME IS OWNED BY LVMH," as if new nemesis Bernard Arnault had personally sicked Tremaine Emory on Ye.
However, Ye is incorrect from the get-go: Supreme is wholly owned by VF Corp, not LVMH.
It gets weirder. After Kanye claimed to have amicably met with Karefa-Johnson in-person late on October 4, Vogue published a statement calling Ye's social media outburst "unacceptable."
Who knows what the pair talked about and what actually went on but the publication's sentiment seems to indicate that it's not just water under the bridge, despite Ye's claim that "Gab is my sister."
Unlike Ye's previous harassment of Pete Davidson and adidas General Manager Daniel Cherry III, his twin outbursts at both Karefa-Johnson and Abloh have proven too much to bear.
Deriding a regular person over their own thoughts? Stirring conspiracy theories about a former friend? Lashing out at Emory and anyone who "Liked" Emory's Instagram post?
Later, after inexplicably claiming that Rocky had an affair with AMBUSH co-founder Yoon and continuing to rant against Emory, Hadid, and all the rest, Kanye sat down with new friend and far-right windbag Tucker Carlson for a truly deranged interview.
Yoon, in turn, turned Kanye's bizarre relationship with Christianity against him.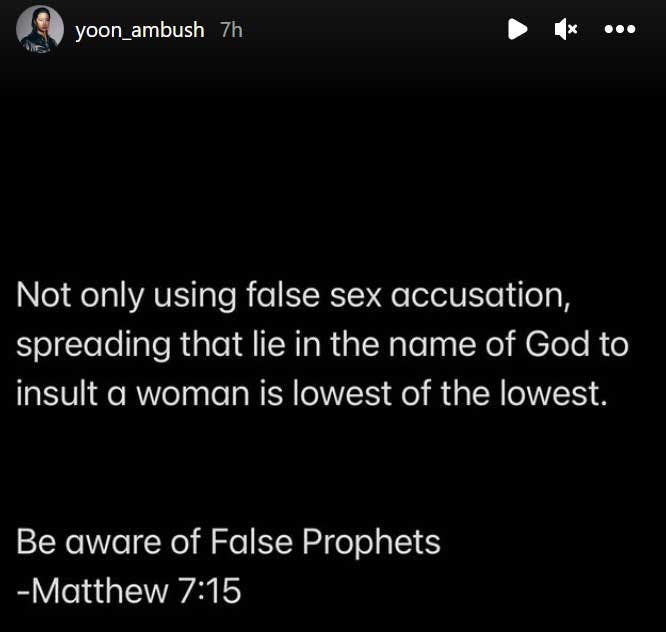 Point is, the White Lives Matter T-shirt was dumb enough but Ye could've left it there and it'd be another footnote in his checkered history.
Instead, he took things too far, far enough that Instagram really should step in once again and take his account down.
There is no grey area here: Ye's harassment of Karefa-Johnson is wrong. His Instagram rants are unintelligible. His mental health seems questionable at best.
From an outsider's perspective, it sounds like he needs help. Let's hope he finds it soon.