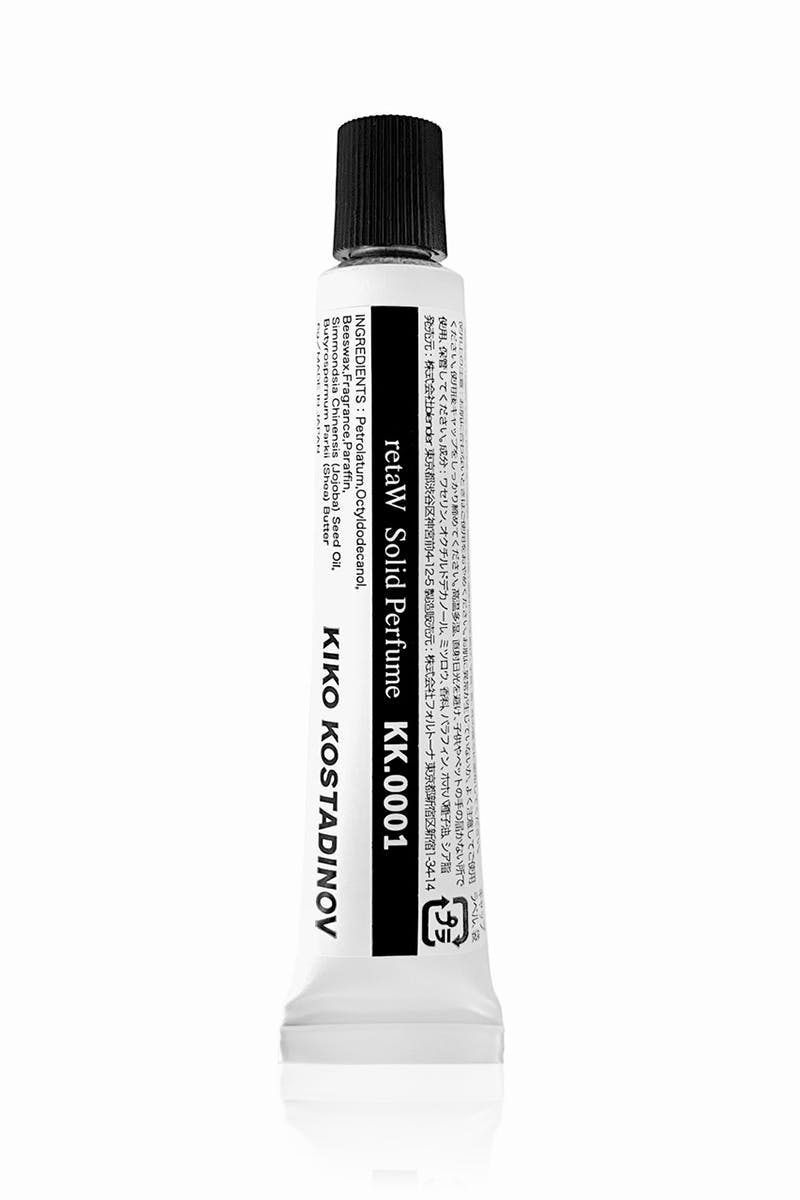 Young British designer Kiko Kostadinov has gone where few of his peers dare venture. It normally takes several years for emerging designers to gain the clout necessary to partner with a major sportswear brand for a single pair of collaborative kicks, for instance. Within four years, Kostadinov has moved on from merely partnering with ASICS to joining its team and personally overseeing the next generation of techy runners. And that doesn't even touch on his fully-fleshed out womenswear line, overseen by Laura and Deanna Fanning. Now, Kostadinov is furthering his label's already expansive worldview with a suitably industrial fragrance collection.
Produced by retaW, the Aoyama-based scent brand co-founded in 2009 by Hiroshi Fujiwara and Blender, Inc., Kostadinov's first fragrance is a solid perfume, meaning that instead of applying by spray or spritz, it's rubbed directly onto the skin. This yields a longer-lasting presence and also allows for more minute packaging since the fragrance isn't a liquid.
Kostadinov makes full use of that utility here, tucking the substance inside a plain-printed tube that more resembles paint or ointment than a luxury scent. Don't let its appearance fool you, though, as retaW only uses sophisticated, all-natural ingredients. Here, it infused cedarwood, sandalwood, and leather with notes of vetiver and musk for what Kostadinov's company describes as "bright and clear," a pleasant juxtaposition to the opaque grey pouch that it comes packaged in. That industrial-influenced pouch has a purpose, though: its size and the two holes punched through its top are intended to encourage on-the-go use.
The Japanese-made solid perfume retails for £70 (about $100) for a two-pack on Kiko Kostadinov's website, and if you buy it now, it should arrive before May 30, the final day of National Fragrance Week.