While it still feels unreal that Kobe Bryant is no longer with us, the last few weeks have given the world time to reflect on the incredible life and career of the Lakers legend. Without hyperbole, it's safe to say the 20-year league veteran's stat line was incredible: 33,643 points (4th all-time), 12 all-defensive teams, 11 All-NBA first team selections, and five championship rings. Perhaps most impressively, Bryant was selected for the All-Star Team 18 times out of the 20 seasons he played. He made the team in 16 straight seasons from 2000 to 2016 (an NBA feat tied only with LeBron James). Now that's a record. 
Sure, the NBA All-Star Game is more entertainment than actual competition, with ridiculously high scores, minimal defense, and an overall non-contentious vibe that was at odds with everything Bryant stood for. Kobe was Kobe, however, and he always seemed to take the All-Star game a little more seriously than his fellow players. Throughout his 18 selections, he racked up a slew of memorable moments that proved he wasn't "just" an All-Star, but an icon of the game. Here, we've listed off a few of our favorites. 
1997 - Bryant Wins the Dunk Contest As a Rookie 
Once upon a time, the NBA Dunk Contest featured the best players in the league like Dominique Wilkins, Michael Jordan, Vince Carter, and, yes, Kobe Bryant, who not only entered the contest as a rookie but won it with a between-the-legs dunk at age 18. Watching Bryant's reaction to his slam in 2020, it's clear the Mamba mentality was already on full display. He dunks the ball, knowing full well he had done something awesome — by today's standards, to be fair, the dunk was just so-so — and strutted down the court to victory. As the live commentators noted, Bryant had been getting oohs and aahs for similar dunks a year earlier, but on a high school court outside of Philadelphia. 
1998 - Bryant vs. Jordan Part I 
When Bryant made his All-Star team debut in 1998 at Madison Square Garden, he was a rising talent in the league. But still, a Bulls-era Jordan was the reigning king of the NBA, a veritable god among men. At just 19 years old, Bryant made the highlight reel against Jordan, who was battling an illness en route to 23 points and the game's MVP award. (In this case, it seems like Jordan actually had a "flu game," unlike in the 1997 finals known as the "Flu Game," which reportedly was actually food poisoning.) Bryant's biggest moment of the game came when he landed a 360-degree dunk on a breakaway off a pass from teammate Shaquille O'Neal, a move that some might say was even better than the one that earned him a Dunk Contest win the year earlier. 
2002 - Bryant's First NBA All-Star MVP Award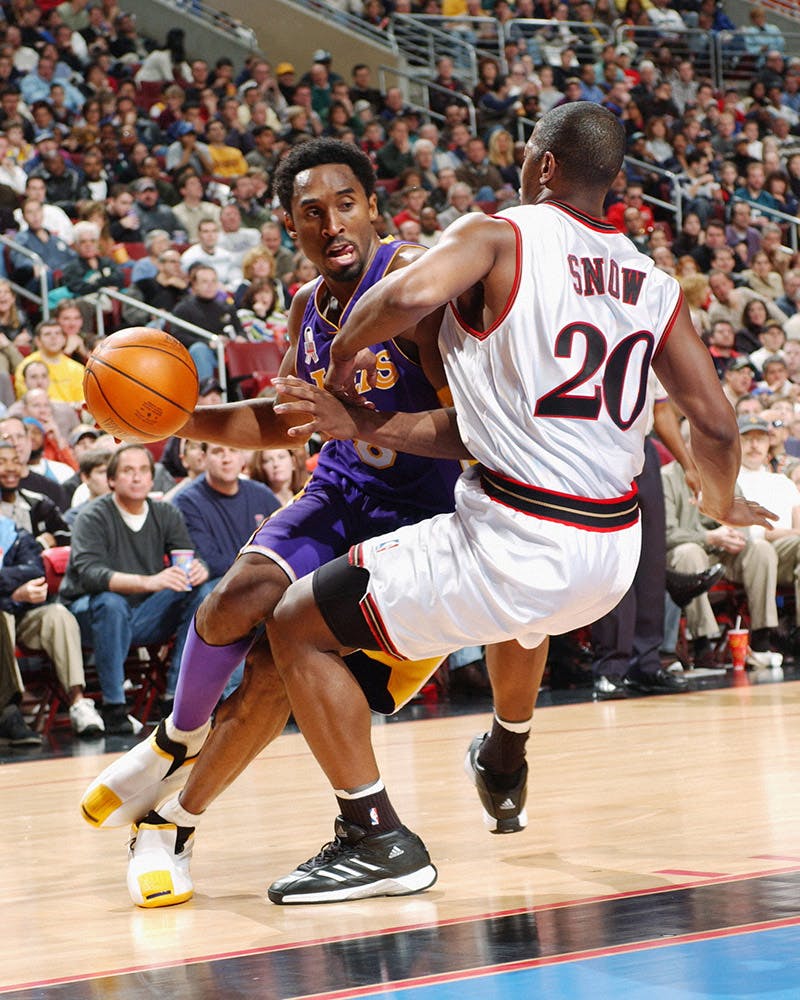 The 2002 NBA All-Star Game was hosted in Philadelphia, Pennsylvania, Byrant's hometown, and he did not disappoint the local crowd. Although Allen Iverson was the Philly hero at the time — coming off a season in which he'd lead the Sixers to the NBA Finals — Bryant reminded the crowd who the hometown kid was, racking up 31 points en route to a Western Conference victory and his first of four All-Star Game MVP Awards. It's also worth noting that this was the last All-Star Game Kobe played in while still sponsored by Adidas. He wore the infamous Kobe 2 Adidas sneakers, which were inspired by the Audi TT, yet resembled a desktop computer. 
2003 - Kobe vs. Jordan Pt. II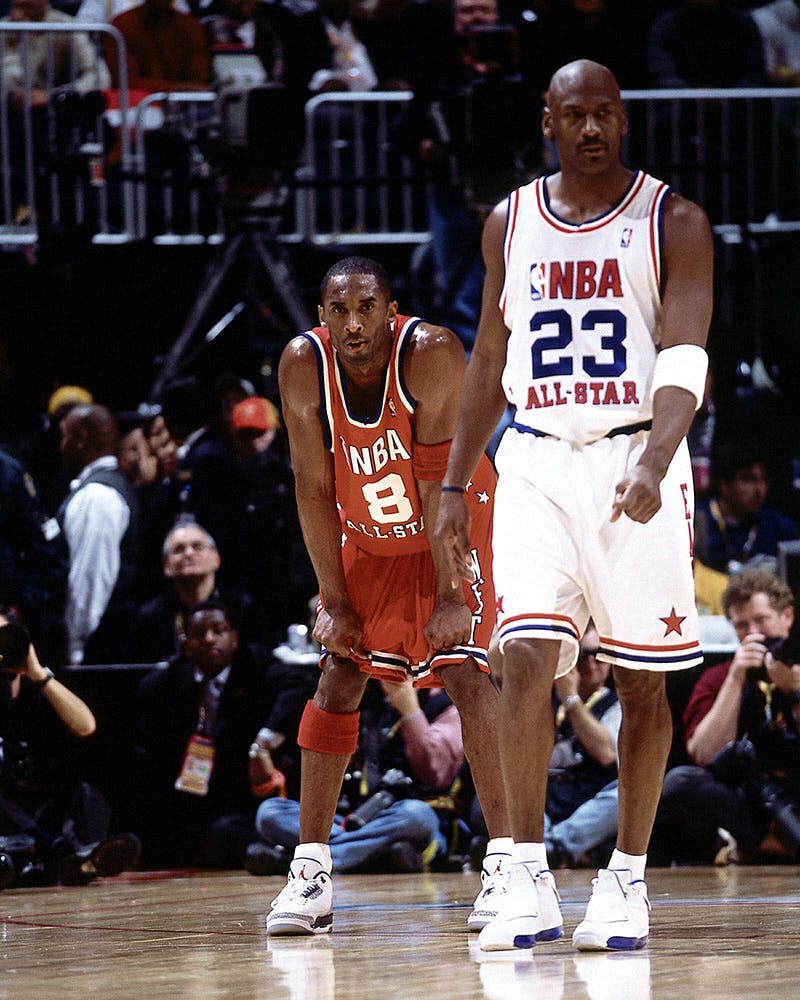 This was actually one of the most competitive All-Star Games, ever; fittingly so, as it was Michael Jordan's last. It is the only All-Star Game ever to go to double overtime, with the West prevailing 155 to 145. Throughout the game, Bryant and Jordan exchanged some friendly trash talk. The game signaled the final changing of the guard, from M.J.'s NBA to Kobe's, as Bryant was then the reigning three-time NBA Champion and Jordan was suiting up for the Wizards. That in mind, this also happened to be Bryant's sneaker-free agency period, which meant he had his pick of the litter in terms of kicks. And yet, Bryant wore a pair of Air Jordan IIIs during the game, likely out of respect for His Airness. 
2007 - All-Star MVP in a Vegas Blowout
With 7:04 left in the game and the West team up by 26 points in a lackluster, Vegas-based All-Star Game (we can only imagine the partying that happened that weekend in Sin City), Bryant didn't slow down. He hit a monstrous reverse dunk after driving in the lane to put the West up by 28. If dunking on your all-but-finished opponent when you're already up big in a meaningless game doesn't scream "Kobe Bryant," then nothing else does. And then he did it again, sealing the game thanks to an even bigger reverse slam with just 36 seconds left and the West up by 21. He finished the game with 31 points and another finals MVP for the collection. 
2009 - Kobe and Shaq Squash the Beef
When O'Neal left the Lakers in 2004 for the Miami Heat, it was the end of an era in Los Angeles, and one of the all-time "What If?" moments in NBA history. What if Shaq had never left, allowing Bryant to settle their differences, and they went on to win more titles? Though we'll never know the answer, we did get some sense of closure in 2009 (despite the fact that the two would continue to take jabs at one another in a somewhat playful manner for years after). The two were named co-All-Star MVPs, but it was O'Neal who went home with the trophy. In 2018, O'Neal sat down with Bryant for an enlightening one-on-one interview. During the course of their conversation, it came to light that Bryant's gracious act of letting O'Neal take the trophy home to his son was the moment he realized Bryant "wasn't an asshole." In the wake of Bryant's death, O'Neal's son revealed that he still has the trophy in his possession. 
2011 - Bryant's 4th MVP 
This was when Kobe was peak Kobe, dropping 37 points in a decisive Western conference victory. The top highlight came when he dunked over LeBron on a fast break, then immediately hit a three off a steal seconds later. We didn't know it at the time, but this was one of the last years we'd see Bryant playing at 100 percent, with his achilles injury in 2013 sadly reducing his powers in the last phase of his career. For what it's worth, he also wore the Kobe 6 sneaker — arguably the best Nike Kobe sneaker — which is responsible for continuing the mass adoption of the low-top basketball sneaker trend that started with the Kobe 4. 
2016 - Bryant's Last All-Star Game 
Bryant's final NBA All-Star Game, which was set in Toronto, saw him get the most votes of any player: over 1.8 million. At the same time, this game served as the swan song of the All-Star Game as we knew it, with today's version not being split by captain's picks over conference and the stakes being raised by requiring the players to compete for charity money. The reason for the change? Well, 2016's game was more or less a joke. The final score was — wait for it — 196 to 173 in favor of the Western Conference, with the West scoring 104 points in the second half of a game that was truly absent of anything resembling defense. Though Mamba didn't go home with the MVP (he only scored 10 points), his team got the W — and we know that's what mattered most to Bryant.