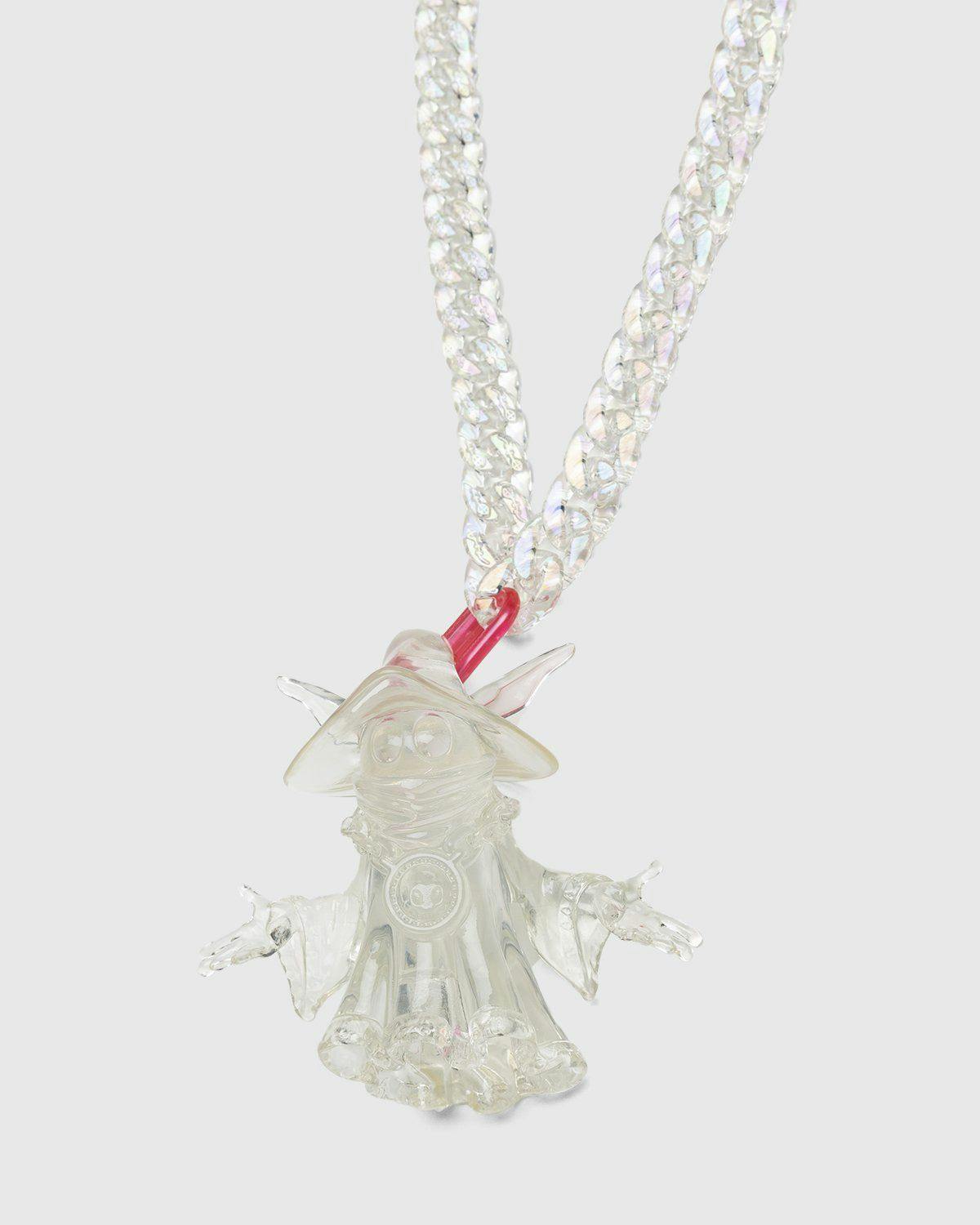 HIGHArt is Highsnobiety's ode to all things artistic. From our "museum store" pop up in Miami, a print magazine, and exclusive content and product with collaborators like Chito, Honey Dijon, Parra, Matt McCormick and more, we're going deep on the art world. Explore HIGHArt here.
As with much of Kristopher Kites' jewelry, his necklace in collaboration with Mattel Creations is a statement piece. The large, 4-inch long pendant swings from an iridescent and translucent resin chain that is equally chunky.
Fortunately, for those who would find this chain too garish for everyday wear, it doubles up as a playful display piece with a custom stand.
The designer's signature style is grounded in his love for art and cartoon figurines, which he recontextualizes into pieces of plastic jewelry that draw inspiration from the hip-hop scene and the outlandish and sometimes over-the-top chains many of its protagonists wear. This has led to his work being worn by everyone from LeBron James to J Balvin and Post Malone.
For someone who finds much of his inspiration from the wonders of childhood, working together with toy manufacturer and entertainment company Mattel Creations allowed Kites free license to roam.
As part of this collaboration, the designer paid homage to Orko, the zany but loyal wizard from Mattel's sorcery-themed franchise Masters of the Universe. A 3D version of the character acts as a see-through pendant. With a distinctive look compromising a large hat, long gown, and pointy ears, the wizard rocks his own large chain for the piece.
More than just a wearable piece of art, the pendant comes with a designated stand that allows you to display the collector's item in your home as well as around your chest. The custom stand lights up when Orko is placed on it, which illuminates his body with a purple hue.
Speaking about the collaboration on Twitter, Kites said he was "really on the Southside in the hood watching Masters of the Universe frrrr and now I gotta collab with Mattel." A full-circle moment for the artist and designer, his own interpretation of one of the show's characters is now available at Highsnobiety Shop.
Shop More HIGHArt Below.