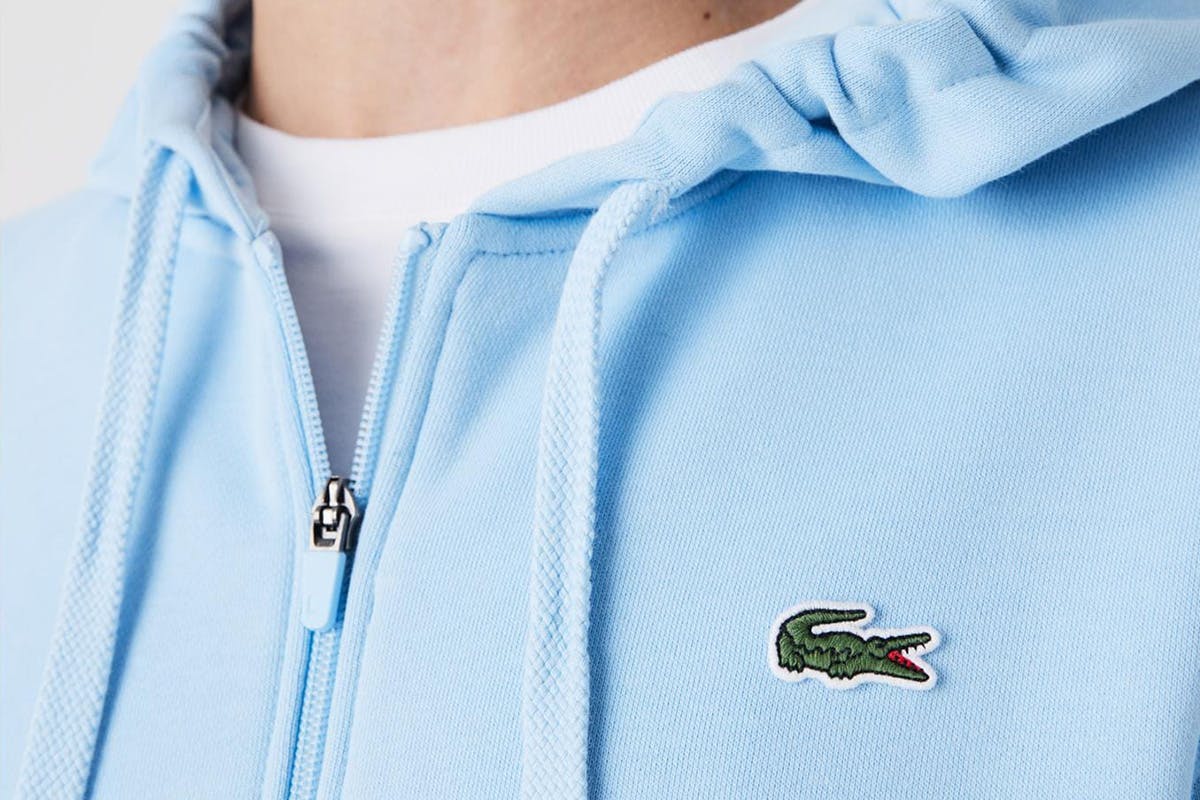 We don't know how many times you need to hear this before you start to pay attention, but a PSA for all those who need to hear this: prep is back. Well, prep never really left, but with the rise of names like Aimé Leon Dore and NOAH, the style has been given a new lease of life. Alongside the new arrivals, though, there's a wealth of classic prep labels like Lacoste which are worth exploring, too.
Founded in 1933 by René Lacoste — nicknamed The Crocodile after wagering a crocodile-skin suitcase on a tennis match — Lacoste has outgrown its famous founder by a long way. Known and loved originally for its piqué cotton polo shirts, the brand's prep roots are so embedded in the culture that, at this point, they're inextricable.
But coming up on a century after its birth, Lacoste continues to provide preppy goods for a contemporary market with a renewed focus on bold graphics and punchy detailing. To celebrate an OG, we rounded up 10 of our winter Lacoste essentials with the help of USC.
Shop 10 of our favorite Lacoste pieces below.
Quarter-Zip Fleece
Classic Lacoste pieces like this half-zip sweater rely on the unmissable Crocodile logo to demarcate them and it works.
Multicolor Crewneck
To stay relevant, a label has to move with the times. Although this crewneck sweatshirt is a far cry from the tennis pieces that defined the brand, it's a conscious move to a more eye-catching future.
Piqué Crew Sweater
Cut from signature piqué cotton for breathability, this piece carries the hallmarks of a label that was born in sport but grew to become a style icon.
Word Crew Sweater
Simple yet extremely confident, the repeat logo branding on this piece mirrors the label's penchant for restraint.
Logo Zip Hoodie
One of Lacoste's best-known characteristics has always been the beautiful pastel hues that make up its collections. This baby blue number, for example.
Funnel Sweatshirt
Tracksuit tops are a big subject in luxury right now, with every house trying its hand at a high-end iteration. You can't go wrong with the classics, though.
Taff Trousers
There's something that will always be endearing about completely unpretentious sportswear. This pair of elasticated sweatpants embodies that no-nonsense mindset.
Gloves
You can't do winter without a pair of trusty gloves and you need a pair that'll work with everything. These classic black gloves features the Crocodile logo prominently, but aside from that, they're completely dialed down.
Beanie
Go on, double up.
Polo Shirt
Oh, you thought you'd got all the way through a Lacoste roundup without seeing a polo shirt? Think again. This clean white version is fit for a full best-of-five at Wimbledon.
Want to keep browsing? Head to the Highsnobiety Shop for more products that we love. Highsnobiety has affiliate marketing partnerships, which means we may receive a commission from your purchase.