If you've ever read an interview with Lakeith Stanfield, the actor that has come up in the industry over the last few years thanks to roles in Atlanta, Get Out, and Sorry to Bother You, you'll be well aware that he is not your straight-forward subject. He plays with interviewers, plays with his words, and often leaves you wondering what the conversation was about in the first place.
My conversation with Stanfield was similar. While most of it rotated around his role in A24's new Safdie brothers-directed film Uncut Gems, the rest of our chat was a game of cat-and-mouse, with me as the corporate feline trying to work out what was going on while he ran circles around me and giggled at the other end of a fuzzy line. What was it like working with Kevin Garnett? … Who? … Um, Kevin Garnett…the NBA legend you starred alongside? [silence] …. [laughs] … I'm fucking with you. And so forth.
Of course, it could have been that he was mirroring the movie's mind-melting nature. Not in terms of stress levels — the movie is so intense I basically held my breath for its entire two-hour run — but in terms of the speed in which one motion dictated the next during our brief chat. It wouldn't be the first time the 27-year-old actor has embodied a complementary persona for press junkets. He's adopted British accents, donned a grill that made him talk with a lisp, and according to The New York Times, once sat on the Emmys red carpet and just glowered.
In Uncut Gems, Stanfield has his piercing glower nailed. He stars as Demany, an assistant of sorts to Adam Sandler's character, Howard, a gambling-addicted jewelry store owner who makes one disastrous decision after another, plummeting further and further down a debt-riddled rabbit hole. Demany's primary gig is to bring wealthy clients to Howard's KMH jewelry showroom, helping them depart with hundreds of thousands of dollars in exchange for wild diamond-encrusted Furby pendants, Michael Jackson crucifixes, and the like.
In this case, Demany's client is Garnett and it's the titular uncut gem — specifically, a black opal lodged in a rock Howard sourced from Ethiopian Jewish miners — that's the focus of the exchange. Without drowning you in spoilers, nothing goes to plan and before long, Demany finds himself in the middle of a hectic and convoluted communication clusterfuck that he refuses to get swept up in.
It's that self-preservation that makes Stanfield's character one of the film's few respites. Surrounded by high-profile clients, money, and increasingly erratic behavior, he stands solid, eye-rolling, and calm. The wealth circulating around him can be felt in one major way: through his clothes. Kicking off the film in a green padded bomber and all-red sweats and progressing to a painted (vintage Versace-look) black and gold denim jacket. His flex evolves, Stanfield states, because he had more money. He adds, "You have more money, it can make a man happier."
"Happier" is an interesting way to look at this sartorial level-up. The cash that circulates a life set in and around Manhattan's Diamond District certainly doesn't seem to make Howard any happier.
Sandler's character came into money circa 2002, a decade before Uncut Gems takes place. Evidence of how he flaunts his "happiness" is everywhere. It's in the rimless Cartier glasses; the high-tech gadgets he scatters around his office. It's the elite furniture he fills his Upper East Side apartment with; in the Be@rbricks and race car beds that engulf his sons' bedrooms. Yet Uncut Gems finds Howards beaten up, cheated on, left naked in the trunk of his own car, and that's not the worst of it. This wealth, actually, seems to make him completely, utterly, miserable.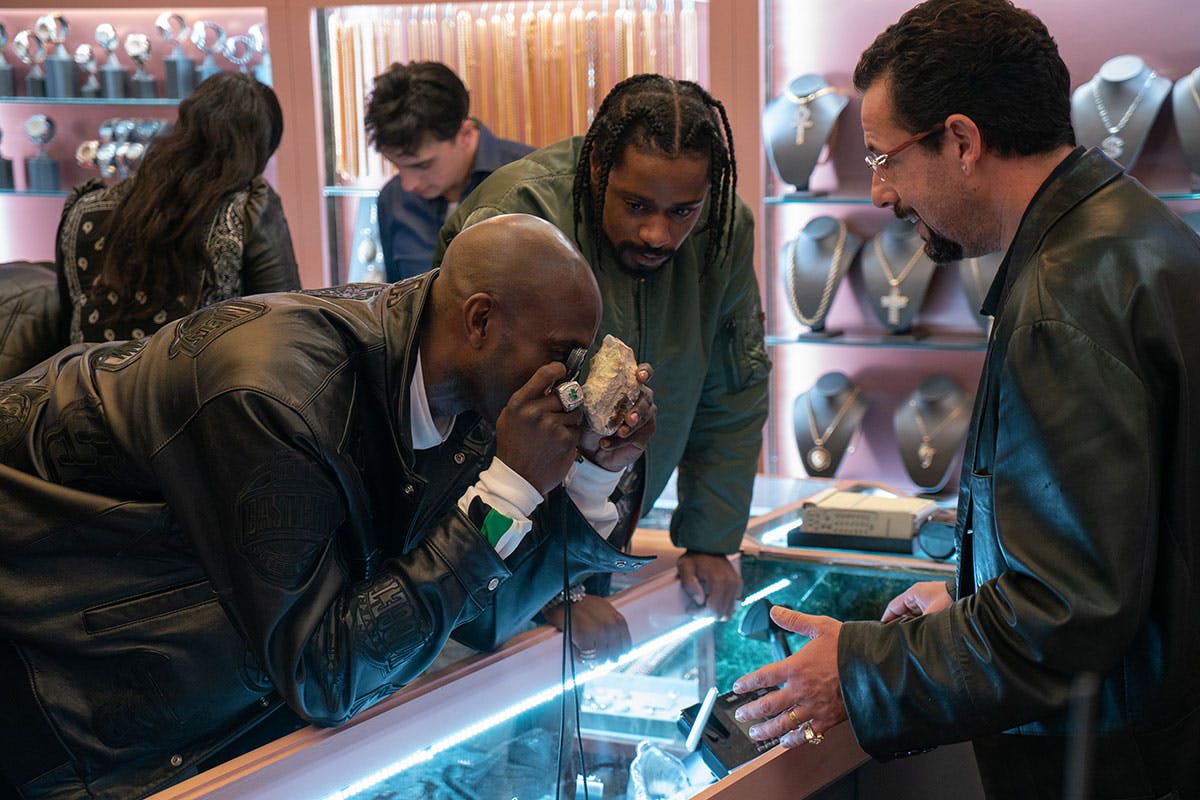 By comparison, Demany's clout was much more low key. He was decked out in gems, though. "It was all real diamonds, all real stuff," Stanfield explained, adding that his own style is still in "Demany mode." While he doesn't elaborate on what that actually means to him, a quick scroll through his Instagram account paints a clearer picture. For a man who's personal style is always evolving, at the moment he seems to be all about plush velvet suits and stacked gold chains. "I like gold, like bracelets and cool little rings," he says when I ask what he would have bought from Howard's jewelry showroom given the chance. "I don't really like silver. It reminds me of vampires."
Pinky rings seem to be a key part of the "Demany Mode" wave Stanfield is riding, as the one he wore in Uncut Gems is the one piece he says he would keep if he could. "I had this little snake ring with diamonds on it. It was all silver and silver beads and I think a hundred diamonds or something crazy."
Stanfield doesn't seem like the kind of guy who would wear anything he wasn't feeling, though. Our previous interview with Uncut Gems' costume designer Miyako Bellizzi illustrates that the process of working with the Safdie brothers is a collaborative one. When I ask Stanfield if that was the case for him, he agrees. Kind of. "The costume department brought me a bunch of new ideas and [were] like which ones to choose, and I was like, boom, boom, boom, and then the directors will see and boom, boom, boom, and then boom, boom, boom."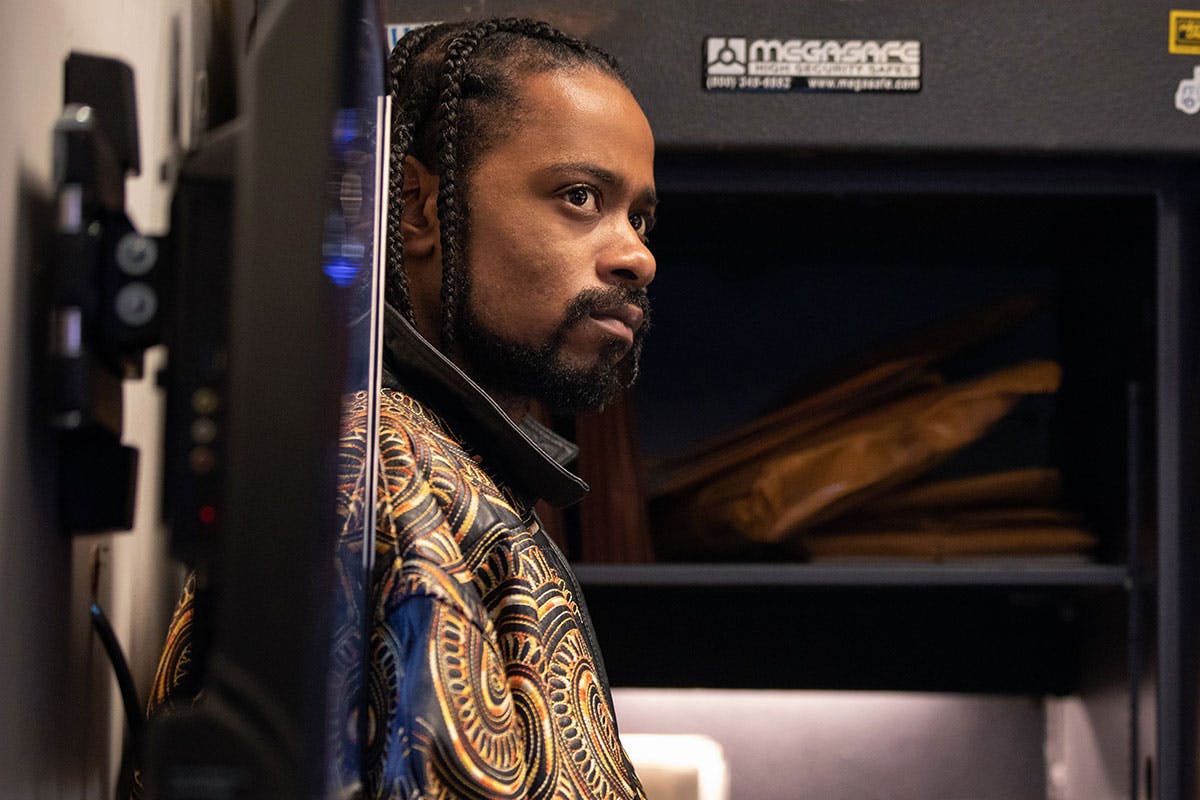 Of course, where Stanfield had the most opportunity for injecting his own style was into the character himself. That, he explains, was "a little bit back and forth. When [the Safdie brothers] first told me about Demany I didn't like the way he talked, I didn't like the way he spoke. I don't really like the black characters, how they talk in a lot of these stories, because they're not written by black people sometimes. So they allowed me to go in there and communicate with them and give them my ideas about things, and we did it from there. I took what they had and just did it my way."
On a deeper reflection, doing things his way is probably what Stanfield meant by the growth of Demany's wallet and his corresponding happiness, an angle that becomes more apparent when I ask him whether he thinks the film's wardrobe reflects New York street style in 2012. "I don't know what the street style was," he says. "At that time, I wasn't tripping on that fashion. I didn't have no clothes. And I damn sure wasn't picking up nothing in New York, because I had never been there."
Back then, the career Stanfield boasts now was quite far from his reality. He'd worked on Destin Daniel Cretton's short film, Short Term 12, which made waves at Sundance in 2009 but left Stanfield unable to land another part. In the years in-between that small success and Short Term 12 being made into a feature-length movie in 2012, he found himself working a number of different gigs, such as roofing, gardening, selling AT&T contracts door-to-door, and working at a legal marijuana dispensary.
Before long, however, his luck began to change. In 2014 he bagged roles in Selma and The Purge: Anarchy, later starring as Snoop Dogg in 2015's Straight Outta Compton. Little did he know then that in five years time, he'd be fronting a major Hollywood production opposite Sandler, who's films Stanfield says he enjoyed as a kid.
"I watched him in the movies. I've seen his popular stuff when I was young. I wasn't watching his standup or seeking the man out, but I became a big fan of his after Waterboy. When that came out, I was kind of young and I liked his acting because he [was] always making these weird choices; he'll speak real funny and it's cool."
It wasn't only working with Sandler that made Uncut Gems fun behind-the-scenes, either. After we cleared up the whole Kevin Garnett thing I mentioned earlier, he said, "Yeah, Kevin was cool, man. He's a cool guy. He's really sweet and very hard working, talented." It sounds like they had a mentoring relationship with one another, too. "He wanted to learn. And he was learning from me, and I was learning from him. Especially when we got on that basketball court, we were showing out. I just dibbled with him, though. I wasn't really playing," he jokes. "Because if I was playing I would've beat him. I just let him do his thing, let him feel good."
So, what's next for Stanfield? Other than the myriad of movies in the works — alongside Knives Out, of course, which is also currently making box office waves — perhaps we could see a movie score from him in the future. He does, after all, enjoy crafting beats in his spare time. When I ask if that's something he'd like to do, he replied, "Hell yeah, that'd be tight. Score a whole movie?" It'd have to be one like Uncut Gems though, "with the twists and turns. Action packed. I wouldn't want to do a romance that's boring. It's got to be some hood shit. I want to do a hood movie. I want to score one of those. That'd be tight."
Uncut Gems is in theaters now and will land on Netflix January 31, 2020.