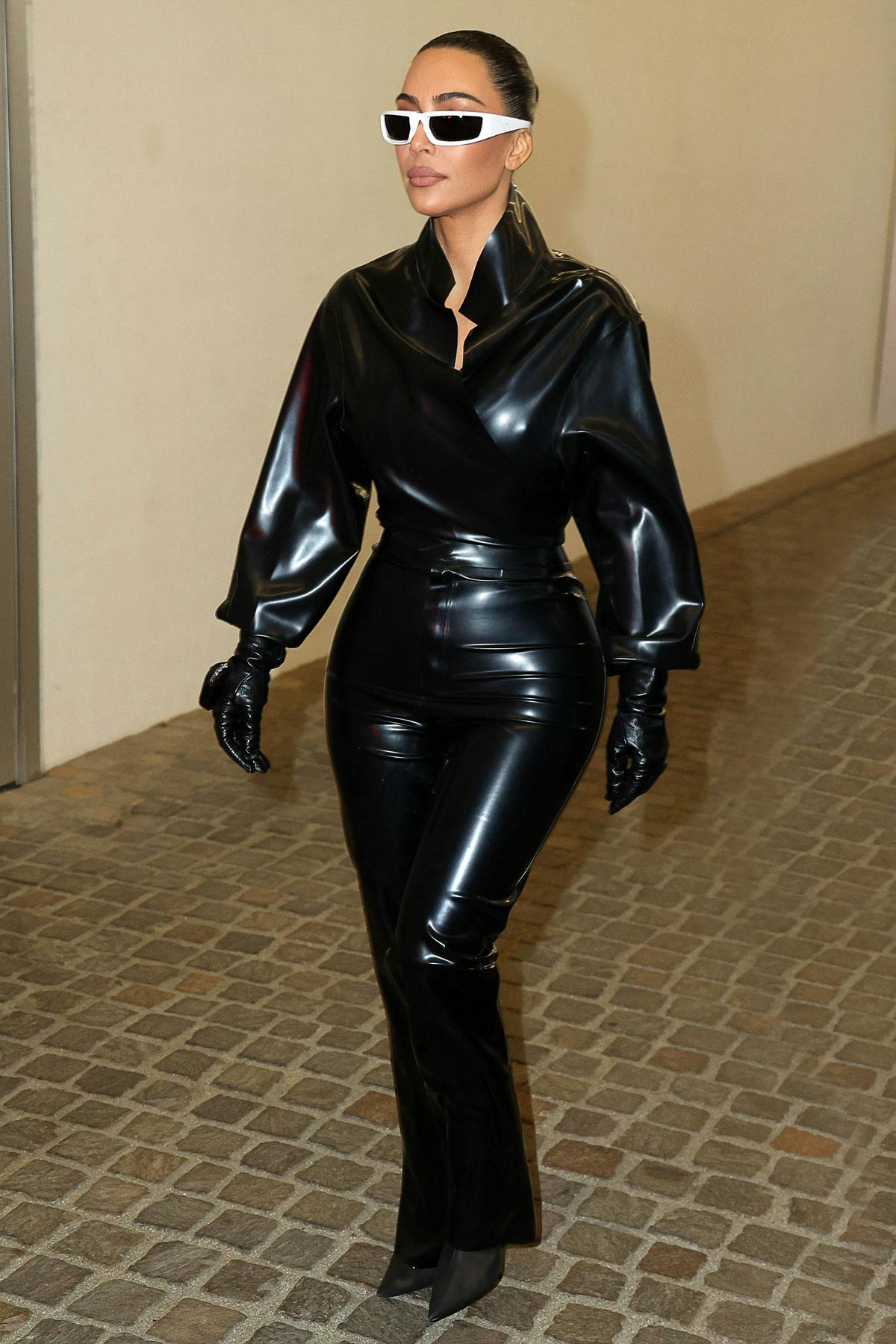 At Fashion Month, designers are taking the concept of post-pandemic dressing to uncomfortable new highs.
Long gone are the days of luxury loungewear and chic slippers. Apparently, we've moved onto pubis bone-baring waistbands, ultra-mini mini-skirts, and now, the final frontier of movement-restricting, Y2K-tinged fashion trends: latex.
At Versace, models squeaked down the runway in latex tights and matching patent leather heels. Rubbery, angular coats and high-shine puffers appeared slightly more comfortable (albeit sweaty).
Richard Quinn also experimented with latex, using the plasticky material for gigantic hats, fetish-y gloves, and body-hugging turtlenecks. Donning a latex bodysuit, drag queen Violet Chachki even made a runway cameo, accompanied by a similarly shiny submissive (on a leash, of course).
Other latex moments: Christopher Kane's cut-out dresses, Raf Simons's rubbery one-pieces, Dion Lee's BDSM-adjacent tees.
On the celebrity front, Kim Kardashian has been making latex happen for years. Remember her extremely uncomfy-looking Balmain 'fit, which sparked comparisons to the least fortunate emoji?
More recently, the influencer burned rubber in Milan, stepping out in a latex maxi-dress and latex pants by Avellano, which also dressed Julia Fox on her Kanye West relationship tour. Speaking of Fox — the "number one hustler" has also been pushing the latex agenda, wearing the material basically everywhere.
Even Rihanna is getting in on the trend. The Queen of Everything sat front row at Gucci wearing a latex and lace crop-top — you could say she put the "ate" in latex (sorry).
As fashion's Y2K craze shows no signs of waning, it only makes sense that the industry has embraced the rubbery medium, a touchpoint of early aughts futurism and club-wear. Sexy and daring with a dash of camp, latex is the moment — just don't expect me to wear it.