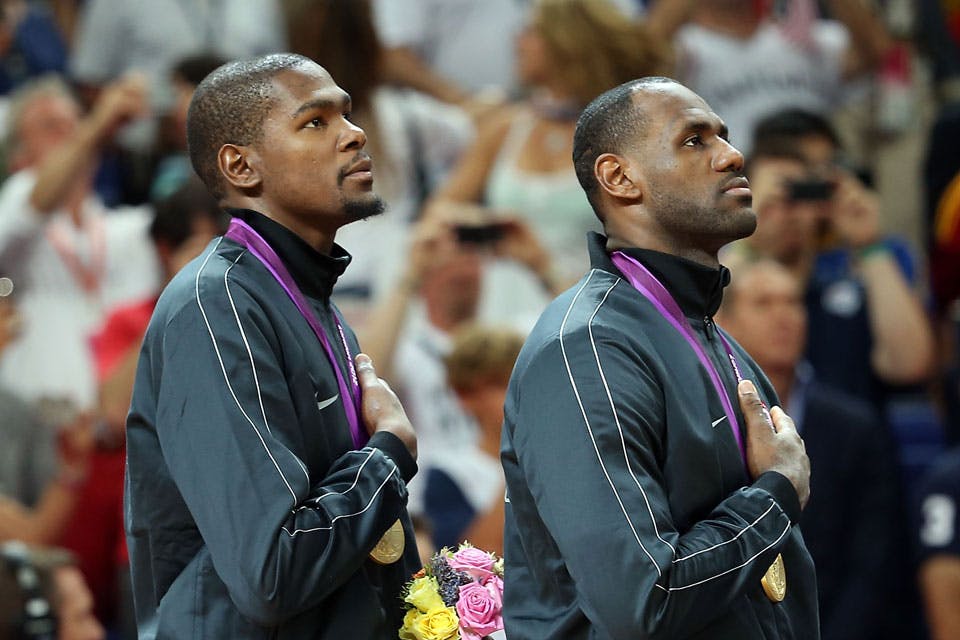 LeBron James and Kevin Durant are arguably the best basketball players in the planet, and in 2011, the two superstars secretly joined forces on a hip-hop track that was kept private until now.
Ohio-based producer Franky Wahoo recently dropped the song, titled "It Ain't Easy," which was recorded during the 2011 NBA lockout. In an interview with Noisey, Wahoo spoke about the track's origins and the reason why he waited until now to release it. The producer says that James' agent, Rich Paul, even considered using the song in a commercial for NBA 2K19.
In the interview, Wahoo said, "There was nothing I could do, a lot of celebrities retweeted it, comedians retweeted it, Ellen retweeted it. So I was like, I can't feel bad now. It kept going viral and Paul finally called back saying, 'Yeah, don't leak it — we kinda wanna do something with it because there's a 2K game coming out [with LeBron on it] and there are different things we could implement this in without actually putting the track out.'
"So they may have put it in a 2K commercial as background music but they didn't want the song to be downloadable or streamable."
"So for two years, they went back and forth with me. They'd come up with an angle like, 'Oh, we're gonna try to do it on this blase skit,' and weeks of email with them, and I'm like, 'What the hell, man?' Then I'd see Cleveland DJs playing it at clubs.
"So I talk with my manager and he's like, 'There's no paperwork on this that they bought this off you or anything.' The big thing was, like, one of the friends [of LeBron] that's a DJ here. We were scared that they were gonna publish [the remake] without crediting me, which could easily happen."
For the full interview, head over to Noisey.
Listen to "It Ain't Easy" below and let us know who was the better rapper in the comments.
In other music news, Mac Miller is dead at 26.