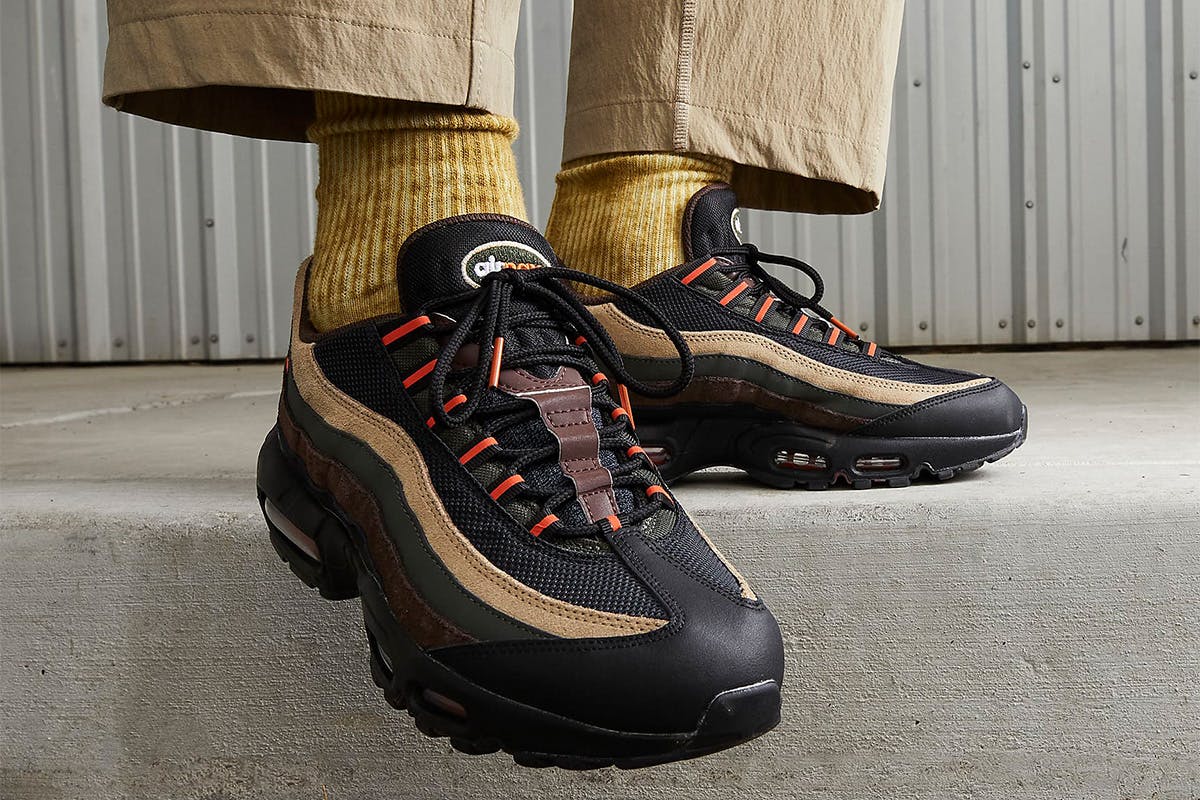 What gives a sneaker legendary status? Is it the people that wear it? Maybe it's the number of designs that it went on to influence? Or is legendary status simply earned over time? Actually, we think it's something less tangible.
Of course, it's a mixture of all the above, but certain designs are just born with the potential of becoming legends and, as harsh as it sounds, others aren't. If any brand knows something about the intangible quality of a kick with legendary status, it's Nike.
The Swoosh has basically been a factory for legendary designs since 1964 and really there are too many to name. So, keeping things strictly Air Max — a family composed of straight legends — we've linked up with Nike to round up some of our top-ranking Air Max icons.
From the streamlined 97 to chunky 95s and retro-special 96s, Nike Air Max is home to a string of timeless winners.
Keep reading to discover our top legendary Air Max sneakers.
Nike Air Max 97
The Air Max 97 was born in '97, a decade after Air Max was introduced to the world. It represents a period of real creative freedom for the Swoosh. Designer Christian Tresser took inspiration from Japan's high-speed bullet trains, translating the shinkansen's ultra-streamlined shape into footwear form.
Originally dropping in its iconic Silver Bullet colorway, the 97 has a relatively limited number of outfits but recent seasons have seen a sharp rise in popularity and therefore more colorways.
Nike Air Max 90
Arguably the leading member of the Air Max family, the Air Max 90 was the style that really set the standard for lifestyle sportswear. This does-everything style has been the subject of countless grailed collaborations and limited drops, but it also makes up the bedrock of so many rotations in its most simple forms.
Nike Air Max Plus
Originally hitting shelves in 1998, the Air Max Plus silhouette is defined by the waving lines that give structure to the upper. Another distinctive characteristic of the silhouette is its sole unit. While most of the Air max dynasty features a flat sole unit, Air Max Plus is built on a much more ergonomic form. It's what gives the design such an unmistakable silhouette.
Nike Air Max 95
Part of what makes the Air Max family such an icon is the cultural relevance of each of its components. Every silhouette is attached to memories and stories for its wearers. The Air Max 95 is unofficially known as the 110 in Britain, for example, thanks to its original retail price of £110. Going on to become a clear signifier and pillar of early '00s rave culture, the Air Max 95 has a wealth of stories to tell & that's what makes a true legend.
Nike Air Max 96
Undoubtedly the most retro-looking silhouette in this roundup despite its 1996 birthday, the Air Max 96 is a proud bastion of '90s sneaker culture. Unchanged since its arrival, it's a true time capsule in 2022, transporting us back to one of the most exciting times in footwear design.
Want to keep browsing? Head to the Highsnobiety Shop for more products that we love. Highsnobiety has affiliate marketing partnerships, which means we may receive a commission from your purchase.