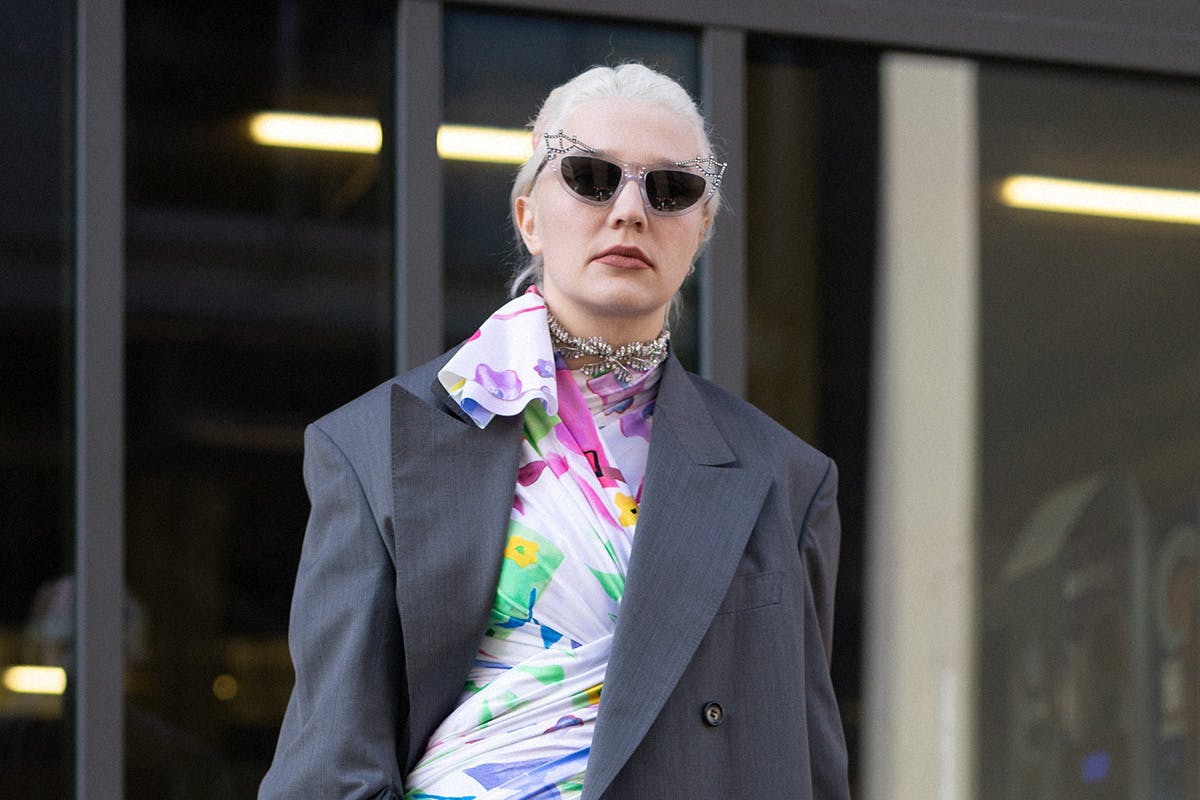 In February 2019, Kanye West was spotted strolling around Calabasas with stylist Lotta Volkova, who's now nearly as recognizable as West himself.
Volkova can perhaps go incognito in the celebrity enclaves of California, but her face is very familiar to the fashion crowds of Paris and London. In fact, she is among those responsible for shaping the contemporary idea of style, teaching us that it's not only about the way we dress, but the way we think: the dry irony of post-normcore, obscure subcultural references, and underdog coolness.
Stylists' individual impact is often hard to pin down. The work of the designer who makes the garment and the photographer who shoots the campaign is easy to understand and credit, but the work of the stylist who puts the looks together is something closer to alchemy. The idea of stylist as celebrity is relatively new, and often not only about someone's skills and personality, but the cultural shifts that person's work represents.
Karla Welch, for instance, is responsible for the evolution of celebrity style, including Justin Bieber's "scumbro" shift, while Ib Kamara is one of the most influential figures in contemporary black culture and style. Volkova's influence is connected to both the endless stream of references and sly winks in today's visual culture and the enduring value of authenticity.
Her rise is inextricably linked to the seismic effect of Demna Gvasalia's label Vetements after it emerged in 2014. It was immediately the hottest thing in fashion, an international gang of moody rejects who became the darlings of the new Parisian underground, with everyone wanting an invite to their party.
Volkova opened Vetements' Fall 2016 show wearing a short brown dress resembling a school uniform and carrying a bunch of yellow daffodils. The 52 looks seen in the show introduced a number of Gvasalia signatures that have since been completely assimilated into current fashion: dramatically oversized blazers, shirts, and trench coats; hoodies with heavy metal prints; long frilled floral dresses; fetish leathers; and thick thigh-high boots.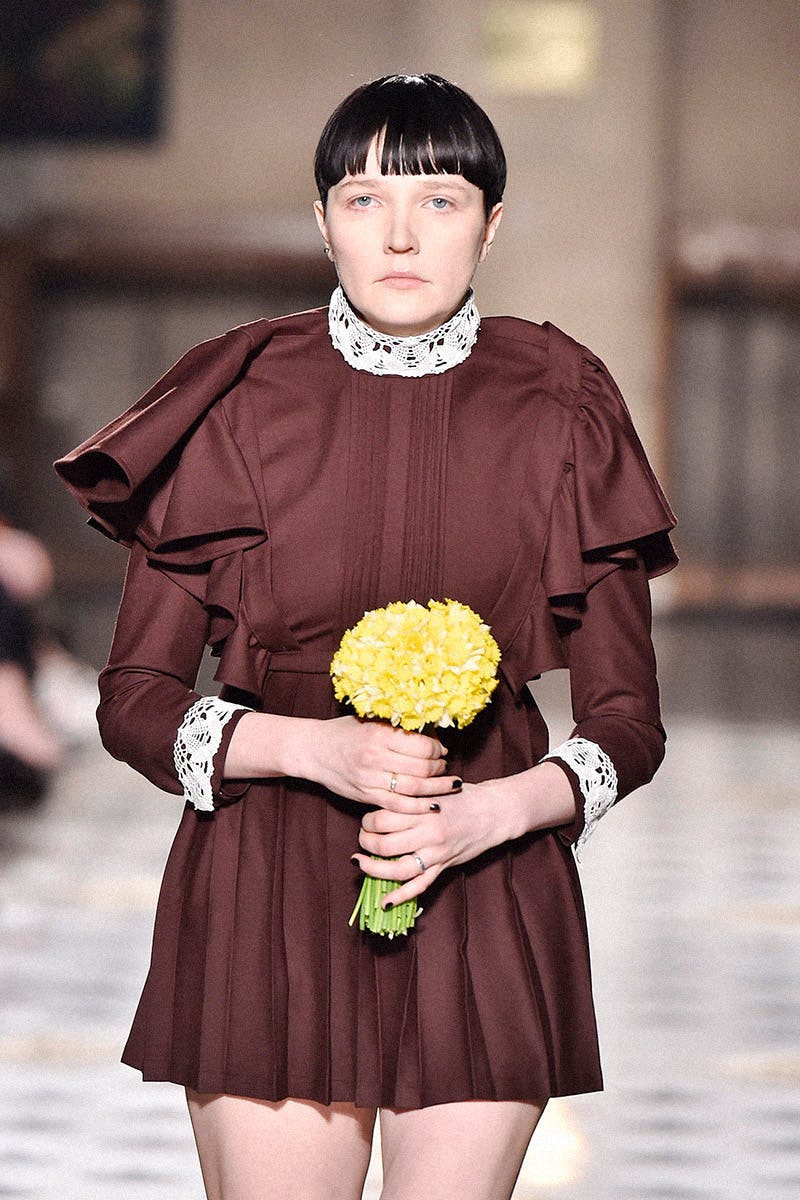 The brand set out to troll the establishment and disrupt the idea of luxury, all while channeling the angsty, ennui-laden spirit of youth. Today, hoodies with too-long sleeves and a "you can't sit with us" attitude no longer seem appropriate, but Vetements introduced a refreshingly democratizing idea that you don't need money or status to place yourself at the top table, all you need is attitude — and the attitude was largely Volkova's creation.
"At Vetements, I am involved in the casting, the styling, and I'm also consulting Demna with the collection," Volkova explained to 032c in 2016. "We have meetings about directions and shapes. Vetements is very much about attitude, therefore shapes are very important. We are trying to translate moods into shapes and silhouettes. I never thought about clothes in this way until I met Demna. He is really interested in making a jacket that represents an attitude. For example, a jacket that looks as if you just got off your motorcycle."
In the same interview, Volkova said she has always been more interested in clothes than fashion. And through Gvasalia's experimental, strange, slightly "off" garments, she has taken that interest in an almost anthropological direction. Balenciaga's viral campaigns are a good example: "family core" for Spring 2018, sleek corporate vibe for Fall 2017, the David Lynch-style red drapes and Spandex hose-boots of Spring 2017.
Volkova styled models as recognizable stereotypes (bouncer, punk, UN soldier, raver) for Vetements' Fall 2017 show, much in the spirit of Hans Eijkelboom's two-decade-long photo project that showed how we all dress the same in the era of globalization. Her styling reflects an era in which subcultures have been eroded and everything has been seen already, somehow pulling something sharp and authentic from homogeneity and mundanity.
"Lotta has this unique aesthetic, combining the different cultures she has lived in with something modern. It's nostalgic yet current," says Stavros Karelis, founder and buying director of London concept store Machine-A. "I think this is due to Lotta being part of the scene and not somebody remotely looking at it. She was part of the subculture, of the club scene. She saw before anyone else that this combination is not a good story to do, but the way to be."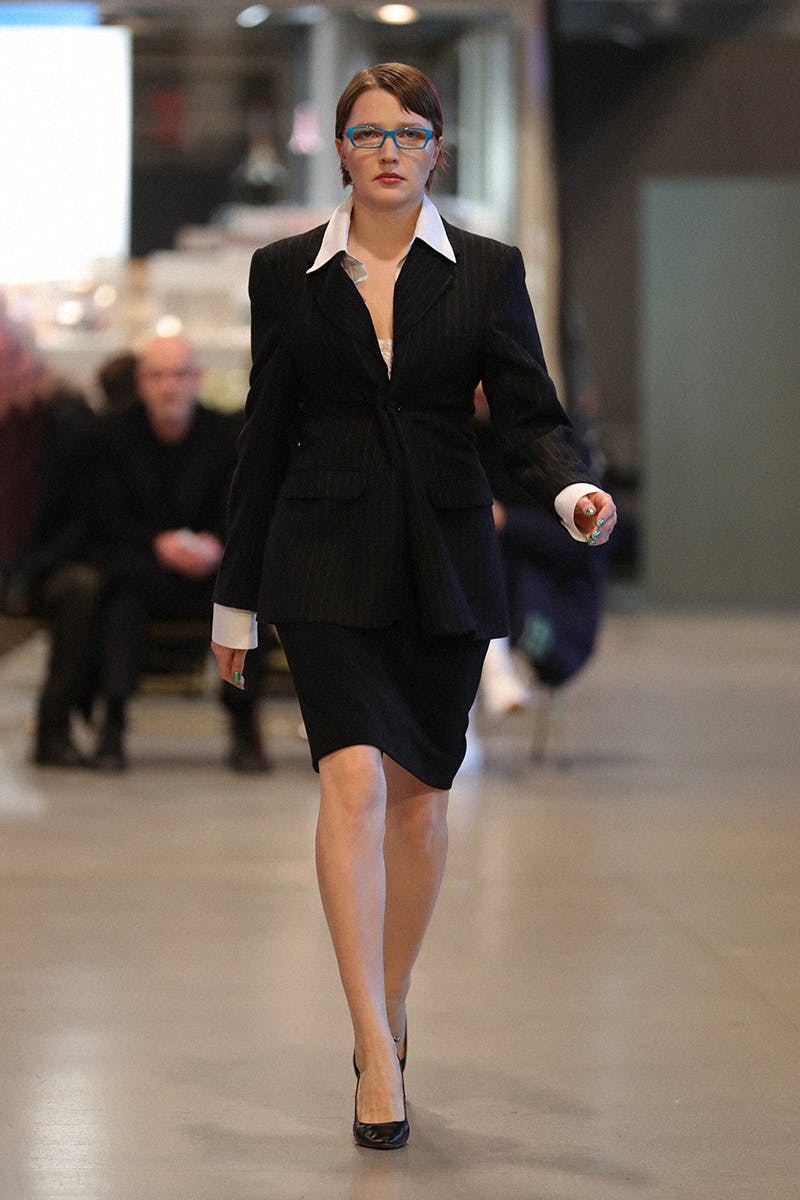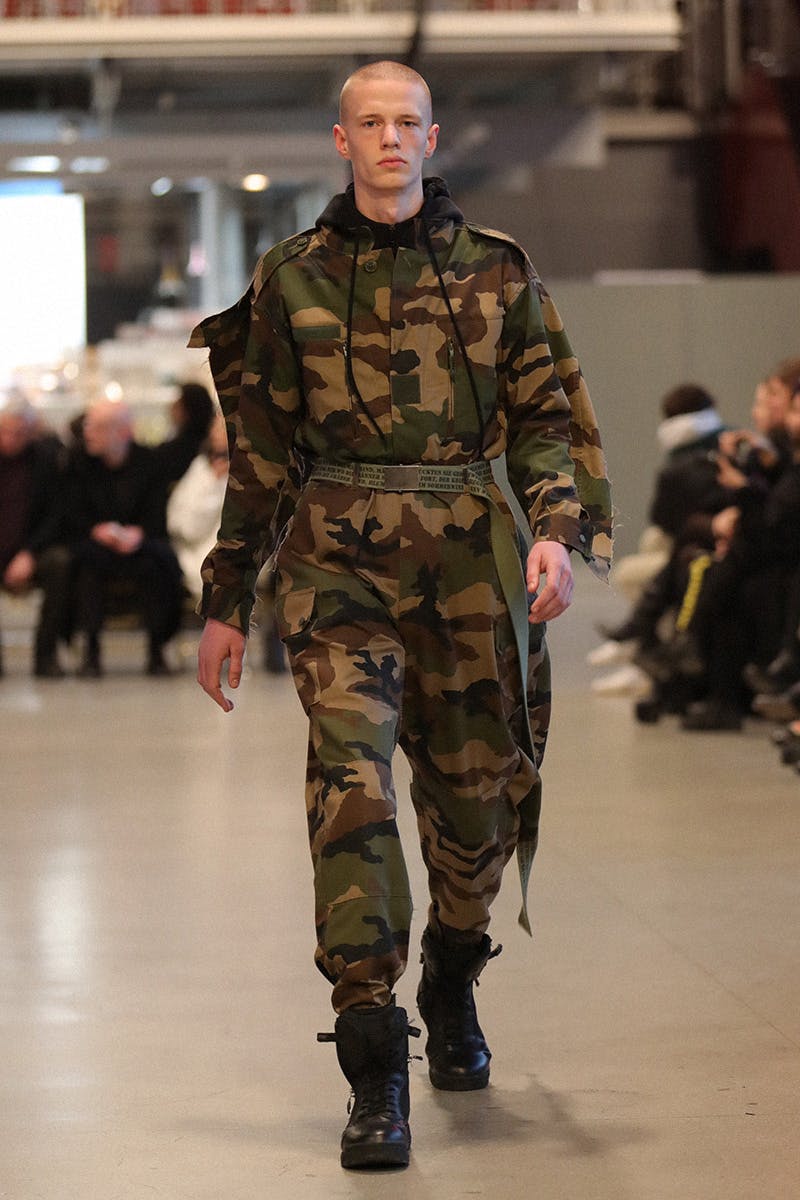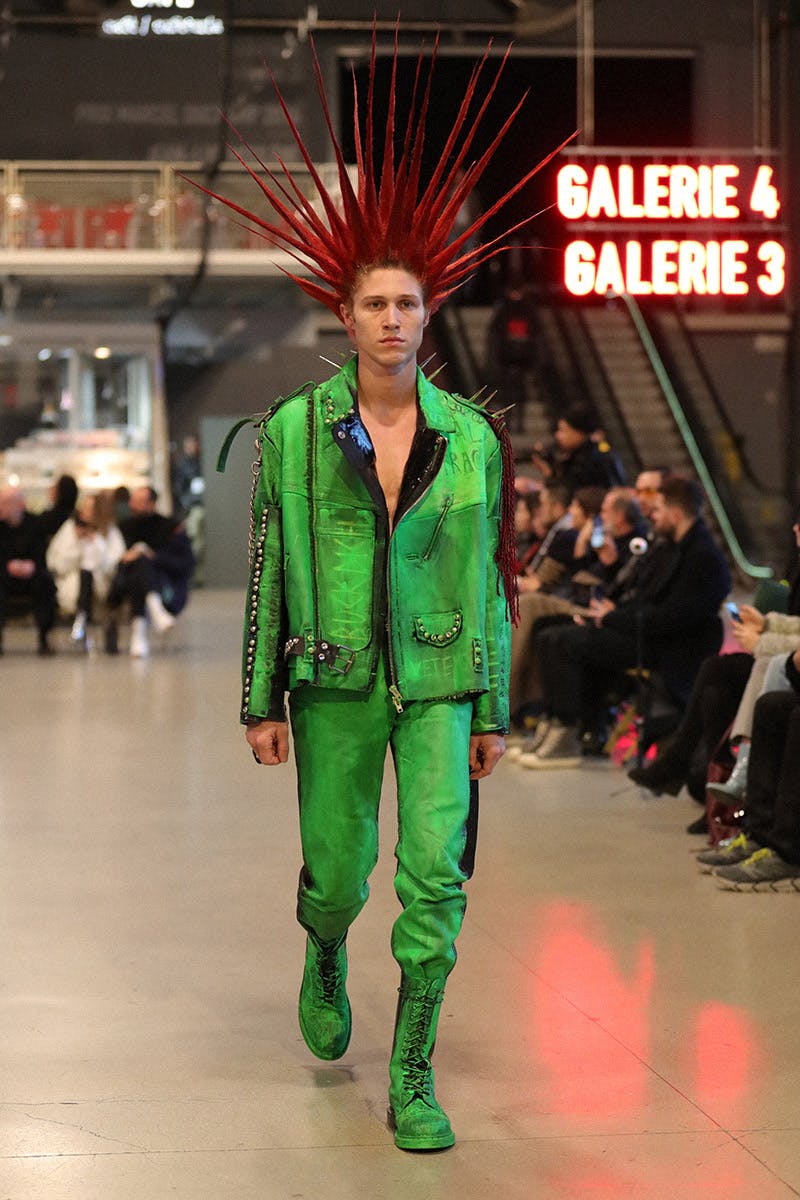 Volkova's path was atypical. She was born in 1984 in Vladivostok in Soviet Russia's far east, just north of North Korea. Her father was captain of a cargo ship and would bring back cassettes, clothes, and various Western goods. Her hunger for pop culture grew through those snippets and her early experiences of the internet. She moved to London at 17 to study at Central Saint Martins, where she had to take three-month courses across the arts until she was old enough to enroll in photography and fine art.
She became known in the London club scene for her homemade punk-inspired outfits and started designing clothes under the name Lotta Skeletrix, picking up a smattering of press and getting her designs stocked at Dover Street Market via an endorsement from Rei Kawakubo herself.
After moving to Paris in 2007, Volkova concentrated on styling. In the multicultural world of fashion, a lot of creatives leave their heritage behind, but for Volkova it has remained a source of reflection and inspiration. She teamed up with Gosha Rubchinskiy, another Russian conquering Paris, following his first Dover Street Market-backed runway show in 2014.
Volkova and Rubchinskiy, both born in the same year and sharing the same subcultural interests and influences, presented visual references at once enchanting and unfamiliar to Western consumers: Orthodox Christian churches and the gritty street corners and tower blocks of Russia's urban landscape. At Volkova's hand, Rubchinskiy garments acquired the eclectic complexity of both East and West and became a tool for identity among an emerging generation.
Her success has had a particular impact in Russia, and the stylist remains up to date with the latest developments among the country's youth. Creative director Roman Gunt, part of Russia's Generation Z collective, recalls meeting Volkova at КЛУБ (Klub), an underground rave destination in a former St. Petersburg railway factory.
"Lotta was with Gosha Rubchinskiy and his team. We met and had a little chat. It was unbelievable because she's my idol and a great source of inspiration, and she had such positive energy about her," Gunt remembers. "Her work is very relatable to me. I really appreciate her invaluable contribution as an artist from my country, and I know the young generation looks up to her a lot."
Volkova's work is a balance of dualities: global and local, mainstream and subcultural, corporate and individualistic, ironic and sincere. It's never one or the other, somehow always both. On her Instagram account (which is private), outtakes of her styling work for Marc Jacobs and Balenciaga sit next to pictures of random graffiti shot somewhere in small-town Russia, a selfie in a Chanel two-piece suit, and uncredited archival images of garish interiors — a non-stop flow of references.
In a 2016 interview with The Business of Fashion, Volkova said, "There are no subcultures to be discovered anymore, at least not in the Western world. It's more about the remix of information." This is something inherent to an era shaped by the internet — and perhaps making this realization early is what put Lotta Volkova ahead of the game and on the radar of megastars like Kanye West.