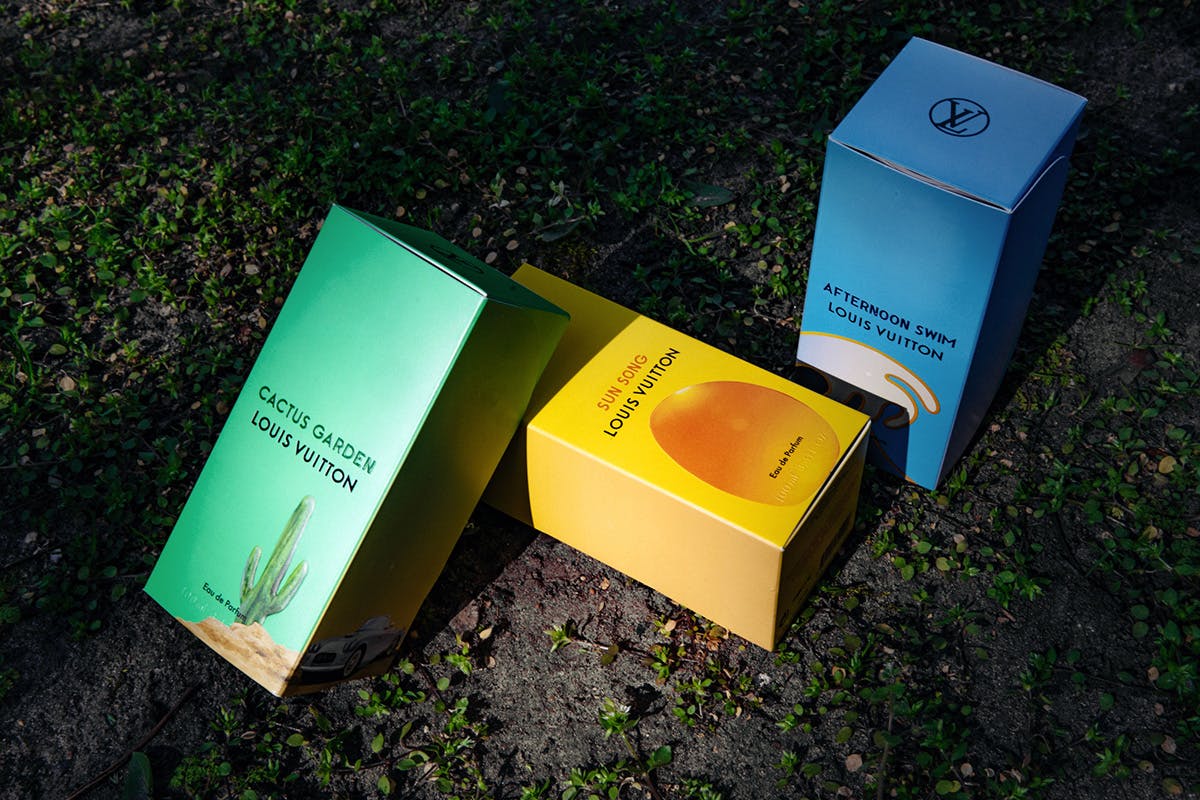 Louis Vuitton joined the now near ubiquitous trend of unisex fragrances this month with the release of its Les Colognes line for both men and women. Its creator, the renowned French perfumer Jacques Cavalier Belletrud, says the collection is inspired by the "spirit of California" and encapsulates the "sun, sky, gardens and sea."
The three fragrances—fittingly named "Sun Song," "Cactus Garden," and "Afternoon Swim"—are described by the brand in only the most sun-drenched and cocktail-sodden vocabulary. Take a look at the fancy marketing copy and you'll see lines like "a plunge into an ocean of sensations," "passionate orange, to sail toward pleasure" and "a breath of leaves defies the heat wave like an enchanted frisson on the skin."
But does all that hold water? Is it possible (for the price of $360 per 100ml no less) to purchase the effortless cool of the golden state? Is it really all pool, palm trees, sunlight, and Don Draper mediating on the Pacific coast? To investigate, we asked Highsnobiety staff for their candid opinions on what each fragrance smells like and compared them with Louis Vuitton's official descriptions.
Afternoon Swim
What Louis Vuitton says:
"Passionate orange, to sail toward pleasure. A plunge into an ocean of sensations. Feeling all the energy of the waves washing over the skin on a hot summer's day. Master Perfumer Jacques Cavallier Belletrud pays homage to the citruses he particularly loves. He ennobles a rare Sicilian orange lush with juice, like an explosion of vitamins. A sensation of immense freshness imbues this perfume in which bergamot drifts toward a wave of delights, set against a deep current of mandarin."
What we say:
"Afternoon Swim is the smell of a sangria-soaked orange after it's baked in the sun of the terrace all afternoon. And it makes me lazy." - Jake Indiana, Music Editor
"I feel like I'm strolling through a Spanish lemon orchard on a balmy spring day. This would be perfect for a casual al fresco lunch. It has a lightness to it that isn't overbearing, unlike some masculine scents." — Graeme Campbell, Style Content Editor
"This undoubtably smells like the ocean. The LV perfumers definitely wanted to recreate Kramer's cologne from Seinfeld where he tried to create a scent that captures the essence of 'the beach,' but not before Calvin Klein beat him to the punch and stole his idea only to name it 'Ocean.'" — Sandra Motwary, Social Media Editor
"To me it has a very soft, summer-specific but hard-to-define scent; like fresh air, washed-off sunscreen, and the smell that lingers after you've peeled a tangerine. In no way is it overpowering or predominately fruity, more just a subtle reminder of that time of year when everything is just a little bit sweeter. It makes me feel like I should be on a terrace overlooking the ocean with a giant cocktail in my paw." — Heather Snowden, Staff Writer
"This is like a mountain breeze, moderately strong and quite noticeable but not too 'in your face.' It reminds me of ski slopes right when the sun hits them, when it's still frosty but you know that it's going to get warmer soon." — Sanzhar Toxanbayev, Editorial Assistant
Cactus Garden
What Louis Vuitton says:
"The enthusiasm of mate to exalt the emotions. The cool freshness of an exotic patio. A breath of leaves defies the heat wave like an enchanted frisson on the skin. Master Perfumer Jacques Cavallier Belletrud invites mate, that singular tea from faraway lands into a perfume that expresses the atmosphere of a tropical forest. It comes together with powerful and voluptuous Calabrian bergamot, while tangy, bright lemongrass illuminates this extraordinary garden."
What we say:
"The smell is pretty light and refreshing but also has a hint of musk to it. Im not sure why but the smell goes well with the color as it smells a little of the freshness of being outside. Not a super masculine smell but also not floral at all, its somewhat in the middle. It reminds me of walking through fresh fields in the spring" - Rhianna Matthews, Commerce Content Curator
"The name is self-explanatory here. It smells like a blossoming spring garden. I love how fresh it smells, and it's not as potent as the others in the line." — Feleg Tesema, E-Commerce Writer
"It smells like drying sagebrush. Fresh yet strong with a twist of something human made, like a bonfire." - Sanzhar Toxanbayev, Editorial Assistant
"It smells like a fancy iced green tea I'd get on vacation — it makes me want to get on a plane to Bali and chill in a jungle resort. I'd wear it on holiday as well as during summer evenings in the city." — Karolina Mitura, Junior Audience Development Manager
"My first thought is just that it smells fresh, but when the perfume settles on the skin it makes me think of warmth and sunbathing. It would be the perfect everyday summer scent, it smells luxe enough for nighttime yet still fresh for the day." — Lia McGarrigle, News & Culture Editor
Sun Song
What Louis Vuitton says:
"An ode to the orange blossom to brighten summer. The euphoria of those first beautiful days. Feeling the warmth of sunlight on the skin. Master Perfumer Jacques Cavallier Belletrud has captured the serenity of summer in a perfume seemingly made of light. Orange blossom is like a caress, a joyful expression with the vivacity of lemon, set to a score of enveloping musks to prolong the gentle refrain."
What we say:
"It smells like citrus and flowers. The perfect occasion to wear it would be a spring evening when I am meeting my ex for dinner al fresco at a mid-tier restaurant. I want to appear lighthearted, while also presenting myself as someone whose life is going extremely well. If I had to describe it in one word? July." — Max Grobe, Associate Fashion Editor
"I'm terrible at picking out ingredients but if I had to describe the smell I would say it's very elegant. It's something I would wear to a black tie event, possibly a charity ball. This might seem weird but I mean it in a good way, the fragrance reminds me of those fancy hotel and restaurant bathrooms that have expensive soaps and fragrances for patrons to use." — Fabian Gorsler, Footwear Staff Writer
"It smells like fresh laundry on a sunny day by the Spanish coast, a moment after eating oranges for breakfast. It makes me wants to book a train ticket with a window seat going from Barcelona to the south." — Tetiana Khvorostiana, Image Curation
"This one smells like honey in warm milk. It makes me feel like I'm about to lay my head on a pillow in a traditional Japanese house — comforted and calm, but not too relaxed. I would make it my go-to fragrance, especially for summer." — Sanzhar Toxanbayev, Editorial Assistant
Louis Vuitton's Les Colognes collection is available to shop in store and online now. Prices start at $250.