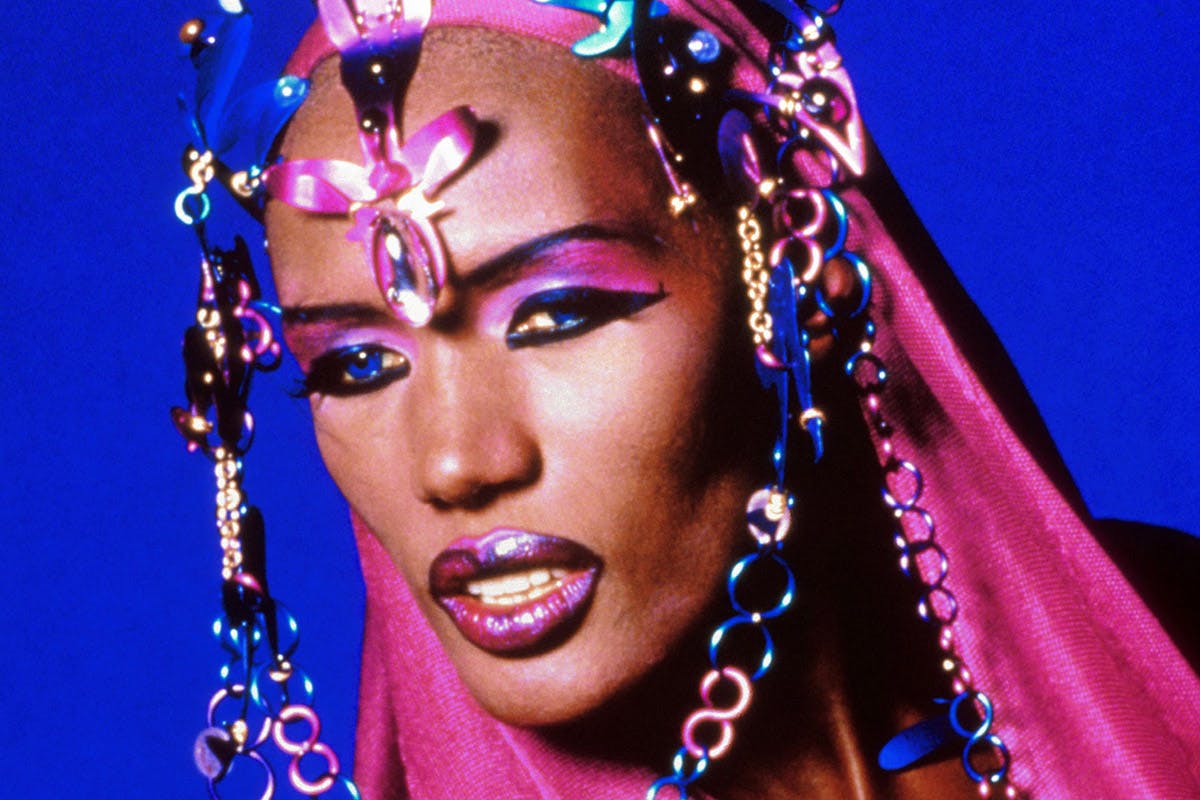 Experience this story and others in HIGHArt, a print magazine by Highsnobiety, available from retailers around the world and our online store.
Throughout music history, many artists have been known to take on alter egos as part of their persona. But when it gets as far as concealing your true identity with an actual mask, that's when things get really interesting. Be it for stage fright or biohazards, hiding one's visage is an aesthetic choice that, for obvious reasons, has gained new relevance.
This timeline explores the most memorable masks in music, detailing how they came to be and the reasons behind their facade.
Grace Jones (1980)
Although she became a star of Manhattan's Studio 54-fueled disco scene of the late '70s, Jones was already well known among the fashion circles of Paris and NYC for her strikingly statuesque and androgynous appearance. By the early '80s, the Grammy Award nominee had embraced the blossoming New Wave music scene, stepping up her unique visuals to include complex costumes, makeup, and, perhaps most famously in the 1980 video for "Private Life," masks. In this single-take promo, the singer appears wearing a mask of her own face, harking to the re-appropriated African masks of modernist primitivism (a concept she would explore further in tracks like "Slave to the Rhythm"). The face covering makes subtle references to Jones' modeling background, as well as the layered aspect of Matryoshka dolls.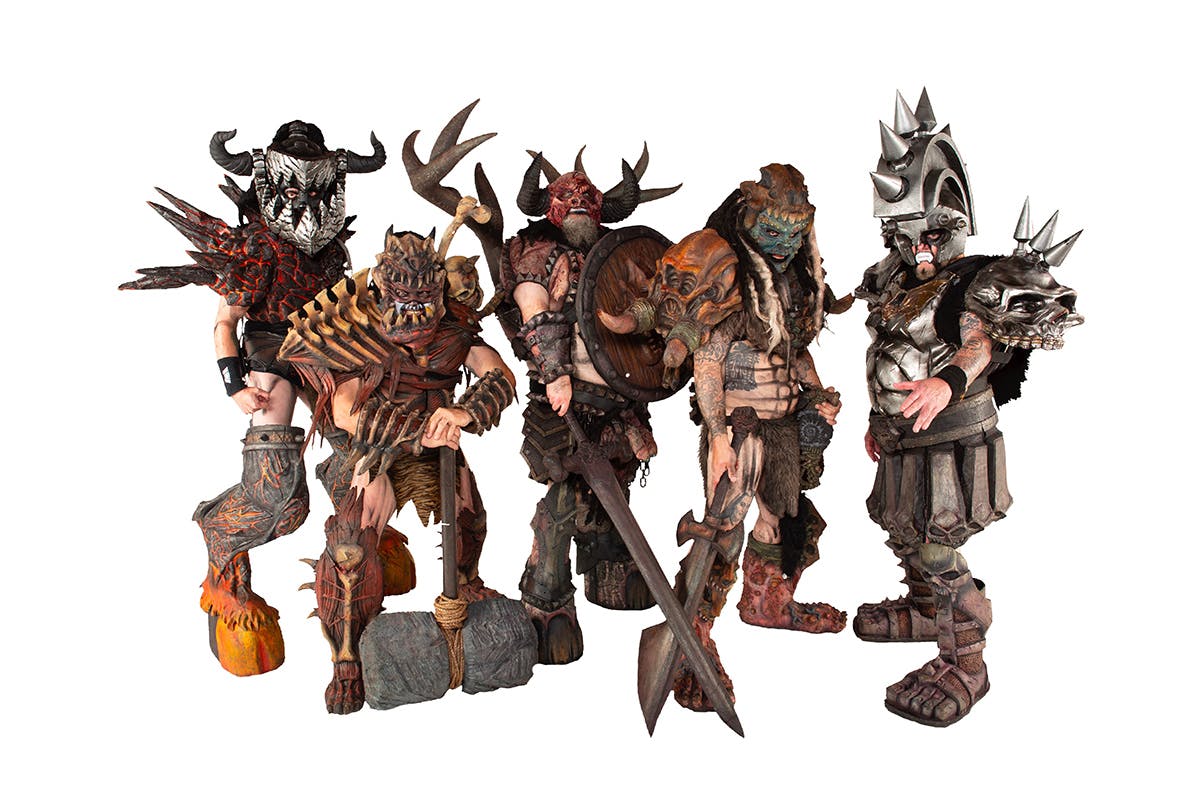 GWAR (1989)
A band born out of a collective penchant for dick jokes, cartoon violence, and buzzsaw guitars, Richmond, Virginia's GWAR was perhaps a precursor for the plethora of thematic masked metal bands to pour out of the northwest over the next decade. Beginning with customized football helmets and shoulder pads wrapped in chains and adorned with foil spikes, the group's getup eventually evolved into elaborate, all-encompassing monster costumes, each with their own mythos and identity. GWAR garnered a cult following into the '90s, and despite a revolving door of different band members, each character remained in place, with a new member taking up the pre-established character's mantle and costume.
Buckethead (1995)
As far as obscure stage persona backstories go, Buckethead's is unflappable. In interviews (and an online biography from the early 2000s), the enigmatic prog metal guitarist claimed his reason for donning a tipped-up KFC bucket and Michael Myers-esque face mask was due to being "raised in a chicken coop by chickens," on a farm run by "evil owners." The story goes that the birds scratched the performer's face off, resulting in him having to wear the disguise, with the fried chicken bucket alluding to the perils most chickens routinely face. In reality, the idea came to him one night while eating chicken and watching Halloween 4: "I was eating it, and I put the mask on and then the bucket on my head. I went to the mirror. I just said, 'Buckethead. That's Buckethead right there.'" Slight tweaks to the visage have included a plain white bucket featuring a bumper sticker reading "FUNERAL," which many speculate could be a reference to KFC "killing his family," or a nod to punk band Dead Kennedys, whose bassist sported a similar sticker in the video for "Holiday in Cambodia."
Daft Punk (1997)
Daft Punk always tried to push the envelope when it came to artistry. Upon the release of their 1997 breakthrough record, Homework, the duo chose to conceal their faces for any photo shoots or promotional work. First with stickers, then tights, before settling on a variation of Halloween masks. This practice would remain in place until at least 2000, when the band was introduced to Alterian, Inc. founder and all around SFX legend Tony Gardner by Spike Jonze. "They were looking to create personas that were more specific and long-term," Gardner recalled. "They had an idea that they wanted to be robots, which they wanted to incorporate into cartoon form, and have the robots 'come alive' for the new album." The robot helmets were kitted out with features such as LED text screens, communication systems for live shows, and air conditioning. They were even initially topped with wigs before the idea was scrapped at the last minute. The band had finally found a medium through which to channel their "sci-fi glam" influences. Or as Daft Punk co-founder Guy-Manuel de Homem-Christo put it: "We're not performers, we're not models — it would not be enjoyable for humanity to see our features. But the robots are exciting to people."
Slipknot (1999)
By the mid '90s, grunge had become stale. Alternative rock was on the charts, and punk was being commercialized with ska. For angsty teens all over the country looking to piss off their parents, this was becoming a problem. Enter Nu-Metal. Though the genre had been gaining mainstream traction, it was groups like Slipknot who were able to go one step further with their shocking image and chaotic live performances. After percussionist Shawn Crahan turned up to one early practice in a clown mask, it was decided the whole band should follow suit, with each member donning a mask unique to their own personality. The masks were supplemented by jumpsuits branded with barcodes and the group's iconic "S" insignia. Despite several variations over the years, the guises have mainly revolved around gimp masks, spiked divers helmets, pig masks, hockey masks, and, in the case of late drummer Joey Jordison, Japanese Kabuki masks.
MF DOOM (2002)
Following the loss of brother and KMD bandmate DJ Subroc in 1993, Daniel Dumile found himself on a downward spiral. KMD had been dropped from its label, and by the mid '90s, the rapper was "damn near homeless, walking the streets of Manhattan, sleeping on benches." Dumile began hiding his face under a pair of ladies tights at downtown open mic nights, but with his new moniker, MF DOOM, came a metal face mask to match the namesake Marvel Comics foe Doctor Doom. A very appropriate guise considering the similarity to the supervillain's backstory: both had been, according to Dumile, "recovering from wounds," and had sworn revenge against industries that "so badly deformed" them. By 2002, DOOM's mask had evolved into a replica of the one worn by Russell Crowe's character in Gladiator, as suggested by an associate of the MC: "I trusted him, even though it was kinda expensive." After stripping the mask down to just the faceplate and plastic fastener, DOOM then "chromed it out [and] added a ruby to it, too."
The Knife (2006)
Notorious for their anti-media stance, the Swedish brother and sister electronic duo made masking up a necessity as they rose to mainstream attention in the mid '00s. They initially opted for full face masks, painted in bright pink and white, worn around the time of their sophomore effort, Deep Cuts, in 2003. Following the success of the album, particularly the single "Heartbeats," the group was nominated for a slew of Swedish Grammi Awards, but they refused to turn up to the ceremony in protest of the male dominance rife within the industry. In 2006, while promoting their third album, Silent Shout, the band would only appear in press media wearing black eye masks with a long beak, similar to the Venetian plague doctor headpieces traditionally worn during carnival, long black wigs, and voice distortion systems. According to singer Karin Dreijer Andersson, this was "[in order to] look like the music. This is how we think the music looks like. All our songs are told by different characters."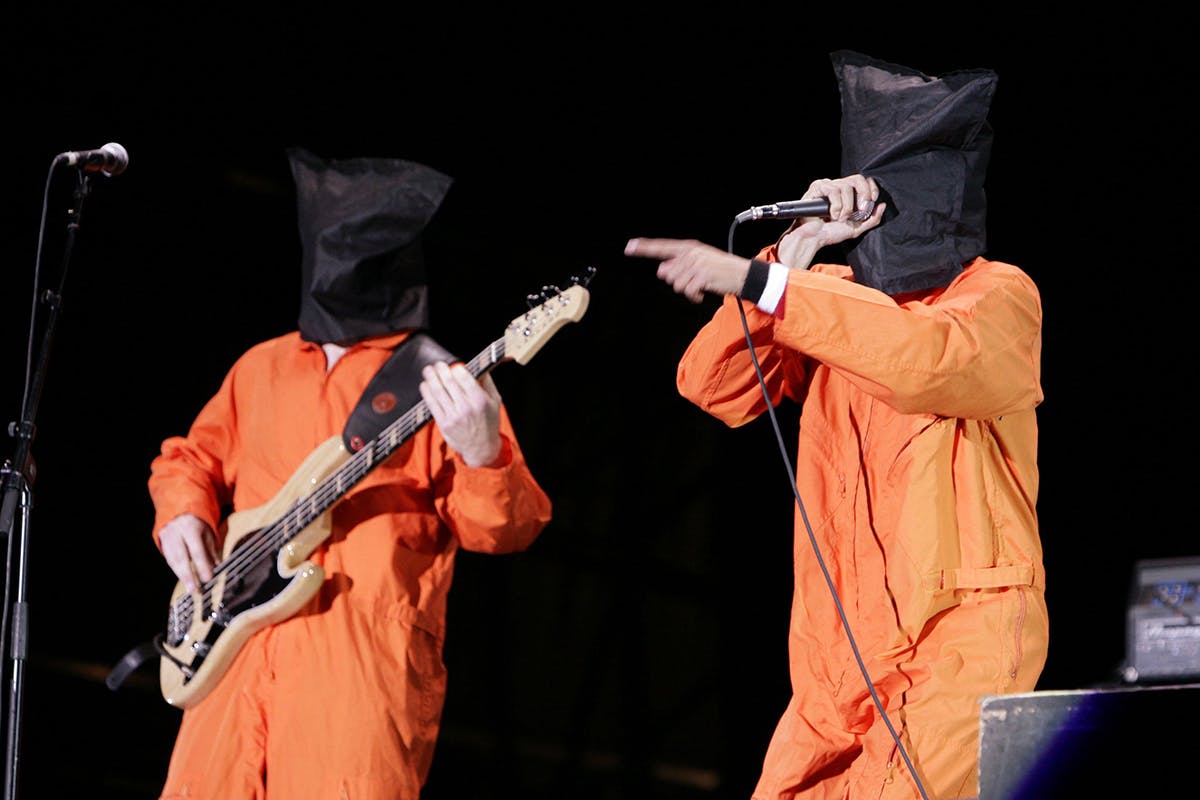 Rage Against the Machine (2008)
The visual aspect to Rage has always been as important as their politically charged lyrics, though this isn't limited to using harrowing imagery for album covers (à la their 1992 self-titled debut) or hiring anti-consumerist conceptual artist Barbara Kruger to create stage backdrops for their "Evil Empire" tour. From guitarist Tom Morello's non-conformist slogan 6-panel caps, to frontman Zack de la Rocha's red star armband, the way the band has dressed both on- and offstage has helped to communicate their ethos and identity. But when it came to outfit choices for the 2008 bill-topping Reading Festival performance, Rage went one further. The band took to the stage in orange jumpsuits with black sacks over their heads, a blatant reference to the depraved conditions at the Guantanamo Bay detention camp. "I suggest they level Guantanamo Bay," Morello had remarked earlier that year, "but they keep one small cell and put Bush in there… and blast some Rage Against the Machine."
deadmau5 (2009)
Ten years into his career as an electronic music producer, Joel Zimmerman donned his famous "mau5head" helmet for the first time. The concept had been established around 2002, when the DJ created the first mau5head image while learning to use 3D-modeling software, after the legendary story of the dead mouse he found in his hard drive had inspired his stage name. "My friend said, 'If you ever play live, or if you ever go off on some musical endeavour, you have to wear something like that,'" Zimmerman recalled in 2015. "With the help of the Jim Henson company, we slapped one together and wore it out." Zimmerman's helmets have included various iterations of the LED mau5head — fitted with a cooling fan and a complex outer camera system that displays a slightly delayed feed to a pair of goggles worn inside — and a lightweight carbon fiber version. Despite running into trademark troubles with Disney, who argued a similarity between the mau5head and the iconic Mickey silhouette, the icon has become synonymous with EDM culture itself.
Pussy Riot (2012)
The Moscow feminist punk rock collective pricked the ears of music publications globally off the back of a series of guerrilla performance videos aimed to provoke, disrupt, and protest Putinism and LGBT discrimination in Russia. Partly a way to protect their own civil liberties, the group appeared in the films wearing bright-colored balaclavas with matching spandex. "Being Pussy Riot is like being Batman. You put on the mask and you become Pussy Riot. You take it off, and you are no longer Pussy Riot," one member told The Guardian in 2014. One particularly outrageous performance inside Moscow's Cathedral of Christ the Savior would lead to the arrest, unmasking, and imprisonment of several members, but the band has carried on regardless, bolstered by the Western support the case attracted. The group has even called out the likes of Bella Thorne for appropriation, after the singer released a merch line that they deemed looked "EXACTLY like our colorful ski masks." As both are also reminiscent of the balaclavas worn in Harmony Korine's 2012 cult classic Spring Breakers, it isn't clear who influenced whom.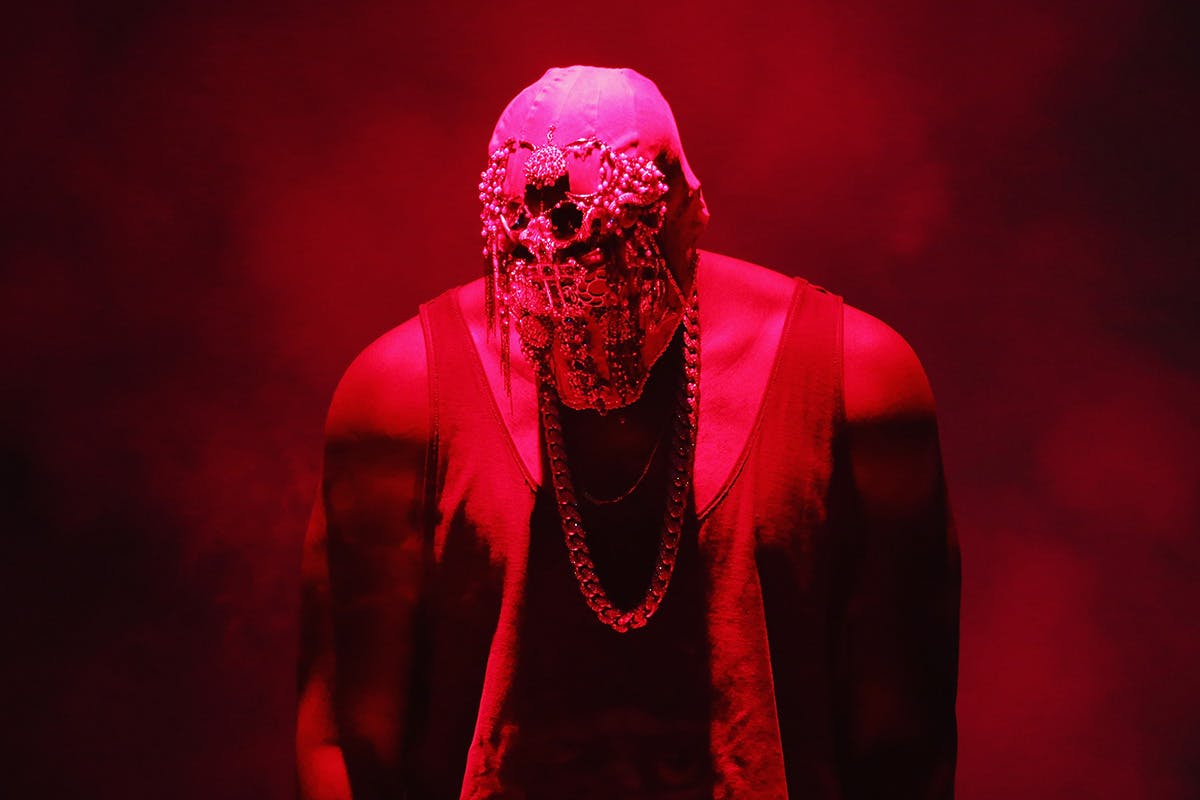 Kanye West (2014)
West's alignment with high fashion is now canon, but it's easy to forget there was a period where he was just a fan like any other, attending shows but finding it hard to break into a notoriously gate-kept industry. Fallouts over rejected opportunities with LVMH and Gucci have been well documented, but one fashion house who always requited the rapper's love is Maison Margiela. Masks have been a staple for the label's dramatic runway shows, often made with a silk chiffon veil base that allows the wearer to see through it, and decorated with ornate chainmail, sequins, and beads. The practicality of these headpieces makes for suitable stage attire, as demonstrated by West, who wore them frequently for his seminal "Yeezus" tour in 2014, not just for an aesthetic but also for symbolism. "Don't embarrass yourself trying to chase your dreams. Save face," he sarcastically said of his frustrations toward the fashion elite. "That's why I got this fucking mask on, because I ain't worried about saving face. Fuck my face."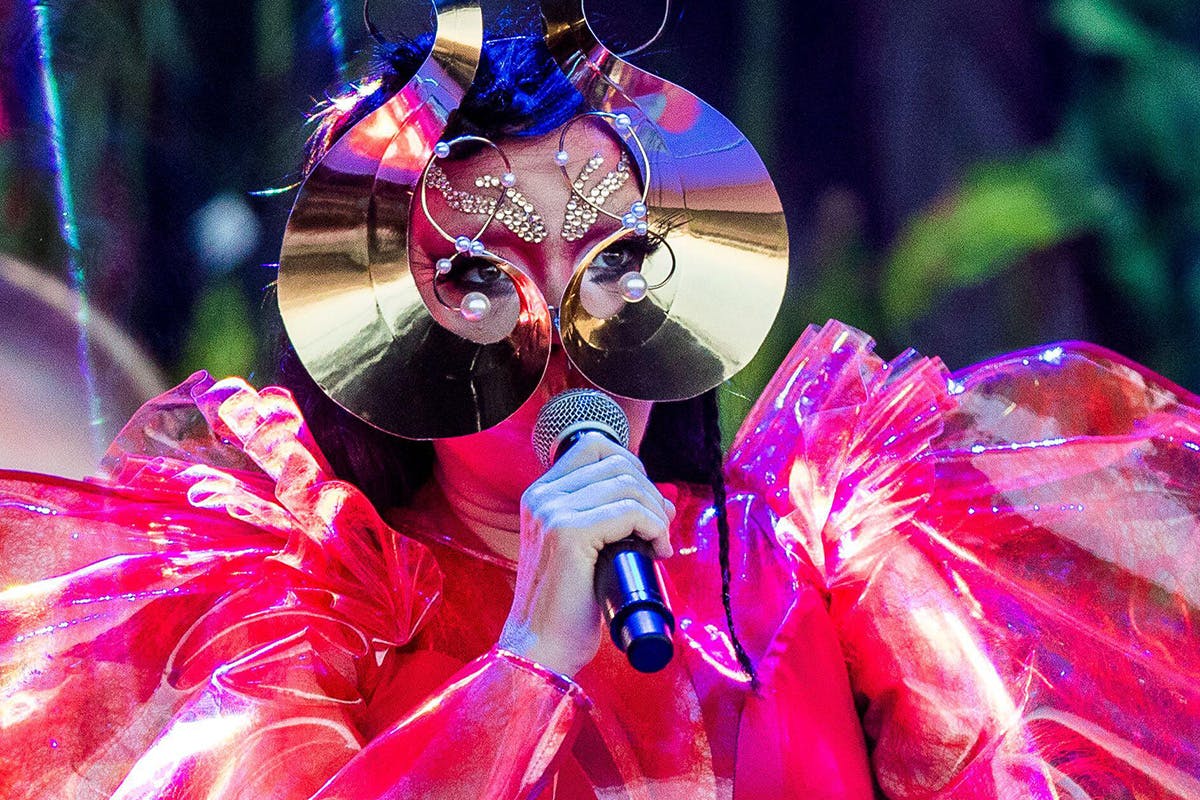 Björk (2017)
As well as creating some of the most sonically diverse, genre-bending records in history, Björk's three-decade solo career has often showcased a love for masks. 2004's Medúlla marked the first foray into face concealment, with Björk appearing on the cover wearing a mask entirely made of hair by Icelandic artist Shoplifter (to pair with her Alexander McQueen-designed dress). Around five years later, while looking for researchers for her project Biophilia, she was introduced to embroidery artist James Merry, who began to work on the various guises for her Vulnicura and Utopia eras. "At first, I said I would make a new mask before each concert — which I did, but it was too much!" Merry told Dazed in 2019. "I see the masks as pieces of fruit; our day-to-day work is the tree, roots, and branches, but sometimes these headpieces pop up as little bonuses." Around the same time, Björk also worked with German drag artist Hungry for the array of butterfly-like masks used in Utopia. Using materials ranging from hand-cut metal to silicone, the masks were carefully crafted to Björk's specific visual references, even becoming digitally sculpted in 3D for a series of Instagram filters.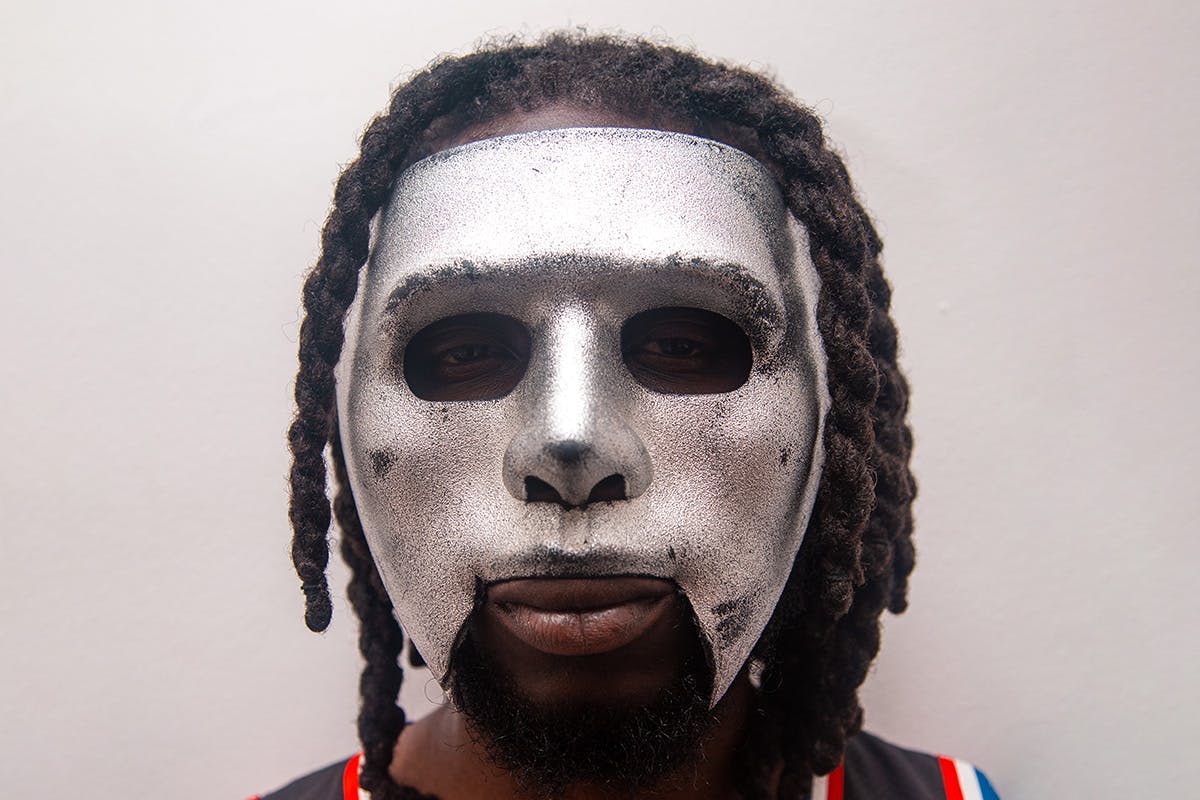 LD (2020)
As one of the founding figures of the UK drill movement, LD of 67 has helped establish masks as an integral part of the scene's visual aesthetic. His distinctive opera mask is as much about his onstage persona as it is a functional tool to help him evade the authorities: In 2014, police imposed an injunction banning him from performing publicly under his former alias Scribz. Speaking with The Face, LD explained that he discovered his signature mask during an SBTV session, where he found it in the office. "We cut the mouth gap out," he remembered. "Then after, we took the same shape and got it made smooth, which stayed as the LD mask." LD isn't the only UK act trying to separate his music from street life. Some of the scene's biggest names — including SL, K-Trap, M Huncho, and S1 — choose to conceal their faces with balaclavas and masks as a way to protect themselves from police surveillance, or to simply keep their identity private.
Head here to get a copy of HIGHArt, a magazine by Highsnobiety.