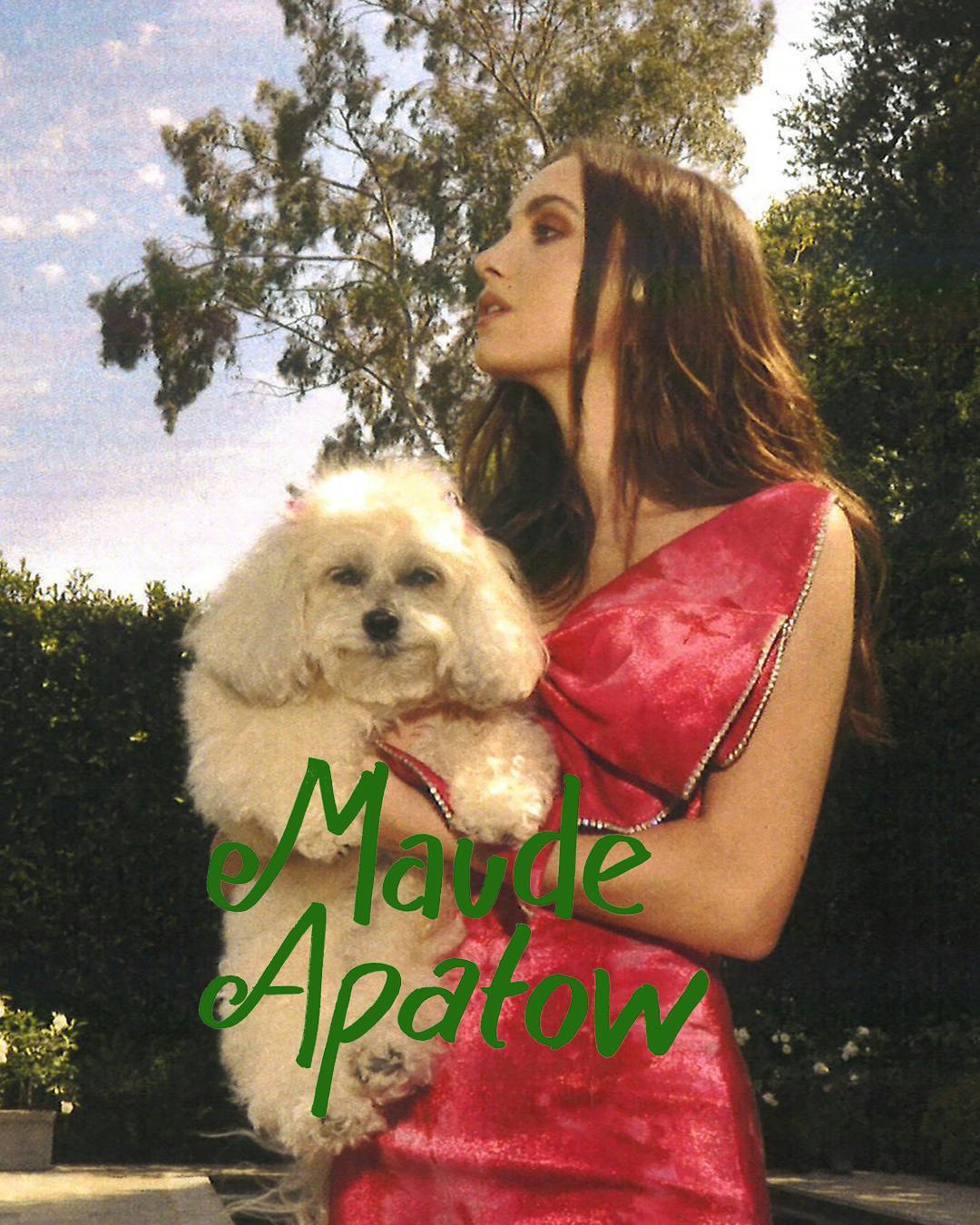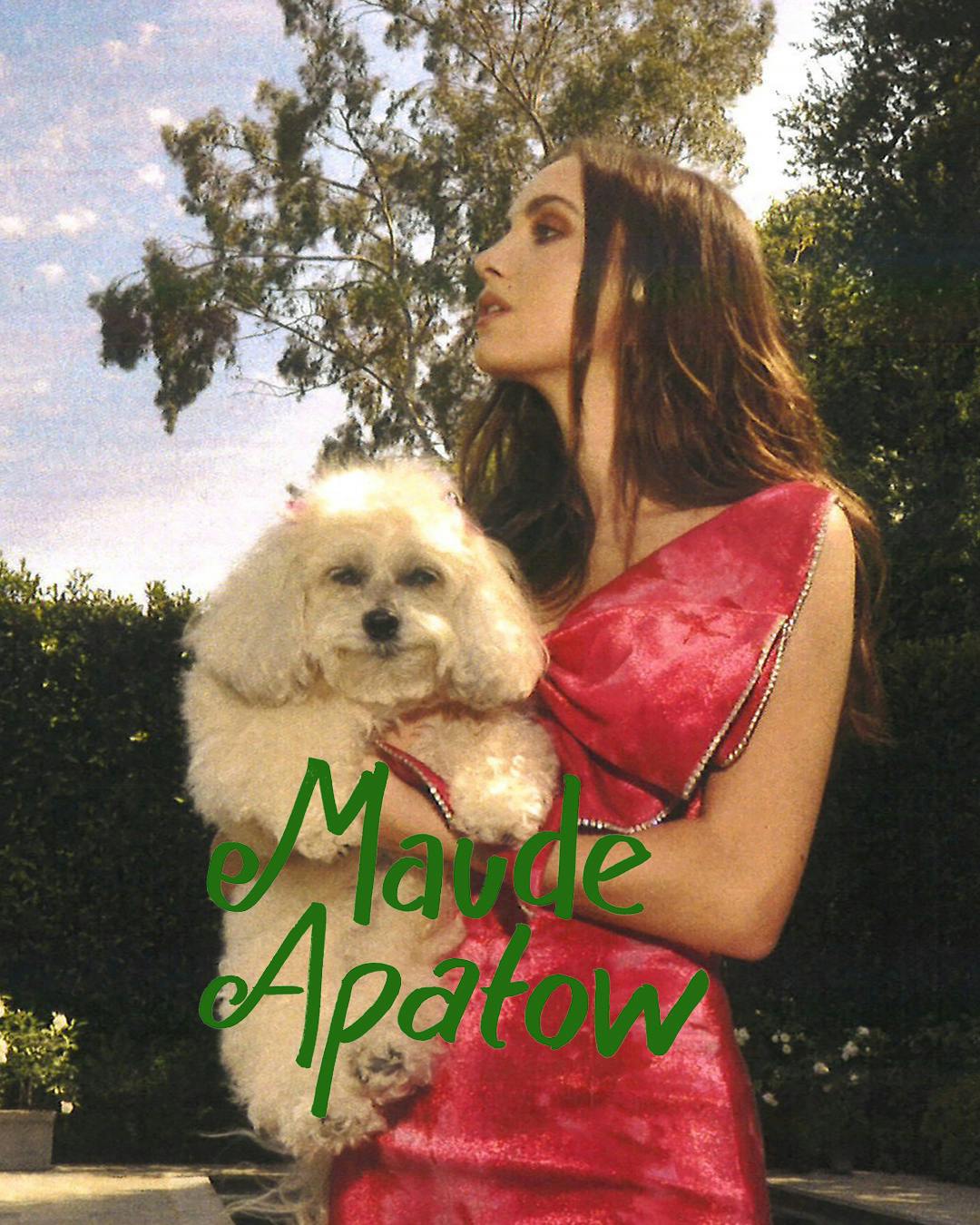 For the latest edition of FRONTPAGE, we caught up with Maude Apatow to discuss her bravura performance in the new film 'The King of Staten Island.' Though the scion of Hollywood royalty, she's already proven she's got the chops to hold her own.
Maude Apatow is a nerd, and I mean that in the most endearing sense of the word. When we spoke on the phone last week to talk about her role in The King of Staten Island — which was co-written and directed by her father Judd Apatow — the entire conversation was a reminder that, while nepotism has its undeniable advantages, it takes a special something to make someone a star. Luckily for Maude, she has that something by the bucket load.
By that, I mean she boasts the same brand of raw and relatable talent that projected her parents, Apatow and Leslie Mann, to star status during the late '90s and throughout the '00s (kickstarted by Freaks and Geeks, which premiered two years after Maude was born). Given the network she grew up in — a childhood where being on set with the likes of Seth Rogen and Paul Rudd was par for the course — her first role was aged seven in The 40-Year-Old Virgin, though her scenes were eventually cut — it's surprising how down-to-earth she is in real life. Or rather, at the other end of a crackly line between Los Angeles, where she's self-isolating with the rest of the Apatow-Mann clan, and Berlin, Germany.
Unlike so many rising stars that peddle the illusion of effortless cool while internally losing their shit, Maude is refreshingly honest about how anxious this world makes her, particularly at the moment. Her cadence is sprinkled with nervous laughter and her sentences are punctuated with gaps while gathering thoughts and rearranging flow. She is a real one, and she still majorly geeks out over the people and projects she loves.
Take her dream collaborators, for example: "I love Greta Gerwig — I loved Little Women. I looooved Lady Bird. I also love Spike Jonze, I think he's the coolest person ever." On working with Steve Buscemi on Staten Island: "Oh my gosh, I think he's amazing. I think he's just one of the greatest actors ever. Are you kidding me?!" She'd just finished watching The Sopranos (where Buscemi stars as Tony Blundetto) before the Staten Island cameras started rolling, and that majorly added to her excitement — particularly as she stretched that HBO-binge out over three years in order to savor it. "There's probably never going to be a show that's as good as this. So I need to watch it very, very slowly."
While, of course, you could just put this nerding down to an enthusiastic attitude, it gives a glimpse into the level of care and appreciation Maude has for her day job, and, by proxy, her heritage. Thankfully, that enthusiasm is also paired with talent, which not only comes through in her work on-screen but behind the camera, too. Later in our conversation, we move on to discuss her 2017 short film Don't Mind Alice, which she co-wrote and directed with her best friend, Olivia Rosenbloom. Although it was never released, I was able to watch it before we spoke, and, from that 15-minute-long glimpse, I think it's safe to say that we can expect big things from Maude — as soon as she's found her own space, at least.
You were supposed to move out before lockdown happened, right? What's it like quarantining with your parents?
Yeah. I need to move out. I'm definitely old enough for it to come to the point where that needs to happen, but as I was looking into all of that we went into lockdown and it didn't seem like the best timing. But it's been good. It's nice to be with my family — I spend a lot of time with them anyways — but we're not constantly in each other's faces. We do separate things during the day then come back together for dinner. Obviously there's ups and downs, [but then] I'll go to my room and watch TV to get some space.
What are you watching at the moment?
I just finished Normal People, which I loved. Oh my God, it's so good. I'm [also] a big fan of the 90 Day Fiancé franchise and I've been watching [Ru Paul's] Drag Race — I feel like that's really uplifting and makes me happy before bed.
Would you ever go on a reality show?
I don't think so. I'm very shy and I get super uncomfortable. I don't think I'd be the best candidate.
Do you find that acting brings you out of that a little bit?
Yes. Maybe I'm not shy as much as I am very nervous. But if I can fully get in the groove when I'm working and fully commit to what I'm doing, then the anxiety and nerves will go away. Hopefully.
You've talked a lot about your experience with anxiety and OCD, and the current news cycle is particularly emotionally taxing. How are you caring for your mental health?
Since everything started happening in March, I've been very obsessive, I'm reading every single article and getting all the information I can get. It's tough right now, where you can't — or at least I can't — find a solution. I know that I'm not going to be able to figure out how to cure Covid. So I try and read as much as I can without letting it get into crazy territory, because sometimes reading things so much will send me into a spiral and it feels counterproductive.
I'm still reading as much, but I've been selective, and trying only to read from credible sources that I trust, and not random things that intentionally try to scare you just to have a good headline.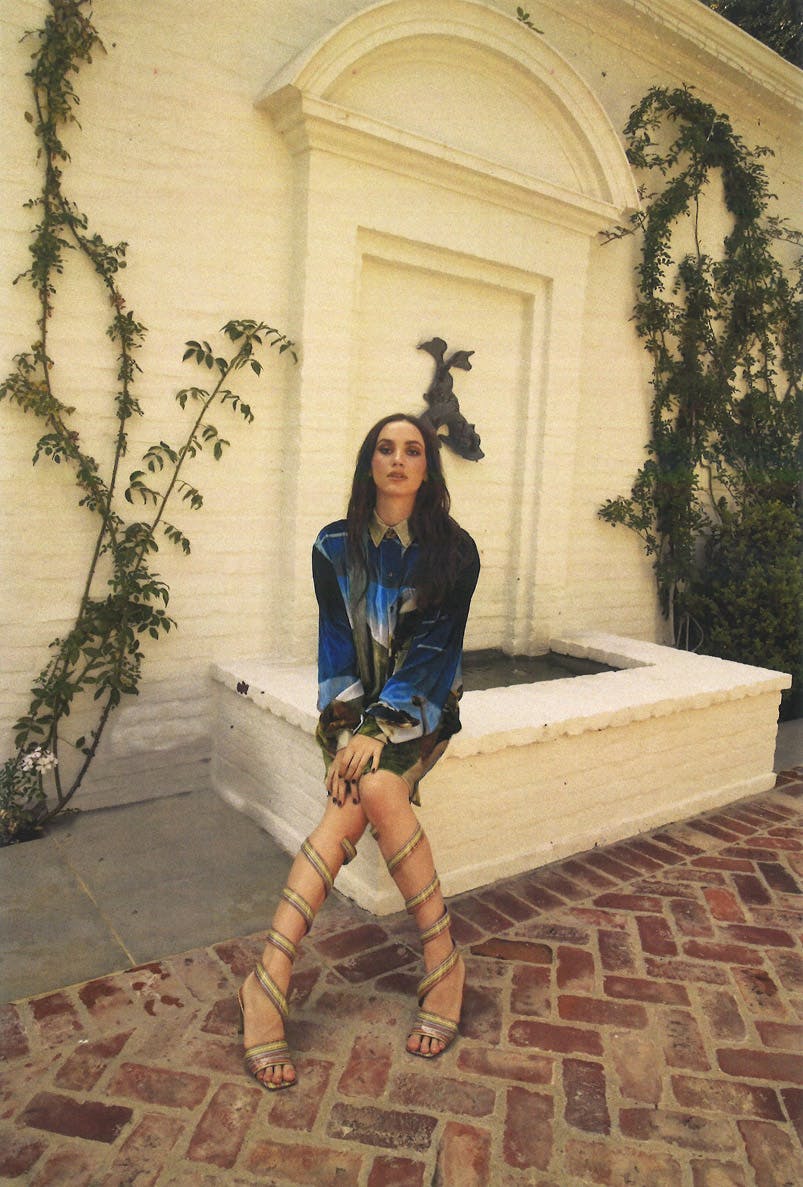 How does using social media tie into that for you?
It's tricky. Some weeks I'm totally fine. I'll go on Instagram and Twitter all day; I'll feel totally comfortable and it doesn't get to me at all. And then other times, I find it so overwhelming, and it does start to really affect my mood. I think I've gotten [better] at realizing that if I'm getting stressed or upset by social media and looking at my phone all day, I can take a step back, block it from my Safari, delete it from my phone, and just take a few days off. It is unnecessary for me to be spending that much time on it every day.
I think social media is really important for spreading awareness and promoting things. There are obviously really fun, light parts of Instagram, too. I'll see a cat video and it'll cheer me up for a few hours. But I think it's important for people to realize when it's going too far and then to be proactive and cut it off.
This all feeds into the themes in The King of Staten Island, too. Your character Claire is always trying to help her brother [Scott, played by Pete Davidson] with his own mental health battle. Did your personal experience help to connect you to the film and your role?
For sure. I think the thing about my character and Bel Powley's character [Kelsey, Davidson's love interest] too, [is that] we were both at a breaking point with him. You can tell that both of us have been telling him the exact same thing for the last however many years; for my [character's] entire life. For Bel, their entire relationship is [built around] trying to help someone that you love so badly and not having them listen to you. I think it's the most frustrating thing; knowing that someone needs help and trying to help them, but they're not accepting it.
I think that resonates with most people. I liked that in the movie you see both of their characters say, "I've done as much as I can for you, but I need to take a step back and care for myself." I think it's really a hard decision to come to for people, [acknowledging] that there's only so much you can do to help before ultimately it's them who need to help themselves. It's easier said than done. You can't force someone to change things about themselves. They need to be the ones wanting to make the change.
You and Pete really vibe together on screen. What's your relationship like with him?
I met Pete six or seven years ago on the set of Trainwreck. He and my dad are really close, they have this great relationship, so I've seen him a lot over the years, and on SNL. He's always been really nice to me and it was really, really nice [of him] to think of me for the movie. He was very supportive. It must be weird for him to have anyone playing characters that are based on people that he is close with in real life, but he was nothing but super supportive and encouraging.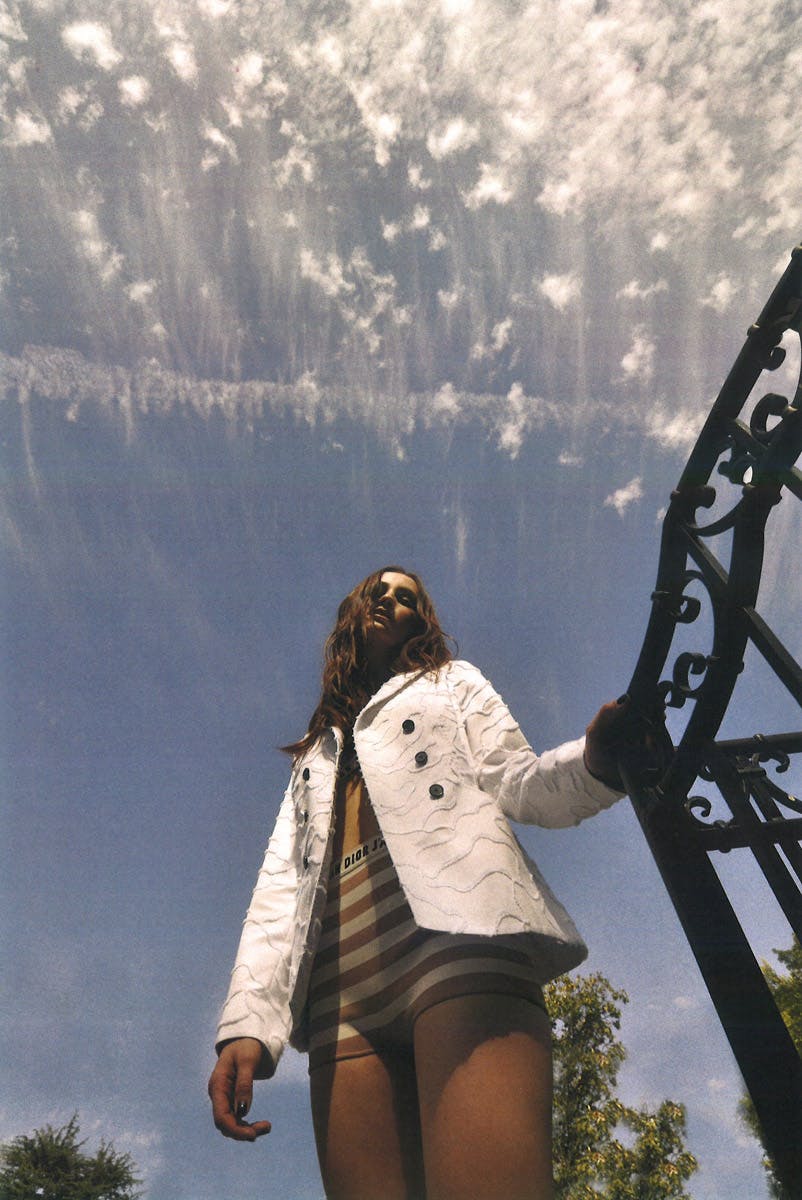 Did you hang out with his real sister, Casey, to prepare for the role?
Obviously the part is based on their relationship, but I wanted to make sure I was doing my own version of it. I didn't want her to think that I was doing an impression of her or the way that she talked. I feel weird about that. So I didn't spend much time with her before. [Instead I] did as much research as I could without having to spend too much time with her, because I wanted to be sensitive to her. But after we stopped the movie, I hung out with her a bunch. We're good friends.
So I also spoke to your dad a few weeks ago and he said that you're always calling him out on his nonsense. How does that play out on set?
We have a very good working relationship. My dad is my mentor and gives me a lot of advice about everything that I do, with acting, writing, and directing. We have always had that relationship. But it's hard to take advice from your parents without automatically wanting to stand up to them or be rebellious. I don't know, sometimes he tells me things and I pretend not to hear them. But I always do listen to what he says. But I'll call him out sometimes.
Is your experience working with him different from working on other projects, like Euphoria or Hollywood?
I hadn't worked with my dad for like 10 years before [The King of Staten Island]. I was still young, I didn't even pay attention to how we were working. Also, I didn't have anything to compare it to at that time. So when I started working on other things, it was very different. With Staten Island, we had a lot of time to do each scene. We knew what was on the page, but if that wasn't working, we could shift, improvise, and see where it goes.
Being able to improvise is really challenging for me. It tests you as an actor. You need to know so much about a character to be able to improvise with them, so it was a luxury to have that time. I don't know if I'll ever really get that again. I thought of that as almost a fluke thing and then I'll just have to go back to the way that it normally is.
In TV we have to shoot super-fast, so there is less of that freedom. You also don't know where your character arc is going to go. I think that's the main difference for me. When you read a [movie] script, you understand the arc and prepare for it better, but on TV you're on your toes, you have to go with the flow. I'm not as good at being chill like that, just waiting to see where it goes. I find that challenging. But it's fun.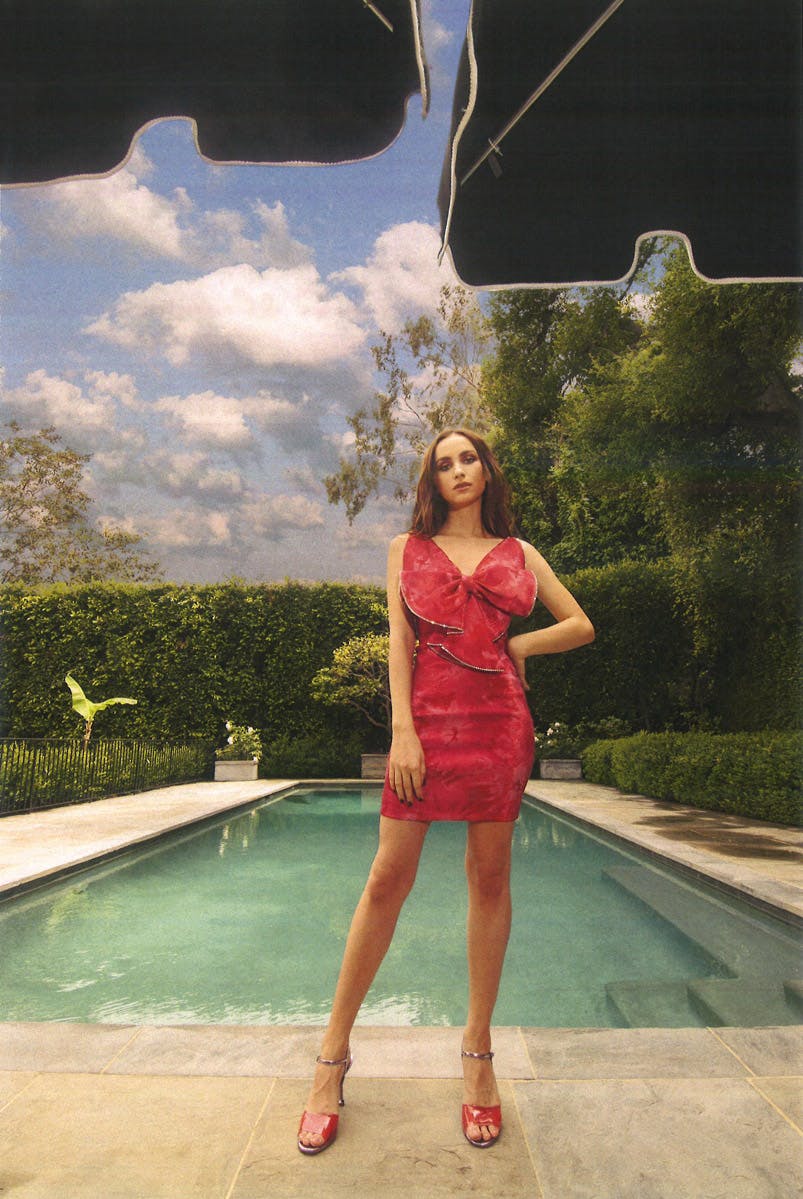 What are you working on at the moment?
My best friend Olivia [Rosenbloom] and I are working on a new screenplay. It's a feature. I don't want to say anything about it yet because it might change, but soon you'll see. Maybe.
You both wrote the 2017 short film Don't Mind Alice together, too. Tell me about that.
We're both pretty anxious. We were talking about my worst-case scenario. I'm always like, "what if I was at dinner with someone and they died, what would I do?" I know that's so dark. We were thinking, "Oh, what if something terrible happened and then the person, in her neuroses, does all of the wrong things?" We thought we could try and find the humor in that. Hopefully we did.
I really love a good dark, dark comedy. I think Staten Island is a good example of this. It's very dark, but it also is funny at the same time. Also in The Sopranos — not that I'd ever be able to make anything remotely as good as that — [there's a] weird space where something is so terrible and the [characters are] talking about something so fucked up, but in a second it's light-hearted. That's my favorite thing to watch.
Could you ever see something in the future where you do a little bit of role reversal and you direct your father?
My dad cannot act.
That's a hard no?
That's a no.
The King of Staten Island is available to watch on-demand now. Revisit the trailer below.