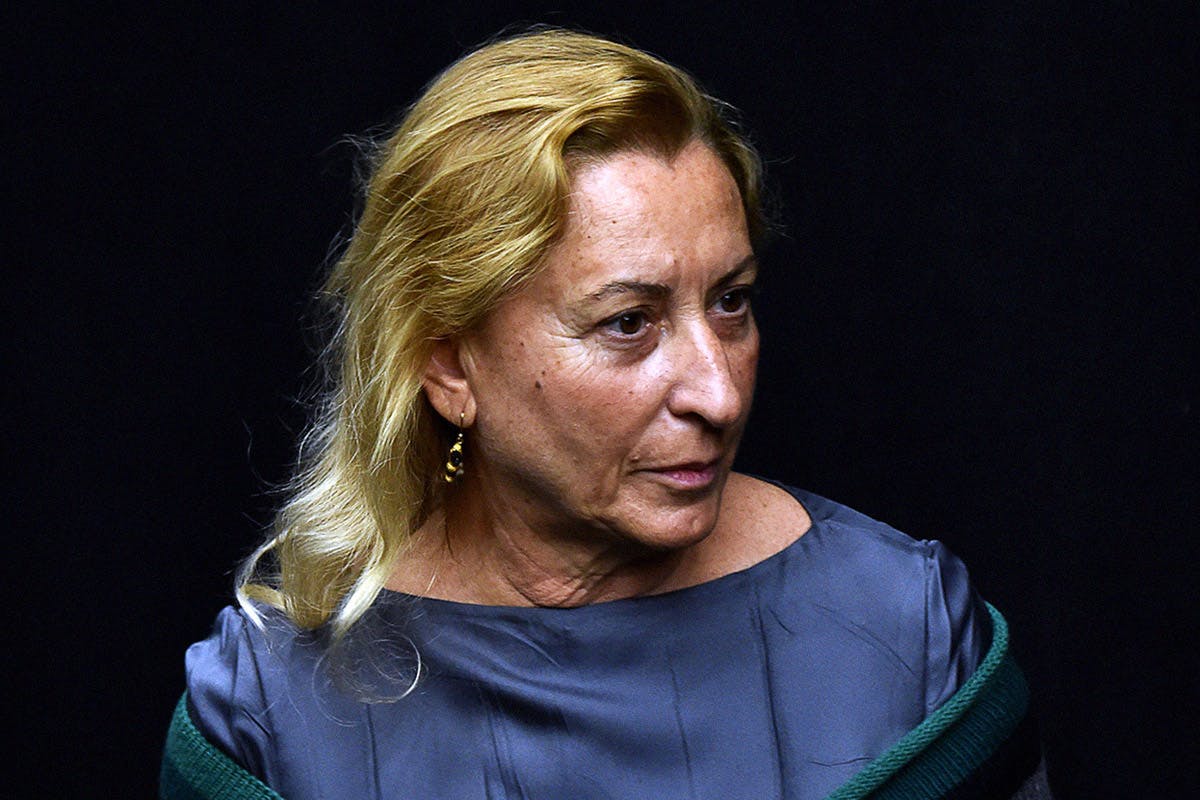 Italian brothers Mario and Martino Prada opened their leather goods shop, Fratelli Prada (Prada Brothers), in Milan in 1913. Although Mario didn't believe women should be in the workplace, his sons showed little interest in the family business, and his daughters Luisa and Nanda took over. Luisa's daughter Miuccia Prada would go on to join the family business in the '70s.
Three generations deep, Miuccia Prada inherited the company in 1978. As co-chief executive officer alongside husband Patrizio Bertelli, she implemented changes at the company that still resonate today through Prada's by turns understated and "wrong/ugly" aesthetics, and indeed throughout the whole industry, making Prada a household name synonymous with luxury.
She's one of the most influential figures in fashion today, so here are a few essential things to know about Miuccia Prada.
She made nylon a thing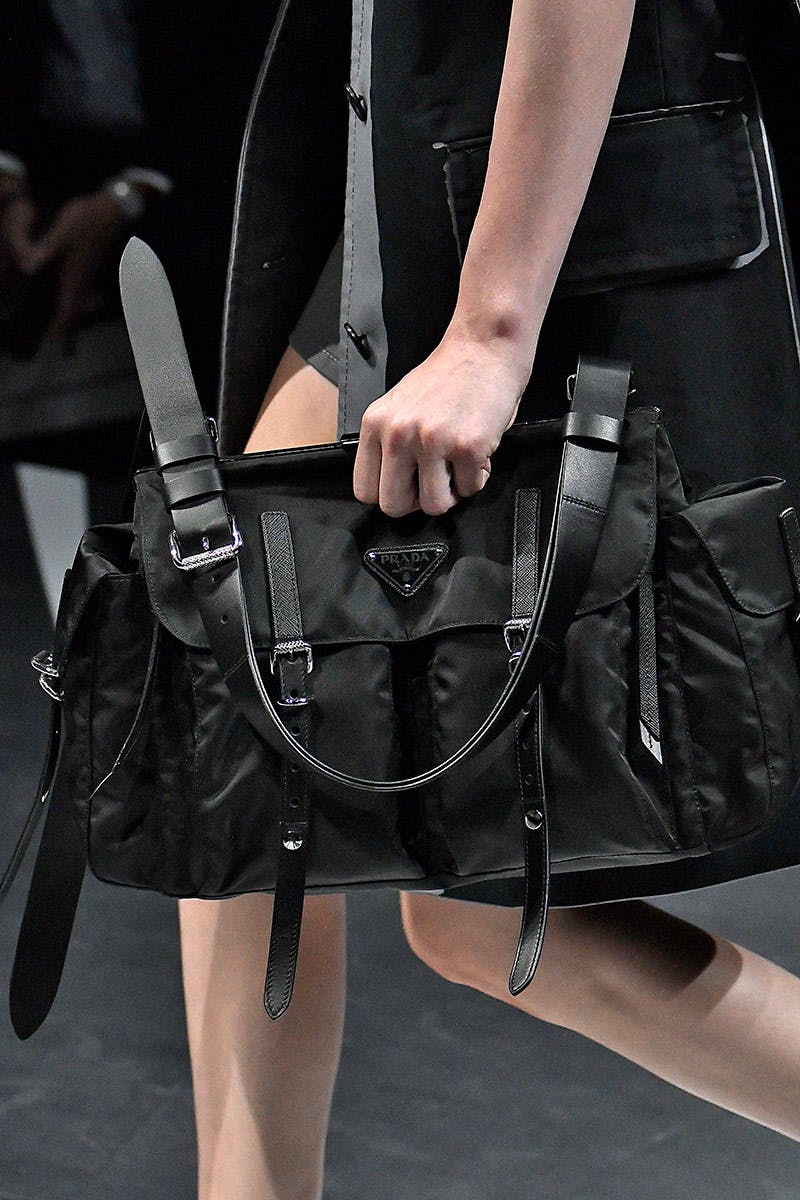 You cannot talk about Prada, and therefore Miuccia, without talking about nylon. In 1984, when Prada's first nylon bags hit the runway, it was perceived as a radical approach to luxury and the antithesis of '80s glamor.
Speaking to Vogue, Miuccia said that her attraction to nylon came from the fact that she "hated all the bags that were around. They were so formal, so lady, so traditional, so classic." Rebelling against stalwart codes of luxury fashion has become a Prada signature. By SS95, the brand was using nylon as an alternative to silk and cashmere across garments, too.
In an interview with The New York Times in 1998, Bertelli said, "About 20 percent of Prada's business is done in black nylon clothes and accessories." Today, nylon remains a hallmark of the brand across men's and women's collections.
We styled the best of Prada's FW18 nylon accessories right here.
Her sub-line, Miu Miu, also did menswear once upon a time
Miu Miu is a womenswear sub-line owned by Prada and named after Miuccia's nickname. Priced lower than Prada, Miu Miu is more feminine, more referential, and more spontaneous. A case in point: in July, Miuccia pulled in actors Uma Thurman, Gwendoline Christie (Game of Thrones' Brienne of Tarth), and Chloë Sevigny the night before Miu Miu's Resort 2019 show, where they walked the runway in loud leopard print, metallic gold bombers, and logo tees.
In other words, it's quite a world away from traditional Prada. And once upon a time, Miu Miu had a menswear line, too, which debuted in FW99, showing separately from the women's shows for 10 years before its last show in SS08.
The line featured loose tailoring, floral shirts, dungarees, and beanies. It was — much like its parent company — playful and youthful. And having been around in an era before the internet had conquered the world, it's difficult to track down today. Campaign images from the '00s depict suit trousers with an elasticated cuff (luxury sportswear — ahead of its time), blazers, shirts, ties, and striped polo shirts.
She studied mime and signed up to the Italian Communist Party prior to joining Prada
Prior to inheriting the family business and becoming one of fashion's most influential figures, Miuccia Prada got a PhD in political science at the University of Milan and studied mime at the Piccolo Teatro. She also signed up to the Italian Communist Party.
In a conversation with Raf Simons for System magazine in 2016, Miuccia said, "When I was starting this job, in the late 1960s and early 1970s, it felt like it was the worst possible moment to be a fashion designer. This was the feminist revolution and I was leftist, working for the [Communist] Party, yet I loved fashion and that prevailed."
She opened the Fondazione Prada
Miuccia Prada and Bertelli opened the Fondazione Prada in 1993 to offer "the most radical intellectual challenges in contemporary art and culture." Since its foundation, it has hosted galleries, dialogues between artists, cinemas, multi-disciplinary and philosophical talks, and architecture and design projects, all of which are open to the public for a very reasonable €10 entry fee (approximately $11).
The foundation now has a permanent location in the Largo Isarco industrial complex in southern Milan, and you can see what's currently showing right here.
In other style news, Supreme has announced a new collab with Levi's dropping this week