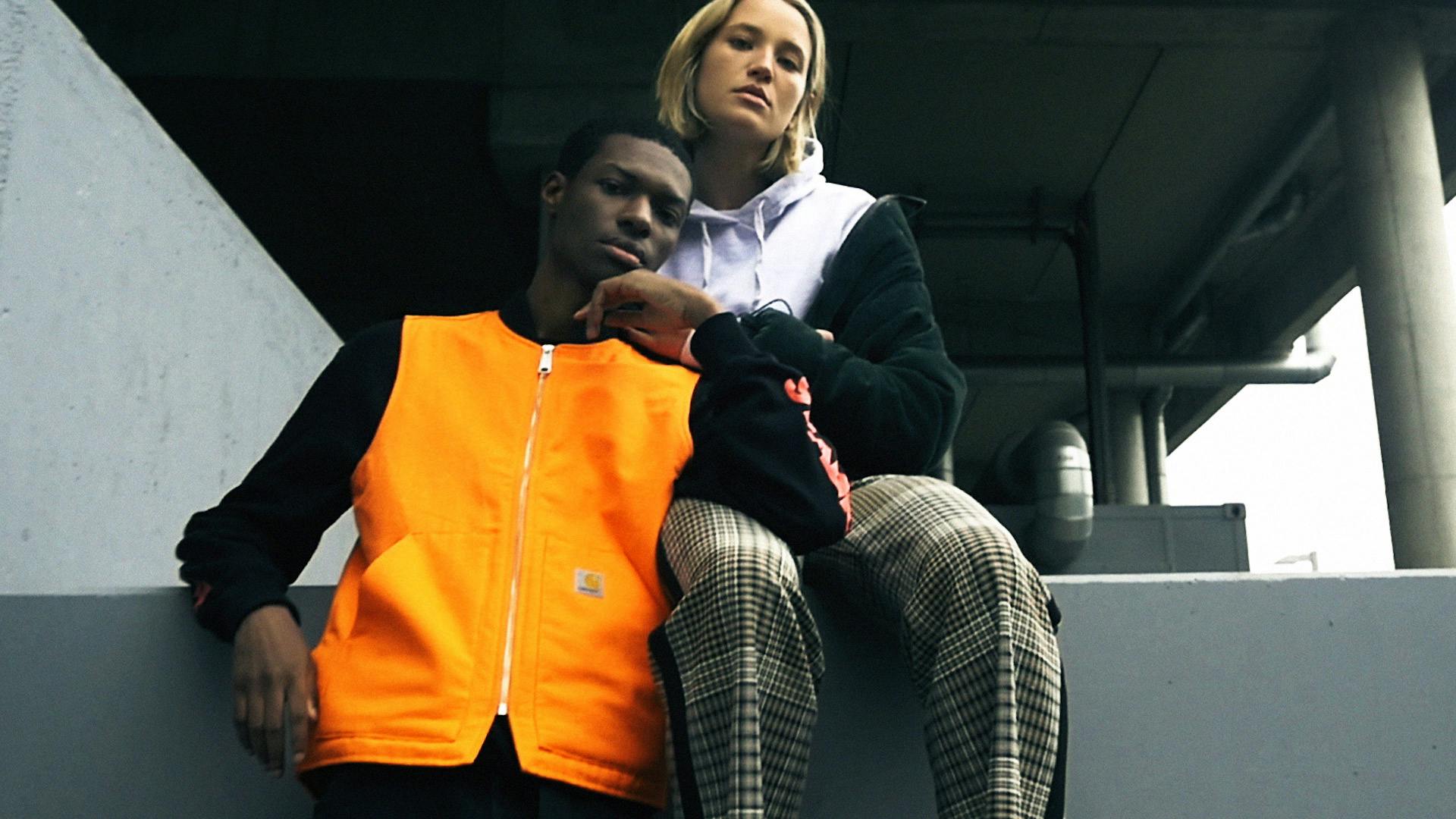 Japan's most celebrated performance brand, Mizuno, announced this week that it's relaunching 1998's iconic Wave Rider 1 in its original form. The announcement comes after Mizuno launched the Wave Rider 1 No Borders last month in collaboration with mita sneakers.
Mizuno's archive spans back over 100 years and includes many game-changing sporting designs worth revisiting but none perhaps as pivotal as the Wave Rider 1. "The Wave Rider 1 embodies the spirit of Mizuno," explains Mizuno's Freelance Creative Director Wesley Tyerman. "The essence of Mizuno is in this shoe and the technology tells a beautiful story."
Between 1985 and 1993, Mizuno invested heavily in the research and development of running technology and made a series of critical breakthroughs. Ultimately, however, Mizuno's obsessive attempts at integrating the very best technology into its footwear led to shoes that were too large, heavy, and costly to really benefit runners.
Mizuno's Chief Engineer Takaya Kimura headed to the U.S. in 1994 and began working with Lead Designer Tuan Le to consolidate Mizuno's technology into one simple and efficient system. The Mizuno Wave was finalized in 1997: the single lightweight plate offered cushioning, stability, and energy return by extending and then returning to its original shape.
"It just came through a lot of crazy ideas that we tried many, many different ways. You would see all of us running around the Mizuno office wearing crazy shoes just to test them out."

Tuan Le (Lead Designer at Mizuno)
The Mizuno Wave went on to power the Wave Rider 1 and its successors, the technology has always been visible in the midsole. For the re-released Wave Rider 1 OG it features in red, just like the original, and for the Wave Rider 1 No Borders created with mita sneakers it appears in an unmissable glow-in-the-dark yellow.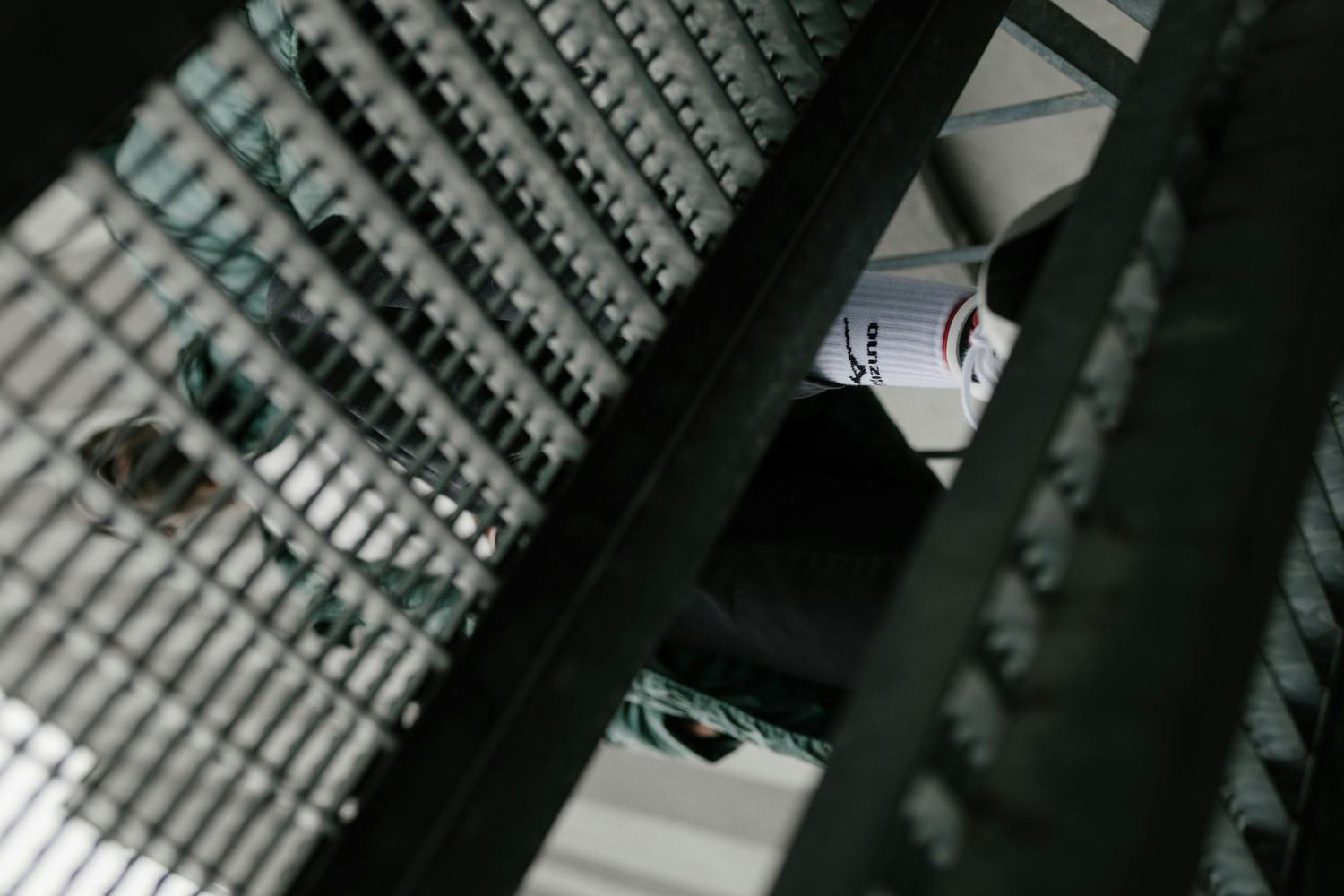 For the re-release, Mizuno keeps the Wave Rider's iconic aesthetic and time-tested features relatively unchanged. It features a white dual-mesh and full grain leather upper with a partially black vamp, white midsole, and black outsole. Mizuno's signature Runbird logo appears in red on the toe box and heel counter and black on the quarter panel, outlined by gold stitching. Reflective piping and lace keepers pay tribute to the sneaker's running heritage and each pair comes in a reissued '90s shoebox filled with stickers detailing the shoe's anatomy.
The launch is a historic moment for Mizuno and a major part of Sportstyle, its new footwear category that's repurposing the brand's performance technology and applying its spirit of innovation to fashion-forward lifestyle sneakers.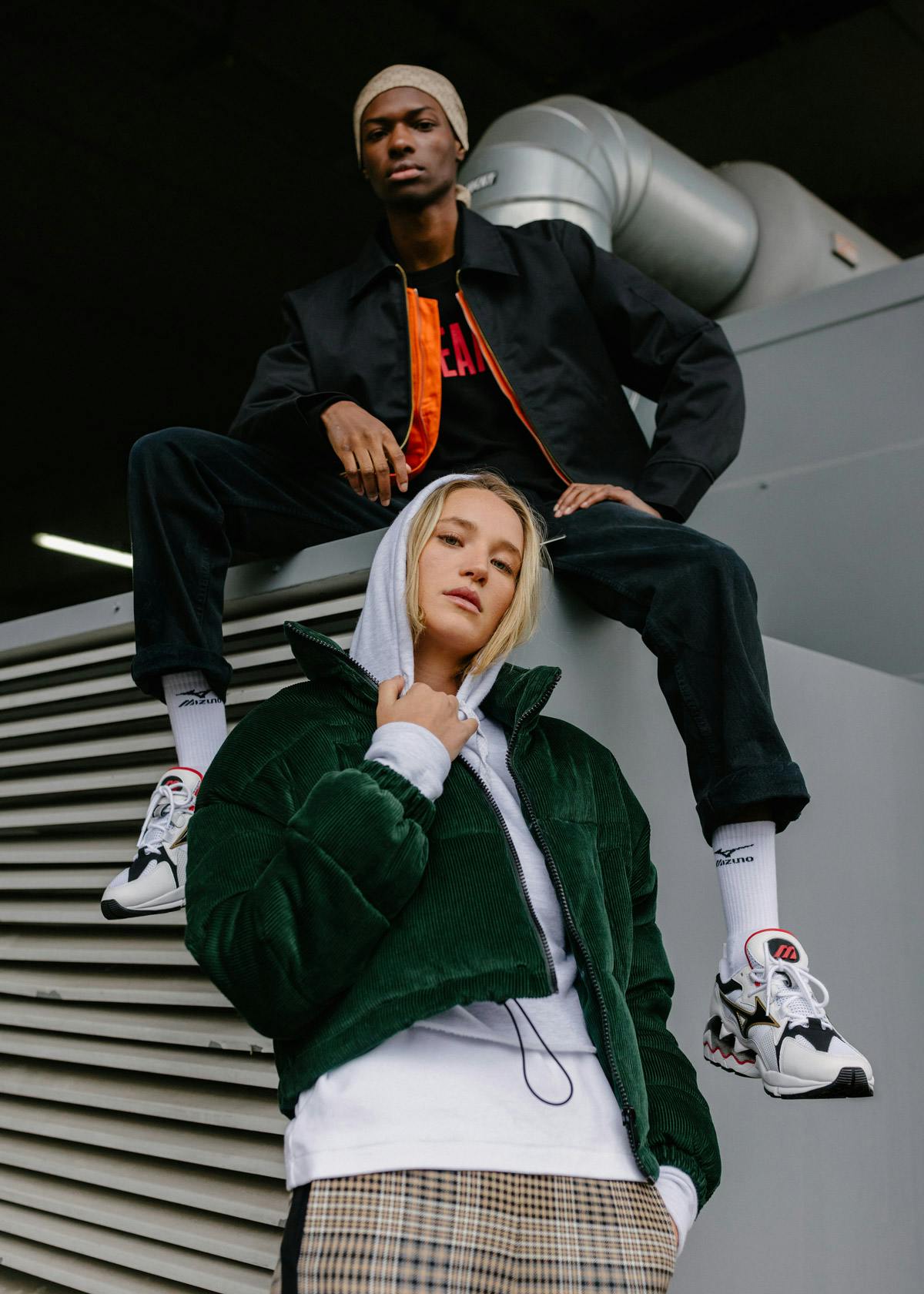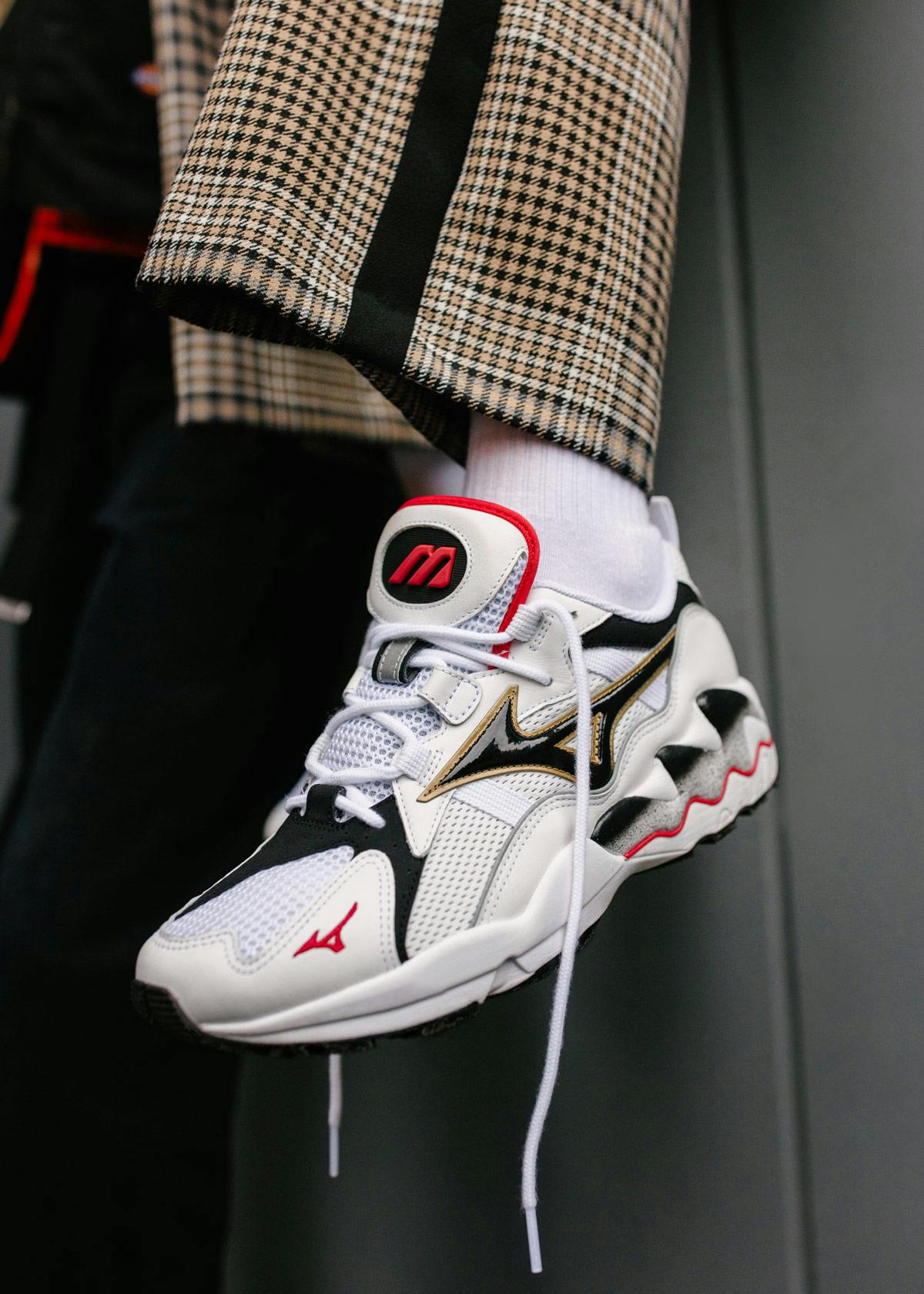 "Bringing a brand like Mizuno from a sports community to the sneaker community is pretty exciting. At the moment, sports performance products are really relevant and I think with what we're about to do we're really going to shock some people."

Wesley Tyerman (Freelance Creative Director for Mizuno)
Since 1906, Mizuno has primarily focused its attention on engineering the very best products for athletes looking to gain an edge over their competition and dominate their chosen sport. This hardwired heritage remains pivotal as Mizuno kicks off the Sportstyle project.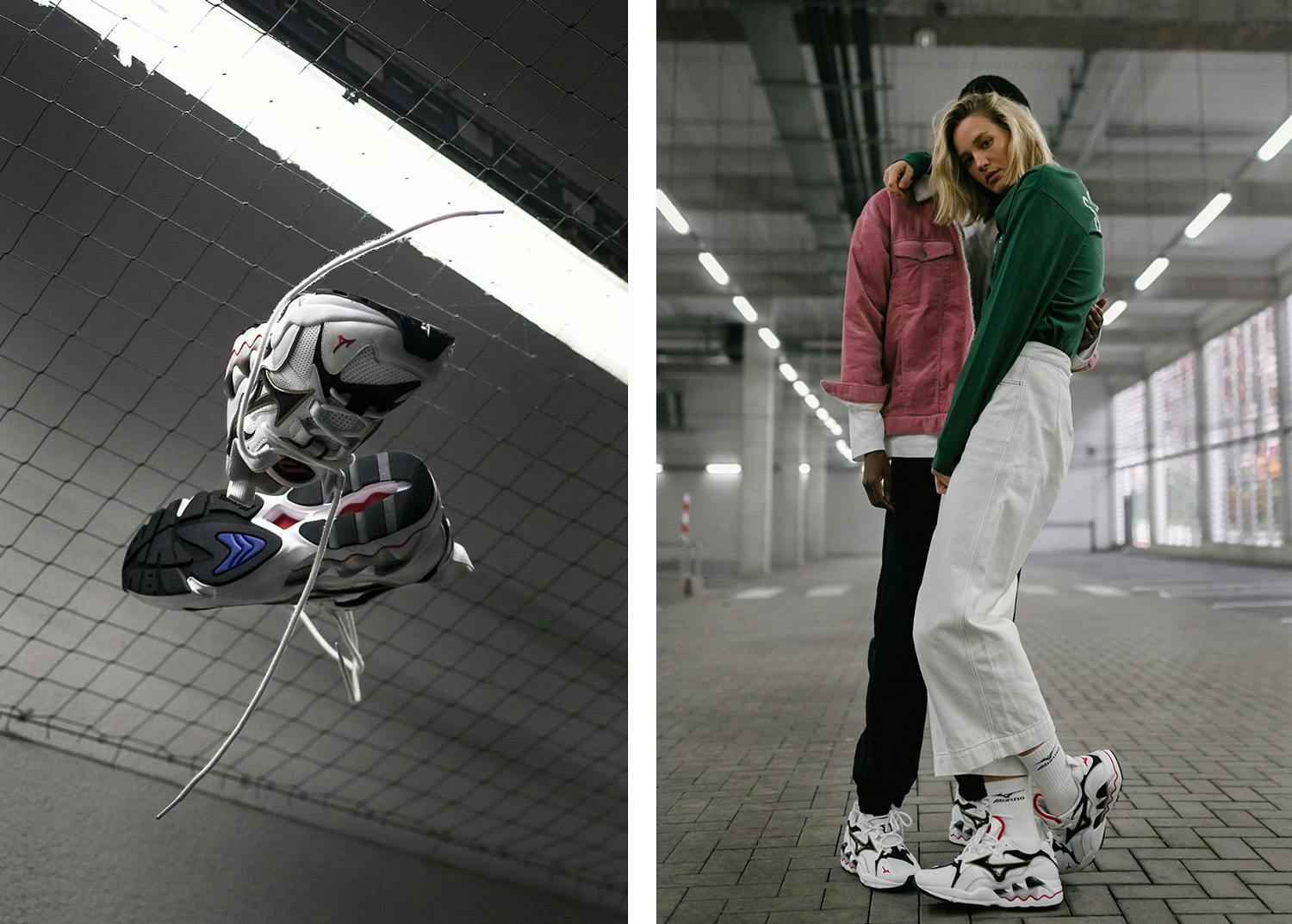 "Why can't a performance shoe be fashionable on the streets too?," asks Solebox founder and sneaker designer Hikmet Sugoer. "They're comfortable shoes, they have technology in them, and if somebody is deciding not to use them for sports, but instead on the streets or dancing in a club, then all good."
The release is sure to fuel the fashion world's current obsession with chunky sneakers but with the technology it houses, the Wave Rider 1 OG remains a remarkable and historic performance shoe at heart. The Wave Rider 1 OG will be available soon at Mizuno stores and select retailers worldwide. More information via the link below.