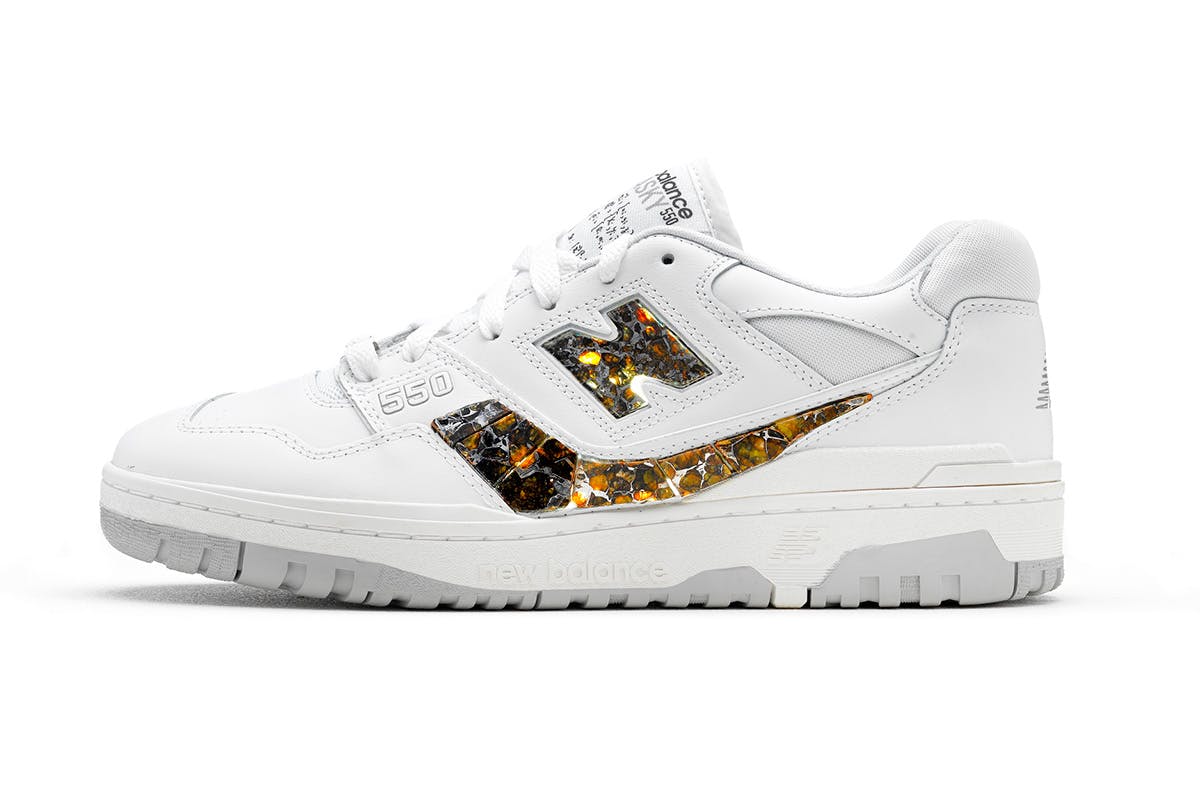 Brand: Netflix x Sotheby's x New Balance
Model: 550 "Dibiasky"
Release Date: December 17, 12 PM ET/5PM GMT
Price: £10,000
Buy: Sotheby's
What We're Saying: Netflix and Sotheby's have teamed up to drop an incredible 1-of-1 New Balance 550 to celebrate the release of Adam McKay's new movie, Don't Look Up.
Both Netfliux and Sotheby's tapped Manchester-based sneaker customizer Matt Burgess of MattB Customs to put a spacey touch to a white/grey New Balance 550. The shoe's "N" logo and a leather side panel have been replaced with fragments of a pallasite meteorite discovered in the dry bed of the river Hekandue in the Magadan District, Russia.
The Seymchan meteorite used to create the sneakers is dated at 4.5 billion years old, and was originally in the core of a comet or asteroid similar to Don't Look Up's fictional Dibiasky Comet.
The custom "Dibiasky" 550s comprise 34 meteorite fragments featuring extra-terrestrial crystals of gleaming olivine and peridot, ranging in hues from emerald to amber. The crystals are the result of small chunks of the stony mantle becoming suspended in the molten metal of an asteroid's iron-nickel core.
Basically, to commemorate the movie, Netflix put an actual meteorite on a New Balance shoe, making it perhaps the most special 550 to date. The shoe will be offered for £10,000, with all proceeds benefitting WWF in a bid to reduce human impact on the environment.
Don't Look Up features Jennifer Lawrence and Leonardo DiCaprio, whose characters Kate Dibiasky, an astronomy grad student, and Professor Dr. Randall Mindy discover a comet that is on a direct collision course with Earth.
The "Dibiasky" New Balance 550 will drop on Sothebys.com at 12 PM EST / 5PM GMT on December 17.
In the meantime, browse our selection of New Balance sneakers at Highsnobiety Shop
To stay updated on everything happening in the sneaker world, check out the best sneakers to add to your rotation this week, follow @highsnobietysneakers on Instagram, and sign up to our newsletter for early access to the best drops sent straight to your inbox.
Want to keep browsing? Head to the Highsnobiety Shop for more products that we love. Highsnobiety has affiliate marketing partnerships, which means we may receive a commission from your purchase.