This article, published on December 27, 2021, was updated on March 23, 2022
Nic Cage hardly needs an intro. One of the best-known and most memed American actors alive, there's no one like him — except Nic Cage.
In anticipation of Cage vehicle The Unbearable Weight of Massive Talent in which Nic Cage plays, uh, Nic Cage, we're pitting together two of Nic's best recent leather jacket fits to see which one comes out on top.
Certified leather daddy Cage flexes a particularly spicy pink leather jacket in The Unbearable Weight of Massive Talent but we'll leave that aside as it technically isn't a jacket of his own design.
No, today, we're focusing on two insane leathers that Nic flexed over the past year, each one apparently bespoke and equally insane.
It wouldn't be a tribute to Nic Cage (and this very much is a tribute) without taking some Nic Notes: the nephew of famed director Francis Ford Coppola, Cage has been acting since the '80s with a career spanning nearly all genres of film, from horror to comedy to whatever you'd consider Wild at Heart.
With his self-described "Nouveau Shamanic" acting style, Cage has drawn equal acclaim and mockery for his performances. Though he's the progenitor of "mega-acting," Cage is also more than capable of impressively nuanced performances, recently evidenced in 2021's moving Pig, which he produced.
Considering The Unbearable Weight, though, it seems like Cage is in on the joke by now.
The guy can act, so why's he in so much schlock? Well, Cage has a bit of a spending habit: he's purchased everything from dinosaur skulls to private islands and reportedly worked off a huge debt by picking up as many acting roles as he could.
That rich taste presumably goes for his wardrobe, as well, considering that Cage is rarely seen without an insane jacket. I mean, the guy comes from some money, so it's less surprising that he's keen to splash cash and more impressive how he spends it.
So, to business. First up is a truly mental leather jacket that Cage was spotted wearing in early 2020, just before the COVID-19 pandemic first erupted.
Despite the leopard-patterned collar, countless studs, and red piping, though, Cage's king-sized belt buckle almost steals the show, drawing the eye down to the sparkly iPhone case attached to a wallet chain, moto pants, and pointy biker boots.
Hedi Slimane eat your heart out — this is rock 'n roll.
Next, feast your eyes on a spicy little number that Cage wore to go shopping in New York in late November 2021. Cage was apparently in the market for a purple Prince bust — which he found at Toy Tokyo — so he elected to dress like Jonny Ramone on holiday.
More post-Slimane pointy boots, shredded jeans, and a jaunty little hat, but this time Cage matched his floral shirt to a custom leather jacket painted with flowers and, uh, a tiger on the rear.
Don't miss Cage's initials painted atop each sleeve.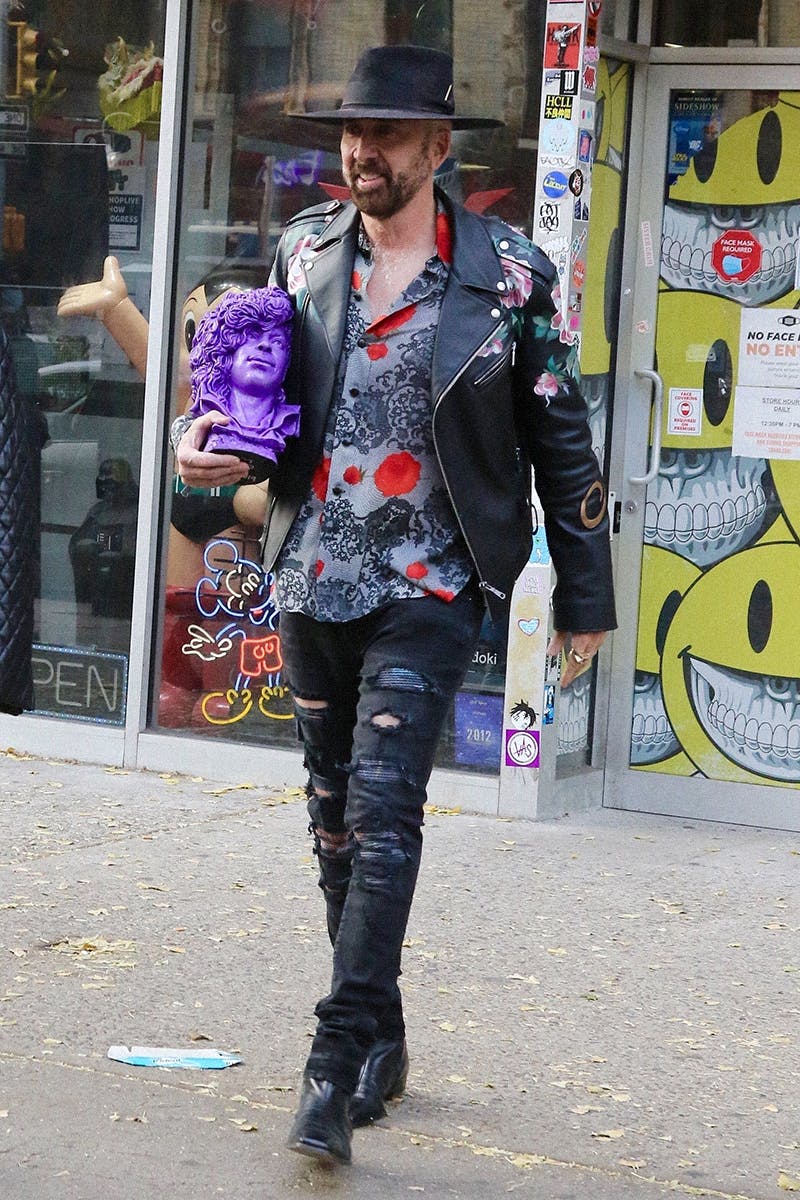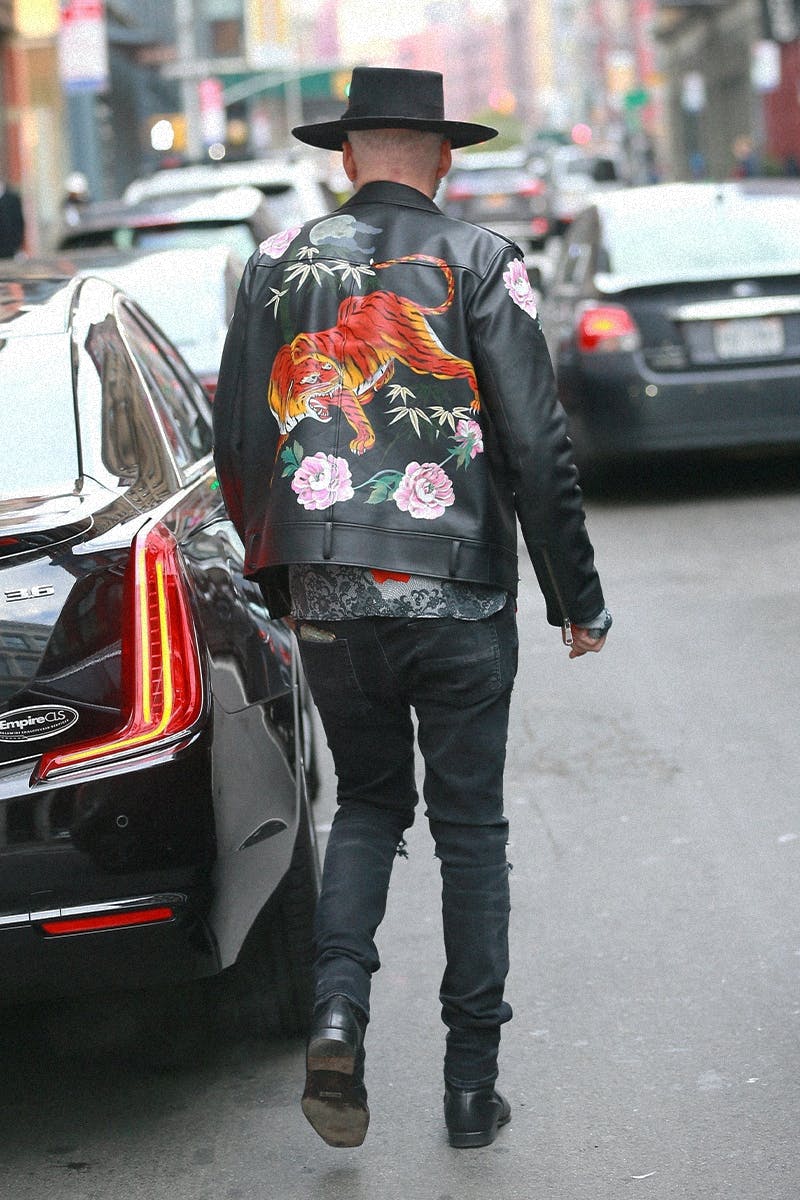 I'd say that the leopard-printed and studded Cage wins by a hair but really only because dude rocks a beard like nobody's biz, simple as. That's those Coppola genes!
Either way you slice it, though, we all win with a Nic Cage vs. Nic Cage battle.