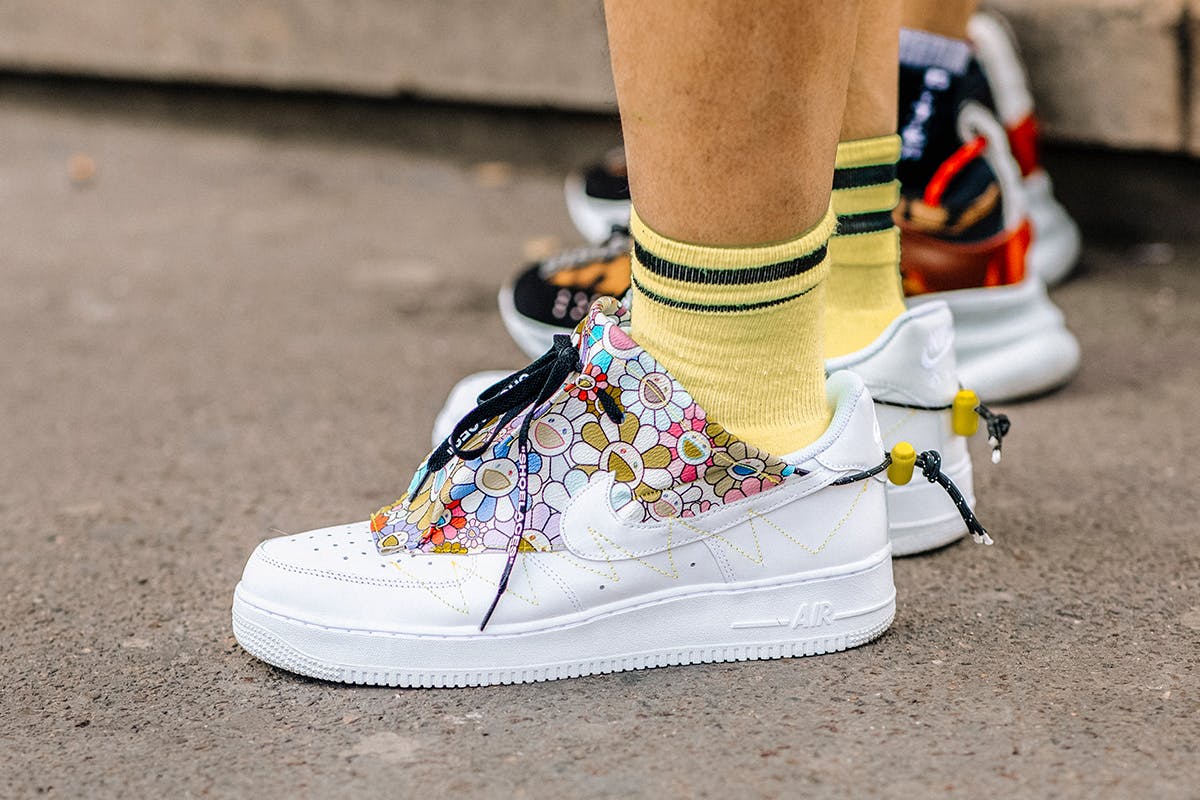 Nike is no stranger to lawsuits. On Monday, the sportswear giant filed a complaint in a federal court against Customs By Ilene, Inc., known as "Drip Creationz." As first reported by The Fashion Law, Nike claims that the customizer is infringing upon Nike's registered trademarks for its signature Air Force 1 silhouette, and is therefore diluting the brand.
The shoes in question are sold for over 140 percent of the retail price of genuine Air Force 1 trainers, and Nike alleges that the shoes Drip Creationz is selling are not altered authentic products, but actually counterfeit sneakers. As TFL reports, Nike argues that the shoe measures slightly taller than a real AF1 and that stitching and dimensions are not up to the quality standard of authentic Nike Air Force 1s.
Amassing over 1.1 million followers on Instagram, Drip Creationz has made a name for itself selling customized Air Force 1 (or Air Force 1-esque) sneakers that feature third-party trademarks and images, such as Travis Scott's recognizable Astroworld Graphic, Burberry's signature Nova Check pattern, or CDG's PLAY heart logo. Nike explains that the products "have never been approved, authorized, or offered by Nike," in the complaint.
To summarize the complaint, Nike alleges that Drip Creationz is selling fake Air Force 1s, using logos and third-party trademarks that could potentially confuse customers as to what is a real Nike collaboration, and what is just a custom creation with no connection to the Swoosh.
To understand the significance of the lawsuit, one must also understand the context surrounding it. Nike has previously also waged battles with notorious bootlegger Warren Lotas, who famously appropriated the Nike Dunk silhouette, but was legally forced to drastically alter his design to continue making money off of the shoes, as well as MSCHF and Lil Nas X for their controversial "Satan" Nike Air Max 97 that were filled with blood. The Swoosh was also recently awarded federal trademarks for the Nike Air Jordan 1 Low and High, further strengthening its grip on the designs.
Nike has been taking considerable measures to protect its trademarks and intellectual property over the past few months and the complaint against Drip Creationz is only the latest chapter in a never-ending saga. Due to its size, influence, and resources, Nike has a good track record when it comes to these kinds of legal battles.
Last year, in the suit filed against Warren Lotas over his SB Dunk replica trainers and his "the Reaper" designs, Nike and Lotas reached a settlement, which saw the bootlegger drastically alter his sneaker design. Lotas was reportedly set to lose nearly $2,100,000 in revenue after not being able to sell any of the shoes produced. Highsnobiety calculated that he would have made $10,800,000 had he been able to follow through with the orders, so it wasn't as if Lotas was some small fish that was being hung out to dry by Nike – there was serious money involved.
Interestingly, however, Jeff Staple, whose iconic "Pigeon" Dunk colorway was appropriated by Lotas, indirectly supported the bootlegger. Speaking to Ben Kickz on Sneaker Talk, he said, "I'm always a fan of DIY bootleg culture. I just love it. That's how Staple started. To me, that's where true creativity happens."
Staple also mentioned that he can understand the perspective from both sides, and that there is a clear difference between bootlegs, fakes, and original sneakers: "I will say that brands have always pushed the culture forward, and it's always been uncomfortable for certain parties. No one's buying a Shoe Surgeon or Warren Lotas shoe to trick their friends. It's a different thing."
This is where frustrations lie for both consumers and customizers themselves. After the Warren Lotas lawsuit, a lot of criticism has been directed towards the sportswear giant for continuing to "crush" smaller, independent labels and creators, knowing that their lawsuits could potentially result in the destruction of said brands.
To add another layer of complexity to this issue, Nike has previously paid homage to bootleg and customization culture through its own official releases and collaborations in the past. The Dior x Nike Air Jordan 1 featured an Oblique monogram Swoosh, which has been a staple in bootleg culture, causing people to call out the hypocrisy of it all. Additionally, Virgil Abloh also featured a handful of Louis Vuitton monogram-clad Air Force 1 sneakers in his latest Spring/Summer 2022 collection — another clear homage that seems to have been given the green light by Nike.
The MSCHF x Lil Nas X lawsuit took a similar route, with Nike forcing MSCHF to buy back each of the 666 pairs of "Satan" Nike Air Max 97s that had been sold for $1,018 each. It was another demonstration of power by the Swoosh, who argued that the collaboration confused the public, many of whom thought that Nike had actually sanctioned a Satan-themed sneaker and took to social media to voice their complaints.
Lil Nas X and MSCHF responded in the best way – using humor – posting a tongue-in-cheek picture of a T-shirt with "Legal Fees" printed across, retailing at $66.60 (though the shirt was never sold). Throughout the short-lived legal battle, the rapper posted TikTok videos making fun of the situation, and went so far as to troll the brand in his latest music video prelude for "INDUSTRY BABY."
Nike's quick legal trigger finger shows that the Swoosh is serious about protecting its intellectual property and that it won't back down amid public criticism, backlash, and a little lighthearted trolling. The question isn't whether Nike is in the legal right — of course, it is — but whether its legal moves are contradicted by the work it continues to push with luxury players including Louis Vuitton and Dior, and whether the lawsuits threaten to stifle the creativity the customizing culture has emphasized.
At the moment, it looks like Nike has its focus on the bigger players, who are making serious money altering and ripping off Nike-owned designs. At least for now, hobby creators can continue to paint their shoes as long as they aren't making too much money from it.