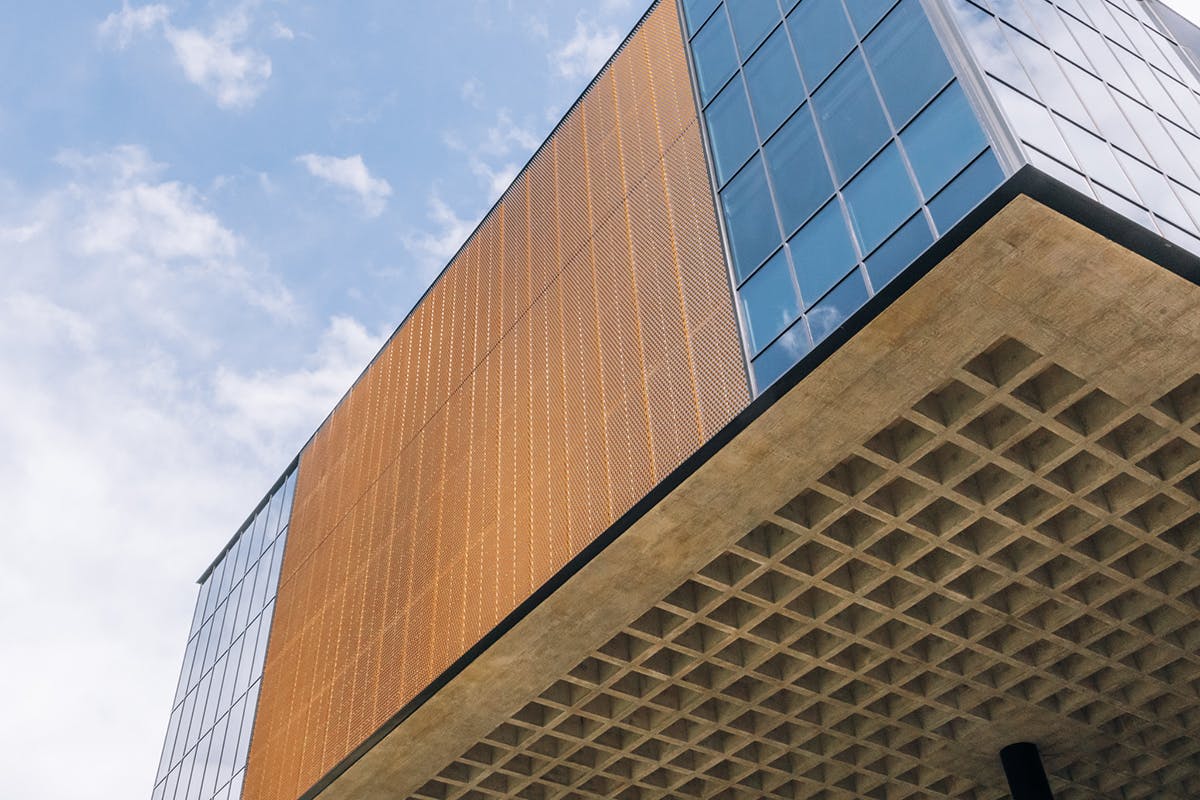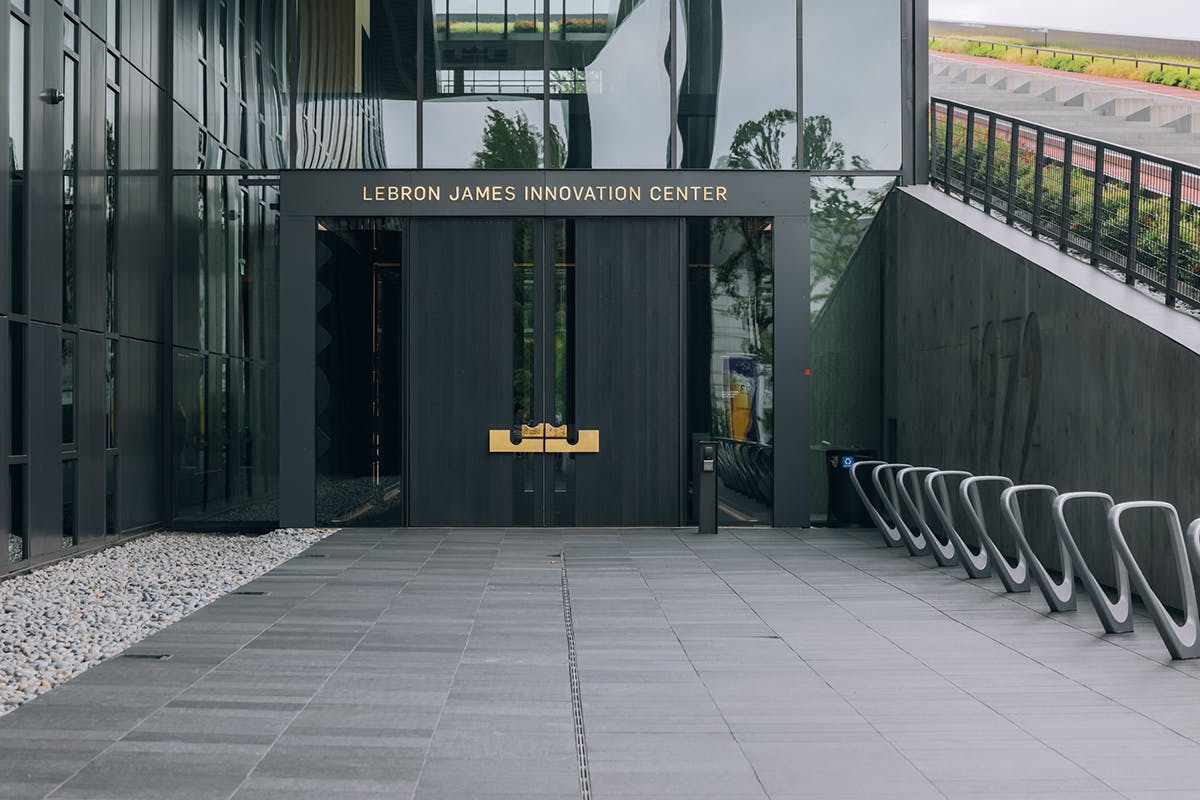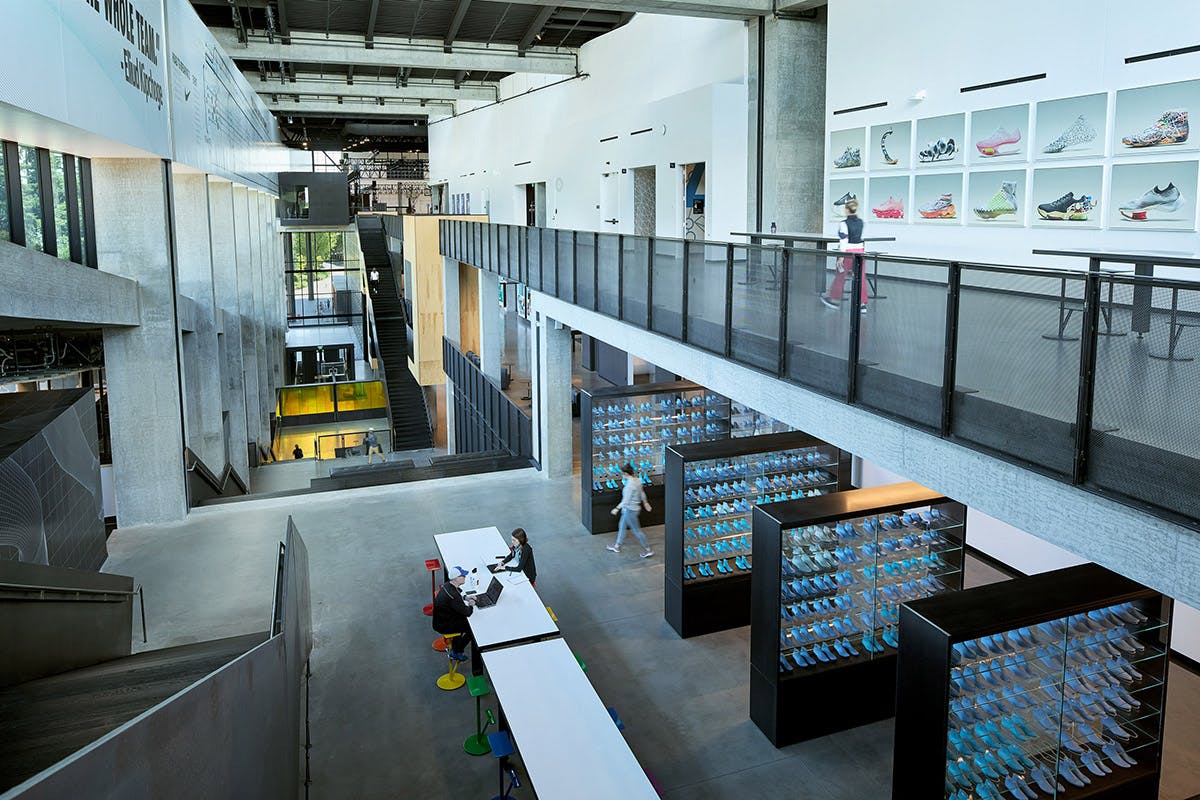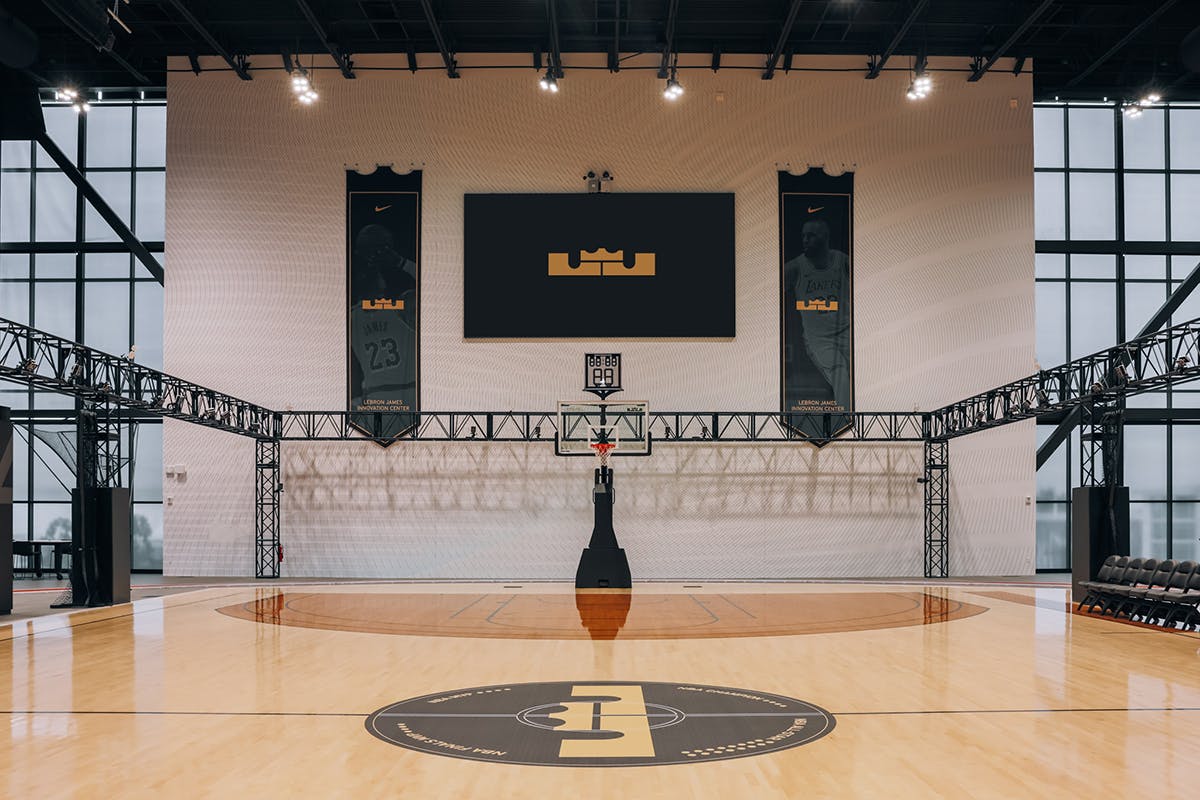 To describe Nike's new Lebron James building as anything other than awe-inspiring is to sell the 84,000 sq. ft space short. The LeBron James Innovation Center is a living monument to King James' long-term partnership with the Swoosh, one that'll keep growing as the Lakers star keeps setting the pace.
The new facility, developed by Olson Kundig principal Tom Kundig, is home to quite a few attractions, some of which can be seen before you even enter. These include a LeBron logo sculpture that precludes a 500-foot incline to the top floor and a covered plaza.
Look up: the indented roof was specifically designed to recall Bill Bowerman's original waffle sole design.
One entrance leads to Glo's Cafe, named for James' mother and finished with a mural that commemorates his love for her. Another first-floor entrance leads through a shoebox-shaped vestibule that has some extremely rare LeBron sneakers on display. Behind the LeBron-branded doors, a display on the floor reveals a computer-generated matrix of every shot LeBron has ever taken at the hoop, which is kind of insane.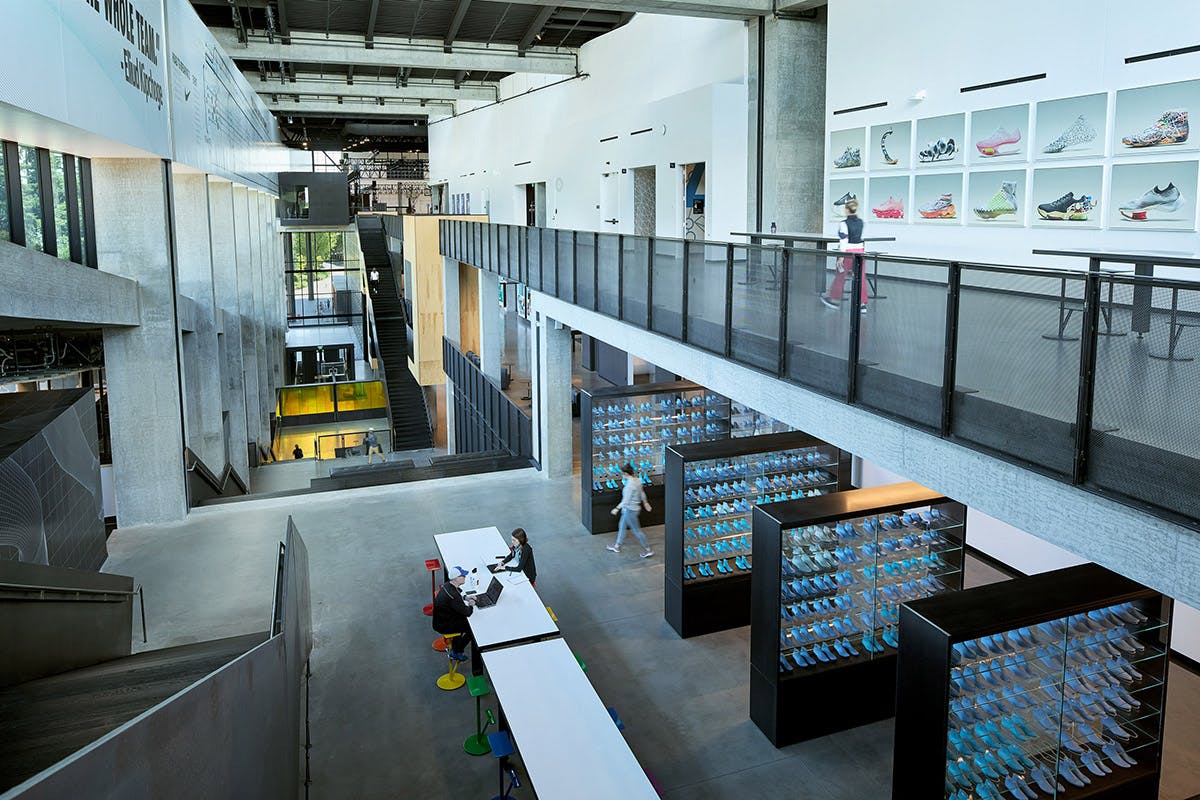 After visiting the Sandy Bodecker lounge, head upstairs to a series of cubicles and shoe molds, the latter of which include the custom shapes used to create the shoes of stars like Serena Williams and Naomi Osaka.
LeBron's size 15s are gilded, of course.
On the third floor is a new space for Nike's Innovation Kitchen — even the original outpost's Winnebago has been ported over. Nike refused photos of the space — trade secrets and all that — but there's plenty of fabrication, production, knitting, stitching, and computer modeling happening here.
The folks that work on floor three are wildly talented, just like everyone else at Nike: they crafted a custom standalone meeting "room" from curved pieces of wood, complete with open slats for plant display, and gave us handmade LeBron tags pieced together out of sneaker scraps.
Finally, the fourth floor is where the magic happens. This is the home of Nike's Sport Research Lab (NSRL), where Dr. Matthew Nurse, the Nike Explore Team Sport Research Lab vice president, and a team of specialized scientists, engineers, and sports experts work hand-in-hand with Nike athletes — pro and amateur alike — to develop sneaker tech and up athletes' game.
Nurse told us about his work. "If you can nourish that environment where great people do great things," he told me. "That's where the magic happens. I was trained as a scientist but I like to think of myself as a creative, an artist."
"I think people think we work exclusively on elite athletes. And some of the things we work on may not translate to everyday use. But 85-90% of the people we engage and do research with are [casual athletes]. Like, LeBron learns from weekend basketball players. Eliud Kipchoge learns from what we do with everyday runners. Megan Rapinoe learns from high school soccer players."
This dual-faceted approach to creation, where high-end performance informs even more accessible product and vice versa, is key to the NSRL's research. The top floor of the LeBron James building is awash with cameras, monitors, special rooms, high-tech data collection, and much, much more. There's even a spa, of sorts, where athletes can get a massage or acupuncture.
And though the Innovation Center has been finished (and semi-occupied in line with the COVID-19 pandemic) since November 2020, it will continue changing. Like I mentioned earlier, the building was designed to continue growing — LeBron's career is ongoing and so is the development of his eponymous building, which will be updated as he keeps smashing records.
Like the Egyptian pyramids, which were built during the pharaohs' lifetimes, the LeBron James Innovation Center is a living monument to King James. Unlike the pyramids, though, the Innovation Center isn't a tomb, but a beacon, a symbol of human ingenuity much like its namesake.